Speech
Women in Engineering Day
Celebrating the first national Women in Engineering day and congratulating Crossrail competition winners
Good afternoon and thanks to Terry Morgan for his kind words of introduction.
It's a real honour to be here with you all today (23 June 2014) to help celebrate Women in Engineering day, thank you for the invite.
The sheer scale and complexity of the Crossrail project is breath-taking and we should be proud of what's being achieved.
This is UK engineering at its best, and getting young women interested in construction and engineering early is vital to the industry's future and for the UK's economy.
If you want something to be used by everyone, it cannot make sense for half the world not to be involved in the design.
And for any thriving industry competing in today's global economy, it needs the skills and talent possessed by 50% of the population.
By choosing a career in engineering, you will be solving the critical problems that will benefit millions, for years to come.
Whether it is how to keep commuters moving deep below the streets of the capital, to making flying more efficient, or designing re-useable spacecraft, engineers like Anita Wu, Sophie Robinson and Philippa Davies are leading the way.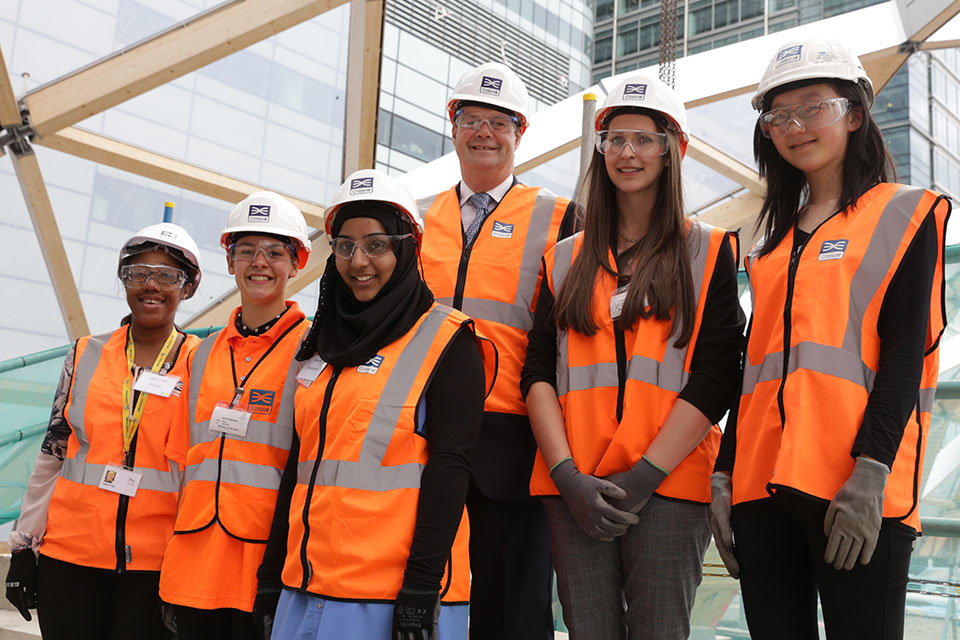 Today is a great example of how by investing in our transport system, we're also investing in Britain.
Projects like Crossrail and High Speed 2 don't only boost our economy and create jobs.
They also develop the skills of thousands of people. Skills that will help this country compete on a global scale long after this project has been completed.
The Tunnelling and Underground Construction Academy in East London is a great example of investing in the future and ensuring that Crossrail leaves a legacy far and beyond a new railway.
And I would like to congratulate all the 30 winners who are here today. You're all a fantastic example of the young people whose ideas will be shaping the future of the capital - and the country - for years to come.
I hope you enjoy the tour of the station today and are inspired to take up a career in engineering. Many congratulations to you all and very well done.
May I also take this opportunity to extend my congratulations to Valerie Todd, who has just been awarded a CBE for services to skills, training and development of young people.
Published 24 June 2014