Welfare reform: handling the change  
A speech by Lord Freud, Minister for Welfare Reform.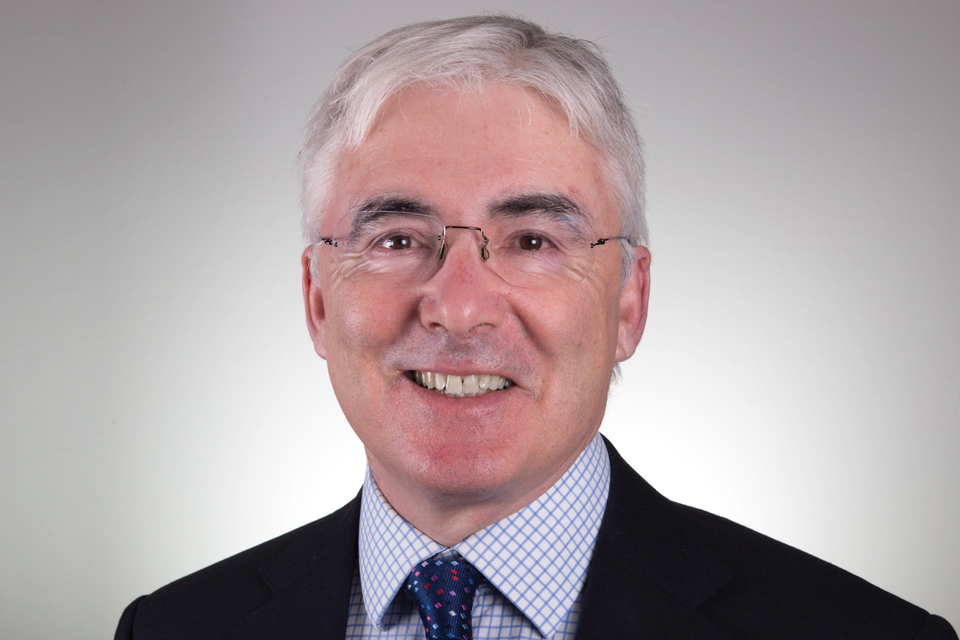 Good morning.
These opportunities to speak to and hear from key members of the housing sector are invaluable for me.
This conference is entitled 'handling the change'. But perhaps it should be 'benefiting from the change'.
Change is happening. Change that I believe will substantially improve the opportunities for people across Britain.
We are working very closely with the social housing sector to make sure you are not just handling the change, but working with tenants proactively to help them benefit.
It is clear that the welfare system we have inherited in effect acted to increase welfare dependency and reduce financial independence of people.
Our reforms must ensure that the benefit system should help people's transition into work, not act as a barrier to it.
Housing support and the work of social housing landlords are a key part of removing this barrier.
LHA reform / Social Sector Size Criteria
Let me begin by touching on the housing benefit reforms and in particular the social sector size criteria, which I know has created concern among housing associations.
Reform of housing benefit has been an absolute necessity.
In the private sector, rents have spiralled as private landlords have known that the taxpayer was always ready to pick up the bill.
If no action were taken, the Housing Benefit bill would reach £25 billion in cash terms by 2014/15 a year.
We are now four months into our reforms and we are not seeing scare stories of mass migrations materialising.
Some people will have to move, and we have always recognised that fact.
But living in areas of central London at massive rents at the cost of the taxpayer was unacceptable.
We are closely watching the reforms and their effects.
Next month we will publish the initial findings of the consortium led by the Centre for Regional Economic and Social Research, which we will use to monitor the change and help to form our future plans.
Just as with LHA reform, we know reform to social sector size criteria is equally a big change.
One of our aims is to level the playing field between private tenants and social housing tenants.
Housing support should support the home size that people actually need - regardless of if a person is living in the private rented sector or in social housing.
With around 5 million people on the social housing waiting list in England alone and over a quarter of a million tenants living in overcrowded conditions we need a better use of our housing stock.
We are working closely with housing associations through this necessary change and we will provide £30 million a year to help those in adapted properties and foster carers.
As we get near implementation we are looking for housing associations to respond intelligently and the early signs are that the industry is picking this up.
There was much discussion in the House of Lords over how we would define a bedroom.
But I don't believe it is for DWP or Housing Benefit staff to provide a definition that stipulates bedroom sizes.
We have been clear that we expect landlords and claimants to tell us how many bedrooms a property has and the rent charged should reflect the property size based on the number of bedrooms. 
The rent setting formula contains a specific element that requires the number of bedrooms to be fed into the calculation
Exactly as now, it is in a tenant's best interest to decide whether the rooms are of a suitable size for their needs.
For some a move to a more appropriately sized property may be the best option and they will need support in doing so.
But we do not expect large numbers of people to move and we are relying on help from landlords to support their tenants.
Support that is likely to be necessary is mainly through the provision of advice on making up the shortfall in rent through other means, such as moving into work, increasing working hours, taking in a lodger, or general budgeting.
But it could be more practical help such as help with opening a bank account or making a claim for a discretionary housing payment.
The Chartered Institute of Housing is producing clear guidance for social landlords with DCLG, DWP, the NHF and the Northern Housing Consortium backing.
They plan to launch this at their annual conference on the 13th June
This provides advice on the change and shares good practice. 
In some limited circumstances landlords may feel that they can re-designate a property's size where it is hard to let because of its location or accessibility.
But this is a matter for the landlord and the tenant to discuss and agree.
However, you must see the change as working alongside Universal Credit so giving people greater control over their budgets and their benefits.
Universal Credit will make it easier for them to make choices about where they want to and can afford to live and bring fairness back to the benefits system.
Benefit Cap
Let me turn now to the benefit cap.
Returning fairness to welfare is why we will introduce the benefit cap.
Very large - occasionally outrageous - benefit claims create a further barrier for people to get back into work.
And there has to be a limit on the overall levels of benefit it is appropriate for the state to provide to those who are not working.
The cap will stand at around £500 a week for couples and single parent households - the average household income after tax - and the equivalent of an annual gross salary of £35,000 gross or £26,000 net.
People will know that claiming benefits cannot put people above the average income and receive the clear message on support the welfare state will give.
We have now written to all people who may be affected a year ahead of the cap coming in in April 2013.
We have been clear about the exemptions - such as those claiming disability benefits or war widows and widowers.
Importantly households claiming Working Tax Credit will be exempt.
The benefit cap - like much of our reforms - is focused on helping people back into work and achieving long-term positive behavioural effects.
We believe that work should always pay more than benefits and this is at the heart of our welfare reform.  
And we have been clear about the intensive help we will provide people to get into work. 
Over the coming year, Jobcentre Plus and the Work Programme will work with those affected to support them into work.
Universal Credit will also tear down the barrier between being in and out of work.
Universal Credit overview
Universal Credit ties in closely with the work many housing associations are already doing to support tenants into work and into financial independence.
Universal Credit brings changes and challenges ahead for all of us.
And I know the social housing sector has given broad support to our reform.
Worklessness is an issue social landlords know well.
The profile of social tenants has changed remarkably in recent years. It used to be that the bulk of working age social housing tenants were in employment.
Now only around 40 per cent are.
It is a tragedy for a child to grow up in a workless household and Universal Credit will work to reduce this tragedy.
It will also lift as many as 350,000 children and 550,000 adults out of poverty.
Universal Credit is the vanguard of our welfare reform.
It will provide claimants with a single monthly benefits payment - instead of multiple streams of income from numerous sources.
One application will provide people with one benefit instead of claiming via their local council, Jobcentre Plus and HMRC.
This replaces the current system of 30 different benefits - each with its own specific rules, complications and duplications.
This also does away with the current problems people face with the stop-start process of applying for benefits and tax credits when they move up and down the number of hours they work or into work
The complexity stops people from getting into work and leaves them unsure if they will be better off in work than on benefits and is frankly bewildering for recipients.
The one Universal Credit payment will replace various levels of support that cut in and out at different times.
Bringing housing support into Universal Credit for private and social sector tenants is absolutely necessary.
Housing support must be part of that single payment so that budgeting for households is no different when they are in and out of work.
This means they will be able to move more fluidly between the two.
It will break the barrier between in-work and out-of-work benefits and reduce the risks and fears that people have about moving into work and losing their benefits.
Pathfinder overview
The move to Universal Credit will not be a big bang.
The transformation of 12 to 13 million tax credit and benefit claims into eight million Universal Credit payments cannot and should not happen overnight.
I am committed to learning the lessons from implementation early which is why we have the local authority led pilots, the direct payment demonstration projects with housing associations and the Pathfinder all running ahead of the starting pistol for Universal Credit next October.
Each of these we have mechanisms will ensure we will learn lessons over the entire rolling programme to ensure our success as more people move across to the new benefit.
The roll-out will be phased, intelligent and gradual over four years.
Our rolling pathfinder model will see a gradual expansion of the number of people receiving Universal Credit.
The process starts in April next year with our first Pathfinder project, before we go live nationally in October 2013.
We will shortly provide fuller details of the Pathfinder project.
The early roll-out of Universal Credit will allow us to check that the new simpler Universal Credit service works for claimants and staff as well as for local authorities and employers.
Demonstration Projects - financial inclusion
Alongside the Pathfinders, we are also working on our Direct Payment Demonstration Projects and local authority pilots which will take on the issues of financial and digital exclusion.
Tackling financial and digital exclusion are both massive positive side effects of Universal Credit.
Being financially and digitally excluded mean a person is effectively excluded from 21st century life in Britain.
Our work with you will help tackle these problems.
The six demonstration projects are starting this summer across the UK, with the final project in Edinburgh with housing association Dunedin Canmore named this month.
The projects are testing the direct payment of housing benefit to social sector tenants.
Rent payment to tenants is essential for people to become independent.
The projects are looking to test two key things.
The first is how we communicate the changes to residents and identify those who need extra support.
This extra support will be help with budgeting and setting up direct debits for the first time.
Projects are working with credit unions and local banks to encourage uptake of basic bank accounts.
Secondly, the demonstration projects will test safeguards and the triggers for when payment must switch back to landlord and the limited circumstances when payments should not be made directly to the tenant in the first place.
Under Universal Credit we will continue to pay the landlord directly for pensioners and people with significant support needs, so these groups are excluded from the projects.
These safeguards for tenants are part of the design so we do not undermine the finances of social landlords.
And I repeat my determination that we will not undermine social landlords' finances.
The projects will undergo rigorous and independent evaluation to ensure that the recommendations taken forward into Universal Credit are sufficiently robust.
The CIH has also established a Learning Network for councils and housing associations.
The network will help those not directly involved in the projects to share in the learning and exchange information about implementing direct payments
You will be hearing more about the Demonstration Projects later this morning from Professor Paul Hickman, who is carrying out the evaluation of the projects, and Kevin Dodd, at Wakefield and District Housing which is taking part.
But I must be clear - insulating tenants who could be working from the need to budget for themselves is not helping them in the long-term.
Universal Credit gives people a simple relationship with the support they receive from the state and a clear way of reducing that support and being financially independent.
Local authority led pilots - digital inclusion
I also hope there will be housing association support and involvement in the local authority led pilots.
We have published a prospectus with the Local Government Association for councils to bid to set up pilots, prior to the roll-out of Universal Credit.
The pilots focus on the face-to-face support that people may need to claim online and become able to claim online independently.
We are creating Universal Credit to be digital by default - so we do not forcing people into set channels from the first day of their claim.
Universal Credit will be primarily accessed online creating a personal relationship between people and their benefits claim, just as they have with online banking.
Telephone and face-to-face support will remain in place, just as it is now, but only for those unable to use the digital service.
Our aim is to give those not online now the confidence to claim unaided so they will be able to handle claims for themselves.
We are expecting diverse pilots to begin this year and they will directly feed into the planning and implementation of Universal Credit.
But I do not expect a "one size fits all" model for local authorities - they are very different organisations and pilots should reflect that fact.
This means councils could be working side by side supporting people with the existing public bodies in some areas - just as many councils and Jobcentre Plus staff already do.
But we are also expecting councils to work with local community groups and charities or housing associations to create the right services for residents.
This support is a part of councils' growing role supporting vulnerable members of the community.
Councils' roles are expanding to include providing support for troubled families, developing localised council tax schemes, continuing with homelessness prevention and taking on parts of the social fund.
Helping people claim the single Universal Credit should be part of this role, especially as we dramatically simplify housing support to make it easier to administer.
Conclusion
To conclude, major reform is underway and will thoroughly revolutionise the welfare state in Britain.
Universal Credit will benefit millions of people by encouraging financial independence, reducing benefit dependency and restoring fairness to a system that was left to spiral out of control.
The social housing sector is central to the success of this reform and your handling of the change will be key in supporting your tenants.
We have common goals here, I hope we can, and I know we are working together to handle and benefit from this change.
Published 23 May 2012