'We need to go for growth'
The Prime Minister spoke to the Confederation of British Industry (CBI) at their annual conference in London.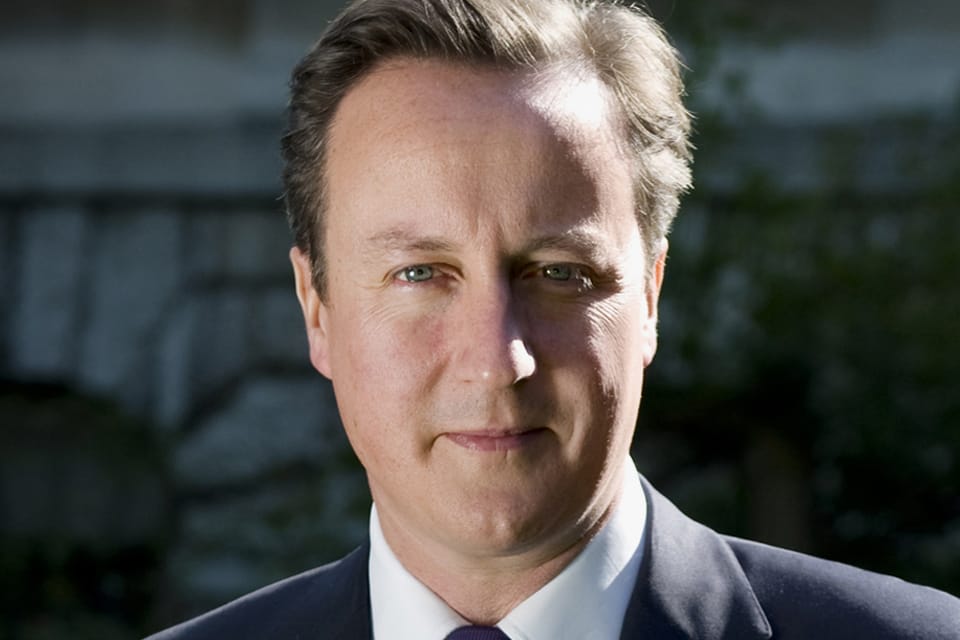 We meet at a serious time for our economy – and for business.  We are trying to recover from a deep and difficult recession. Yet growth is slow in Britain, France and Germany. In the last quarter, we grew faster than many EU countries, and faster than the average, but we are well behind where we need to be. Of course, we are not alone in this struggle.
In the last quarter growth stalled altogether in some European countries. It is declining in others. Here and elsewhere, unemployment is rising – as last week's figures demonstrated so clearly. There are some encouraging signs.
Recent retail sales are up. Our export performance has improved. But fears about the immediate future are real. Paralysis in the Eurozone is causing alarm in the markets and having a chilling effect on economies in many countries – including our own. When the nightly news is about rising interest rates in Europe and uncertainty about the future, it is not surprising that this affects business and consumer confidence.
But people don't want explanations they want answers. I am absolutely clear about the right answer for the UK economy. It can be summed up in one sentence; we need to deal with our debts and go for growth. Those things aren't alternatives, they are essential companions. We will not get one without the other. Just look at countries in Europe that don't have credible plans for dealing with their debts their interest rates are climbing to levels that will make growth impossible.
In finding the right answer for the UK economy we have to be especially clear about two fundamental points. First, we are recovering from a debt crisis not a traditional recession. People who argue that traditional fiscal stimulus, extra spending funded by even more borrowing, is the right answer are not just wrong – but dangerously wrong.
Second, the previous model of growth in Britain – a debt driven consumer boom stimulating a narrow economic boom – is broken.  We need a fundamental rebalancing of the economy: more investment, more exports, a broader base to an economic future. If policy is not directed towards this goal it will fail.
Debt crisis
So, first we must overcome the crisis of debt. The fact that the markets are not convinced that Eurozone countries are able to pay their debts is what lies behind the Eurozone crisis – and the biggest immediate boost to British growth would be a clear resolution of that crisis. On Friday I saw the President of the European Commission, the President of the European Council and the German Chancellor to work towards one.
But I don't blame our ills only on the Eurozone crisis – of course not. Britain is outside the Euro. No one else is responsible for our own debts or our deficit. Eighteen months ago, Italy's borrowing costs were the same as Britain's. Today, they are almost three times higher. We had an Emergency Budget last summer on our own terms, not this summer on the market's terms.
We acted to prevent crisis while others who failed to do so are suffering emergency budgets, deeper austerity and political crisis. And our actions have helped to secure record low interest rates for businesses and consumers – the biggest possible stimulus to the economy.
Dealing with debt
So dealing with government deficits must be line one of our plan for recovery. Yes – getting debt under control is proving harder than anyone envisaged. High levels of public and private debt are proving to be a drag on growth which in turn makes it more difficult to deal with those debts but this also undermines further the case for adding to the national burden of debt with even more borrowing. Yes – there are some who seriously try to argue that additional spending and borrowing will actually lead to less debt in the end despite the fact that no evidence supports this assertion.
These arguments are just a way of avoiding difficult decisions the kind of something for nothing economics that got us into this mess which is why no indebted European country is taking that path. Nor are there any major European opposition parties in high deficit countries arguing for additional borrowing – except here in Britain.
In recent weeks I've heard representations from leading business groups including the CBI, the British Chambers of Commerce, the Institute of Directors, the EEF (Manufacturers Organisation for UK Manufacturing) and the Federation of Small Businesses. The same message came back loud and clear from every single one: "don't divert from the essential task of getting the deficit down".
Credit
But dealing with a debt crisis doesn't just mean dealing with government debt. It means recognising that market after market is affected by the credit crunch.  Unless you deal with the source of that crunch – and unblock those markets – you won't get anywhere. I know that this is a tough challenge and we need to keep up the pressure to get credit flowing again to business. That's why this year we agreed Project Merlin lending targets with the banks. We said: you lend to businesses large and small and we will give you predictable rules. And we are holding them to their promises.
Already £157bn has been lent in the first three quarters of this year – 11% more than expected. And lending to small and medium businesses is 10% up on last year. I know that credit for SMEs is still tight and that even among businesses that are offered credit there is anxiety about whether this is the right time to expand and invest. We have encouraged the banks to launch the Business Growth Fund and set up the Regional Growth Fund. That's £1.4bn going to support business and financing projects and jobs across the country.
Despite all this I know that it can still be a nightmare for companies wanting to borrow money and that's why next week the Chancellor will say more about plans for a new Credit Easing scheme. This will use the strength of the Government's balance sheet to pump billions of pounds into reducing the cost of loans for small and medium sized businesses.
Housing
The shortage of credit and lack of confidence affects some parts of the economy more than others. One of the markets that is particularly blocked is the housing market. The consequence of the credit crunch is that the lenders won't lend, the builders won't build and the buyers won't buy. Nobody wants another borrowing boom but when first time buyers on a good salary can't get a reasonable mortgage the market grinds to a halt. And that ricochets round the economy hitting builders, retailers and plumbers alike.
So this morning the Deputy Prime Minister and I launched a radical new strategy to support new mortgages for up to 100,000 people who would otherwise be locked out of home ownership. We're also selling council houses house again and using the money to build more houses. And we're rewriting planning rules so the construction industry can grow while protecting our green belt and National Parks and ensuring sustainable development.
You have asked for a planning revolution. We are delivering it. We will restart the housing market and get the nation building again.
Infrastructure
But dealing with government debt, getting banks lending and unblocking markets is only the start.  As I said, we need a different kind of economy and a different kind of growth. Again, I have the clearest possible message for you today. You have called for us to get out there and start getting the infrastructure built that is essential to secure the strength of our economy and we are doing it.
Not wasted spending on vainglorious projects that no one needs but doing the things that will genuinely lift the productive output of the country: better roads, the best superfast broadband network in Europe within four years, fast, reliable rail links, power stations to energise our economy and ports that can take the biggest ships in the world.
So we've protected capital spending. We're building Crossrail under London – the biggest engineering project in Europe. We're planning the High Speed Two to shrink the distance between our great cities. Here in London, the Francis Crick Institute is being built – which will be biggest centre for biomedical research and innovation in Europe.
But we must do more which is why next week the chancellor will be setting out the next stage of our plan to transform the nation's infrastructure, not with more government borrowing, but by using all the other tools at the government's disposal to take a more strategic and proactive approach to infrastructure. That's something this country has long lacked.
So, in short we are putting in the money, leveraging the power of the private sector and reshaping the rules to break decades of failure and build world-class infrastructure to support a world-beating economy.
Competitiveness
If we are to build a new model of growth, we need to give a massive boost to enterprise, entrepreneurship and business creation. Put simply Britain must become one of the best places to do business on the planet. That's why we are working with business to track down pointless or harmful red tape that holds business back – sector by sector – and getting rid of it. That's why we are cutting the time it takes to set up a business creating the most competitive corporate tax regime in the G20 and cutting corporation tax to 23 per cent – the lowest in the G7.
And it's why we are rewriting employment law so it encourages vital high growth firms to hire new workers. My message to companies afraid of taking on workers because they fear costly employment tribunals is don't be – look at the action we are taking. People who ask: "what do radical deregulation and reforming employment law have to do with the immediate priority of getting growth?" miss the point. The answer is simple: If we want a new economy and a new type of growth we have to act to make it possible.
Rebalancing
I'm not interested in ideological arguments about intervention versus laissez faire. I want an industrial strategy that works. We need government to get behind those high growth, high value sectors which will be the backbone of the new economy. Everyone agrees now that in the past Britain's economy had become lopsided – too dependent on debt, consumption and financial services. Well, we are putting that right.
We're not sitting back hoping that business will come to Britain; we are out there winning it. To back offshore wind energy we're investing in ports, reforming our electricity market and I am personally on the phone to the heads of Siemens, Gamesa and other major turbine manufacturers to get them to invest in Britain.  In London, we working with some of the most advanced firms anywhere to develop Tech-City – making it the digital capital of Europe. In the last few weeks alone I have visited an £4.5 billion new investment from BP in the North Sea, a stunning new factory at McLaren and today I hosted Britain and Norway signing a 10 year deal to secure gas supplies and develop together over £1 billion of Norwegian gas fields.
I know government must change the way it does business too. It must become quicker and simpler to sell to – so that small and medium sized businesses don't get swamped by the cost of bidding so today we are announcing plans to direct the huge purchasing power of government to the task of strengthening the UK economy.
While 99% of companies are SMEs – at the moment they win only 6% of procurement spending. And more than that we want to support and strengthen UK-based industrial capability in key sectors where we lack capacity in the rail industry, for instance – as the current example of Bombardier has shown. That means investing in long-term relations with our suppliers so they win orders – just as the private sector does and other countries in Europe do. You have asked us to help drive exports, to encourage British-based businesses to find the confidence to invest and reach out to the world. And that is what we are doing.
Some criticise me for using the power of government and diplomacy to make the case for British business abroad. But I am proud to fill planes with businessmen and women and head off to visit the most vibrant markets on the planet. Last year, I led a delegation to Turkey. This year, British trade with Turkey is expected to reach £9 billion by the end of the year. That's a 40% increase since 2009 and let me add how pleased I am that President Gul is addressing this conference. In the last year, exports to China have grown by 36%. Exports to India are up 20%. We're unleashing government to help business – not hold it back.
Conclusion
This is the challenge for all of us. Yes, I will lead the task of building the new economy. Yes, the government with deal with its debts and drive through reform but we will come through this best together.
That means business must play its part too. With all our effort, I know this country will overcome the great challenges of today. Our country has incredible strengths and if we hold firm and make the right choices have no doubt, Britain will be a stronger and more prosperous nation.
Published 21 November 2011