Speech
10th Kolkata Environment and Energy Conclave: High Commissioner's speech
Excerpts of the British High Commissioner to India Dominic Asquith's speech on the UK's collaboration with India on energy and environment.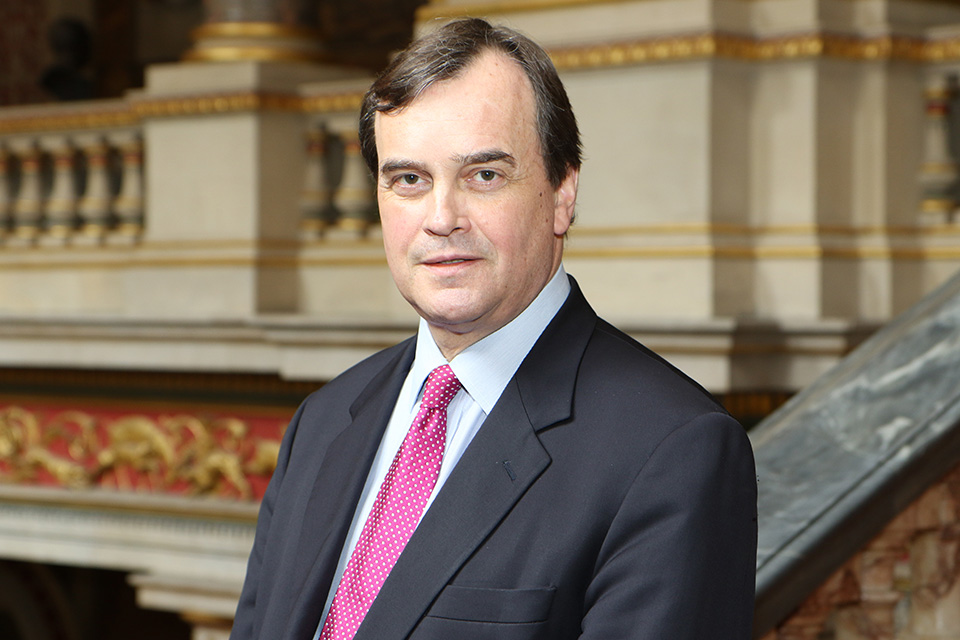 I am glad to be part of the 10th Environment and Energy Conclave by the Bengal Chamber of Commerce and Industries in Kolkata.
Kolkata is one of my favourite cities. It offers a fascinating mix of heritage and modernity, and I get a fantastic warm welcome every time I step into this city.
The city is growing at a fast pace, and like the state and the nation as a whole, it requires secure and sustainable supplies of energy to power that growth. Achieving secure and sustainable energy is at the heart of the UK's collaboration with India on policy, innovation and business. So I'm delighted to have the opportunity that this conclave provides to talk for a few minutes about our shared purpose, our common challenges and our amazing capacity for collaboration in this area.
We have a shared purpose on energy and the environment - we need energy to power our growth; to meet the needs of our citizens; and to build resilience against shocks and stresses like economic volatility and climate change.
But I think everyone here will agree that we want to do more than simply ensure an adequate quantity of supply. We are also concerned about
the quality of our energy sources
where they come from
how they are generated
how clean they are
what impacts and benefits they deliver for our economy, society and environment.
That's why the UK and India have for some time referred to 'secure and sustainable energy' as the shared purpose of our joint work on energy, which spans oil and gas, renewables, energy efficiency and civil nuclear.
We also share a common conviction that climate change is one of the biggest threats to global prosperity and stability. We recognise that it is in our own interest to prevent dangerous climate change. Both our nations are committed to the Paris Agreement as a means to galvanise global action on climate change.
We both believe that this is not just the right thing to do, but also the smart economic thing to do. We both recognise the commercial opportunities that can be realised in the low carbon economy. The UK low-carbon sector alone is worth over £46 billion across more than 90,000 businesses. It employs more than 238,500 full-time workers directly and indirectly supports many more.
We are both taking action. In the UK, we admire the stretching targets that India has set to bring its renewable energy capacity up to 175GW by 2022. And we're driving action ourselves in the UK to decarbonise our economy. We are setting concrete carbon budgets in law to help us reduce our greenhouse gas emissions by 80% by 2050.
These common priorities and challenges make us natural partners for collaboration. Our engagement was given new shape and drive this April in our first India-UK Energy Dialogue, held under the banner of the India-UK Energy for Growth Partnership. New strategic priorities on power and renewables were agreed, and useful connections were made between UK companies and Indian counterparts.
And talking about UK and Indian companies, I must mention that I am also delighted to be in Kolkata to support Deb Mukherjee whose joint venture with Cenergist, the British energy company is a great example of partnership between India and Britain. A similar story is unfolding in innovative solar technology being incubated in North East of England through Big Solar Limited where Deb is also an investor. I hope there can be more such partnerships between Britain and India, and Bengal.
The partnership between UK and India is strong because we face common challenges on energy security and sustainability that play out in our two countries:
We both need to attract investments into energy/power generation – in the UK to replace our old generation of power plants that will retire soon, and in India to meet the growing demand for power that will double by the year 2030.
We both need to develop clean energy sources. A greater share of clean power in our energy mix, and more efficient use of energy, makes sense for our economies and societies. As well as increasing our sustainability, it also enhances our security by bringing online new, cleaner domestic supplies of energy like wind, solar and natural gas. All of these can help decrease dependence on energy imports.
We both need to boost efficiency. Because using energy more frugally and effectively is a key plank of security, and helps to reduce costs for businesses.
United by our common purpose and common challenges, we have forged some impressive partnerships on energy security and sustainability, and to address the shared challenge of climate change. These have helped our partners to make progress against renewable energy targets, enable the flow of investments, and scale up technologies.
Let me share a few examples:
We recognise the scale of infrastructure investment needed in India – some $3.6 trillion by 2040. So India and the UK recently announced that we would invest £120 million each to fund clean energy projects under India's National Infrastructure Investment Fund, with the aim of attracting an additional £500 million from international investors.

We have worked with a range of companies including Indian Renewable Energy Development Agency to support their efforts to raise capital through Green Bonds issued at London Stock Exchange. It was great to see Rural Electrification Corporation's $450 million Green Bond issuance last month.

Our research and innovation work will advance through a Joint Virtual Centre on clean energy together with Department of Science and Technology.

We are collaborating at central and state level on a power sector reform initiative that will help utilities become fit for the future by absorbing renewables, delivering demand side management, keep energy costs affordable for customers. This initiative will support India's priorities on 24x7 power for all, on clean energy deployment and through the utility efficiency & consumer service provision through Ujwal DISCOM Assurance Yojana.

We have supported the implementation of India's Perform Achieve and Trade scheme in priority sectors. This connects businesses to information and develops partnerships for reducing their energy use.

And I must take the opportunity to congratulate Energy Efficiency Services Limited (EESL) for collaborating with us and for launching their operations in the UK. I am pleased to note that EESL is looking at forming strategic partnerships with UK companies and we will be very happy to extend our support towards making such alliances happen. I hope officials from EESL have had fruitful discussions with the UK companies here yesterday.

In the recent past, we have worked very closely with West Bengal on rooftop solar and on low carbon and climate resilient growth of Kolkata. And I am pleased to note that the visiting delegation of UK energy companies have had very productive discussions with the Department of Power, Government of West Bengal yesterday.
Conclusion
Together, we can do great business and achieve real change. I strongly believe that we can do even more together on this agenda by:
leveraging finance
sharing skills and expertise
mobilising efforts on research and development or
forging new commercial partnerships
Today, there are a few UK energy companies here in this room who are working closely with Indian partners including in Central and State governments to deliver on our shared priorities of energy security and sustainability. They will showcase their unique strength across the energy spectrum later today and I am sure you will benefit from your interaction with them.
This conclave offers an excellent opportunity to explore partnerships for great mutual benefits. For shared prosperity, for shared economic growth, and for delivering on both energy and the environment. I wish you all a very successful and productive event.
Published 24 August 2017