Speech
Utility Week 2nd Annual Congress
Speech by Amber Rudd to the Utility Week 2nd annual congress.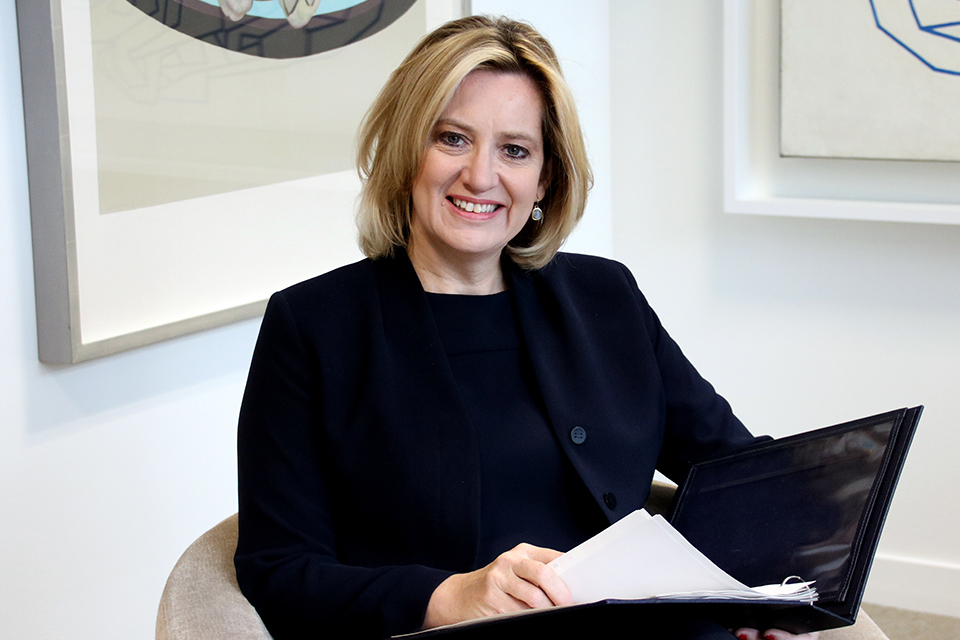 Good morning it is an absolute pleasure to be here. Thank you so much for inviting me.
I am keen to make the most of opportunities like these to talk to and engage with you, who are responsible for running our utilities.
I will, of course, be focussing on the energy sector, but I hope that some of what I say will also resonate with those of you involved in the water sector.
There is no doubt that we have faced and continue to face challenging times in the energy sector.
But I believe that we are rising to that challenge. We are putting in place the right framework to ensure the necessary investment in our generation capacity and our networks.
And with Ofgem we have introduced reforms to help consumers get the best out of the market. Today, I want to talk to you about three key areas in particular:
The steps that this government has already put in place on the path to delivering cleaner energy for consumers, and helping consumers to keep their energy bills down.

A completely new model of competition and enterprise in the energy sector.

And how traditional energy companies will need to adapt to this changing market to remain competitive.
To my first point. For the first time, our Energy Act 2013 has put in place the framework to deliver £110 billion investment into our low carbon energy market by the end of the decade.
By providing certainty, an attractive framework for investors and doing what's needed to manage supplies over the next few years.
Already, there have been record levels of growth in investment.
The UK is one of the best places in the world to invest in renewable energy and is the best place to invest in offshore wind and marine energy. (source: Ernst & Young)
Since 2010 we have achieved more than £45 billion of investment in electricity generation, £14 billion of this came in 2013.
Since 2010, an average of £7bn has been invested each year in UK based renewable energy. In 2013 alone, almost £8bn was invested across the range of renewable technologies, a record high.
Investment in renewable electricity in the UK has risen from £2.4bn in 2005 to around £8bn in 2013.
EU renewables investment halved from 2012 to 2013; in the UK it increased.(Source: Bloomberg New Energy Finance).
All this is helping to drive investment in supply chain as a central part of this Government's long-term economic plan for jobs and growth.
And by working with the grain of the markets, we are ensuring that Britain gets the diverse energy mix it needs.
Home grown renewables, new nuclear, a switch from dirty coal to cleaner gas, and, when the technology is ready, carbon-capture and storage.
We have moved an important step closer to building our first nuclear power station, as the European Commission announced last week that it has approved the Hinkley Point C State aid case.
Earlier this month the world's first CCS project on a coal power station became operational in Canada. On CCS, the UK is leading Europe – this Government has set aside £1bn to support the UK's first CCS projects, with two projects – at Peterhead in Aberdeenshire and Drax in Yorkshire, under development.
If both projects are taken forward, they will provide clean energy for over 1 million homes, capture 3 million tonnes of carbon dioxide a year, and support over 2000 jobs during construction.
To ensure the UK has a secure electricity supply into the next decade Government is introducing a Capacity Market, with the first auction held in December 2014, ahead of delivery in 2018/19.
The Capacity Market will drive new investment in gas and demand side capacity to help keep the lights on, as well as getting the best out of our existing generation fleet as we transition to a low carbon electricity future.
By providing certainty, an attractive framework for investors and doing what's needed to manage supplies over the next few years.
As well as ensuring that we have the necessary investment in generation and networks we are putting consumers at the heart of our agenda.
We are helping households use less energy, reducing the cost of government policies on bills and, with Ofgem, reforming the retail energy market to make it more transparent.
We are also driving competition in the retail energy market.
There have been 12 new entrants to the domestic energy market since 2010.
With the result that the number of domestic customers with independent suppliers has risen tenfold.
The growth of the independent suppliers – there are now 19 independents operating in the domestic retail market - has contributed to the creation of a more diverse, dynamic and competitive market, giving consumers more choice than ever before.
Some of the independent suppliers are growing rapidly and are competing hard on price with the largest suppliers.
Others offer more specialised tariffs and services that are either not offered at all by the larger suppliers, or may be offered to a more limited extent.
According to industry figures almost half of all households switching electricity supplier are switching to an independent supplier.
As we look to the future, it is important to recognise that a significant part of the much needed investment into our energy markets being led by large energy companies and major investors.
And much as we laud the growth of independent suppliers I must stress that we are not anti-large company. There is plenty of room for large players, new markets and investors.
Our guiding principle is always to secure the best outcome for consumers.
Strong competition, driven by consumer engagement, is essential to incentivise companies to improve customer service, innovate, reduce their costs, and keep prices as low as possible. And that is why we are keen to encourage independents and new players to join a more diverse and competitive energy market.
But we must also look to improve and modernise some of the industry processes, so that when consumers choose to switch supplier they can do so quickly and smoothly.
I am greatly encouraged by the progress the industry is making to reduce the time it takes consumers to switch energy suppliers. The industry is on track to halve switching times by the end of this year.
And Ofgem has consulted on its roadmap for moving to next day switching with decisions due at the turn of the year.
Smart metering will provide a key pillar to next day reliable switching and more broadly will put power into the hands of consumers, bringing an end to estimated billing, helping people understand their energy use and choose the right energy supplier.
That's why the Government has a vision for every home and small business in Great Britain to have smart electricity and gas meters.
The Smart Meters programme requires energy suppliers to complete the rollout of smart meters to domestic and smaller non-domestic premises in Great Britain by 2020 and will result in some 53 million meters being deployed.
Our latest statistics show that by the end of June 2014 suppliers had installed 500,000 smart meters in homes.
The smart meter roll out will provide a platform to smart grids and support growth and competition in smart technologies and services, such as appliances that respond to changes in energy prices and sophisticated home energy management systems.
In the meantime, the Government's midata programme is empowering consumers by enabling them to easily view and access data about their usage and the tariff they are on.
Energy companies have led the way on this with the 7 largest suppliers already providing their domestic customers with secure access to this data electronically for them to view and download.
We are now looking to take this a stage further and enable this data to be provided in an automated way to third parties. Consumers will be able to easily access an accurate tariff comparison based on their own consumption from anywhere and at any time.
We also expect new services to emerge which enable consumers to use their data to find the deals, products and services best suited to their needs.
Putting this data back in hands of consumers can benefit both companies and consumers by stimulating innovation and improving consumer engagement.
And we are pressing forward with our proposals to require QR codes on bills to make switching even easier for consumers.
Now to my second point…
We are seeing the development of a completely new model of competition and enterprise that could in future lie at the heart of our competitive energy system.
For example driving more demand side solutions through greater demand reduction and demand response as well as increasing use of distributed energy.
These are the new challenges facing traditional utility companies and in the United States they call this the 'D3' agenda.
To take each one in turn…
Driving distributed energy is central to my ambition for a diverse energy market that brings greater choice for the customer - bringing choice to their front door and onto their roof.
Where companies, communities, public sector and third sector organisations grab the opportunity to generate their own electricity.
Empowering and helping to drive down costs for consumers as well as increasing competitive pressure on traditional utility business models.
Already, local and community generation is rapidly spreading and getting much cheaper.
And this is the crucial bit – getting cheaper.
Over half a million homeowners have now registered for the Feed-in Tariff scheme.
Solar PV has reached a fantastic 4GW of installed capacity in the UK.
Indeed, with falling costs, there are now a whole range of locally deployable low carbon energy technologies that can now be exploited economically.
From Combined Heat and Power systems, solar thermal, coppiced biomass and a variety of energy from waste technologies right through to hydro and wind schemes and more.
The UK is bursting with innovation and potential.
In Denmark, distributed energy already meets around 30 per cent of the nation's heating and electricity needs and in the industrial Netherlands nearly 40 per cent of energy is met from decentralised sources.
To help drive community energy forward in this country, earlier this year my department launched the UK's first ever Community Energy Strategy.
Our independent modelling for the Strategy shows that the potential of community energy could supply enough electricity for 1m homes by 2020.
I am already working closely with industry and community energy groups to ensure that our vision becomes a reality with the creation of planning, local supply, grid and hydro working groups.
DECC's own call for evidence last year showed that there are currently around 5,000 community groups working on community energy issues.
Ranging from the installation of wind turbines to door knocking to provide energy efficiency advice.
There is about 60MW of community-owed renewable electricity capacity in operation – just a tiny amount.
Yet my department estimates that there is still the potential for as much as £1.5bn additional investment from local communities into renewable electricity.
I am delighted to see companies such as Ovo creating innovative new business models such as partnering with Plymouth Council to help save residents' money on their energy bills.
However, we need to scale up, with everyone participating in the energy market. As well as community energy there is the potential for industrial and commercial distributed energy – including offices, factories, shopping centres and supermarkets.
And there is the potential for the public sector to not only generate energy for their own needs but export to their neighbours.
It is already happening in the Continent and if CHP can work in Slough business park, at British Sugar in Norfolk, at Waitrose in Bracknell or in the heart of Sheffield, or Birmingham, it can work anywhere.
But reducing our demand for energy is as equally important when it comes both to helping consumers to reduce their energy bills and to reducing harmful emissions.
The Green Deal and the Energy Company Obligation (ECO) are playing a key role in improving the energy efficiency of our households.
We have set a challenging target to improve the energy efficiency of 1 million homes between January 2013 and March 2015. I am pleased to say that we have already made significant progress towards this target with around 778,000 homes improved through a combination of ECO, Cashback, Green Deal finance and the Green Deal Home Improvement Fund to the end of July.
To date we have seen over 300,000 household Green Deal Assessments undertaken across the entirety of Green Deal, a significant achievement for the industry.
Research shows that 76% of households having had a Green Deal assessment said they have already, are in the process, or intend to install at least one energy saving measure.
The recent success of the Green Deal Home Improvement Fund (GDHIF) is further evidence of the public's appetite for making energy efficiency improvements.
Last week we announced a new phase of GDHIF - with an additional £100 million for household energy efficiency - which will open to households before the end of November. This extra funding is in addition to the £120 million available in each of the next two years for future schemes.
In addition, our analysis indicates that there is significant untapped potential for greater electrical efficiency in the UK.
Even on conservative assumptions, there is potential for up to 32 terawatt hours of savings - or around 9% of total estimated demand - in 2030.
This could deliver economic savings of around £2.3 billion and cut emissions in the traded sector by approximately 3.2 mega tonnes, saving electricity equivalent to that generated by around four power stations in a year.
That is why in July this year we launched the £20M Electricity Demand Reduction Pilot.
We're testing whether funding projects that deliver lasting electricity savings at peak times, like replacing old bulbs with LEDs or improving the efficiency of motors and pumps, could in the future compete with generation, demand side response (DSR) and storage in the GB Capacity Market.
We've allocated £10m to the first auction in January 2015, for which the deadline for registered organisations to apply is the end of this month [October], if successful, the pilot would mean that we won't be building new power plants to meet peak demand unnecessarily if cheaper alternatives are available.
Which brings me onto my final point –
This shift from a centralised energy market of the past to a more modern decentralised system of the future is creating a profoundly different competitive landscape.
This represents both an opportunity and a challenge for traditional utilities.
If utilities are to remain competitive they will have to adapt and need greater flexibility to be genuine full-service energy companies.
Crucially, success in the evolving energy market will also depend on rebuilding consumer trust which over many years has taken progressively bigger knocks.
In-home technologies, mobile technologies and smart meters are already giving consumers unprecedented control over how they manage and consume energy.
The ability to keep up with this pace of change and to innovate will be key for the industry as we move forward.
We are already seeing examples of innovative products –
One large supplier is offering an innovative new product that allows consumers to control their heating remotely from their mobile phones.
And one small supplier is piloting a scheme providing micro CHP boilers which generates electricity as it heats homes reducing electricity bills as well as carbon emissions.
Government itself is investing over £1 billion on low carbon innovation (2011-15).
We need to work with you in this sector to make this investment count.
So in conclusion, this government is putting in place foundations to unlock low carbon innovation and the development of the smarter, more integrated solutions that will be central to an affordable secure energy system of the future.
We need to embrace demand side response and demand reduction technologies with the development of onsite generation and community energy – creating new markets, jobs and growth.
Traditional utilities will need to adapt or face being left behind.
This means driving innovation, a greater focus on delivering energy efficiency and engaging meaningfully with customers – finding out what consumers really want.
This means increased collaboration between industry, government, local communities and the third sector.
Ultimately leading to increased growth, job creation, energy security and a greener, cleaner environment for everyone. Thank you.
Published 14 October 2014