UK and China: Partners for growth
Foreign Secretary William Hague addressed the UK-China Leadership Forum in London on 14 September.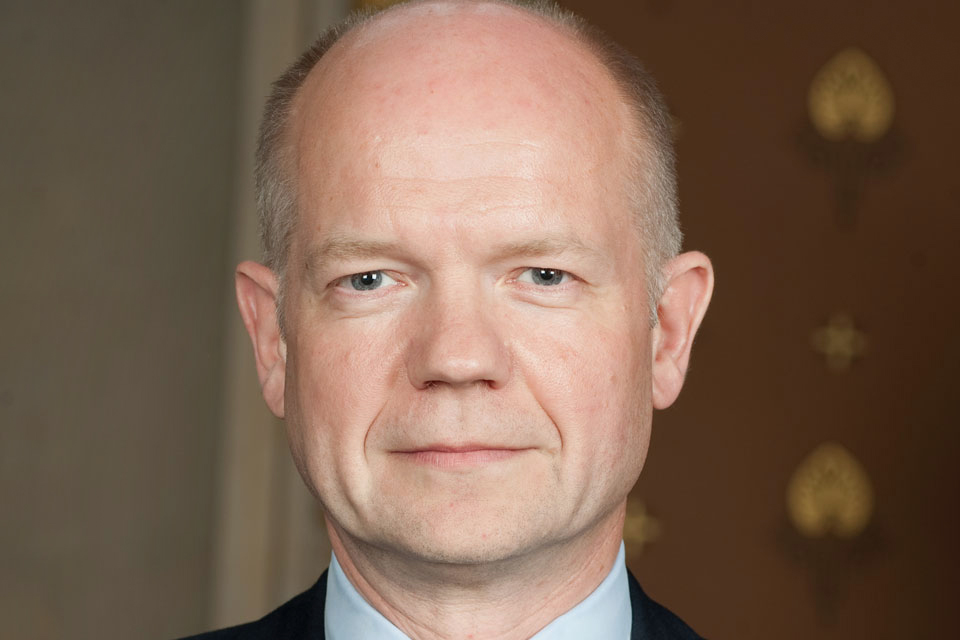 It is my great pleasure to be here this evening. I am delighted to address former and current participants of the Leadership Forum, now celebrating its fifth year. I've just had a discussion with the delegation and it sounds like this year's was a great success. Over the last five years the Forum has been a platform for bilateral discussion and debate; it has helped build lasting relationships and friendships in both countries and contributed to the strengthening of our relationship.
British alumni of the Forum have gone on to occupy key ministerial positions including David Lidington, our Foreign Office Minister for Europe. My own Parliamentary Private Secretary, Keith Simpson, took part this year and Ma Hui, who has played a key role at every stage of the Forum, was also promoted earlier this year.
Last year's general election was an exciting time for British politics - even for Labour MPs its been an exciting time - giving rise to the country's first coalition government since the Second World War. Chinese participants of the Forum were witness to this; joining my colleague Jeremy Hunt on the campaign trail in Wiltshire and John Prescott on his battle bus in Hull. My ministerial colleagues in their turn were given the opportunity through the Forum to visit the impressive Shanghai Expo and meet with financial experts and local leaders who were transforming that city into a world financial centre.
The links and friendships we are building through this unique initiative bring immense value to the relationship between the UK and China; helping us to understand one another better and to create a respectful, frank and open political dialogue between our political parties.
This Forum has also led to other significant endeavours between our two countries. I am delighted that we now have a Young Leaders Roundtable and I am also very pleased that this year we have been able to welcome delegations from China's Organisation Department and Central Party School to discuss cooperation on issues ranging from civil service reform and efficiency to building links between our countries best thinkers in universities and think tanks.
Our Chinese counterparts have reciprocated by welcoming Professor Niall Ferguson to the Central Office for Foreign Affairs to discuss strategic foreign policy and Lord Mandelson to the International Department to discuss the future of globalisation. We value all these cross party contacts with the Communist Party.
I commend those on both sides who have enabled all these worthwhile initiatives and made the Forum the success it is. The fact that so many participants return year after year is proof of their hard work and vision.
We must continue to promote efforts such as these because the relationship between the UK and China matters. Not only for our mutual prosperity, but because we need to work together to address the global challenges of our time.
The UK and China are partners for growth. Our two economies complement each other; China is the world's largest exporter of goods; the UK the world's second largest exporter of services. China's economic rise has been stratospheric. Now the GDP of single Chinese provinces can be compared to that of entire developed economies. If Chinese provinces were members of the European Union, 3 of them would be amongst the 10 largest economies in the European Union and they are of course set to grow further.
In the next phase of China's economic development, the potential for partnership with the UK will grow. The demand from China's middle class for advanced services and products is increasing dramatically, and the UK's businesses are well placed to help respond if they have access to China's markets. Their goods, services, experiences and skills can aid China's ambition to move up the value chain in industry. Our world leadership in areas like pharmaceuticals; education; green tech; oil and gas exploitation can help China achieve its goals and in the EU, we are the strongest advocate for free trade. By working together we can have a greater impact in the G20 and other international fora where we share an interest in securing strong, sustainable and balanced economic growth.
It is also important that we continue to work together for a successful Climate Change Conference in Durban, for expanded EU/China mutual market access, a successful conclusion this year to the Doha Development Round and as partners on the UN Security Council; and the months to come will be important ones for international leadership on Iran and Non-Proliferation.
As a mark of the importance we attach to our relationship with China the Prime Minister made it a priority to visit China 6 months into his time in office. He led the largest ever ministerial delegation to China, resulting in a wide range of agreements from trade, to low carbon growth, to cultural and scientific initiatives.
These positive steps have been built upon by subsequent high level Chinese visits to the UK. We welcomed Executive Vice Premier Li Keqiang in January which resulted in deals worth $2.6 billion, underlining this idea of the UK and China as Partners for Growth. Just a few months ago the Prime Minister welcomed Premier Wen to London for the annual UK-China Summit. And a further £1.4 billion trade deals were agreed.
We also established new mechanisms for dialogue to deepen our high-level conversation with China, including on strategic economic planning and links between people. We hope these strengthened bilateral ties will enable us to work better together in the global arena. And only last week, the Chancellor welcomed Vice-Premier, Wang Qishan, to the UK for the annual Economic and Financial Dialogue where they discussed macroeconomic stability, global economic governance, financial sector collaboration, and our commercial relationship. This year, for the first time, it also incorporated a dialogue on our economic complementarity with the National Development and Reform Commission in recognition of the mutual benefits our economies can bring each other.
Furthermore in recognition of the importance we attach to that strategic relationship and the fact that we need to shift our diplomatic weight to reflect global shifts in political and economic power, I announced earlier this year changes to our diplomatic network overseas. To further underline the value we place on promoting communication and understanding between our two nations, under these changes we will be adding more new frontline staff in our China network than in any other country.
Looking to the future we will continue to strive towards meeting our $100 billion target for trade between our countries and we intend to start work immediately on the ideas this conference has generated, including on infrastructure, international property rights, small and medium enterprises and science co-operation.
I look forward to further discussions with State Councillor Dai Bingguo during the next round of our Strategic Dialogue later this month. In our view political and economic development should go hand in hand, and I hope that there will be space in our relationship for leaders to discuss a broad range of subjects including sensitive ones - which I have no doubt you have been discussing.
We believe a strong relationship between our countries is to our mutual benefit. I am encouraged by the amount we have achieved in the past year and by the level of our ambition for the future.
To echo Premier Wen's statement during his recent visit to Britain, I too, have every confidence in the future of UK-China relations, and I personally attach great importance to this. So I am delighted you have come together to have these important discussions. You'll always be welcome here in the future.
Published 14 September 2011