Speech
Transforming the rail passenger experience
£750 million Birmingham New Street station re-opens.
Thank you.
And good afternoon ladies and gentlemen.
It's a real privilege to be here today (18 September 2015).
To see this fantastic new concourse.
Ahead of the public opening at the end of the week.
Finally, Birmingham is getting the station it needs and deserves.
Somewhere spacious, light, and accessible.
Which will help transform the passenger experience for around 170,000 people who use Birmingham New Street each day.
Because for decades, this station has been associated with overcrowding.
Outdated 1960s design.
And poor customer facilities.
It's been handling twice the number of trains it was built to accommodate.
And twice the number of passengers.
So frankly, the team here have done a remarkable job keeping things running under difficult circumstances.
But the problem with the old New Street station wasn't just insufficient capacity.
It was what it said about Birmingham.
This is – after all – the biggest railway interchange outside London.
And the main station for Britain's second largest city.
It's the place where millions of people every year form their first impressions of Birmingham and the West Midlands.
And whether they were business travellers or tourists, few of them could have warmed to the old station.
The fact is that the old New Street station simply didn't reflect the modern city.
A city with a vibrant metropolis.
With world-leading manufacturing and digital industries.
Where new businesses, new homes and new retail developments, like Grand Central Shopping Centre above this station, are regenerating areas that had fallen into decline - such as around Curzon Street.
Between 2002 and 2012, growth in Birmingham was the lowest among the 10 UK core cities.
But Birmingham was named the best performing core city in 2013.
And as the Birmingham Post reported recently, growth in the West Midlands is subsequently outstripping any other core city region.
That's the Birmingham that New Street Station reflects today.
And as Britain's economy continues to recover strongly over the next few years.
And as we start building the first section of HS2 between London and Birmingham.
The prospects for this city's future are just as exciting.
So I'm delighted to see that now it has this stunning new gateway.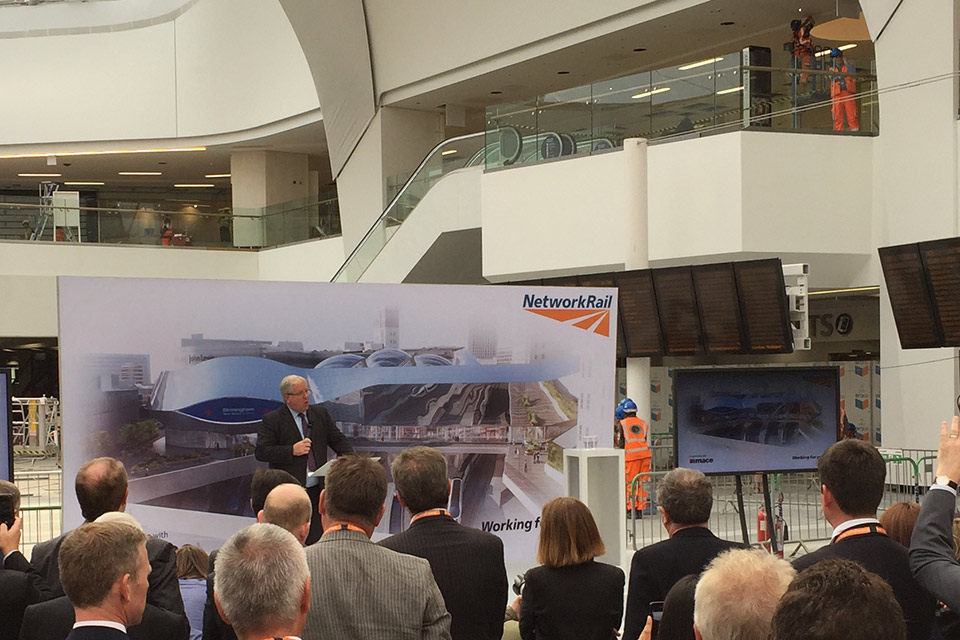 But before I finish, I'd like to say thank you.
Thank you to all the passengers who have patiently waited for the work to be completed.
Thanks to Sir Albert Bore – and all the local authority staff who have supported the project.
Thanks to Mark Carne and his team at Network Rail – together with the rail operators.
And everyone who has helped build and deliver this marvellous station.
That includes more than 1300 local people who have been involved in the scheme so far, including 250 who were previously unemployed.
And more than 100 young people who have worked on New Street as apprentices.
You've all done a superb job.
Thank you.
Published 18 September 2015