Speech
"This is a dark day for the people of Aleppo, surely the darkest of the past five years."
Statement by Ambassador Matthew Rycroft, UK Permanent Representative to the United Nations, at Security Council emergency meeting on Aleppo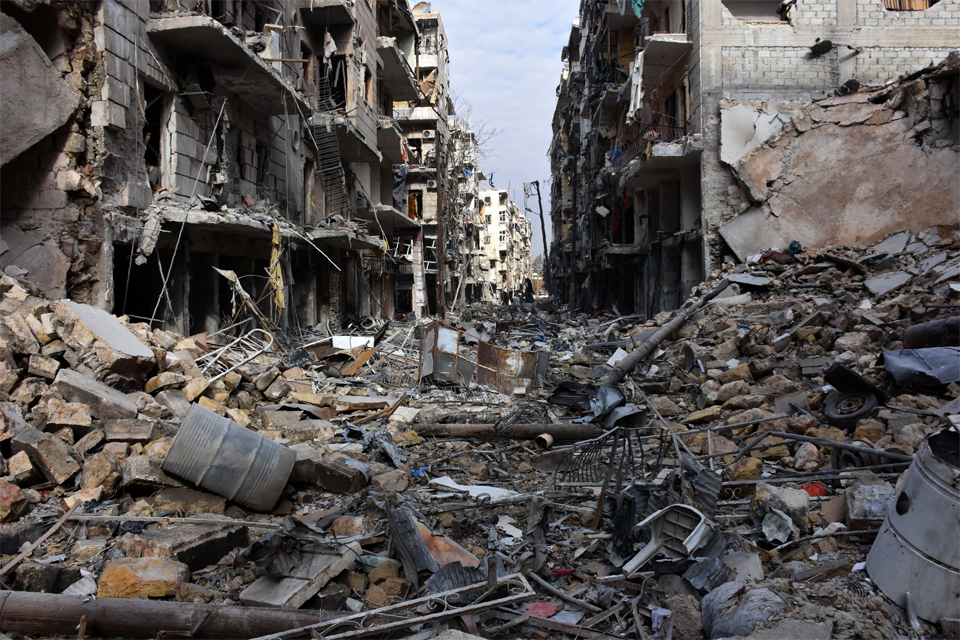 Thank you Mr President for agreeing to hold this emergency meeting at the initiative of France and the United Kingdom.
This is a dark day for the people of Aleppo, surely the darkest of the past five years.
Asad's forces, propped up by Russia and Iran, have once again redefined horror. They have gone from siege to slaughter.
Today the United Nations has received reports that pro-government forces have been entering homes in Eastern Aleppo. They have been going door to door, executing people on the spot. 82 people murdered. 13 of whom were women. 11 were children. None were terrorists.
We have heard reports of women committing suicide, in order not to be raped. We have heard reports of people being burnt alive. We have heard reports that hundreds of men have disappeared fleeing Aleppo, taken by the regime. All these reports evoke the darkest days of the history of the United Nations.
When it happened before, we said never again. Well, it is happening again, today.
There must be protection for civilians. Even wars have rules. We urge the Asad regime and Russia and Iran to respect these rules and indeed to respect the will of the vast majority of Security Council members and the vast majority of members of the General Assembly. We urge those who chose to back Asad to think again.
As the Secretary General has just told us, the Security Council has failed. It has failed because Russia has used and abused its veto time and again. Even to prevent a 7 day ceasefire.
To those who backed Asad and blocked action in this Council, we ask how can you side with such cruelty? How can you abide such an abuse of the UN Charter; words that we all claim to uphold?
So re-find your moral compass. Re-find your belief in the dignity and worth of the human person. Re-find these things before it is too late and help us bring an end to the suffering.
We know what needs to happen.
The attacks, the killings must stop. The suffering of those left in Aleppo has gone on for far too long. The United Nations stands ready to help get aid in and get civilians out. The opposition have agreed the plan. But in order for it to happen the regime and its backers must put humanity first and grant the UN the permissions needed.
We will have different arguments from Russia this morning, but I sincerely hope that despite the differences, Russia and others on the Security Council who opposed the ceasefire last week, could at least agree to these basic steps.
One, allow the UN to access eastern Aleppo so that it can provide eyes on the ground, get aid in to those who need it, and protect civilians. Two, join my call today that we will hold accountable anyone from any side who commits war crimes. And three, help bring peace to Syria through the only route possible, a political solution.
With the eyes of the world watching, we should be clear what will happen if this does not come to pass.
Aleppo will become a memory, a city only known to the dead. In the coming days, hundreds if not thousands of people will be killed or disappeared, their fates unknown.
But the fall of Aleppo will not be a victory for Asad. He will have sacrificed his country and the lives of hundreds of thousands of innocent civilians just to keep his grip on power. How can he expect to lead a country that he has so callously destroyed? How can he expect to unite a country that he himself has wilfully divided?
A doctor from Aleppo illustrated this best earlier this month. He said, and I quote:
"Asad gave people in Aleppo only two choices. Either to go back to his control, or to die by bombing. We will not go back again to Asad's control." End of quote.
The war will not end with the fall of Aleppo. Asad will never control the hearts or minds of those Syrians crying out for freedom. He will only hold a third of Syria. And he will be in debt to those foreign powers who would rather help him destroy his country than help this Council save it.
The irony is that as they carry out these barbaric attacks in the name of defeating terrorism, it is the real terrorists, the real threat who are resurging elsewhere in Syria.
This week Palmyra fell again to Da'esh. Palmyra is now in the hands of a group whose blood lust is only rivalled by that of the Asad regime. Instead of fighting them, Asad has enabled them. He's enabled them through obsessively, systematically, brutalising his own people. He claims that he's fighting terrorism. If it wasn't so tragic, so horrific, those claims would be laughable.
Mr President,
This Council cannot turn a blind eye on this gravest day of this most heinous conflict of the 21st century. We cannot be distracted by false claims of fighting terrorism. And we cannot, we must not, allow there to be impunity for these war crimes. We owe it to the people of Aleppo – the living and the dead – to ensure that there is accountability for the horror perpetrated by Asad and his Russian and Iranian backers.
Thank you.
Published 13 December 2016