Speech
The UK needs a successful, growing aviation industry
Aviation Minister Lord Ahmad argues that the aviation industry's importance to our country will grow.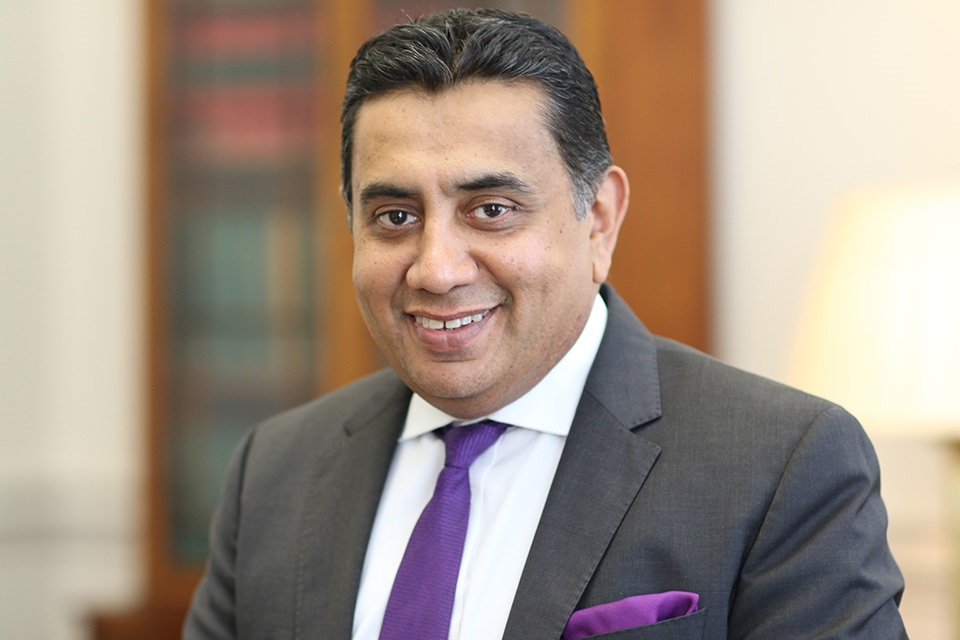 Opening remarks
Good evening.
I'm delighted to join you.
I apologise that this will be a bit of a flying visit for me – no pun intended.
The House of Lords is debating the Article 50 bill this evening.
And I am under a strict curfew to get back in time for the vote.
Even so, I was determined to be here as this is a welcome chance to say a few things about the progress with our aviation strategy.
And at a time of real change and challenge for the industry.
But first, it's worth recounting some of the things that we've been able to do since Theresa May took the reins over the summer.
In July, the Chancellor and I visited London City Airport after approving a major expansion project.
In September, we negotiated the first ever UN Security Council resolution on aviation security; securing agreement that countries need to work with the International Civil Aviation Organisation, to confront the terrorist threat, with all the global co-operation, training and technical assistance available to us.
In October (2016), we also worked with ICAO to secure a new global market-based measure to control CO2 emissions from international aviation.
Over 190 countries agreed on the measure and sent a clear message that aviation will play its part in combating climate change.
Later in October, we signed a deal with China to allow many more flights between our countries.
We followed that up with an announcement of the government's support for a new runway at Heathrow.
Last month we published the National Policy Statement for the new runway – an important step forward in the process.
At the same time, we published a consultation on modernising our airspace.
And a week later, I signed a deal in India to allow more flights between our 2 countries.
Of course, I am always aware that any airport is dependent on the surface transport links that connect it to its customers.
So it's good news that last month HS2 achieved Royal Assent – and the first phase effectively now has planning permission.
It'll give new direct links to Manchester and Birmingham airports, and improved journey times and connectivity to several others, including Heathrow – with a connection to the nearly-complete Crossrail line at Old Oak Common.
And, of course, there's been the small matter of our plans for Brexit.
Plans which are of real significance to the aviation sector.
So let me address them first.
Brexit and economy
Our position is clear.
We will be negotiating for a new, comprehensive, free trade agreement, giving us the best possible access to the European single market.
And we want to secure the right access to European aviation markets.
It's in the interests of the UK, the EU, European countries, and everyone who lives or travels between them, to seek a liberal arrangement for aviation.
So that you can continue to offer passengers a wide choice of destinations.
And so Britain can continue to do business with our European neighbours – and vice versa.
Of course, the final outcome will have to await the conclusion of negotiations.
It's the same for all other areas of our economy.
However, tonight, I want to reassure you that my department is fully aware of the range of issues that concern the sector as we trigger Article 50.
We are listening, are working to deliver the right package, and I am confident that we are going to get deal that suits the UK.
Our country has always led the way on aviation, from safety to innovation.
We intend that to remain the case.
And so too will Britain's economic importance to Europe and the rest of the world remain.
Far from the gloomy forecasts that some commentators made in the summer, Britain ended last year as one of the strongest of the world's advanced economies.
Growth didn't just remain steady in the six months after the Brexit vote.
It accelerated.
Confidence in our economy is strong.
And that's because markets can see opportunities for Britain.
To strengthen our position as a global player, with the connections and gateways to forge new links with fast growing countries.
Industry strength
Let's not forget we are already one of the best connected countries in the world.
And demand for flights continues to grow.
Last year British airports added new routes to San Jose, Lima, Costa Rica, Santiago, Tehran, Sri Lanka and Iceland.
And recently I was in India, signing a deal to allow more flights between our countries.
These new connections matter.
Not just to the aviation industry, or even just to those business people and leisure travellers who will take these long-haul flights.
But to our country as a whole.
Last month, accountants PWC published their long-term forecast of the world economy.
They predicted that over the next three decades, Britain will grow faster than any other major advanced country – thanks to our flexible economy and our large working-age population.
That's good news.
But PWC were clear, as am I, that this bright economic future is dependent on one thing above all: Britain forging new connections with the world.
To make these predictions a reality, we need to develop trade and investment links with the world's fast-growing economies – many of which are not on our doorstep.
That is why in the years ahead the aviation industry's importance to our country will only grow.
And that is one reason why we are cracking on with getting approval for a new runway at Heathrow.
Aviation strategy principles
And it is today, tomorrow and the longer-term that form the context for our new aviation strategy.
We've had the debate over expansion in the south east.
Now we've got a chance to take a broader look at the industry.
The aviation strategy is our chance to do that – to take a fresh look at the industry as a whole, its needs and opportunities, and the role of the government.
We're focusing on issues where government can make a difference.
Where we can support the industry.
So over the next year, we'll be looking at airports, safety, security, competitiveness, consumers, regulation and capacity.
And recently I've been setting out my principles for the review.
The first I've already alluded to.
It's obvious, but fundamental.
Heathrow's proposed expansion is vitally important, but the aviation industry is more than just Heathrow.
We need to support UK aviation as a whole, for the whole of the UK.
My second principle is this, that: the consumer matters.
In any kind of review, you have to choose what to focus on.
We could have chosen to prioritise the economy, regional links, international trade, or one of many other alternatives.
All those are vitally important.
But we've decided to focus foremost on the consumer – the passenger, the freight customer, and the leisure user – because that's where it all comes together.
If the industry's getting the consumer experience right, you're probably getting much else right too.
My third principle is that: the market works best.
One reason UK aviation has been so successful is because as far as possible it operates on competitive, free-market principles.
The industry's approach is that where there's a problem, there's a market solution.
And where there's an unseized opportunity, there's a market solution for that too.
In our aviation strategy, we're going to take this market-based approach seriously.
It means we'll only look to get involved where there's a market failure that the government can usefully solve.
And where there's no role for the government, we're going to let the industry take the lead.
Over the course of this year, we're going to publish a series of green papers.
The aim is to stimulate debate.
And we want to hear from airports, the aerospace sector, freight customers, passengers, airlines and the public about opportunities to do things differently.
That might mean the government doing more in some areas.
And it might mean doing less in others.
Then in 2018 we will publish a final white paper setting out our plans.
Of course, that doesn't mean no decisions will be made until then.
Where something is clearly the right thing to do we will get on with it.
Airspace modernisation
A case in point is our drive to modernise the way we use our country's airspace.
As a country, we need to make the best use of all the assets available to us.
Our airspace is one such asset: a critical piece of national infrastructure.
But like much of the rest of our infrastructure, it is increasingly congested.
Modernisation is well overdue.
While aircraft are fitted with the latest satellite navigation technology, most of our airspace arrangements are half a century old.
Without action, flight delays will increase enormously in the next few years.
This wouldn't just be damaging for passengers, but also for the economy and the environment.
So that is why last month we launched our consultation on measures to support airspace modernisation.
These measures will provide for the use of modern technology.
To reduce delays, cut noise for local communities, and lower carbon emissions
Conclusion
But in conclusion, I'd like to pay tribute to this industry, to all of you.
Politically speaking, we're living in unpredictable times.
But there's one prediction I think it's safe to make.
Britain is going to need its aviation industry – it's airports, manufacturers and airlines – more than ever.
To grow our connections with the world.
To show the world we are open for businesses.
I am grateful, then, that we have one of the world's very best aviation industries.
It's a resilient industry.
An innovative industry.
And an industry ready for the future.
Thank you.
Published 9 March 2017