Speech
The UK, Brazil and Science Diplomacy
On 15th December Foreign Office Minister for Science, Hugo Swire spoke to students from Brazil on the Science Without Borders programme at Harwell Science Park.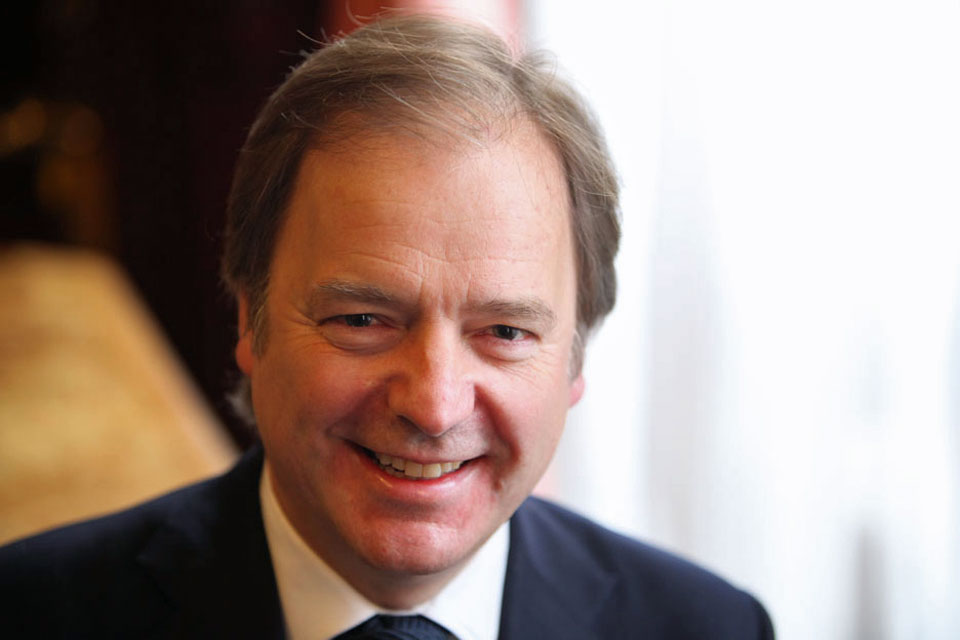 I am delighted to be here with the Brazilian Ambassador, His Excellency Roberto Jaguaribe - and I thank Professor McGreevy and Dr Cosgrove at Harwell, and Professors Cowley and Cashmore at Culham Laboratory for their hospitality.
But most of all, I thank you for coming today - and for choosing the UK to pursue your studies.
We have seen a wide range of extraordinary capabilities here, from nuclear fusion research to a cutting-edge diffractometer. I can't claim to have been hugely knowledgeable about diffractometry before coming here. But I have been enormously impressed by what are undoubtedly world-class facilities.
Clearly, it is important for the sake of science that we collaborate in our research with Brazil. President Dilma's Science Without Borders programme shows an admirable commitment to turn Brazil into a scientific superpower, and we have a lot both to offer and to gain from partnering with you on that journey. But it also encapsulates something optimistic and rather important about our wider friendship.
This friendship stretches back a long way. In December 1831, Charles Darwin set off from Plymouth on HMS Beagle as part of a global research trip that was to last almost five years. His first main stop was Brazil.
Darwin at this stage was 22 – younger than most of you – and was little known. His father thought this adventure was a waste of time - simply the latest in a long line of idle pursuits. But it had a huge impact on Darwin's later career. He was dazzled by the rainforests in Brazil and collected a huge range of plant and insect specimens – as he did all over South America. He later wrote that suspicions he had about the similarities of birds and tortoises he found on that trip "seemed to me to throw some light on the origin of species". Which turned out to be rather useful for our understanding of the world.
And incidentally, I am delighted that we still continue the work of this great man today. The Royal Botanical Gardens at Kew are working wiith the Brazilian National Research Council, Rio Botanic Gardens and Brazilian universities to digitise plant collections - including specimens collected by Charles Darwin. It is called the Reflora project, and it will benefit not just Brazil and the UK - but future generations, all over the world.
This is just one of the many projects that we are working on together, making Britain one of Brazil's strongest partner in science after the United States.
We have complementary strengths in areas that matter to both of us, from food security to biodiversity.
The most recent science collaboration between the UK and Brazil is the Newton Fund – with exciting possibilities to fund future research partnerships from climate change to urban regeneration.
And, of course, the UK has welcomed over 8,500 students under the Brazilian Science without Borders scheme. We are the second most popular destination out of 65 countries in the scheme.
A third of Science Without Borders students are already on some form of industrial placement here. But we want that number to grow - and will work with British companies to ensure that it does.
This is all why we have put dedicated Science & Innovation Network teams into the British Embassy in Brasilia and the British Consulate in São Paulo. Science partnerships, as I have said, are important for their own sake: citation indexes show that when Brazilian and British researchers collaborate, their impact increases by a third. But we also see science as an important pillar of our bilateral relationship.
This brings me on to my final point. Why is it that the Foreign and Commonwealth Office is doing this at all? It isn't exactly the traditional high politics you tend to hear at Ambassadors' cocktail parties. Why have we appointed Professor Grimes to be the FCO's Chief Scientific Adviser; why have we expanded our Science and Innovation teams in our Posts overseas; why have we launched the £375m Newton Fund to fund research with emerging scientific powers; and why have we decided to make a Minister – me – specifically responsible for all of this work?
The answer is that we have identified huge unexploited potential in what I call science diplomacy, which matters to the UK for three reasons.
First of all, our network of Embassies and High Commissions overseas can be of huge value to British scientists as they look to build partnerships internationally – just as they are for British businesses and cultural organisations - and we want to make sure those links are maximised for the sake of our research, innovation and economic prosperity. Just look at the vital tie-ups that were announced during the recent visit to the UK of President Tan of Singapore.
Secondly, this network can mobilise coordinated international scientific action on specific cross-border issues that are of strategic significance to the UK. You can see this in much of the work we are currently doing on Ebola, or in the Prime Minister's international campaign to tackle the very grave threat of anti-microbial resistance.
Thirdly, of course, our world-class science is a huge part of the British brand that we want to promote around the world. It features prominently in our GREAT campaign which puts forward the best face of Britain in a competitive world. This has already generated a return on investment worth an estimated £500m to the UK, although its value cannot just be described by a number.
So let me finish by wishing you every success in your academic studies. Do keep in touch with the British Embassy's Science Without Borders alumni network, its dedicated Facebook group, and look out for its alumni events over the coming year.
Wherever your career takes you, I hope you will continue your relationship with the UK to the benefit of both our countries.
And I hope your parents are a little more open-minded to the value of your travels than Darwin's were.
Published 15 December 2014