Speech
The UK and India: four myths and a big idea
Transcript of speech by the British High Commissioner, Sir James Bevan, KCMG at the British Business Group event in Chennai on 29 September 2012.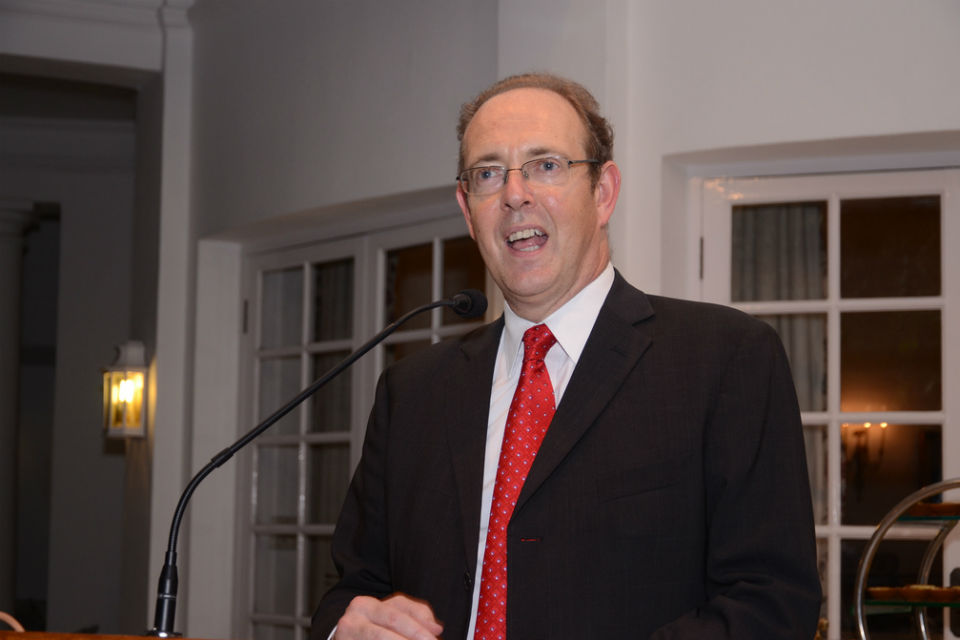 Introduction
Shortly after I arrived in India I met a famous Indian politician in New Delhi – for reasons which are about to become obvious, I won't name him. I asked this politician what he'd learned from his time in politics. He thought about it, and said: "You know, I've concluded that your personal happiness is in direct proportion to your distance from Delhi". I've taken him at his word, and that's why I am delighted to be here in Chennai, which is about as far as it is possible to be from Delhi and still remain in India.
I've also made it my number one priority since my arrival to support British business in India and Indians doing business with the UK, which is why I am particularly pleased to be at this gathering of the clans of all the British Business Groups in India. Thank you for inviting me. I look forward to a long and productive relationship with all of you.
I work for Queen Elizabeth the Second. So I want to open my remarks with Sir Henry Wotton, who was a diplomat for Queen Elizabeth I over four hundred years ago. His definition of a diplomat has become famous: "A diplomat is an honest man sent to lie abroad for his country". I'm not here to lie to you. On the contrary I want to tell you the truth exactly as I see it. And in particular I want to nail four myths which I have heard a lot of in my first few months here in India.
Myth one: the Indian miracle is over
The first myth is that the Indian economic miracle is over. The Economist summed this view up with its headline in June: "Farewell, Incredible India".
Now I am not going to deny that India today faces some tough challenges. Nor that things could be better: they always can.
But I have to say that every time I get out of New Delhi into what many people would call the Real India, I encounter a different country from the one I hear about in the media and in political discourse.
I have now visited 20 of India's 28 states. I have been not just to all the first tier cities, but many of the second and third tier cities, and a lot of rural India.
And in this real India the growth rate is not 5% but 10% or more. In the real India, almost everyone's standard of living is rising. In the real India a vast middle class is growing up, generating more prosperity and helping ensure lasting stability. In the real India, parents rich or poor are making huge sacrifices to put their children into the best education they can afford – the best of all investments for the future of their child and India.
In the real India, I meet every day astonishing talent, and there's a lot of it here in this room. In the real India, I see every day examples of world class excellence, in medicine, research, business, education, the creative arts.
In the real India, I see the unity in diversity of which Nehru spoke, and which is a truly powerful driver of creativity and growth. In the real India, I keep meeting talented young Indians who have gone abroad for their education and first business startup, but who are now coming home because they see even greater opportunities here in India: and when the talent comes home in this reverse brain drain, you have one of the strongest of all reasons to be confident about India's future.
And finally, in the real India I see something that is probably more important than any of the other things I've identified: I see optimism. Everywhere and at every level, I meet people who think that while today is good, tomorrow will be better. You can't quantify the economic and social benefits of optimism. But they are huge, and India has them – as it has many other things – in industrial size quantities. So I don't buy the death of the Indian miracle. I think it is happening in front of our eyes and we should celebrate it.
Myth two: India's too tough for UK business
The second myth is one I have already met back in the UK on my trips there. This is that India is just too tough at present for UK business.
I don't buy this either. First, because it's manifestly not true. Despite a tougher environment over the last year or so, many entrepreneurial UK businesses, of which you are leading representatives, are doing just fine in India right now. And second, because I think the future potential for UK business here is even greater than it is now.
Why is that? Because I think there is a natural fit between our two economies and what we offer each other which isn't there between most other countries and India. And that means we can and should be much more ambitious than we have been in building an economic partnership between our two countries. Let me explain.
In brief, the UK has what India wants; and India has what the UK wants.
Let's start with India. India's strategic goal is transformation: inclusive development that benefits all its people. To achieve that:
India needs investment: the UK specialises in raising and delivering investment capital.
India needs infrastructure: roads, metros, railways, ports, airports: the UK specialises in designing, building, and running infrastructure.
India needs to build new cities and to manage the successful expansion of its existing ones: the UK specialises in urban planning, urban renewal and architecture.
India wants to shift a significant proportion of its population out of agriculture and into manufacturing, and create a bigger manufacturing sector at the top end of the value chain: the UK specialises in precisely the high tech manufacturing required. Example: Indians love their mobile phones. Almost every mobile phone in the world (95% of them) has a piece of UK technology, the ARM microchip.
India needs power, from both traditional sources like oil and gas, and renewable sources like wind and solar power: the UK specialises in all those areas.
India wants to educate the 500 million of its young people who will be coming onto the labour market in the next ten years: the UK specialises in education and skills.
India wants to provide better healthcare for its 1.2 billion people: and part of the solution is to bring in more private provision: the UK has great expertise in health and medicine..
as India grows, its middle class want consumer goods and luxury brands: the UK produces many of these. Scotch whisky, high end fashion, beautiful cars.
as Indian businesses become global players, they want the kind of international services which the UK offers: in banking, insurance, accountancy, law.
and the first condition of development is peace. India wants a secure and stable external environment in which it can pursue development at home. That requires up to date defence capabilities: which is what the UK defence industry, the second largest in the world, offers.
So there is a close match between what India wants and what the UK offers.
The same applies the other way round: India has what the UK wants.
What does the UK want? In short, a return to strong and sustainable growth. How is that going to happen? In three main ways. Through:
Export led growth: selling UK goods and services to other countries. India is one of the largest markets in the world. It will soon have the biggest population in the world. If the UK is going to succeed in export led growth, it has to succeed here in India.
Inward investment into the UK. Which is why the UK welcomes inward investment. Example: Jaguar Land Rover, acquired by Tata and now hugely successful. Think about that. How many other countries would allow a foreign investor to acquire one of their flagship national companies? The UK didn't just allow it, we welcomed it. And it turned out to be great for Tata and great for us, generating thousands of new jobs in the UK and runaway sales for JLR. That openness to foreign investment has meant that the UK has become the largest recipient of FDI in Europe and the second largest recipient of FDI in the world after the US.
Attracting talent to our shores. We've done spectacularly well in that over the last forty years. Example: the Indian diaspora in the UK - the biggest, richest, and most successful diaspora of any in the UK – many of whose most distinguished members are here today. So the UK has what India wants, and India has what we want. That's the best possible basis for a strong relationship: enlightened self interest.
Myth three: the UK is finished
Another myth I have encountered here among those who don't know the UK that well, is that the UK is finished or in terminal decline. That the UK may have had a great past, but that its glory days are over.
We in the UK reject that completely. We think Britain's best days are ahead of us. While we are rightly proud of our past, we are confident of our future.
Why? Because the UK has some big assets which fit us well for the challenges of the 21st century.
Britain:
is and intends to remain one of the world's largest economies. We are today the seventh largest economy in the world (India is eleventh) with an annual GDP of over $2.4 trillion.
has the right economic fundamentals. We have a highly educated and flexible workforce, a strong banking system, a stable democracy, the rule of law, and macro economic policies which support growth.
is one of the most business-friendly environments in the world. The current government has cut red tape. It has cut corporation tax. The UK already has the lowest corporate tax rate in the G7: we cut it to 24% this year. And we will bring it down to 22% by 2014, which will make it one of the lowest in the world.
makes it easy for entrepreneurs. The UK is ranked first in Europe by the World Bank as the easiest place to set up and run a business. To establish a business in the UK today takes just 13 days.
is the place to be if you want to do business in Europe. We offer direct access to the largest single market in the world, that of the EU.
is the place to be if you want to be a global player. The UK is where the world raises its capital and trades its shares, through the City of London and the Stock Exchange. The UK is in the right time zone, allowing you to talk to Asia in the morning and America in the evening. The UK has the best connections to the rest of the world: Heathrow Airport handles more international flights than any other airport. And the UK speaks the world's language, English.
is a world leader in the things which drive prosperity and growth: science, technology, and innovation. Examples – the iPod, designed by a Brit; the Internet, invented by one; and the Higgs Boson, the so-called God particle which explains why the physical world works, predicted by a Brit – and found earlier this year.
is a world leader in education. Of the top six universities in the world, four are British.
can do difficult things well. Example – the London 2012 Olympics: delivered on time, on budget, with friendliness, good humour and style.
So while we have been going through a difficult period, we in Britain are confident that we will soon see the return of strong and sustainable growth. There are some signs of that already: employment, already much higher than the EU average, is rising. And others agree: UK Government debt has retained its AAA rating. For me the biggest and best of all indicators is what shrewd Indian investors are doing: last year Indians invested more in the UK than in the rest of the EU altogether.
Myth four: the UK is closed
And so finally to perhaps the biggest of all myths I have met here in India: the myth that Britain is closed. That we no longer want foreign students, businesspeople, or visitors. Let me deconstruct this myth with a few facts.
It is true that the British government is committed to reducing net migration to the UK. I am not going to apologise for that: the democratically elected government of the UK has set that as an objective; it has strong popular support; and we are a crowded island. We have to think about our own citizens, and the need to maintain social cohesion and the good relations we currently enjoy between Britain's diverse communities.
But we are equally committed to ensuring that the world's best and brightest still come to the UK, for the simple reason that it's in our own self-interest. Many of those best and brightest are Indian. So we will continue to welcome all legitimate Indian visitors, students and business people to the UK.
We do all we can to offer our visitors the best possible visa service. India is the UK's biggest visa operation in the world: last year we dealt with 400,000 visa applications. We aim to make it as convenient as possible for Indians to apply for a visa: we operate 12 Visa Application Centres across India, more than any other country.
We aim to issue visas as quickly as possible: we complete most short term visa applications within less than 10 days. Many successful applicants will receive their visas much quicker than this.
We aim to say yes: most Indians who apply for a UK visa get one: last year nearly nine out of ten Indians who applied for a UK visa (87 %) were successful.
We want Indian students to continue to come to the UK in large numbers. So we have set no limit on the numbers of legitimate foreign students who can come to the UK. And we like to say yes: last year we issued over 30,000 student visas to Indians, and 75% of those who applied were successful. .
And we want Indian business people to continue to come to and work in the UK. So we provide special visa services for major investors, regular travellers, and high value customers. And again, we like to say yes: of those Indians who applied for a business visitor visa last year, over 95% were successful.
Nor are we closing our door to skilled workers from India. We will continue to welcome those who can fill gaps in the labour market which cannot be filled by UK residents. After listening to Indian industry, we have made special arrangements for Indians coming to the UK under intra-company transfers (where a company based in India wishes to send a staff member to work for the company in the UK). We have deliberately not set a limit on the number of Indians who can come to the UK by this route. Last year we issued over 15,000 intra company transfer and work visas.
And finally, we continue to encourage Indians to visit the UK to see family or for tourism. Last year we issued over 250,000 visit visas. And we usually say yes here too: 90% of those who applied for a visit visa were successful.
Conclusion
I'll close with another quote about diplomacy, which is an attempt to define it: "diplomacy is the art of saying "nice doggie" until you can find a big rock".
I don't agree with that one either. India and the UK don't need a big rock in dealing with each other. What they do need is a Big Idea. And mine is the one I have proposed to you this morning: that there is a closer natural fit between the UK and India than between any other country; that we should celebrate that fit; and that we should exploit its potential to the maximum for the benefit of all our peoples.
Published 29 September 2012
Last updated 15 May 2013
+ show all updates
Added translation
First published.