Speech
"The Russian Federation bears significant responsibility for the violence and instability in south-eastern Ukraine"
Statement by Ambassador Lyall Grant of the UK Mission to the UN to the Security Council meeting on Ukraine: MH17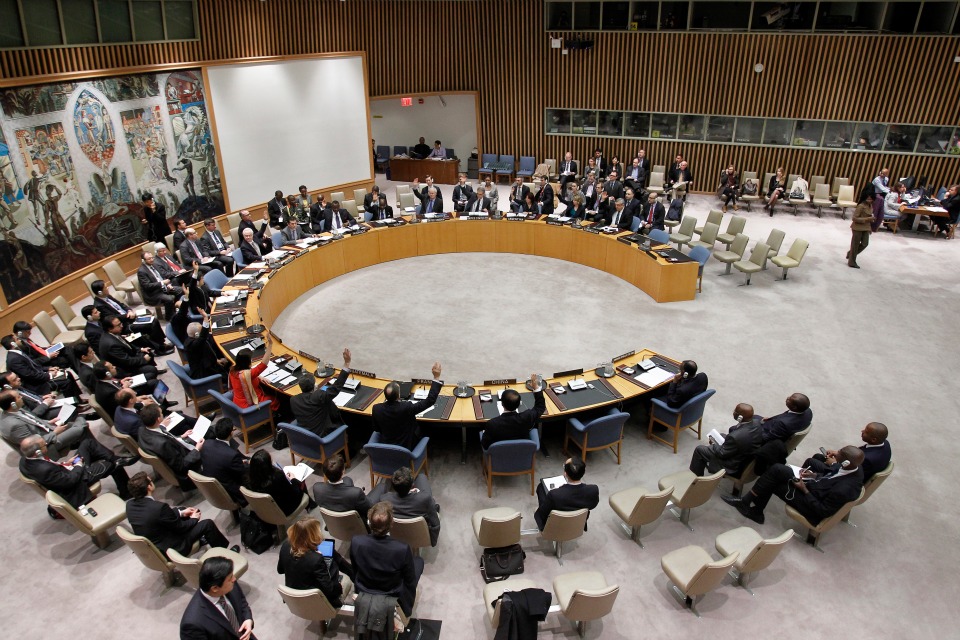 I thank Under-Secretary-General Jeffrey Feltman for his briefing and acknowledge the presence in the Security Council this morning of the Foreign Ministers of the Netherlands, Australia and Luxembourg.
The United Kingdom welcomes the Dutch Safety Board's preliminary report of 9 September and would like once again to send our deepest condolences to the friends and families of those who died on Malaysia Airlines flight MH17.
Last month I had to honour to lay a wreath on behalf of all Security Council Members at the memorial site in Schiphol airport in honour of the 298 victims of the tragedy.
We commend the Dutch Safety Board for having produced a report which is thorough, professional and based firmly on the facts. While it is a preliminary report, with a limited mandate, the conclusions drawn from the evidence available to the investigators are clear. The report rules out any operational or technical causes for this crash.
The damage discovered on the wreckage of MH17 is consistent with the damage that would be expected from a large number of high energy objects penetrating the aircraft from the outside. From this we can draw only one conclusion: that Malaysia Airlines flight MH17, a civilian airliner carrying 283 passengers and 15 crew, was hit by a blast fragmentation warhead – a warhead that is typically fitted to surface to air missiles.
Neither this preliminary report, nor the final report, will seek to attribute culpability.
But we know that seconds before flight MH17 dropped out of contact, a surface-to-air missile launch was detected from a separatist-controlled area in south-eastern Ukraine.
We also know from an intercepted conversation that a known separatist leader was overheard claiming that a separatist faction had shot down an aircraft at the time of MH17's disappearance. Another separatist leader claimed on Twitter to have shot down an aircraft at about the same time.
We have also seen on social media, shortly after the crash, an SA-11 missile system missing at least one missile travelling back towards Russia. And we also know that separatist fighters, trained, equipped, and armed by Russia, shot down more than a dozen Ukrainian aircraft in the months before the tragedy of MH17.
I, and others, have spoken before in this Council about Russia's supply of significant quantities of advanced weapons, including tanks, armoured personnel carriers and artillery to separatist groups in Ukraine. And there is evidence that Russia has been providing training to separatist fighters at a facility in south west Russia – including training on how to use air defence systems.
Madam President,
The Russian Federation bears significant responsibility for the violence and instability in south-eastern Ukraine.
Responsibility that, at the very least, means Russia has questions to answer about the tragic downing of MH17.
Assertions promoted heavily in domestic Russian media that Ukraine had some degree of culpability in bringing down MH17 simply do not stand up. They are sham arguments that attempt to distort the facts.
We have heard contradictory stories that MH17 was brought down by a Ukrainian Su-25 fighter jet, either by missile or by gunfire or that it shadowed MH17, using its crew and passengers as human shields. But the damage found on the wreckage of MH17 is not consistent with the behaviour of an air to air missile, nor does it relate to a gun attack. Radar evidence shows only three commercial aircraft in the vicinity of MH17 before the occurrence which led to its breakup. There was no Su-25 visible on any Ukrainian radar data – and international investigators regard that data as accurate and reliable. This Russian version of events is pure fiction.
Russian allegations of the malign intentions of Ukrainian Air Traffic Control and insinuations that air traffic control records were subsequently being withheld also do not add up.
There is no evidence of unusual flight management activity in that area at that time and the preliminary report contains a full transcript of conversations between MH-17 and Ukrainian Air Traffic control. The transcripts of the Ukrainian side have been fully confirmed by data that was traced back from the black box.
We have also heard Russian suggestions that the Dutch Safety Board Report is not fully independent or impartial and has ignored the opinion of Russian investigators. This also is untrue.
The Board is a fully independent organisation. And as we have heard this morning, it was assisted in its investigation by experts from 12 aviation agencies, including experts from Russia, and it has been advised by the International Civil Aviation Organisation to ensure that its report complied fully with international standards and recommended practices.
Madam President,
The Dutch Safety Board has set out particular areas in the report which require further analysis for this important investigation to make progress. This will require full and safe access to the crash site as demanded by the Council in resolution 2166. This is also needed for the separate criminal investigation which will determine culpability and ensure accountability. Firing on OSCE monitors, such as occurred last weekend near the crash site, does not create the conditions for a resumption of the investigation into how MH17 came down and who was responsible.
If the Russian Federation shares the wish of the international community to see progress on both the Dutch Safety Board final report and resolution 2166 then we call on them to ensure that full, safe access to the crash site is restored immediately.
Published 19 September 2014