Speech
Sustainable aviation
Robert Goodwill speaks at the Airport Operators Association conference about the sustainability of the aviation industry.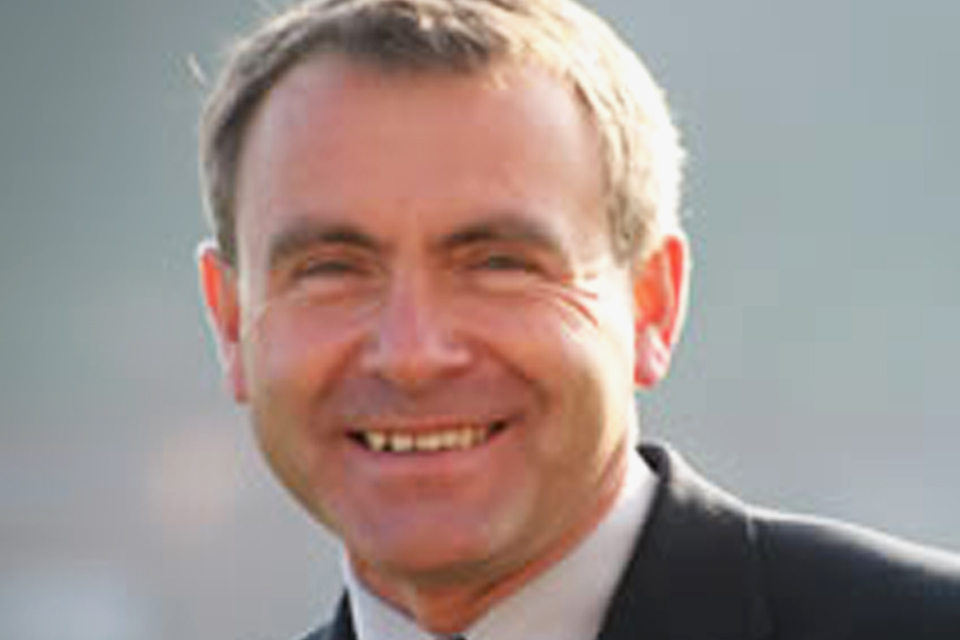 Thank you John.
And thank you ladies and gentlemen. It's a real pleasure to join you here today. And to be invited to speak for the second year.
Ed – thanks for your kind words.
They were very much appreciated. We in government also value the relationship we have with the AOA. And that close engagement will of course continue.
I'm also in complete agreement about the other point you made in your introduction. Frankly this is not the time or the place to talk about Yorkshire.
Or its recent triumph at the World Travel Awards where it was named the best destination in Europe.
Better than Venice, Paris, or London. Which is – by the way – the second consecutive year that God's own county has claimed top spot.
Sustainable aviation
The broad theme of this year's conference is "sustainable aviation."
But what do we mean by that?
Over the past decade or two, the phrase has normally been used to refer to the environmental sustainability of the industry.
Why reducing the impact of aviation on climate change and communities is key to future growth. And that's something I'll be talking about in a minute.
But to me the phrase has wider connotations. How to sustain aviation as a competitive, customer-focused industry in a rapidly changing world.
So it can continue to support our needs as a country. So it can help drive long-term economic growth. And so it can deliver better services for passengers. That's how we can ensure the sustainability of aviation.
Importance of industry
Today (10 November 2014) sees the publication of the Oxford Economics Report for the AOA. The report is a welcome addition to our understanding of the hugely positive impact that aviation has on the UK.
Its figure for the total contribution of aviation to the UK economy of £22.3 billion is similar to our own. It also shows that there are almost one million UK jobs directly or indirectly supported by aviation. There is hardly a constituency in this country without an aviation business.
The aerospace sector generates an annual turnover of £24 billion, of which 70% is exported, helping bring in vital foreign currency. It also employs 100,000 highly skilled British workers and provides the technology, research and training to help the rest of the manufacturing sector thrive.
With this government's support, the UK aerospace sector is the second largest in the world behind the US.
Airports
And of course our airports play an instrumental role in stimulating growth across the UK. Passenger numbers have soared from 104 million in 1990 to 228 million last year.
Although the industry has yet to reach the pre-recession height of almost 240 million passengers in 2007. But the market's returning.
Last year UK airports handled 7.8 million passengers more than 2012. With Belfast, Leeds/Bradford, Southend and London City all recording double digit growth. Demand for low cost flights through regional airports continues to rise.
With Ryanair recently reporting bigger profits. And EasyJet carrying 6.6% more passengers over the past year. But it's not just the core business that's doing well.
I've visited around a dozen airports over the past year. Many are pursuing ambitious schemes to expand their businesses. So they're not just aviation hubs. They're also business hubs.
Airports like Newcastle and Manchester are developing business parks. While many are upping their game in retailing. Becoming bigger employers. And focal points for local economic growth.
Other industries use airports as a benchmark for business diversification. And for engaging with local communities. However, not every airport has done so well.
There are winners and losers in every industry. And I was sad to see the closures of Blackpool and Manston. They were a reminder that despite the growing economy, this is still a competitive, commercial environment.
The fixed costs of keeping an airport open remain high, no matter how many customers you attract. So despite the opportunities for diversifying, what's essential is that airports secure their core business.
Freight
But the good news is that for most airports, the potential for growing the core business is good. The UK's public deficit has nearly halved since the General Election
More people are in work than ever before. And the private sector is leading that recovery. The fact that the UK now has the fastest growing economy in the developed world is making a real difference.
And it's not just commercial passengers who are booking flights.Business aviation is flourishing. And as UK imports and exports increase, demand for air freight is high. Last week I was at Heathrow, which according to the Economist handled freight worth £133 billion in 2013.
That's more than the combined value of goods passing through our two biggest ports, Southampton and Felixstowe.
Environment
All these revenue streams will help to make airports sustainable as profitable businesses. But as Ed eloquently explained in his speech, future growth must also be green growth. The industry's come a long way in a relatively short time.
And perhaps doesn't get as much recognition as it deserves for its efforts to reduce emissions and noise. Both Virgin and British Airways have been testing cleaner fuels.
We are also providing £25 million of capital funding for the construction of demonstration-scale advanced biofuel plants in the UK. This will help UK industry to be at the cutting edge of developing sustainable low carbon fuels for use in aviation. While also creating high tech, high skilled jobs for the future.
New engines, like the advanced CTi, composite carbon and titanium engine being developed by Rolls-Royce, will help cut fuel burn and reduce emissions.
I'd also like to commend those airports that have improved their environmental performance – something that the AOA highlighted in its recent report on sustainability.
Greenhouse gas emissions and climate change are an international problem. That is why this government has played a leading role in negotiations on international solutions. In April, the new aviation emissions trading regulation came into force, limiting the legislation to within the EU until 2016.
I welcome this agreement, which strikes the right balance between maintaining the credibility of the European position, and making it acceptable to non-EU states.
Crucially, it has created the space for wider agreement on a Global Market-Based Measure in 2016. Progress on this has already been made through the International Civil Aviation Organisation.
The technical and analytical work is on schedule, and discussions in ICAO's Environment Advisory Group are under way. The UK is playing a central part in these discussions.
And we'll be working closely with other states, industry and non-governmental organisations so an effective decision can be made at the 2016 Assembly.
There's also positive news on local air pollution. Under this government, European air quality limits have been met around all UK airports, except for nitrogen dioxide levels near Heathrow. Many large airports now have an air quality strategy in place to stay within EU limits.
We also want to strike a fair balance between the positive contributions of flights and the negative impacts of noise. Wherever possible we want to limit and reduce the number of people significantly affected by aircraft.
Aircraft today are 75% quieter than they were in the 1960s. But we expect the industry to continue reducing and mitigating noise as airport capacity grows.
We appreciate that many in the aviation field would like government to do more to make land use planning around airports more aviation friendly - and we are open to discussing this.
However we need to balance that against the interests of local residents. Especially in the run up to the Airports Commission's recommendations next year.
And on that point.
You'll shortly be able to hear from the leaders of all three options which the Commission shortlisted. And you will hear from Sir Howard himself tomorrow morning.
The level of interest in the debate emphasises the importance of the Airports Commission's work. Previous attempts to find a solution to the capacity challenge failed. They failed because they used old evidence.
And so they resulted in a lack of consensus. By bringing together a new, better, evidence base, the right decisions will be made. Decisions that will end decades of uncertainty.
Conclusion
So in summary.
A vibrant aviation industry is crucial to Britain's prosperity. Aviation is not just a beneficiary of economic growth.
It creates it. So we want your businesses to flourish.
But that's just part of the challenge. What we're also working towards.
Through the Airports Commission.
Through our environmental negotiations.
And through our policy framework.
Is a fully sustainable plan for aviation.
Which means a competitive, customer-focused, environmentally-responsible industry that's fully adapted to the rigours and requirements of the 21st century. That's our shared objective.
And by working together, it will become our shared achievement.
Thank you.
Published 10 November 2014