Speech
Supporting care leavers to thrive: everyone's business
Edward Timpson's keynote speech at The Prince's Trust National Care Leavers' Week Conference 2016.
Thank you Fran [Abrams, Chair of the National Care Leavers' Week Conference 2016] for that kind introduction and I'm delighted to be here with you today during care leavers' week to set out our plan to improve support for care leavers as they make what we all know can often be a very difficult transition from care to living independently.
I'd also like to thank The Prince's Trust for organising today's event, as well as their continued commitment to their 5 year "From Care to Independence Project". I'm looking forward to seeing the final findings next year.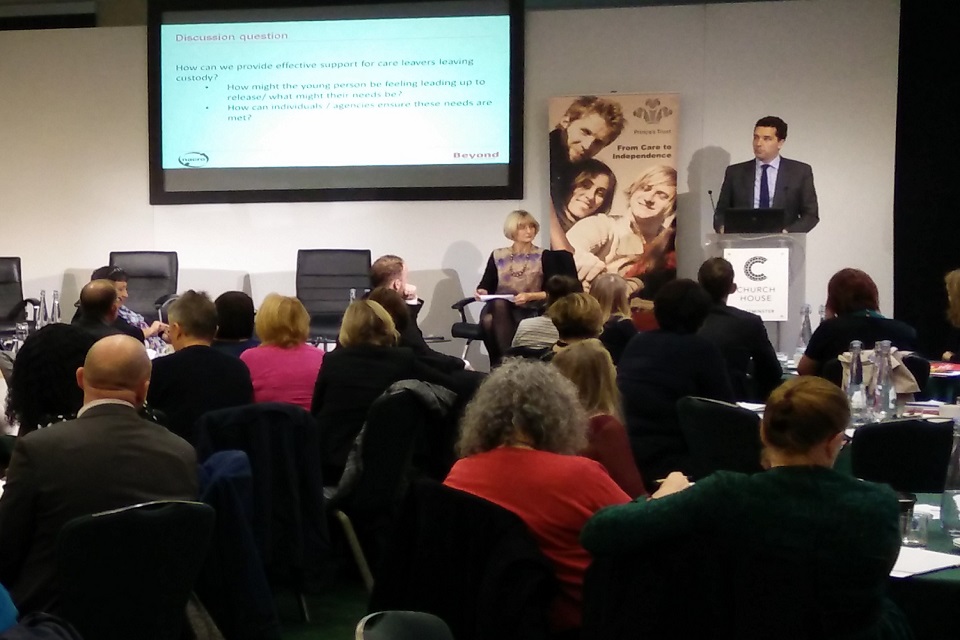 Now, this morning you've already heard from practitioners, operational experts and, importantly, care leavers, with an insight into what matters and what works. It's my job, as a decision maker, to set out how government is going to work with all of you to achieve our shared ambition to support the best possible outcomes for every care leaver.
In July, we published 'Keep on Caring', the new cross-government strategy. This sets out how we plan to improve opportunities for care leavers over the remainder of this Parliament.
And it has 2 main themes:
firstly, developing and driving new ways to deliver better and more effective support for care leavers - both in terms of what support is provided and how services are delivered
and secondly, embedding a culture of corporate parenting across not just all of the services provided by local authorities, but across the whole of society. In other words, making the past, present and future of care leavers everybody's business.
Too often services are not joined up, meaning that care leavers do not get the whole spectrum of support they need at the right time and, in the worst cases, one bit of the system can act in a way that undermines the work that another part of the system is providing.
Take the scenario I suspect is sadly not unfamiliar to many of you, where a leaving care team has worked hard to find suitable accommodation for a young person, and helped them to furnish it with their leaving care grant. But three months down the line, the Housing Services department is sending threatening letters because the young person has very minor rent or council tax arrears. A classic example of corporate parenting being forgotten in the management of siloed systems.
Now of course there are fantastic examples of where that join up does exist. In Trafford, for example, as soon as a care leaver runs up £50 of rent arrears, someone from the housing team gets in touch with the young person's PA [personal adviser] and a plan is put in place to sort the problem out. Fantastic.
But that level of genuine corporate parenting across the whole local authority is not yet happening consistently enough. That's why we have a bill going through Parliament at the moment that will introduce a set of 7 corporate parenting principles that will apply to all parts of the local authority, not just children's services. These will guide the way in which local authorities deliver their services, so that every bit of the council can play its part. And, at the same time as doing this, we're also introducing a new duty on local authorities to consult on, and then publish a local offer for care leavers, setting out not just their statutory entitlements, but any other support that the local authority and its local partners offer.
And, in that spirit, we know that there are already many cases of local authorities going beyond their statutory obligations, whether that's exempting care leavers from paying council tax - as they have in north Somerset, Birmingham, Wolverhampton, Cheshire East and Milton Keynes - or giving care leavers free access to the council's leisure centres. So we want all local authorities to think creatively about what they can include in their offers - learning from the approaches that other authorities are taking.
And we'll also be using the legislation to extend support from a personal adviser to all care leavers to age 25 - removing the distinction between care leavers in education and training and those who are not. It also means that all care leavers will be able to return for help from their local authority at any time up until age 25.
But we have to acknowledge that we can't expect local authorities to do it all. Care leavers are children of the state and there is a moral obligation on all of us - central government, other public bodies and the voluntary and private sectors - to play a role in supporting care leavers too. That's why we're introducing the care leaver covenant - to provide a way for any organisation that wants to make a pledge to support care leavers' transition to adulthood, to do so.
We're working to encourage all of the government departments that deliver services and support to care leavers to sign the covenant, setting out what their individual offer to care leavers is. And we want more departments to offer internships to care leavers, following the positive lead set by the DfE, the Department of Health and the Department for Work and Pensions, all of whom are recruiting care leaver interns over the next few weeks.
We also know that care leavers have problems accessing education, training and employment opportunities, so we're working with FE colleges and universities to encourage them to sign up to the covenant. And I'm delighted to say that Sheffield Hallam University and Hugh Baird College in Bootle have agreed to be early signatories to the covenant.
And we want businesses to sign the covenant too, offering care leavers work experience opportunities, traineeships and apprenticeships. To that end we've already identified a number of employers who are keen to get on board, but would encourage you to put the word out in an effort to connect to many more in the coming months and years ahead.
Because we see the voluntary sector having a key role in helping us to promote and deliver the covenant, with us working towards a formal launch of the covenant in the new year.
As I mentioned earlier, innovation and system reform are at the heart of our strategy going forward. Which is why we've committed a further £200 million over this Parliament to the Children's Social Care Innovation Programme to support this work.
And one of the 2 main themes for wave 2 of the Innovation Programme was supporting the transition from care to independence, with many of the projects that have gone forward to the next stage of development designed to benefit care leavers directly.
Perhaps the most exciting innovation is our commitment to introduce 'Staying Close' for young people leaving residential care, which will give them similar benefits to those currently enjoyed by young people who 'Stay Put'. As recommended by Sir Martin Narey following his review of residential care, we'll start by piloting a number of Staying Close models to see which features of this new form of provision for care leavers work best, in order to inform national roll out.
We're beginning to consult with you all on the specification for Staying Close and will be running events with councils, residential care providers and charities working with care leavers who are interested in piloting Staying Close, before the end of the year.
We also want to test whether payment by results approaches can be more successful in helping care leavers into learning and work and so will be looking to establish some care leaver social impact bonds to fund those projects.
There will, of course, be a crucial role for government in helping everyone involved in supporting care leavers to learn from all this innovation. Put simply, we want others to learn from what works and replicate it in their own local areas.
So we're committed to publishing evaluations of all of the Innovation Programme projects and I'm happy to say that today we've published our independent evaluation of the New Belongings project, which many of you will be aware of.
New Belongings was born out of an idea that a group of care leavers from the Care Leavers Foundation brought to me about 4 years ago. Its underlying principle is that the voice of the care leaver should drive local provision and it empowers care leavers to be the ones who are making the case for change to senior local decision makers.
The New Belongings project has worked in 28 local authorities and many of them continue to work in clusters, learning from each other and sharing best practice.
We did a lot of consultation with care leavers as we were developing the strategy and that was hugely important in identifying the 5 key outcomes that we want the strategy to achieve. These are that care leavers are:
better prepared and supported to deal with the challenges of living independently
better able to access education, employment and training opportunities
better able to experience stability, safety and security in their lives
better able to access the health support they need, in particular help to maintain their emotional health and well-being, and
better able to achieve financial stability
New Belongings has been a powerful project and we want care leavers' voices to continue to drive our work and we'll be establishing a care leaver reference group, to help us to monitor implementation of the strategy and let us know which areas of their lives remain difficult - so we can continue to think about how we can make care leavers' lives better.
And what came out most in the discussions we've had was the importance of relationships. That's why it's critical that we ensure that the key professional charged with supporting care leavers - the personal adviser - is providing the right kind of support and doing so consistently.
Ofsted inspections show that for many care leavers their PA is providing the support they need. But we also know that it's not true for every care leaver. So we've carried out the first phase of a review of the PA role - to better understand how they spend their time, the challenges they face and what is working well.
The next phase of the review will look at how we respond to the issues identified in the first stage: how we can raise the status of the role, how we can ensure there are clear routes into the profession, what we want the focus of the PA role to be and what support can be provided by others, so that PAs can focus on the things where they can make the most impact.
That will include thinking more creatively about how we can build a wider social network around the young person, which will sustain them into adulthood. We want councils to be thinking about the role that former carers, independent visitors, mentors and community groups can play in providing a more holistic package of support to care leavers. And we'll be using the Innovation Programme to add momentum to developing these new models of support.
So it's clear we have plenty of work on our plate, but I'm genuinely excited about the programme of work that's set out in 'Keep on Caring'. There are of course many other things included in it that I haven't had time to cover today. I hope you do agree that it represents a substantial programme for the remainder of this Parliament and I very much look forward to working with you to deliver it.
We've pushed hard over the last few years to raise the awareness of, and commitment to, care leavers, and I'm optimistic that, with many more people listening and willing to act, coupled with more legal backbone, we can deliver another step change in our support for care leavers. It's something I remain just as passionate about as the day I set foot in Parliament, and with your help and determined belief, I believe there's much more we can do to enable care leavers to have the future they want, and deserve.
Published 28 October 2016