Prime Minister David Cameron has delivered a speech at Ealing Hospital restating the case for change in the NHS.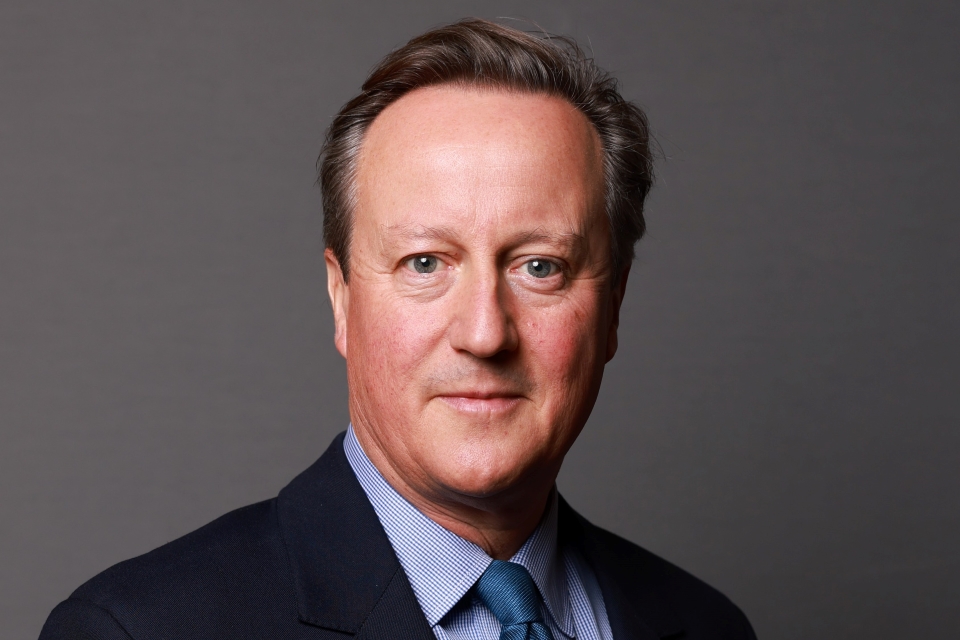 Six weeks ago, we announced a pause in our plans for the modernisation of the health service.
Since then there's been a whole flurry of debate.
Column inches have been written. Concerns aired. Passions raised.
That goes to show something I've known all along: that the NHS is the most important thing to Britain's families.
Well, let me tell you this.
It's the most important thing to my family too.
That's why, over four years ago, I got up on a platform like this and said that you could sum up my priorities in just three letters, N-H-S.
Since then, if anything, the feeling has got stronger.
My determination to deliver a first-class, world-class health service - that's got stronger.
My determination to make sure the poorest people get the best care - that's got stronger.
My determination to protect the core principle of the NHS…
…that all have access to healthcare regardless of their wealth…that's got stronger.
That's what fires me - and I know that's what fires everyone else.
We have an institution - a precious idea - that says we are in this together; looking out for each other.
So this government will never, ever take risks with the NHS. We will make it better.
That's why, despite all the financial constraints, we are protecting the NHS budget from cuts.
This year, and the year after, and the year after that, NHS funding will increase in real terms.
What's more, since we've come to office:
We have introduced a new cancer drugs fund, helping 2,000 patients get access to drugs they would have previously been denied.
We have cut the number of times a patient has been placed in mixed-sex accommodation without justification by half.
We have kept up the pressure on hospital-acquired infections, reducing the number of cases of MRSA and C Difficile.
And for the first time in a long time, we have made sure the number of doctors in our NHS is growing while the number of bureaucrats is actually falling.
But I know that some people still have concerns.
They might be listening to this and thinking…
…OK, but if you love the NHS so much, if you don't want to take any risks with it, why do you want to change it?
But this is the point:
It's because I love the NHS so much that I want to change it…
…because the fact is the NHS needs to change.
It needs to change to make it work better today and it needs to change to avoid a crisis tomorrow.
Let me take each of those points in turn.
Change needed today
First, we need change to make it work better today.
I know that as soon as I say this there'll be people lining up, accusing me of talking down the NHS.
I'll say it again - I love the NHS.
And yes, in many ways the NHS is providing the best service it ever has.
Waiting times for tests and treatments have dropped dramatically and access to cutting edge technologies like primary angioplasty is becoming common-place, saving thousands of lives.
But I'm sorry - I just do not think we do anyone any favours…
…not the patients who use our health service, the professionals who work in it or the taxpayers who pay for it…
…if we deny that there are problems with the way the NHS works today.
I've been to hospitals and surgeries up and down the country…
…I've spoken to consultants, nurses, midwives, physios, GPs…
….I receive a vast mailbag from patients, both as a constituency MP and as Prime Minister…
…and this is the resounding message I've got:
"Yes, we love the NHS but yes, there are some real problems."
There's the problem of waste and inefficiency.
This isn't just about the one-off cases we've all read about…
…like the £400,000 one health authority spent on a yacht.
It's the way the system can encourage over-spending.
If a hospital doesn't balance its books, year after year…
…then that hospital will be bailed out and subsidised by the surpluses taken from other hospitals which have kept within their budget.
If there is one health authority that invests money into the prevention of diseases like diabetes…
…and another that is poor at prevention, has poor quality outcomes and overspends…
…then money is snatched from the former to prop up the latter.
Then there's the problem of too much top-down control, stopping doctors and nurses from doing what they know is best.
Today we have the situation where a GP and an orthopaedic surgeon can both see an elderly person having problems walking…
…both recommend a knee operation…
…and both be over-ruled by someone who has never met the patient.
We have a commissioning process where a tier of management, who sit above doctors, are in charge.
Yes, these managers do important and valuable work.
But they're not on the frontline so sometimes, they don't know precisely what local patients need.
Don't take my word for it.
Last year, the Health Select Committee said "Primary Care Trust commissioning is widely regarded as the weakest link in the English NHS", citing their "lack of clinical knowledge" in particular.
This is what top-down control is doing to our NHS - and I believe it should change.
Then there's the inflexibility of the NHS - and this is what frustrates so many patients, and indeed nurses and doctors.
The mother who wants to give birth in the big county hospital but have her scans done more locally…
…she's told no - because of the contracting arrangements between different hospitals she's got to go where she's told.
The woman who needs surgery, who knows there's a great private hospital just down the road, where they'll do her operation at NHS standards and at NHS costs…
…but she's told no - she's got to go to a specific NHS hospital, that could be miles away, because that's where she was seen before.
I was sat in a surgery in Birmingham last week, listening to the doctor explain that he has world-class physiotherapists in the same building…
…but he can't refer his patients to them because the current system stopped it.
This is frustrating enough, but add to it to the lack of co-ordination and integration.
Modern healthcare needs to be joined up, but we have a system today where different nurses and doctors sometimes have to start from scratch when they each see the same patient.
We have a system where different elements of a patient's care - primary or secondary - can occur in isolation to one another.
This doesn't just cause stress and inconvenience, it's just not conducive to delivering the best quality healthcare possible.
And quite apart from these frustrations, patients also have to tolerate disparities in the service offered in one part of the country to another.
Whether it's the quality of care people experience, the type of treatment available, or the outcomes achieved…
…too much comes down to luck and where people live.
In Britain today, we have some great, world-leading, groundbreaking hospitals.
Take the Royal Marsden, which will soon go live with CyberKnife, the latest in radiotherapy technology.
But in other hospitals, in other parts of our country, patients are treated with much less sophisticated equipment.
And in some parts of the UK, you are three times more likely to die of a stroke than in others.
I don't think people should have to put up with this unfairness.
We have a duty to do what we can to close the gap between the best and the rest.
As Lord Darzi, the last government's Health Minister, said: we need to ensure high quality care for all.
Now some people say that some inefficiency, some hassle, some disparity in service are just the price you pay for a health system like ours.
But look abroad and you'll see that's not the case.
I've listened to doctors and I know how much they care about getting good outcomes - and I know the statistics tell a better picture than we in this country sometimes get credit for.
We're getting better, and in some cases we're closing the gap with our European neighbours, but we've still got some way to go.
If we had cancer survival rates at the average in Europe, we'd save 5,000 lives a year.
If we had respiratory disease care equivalent to the average in Europe, we'd save 2,000 lives a year.
If we could prevent and treat chronic liver disease and cirrhosis as well as the European average, we could save 550 lives a year.
We're approaching the European average spending on health.
I just think it's time we had the confidence to say we should have some of the best health outcomes in Europe too.
Saying this doesn't make you anti-NHS…
…it makes you pro-NHS - because you want to make things better for everyone.
Modernise today or crisis tomorrow
So that's the first reason we need change - to make the NHS better today.
The second reason is that if we don't modernise now, we face a crisis tomorrow.
The NHS is facing enormous financial pressures in the years ahead - driven by rising demand and the cost of new drugs and technologies.
Let's take demand first.
That's in part down to the achievement of our health system - people are living longer.
For the first time ever there are more pensioners in this country than children under 16.
And the number of people aged over 85 is set to double in the next twenty years.
Just think about what that will mean.
Every hour the NHS deals with more than 25,000 people…
…think how many of them are elderly, and then consider with our population ageing at the rate it is…
…how those numbers could rise dramatically.
And the type of care and treatment they need is changing too.
In the old days, healthcare was often about lifesaving treatment at a moment of crisis.
So, responding medically to heart attacks and strokes. Treatments for diseases like cancer.
Today, the big killers of the past are becoming the lifelong conditions of the future.
Between 1978 and 2008, the death rate from coronary heart disease fell by over seventy-five percent.
That is fantastic news for families - indeed for our whole country - but there are clear financial implications.
Already three quarters of the health and care budget goes on long term chronic conditions - and the pressure is going to get bigger.
In just eight years, the number of people with three or more long-term health conditions is set to rise by thirty per cent.
Indeed, by 2050, the number of over sixty-fives with one or more long term conditions is expected to rise by 252 per cent.
But these demands on our health service are not just driven by an ageing population.
For while we are living longer, in many ways we are also becoming less healthy.
Obesity and poor diets. Drug and alcohol abuse. These public health challenges are getting bigger and bigger.
Take obesity: it already costs our NHS a staggering £4 billion a year.
But within four years, that figure's expected to rise to £6.3 billion.
Already we can see the impact of all these rising pressures.
For example, 2, 700 more planned operations are carried out on a typical day than was the case just four years ago.
That is the truth of the rising demand the NHS is facing.
But it's not just increasing demand. It's also about the rising cost of treatment.
The overall cost of medicines has been growing on average by nearly £600 million a year.
A lot of this is driven by new treatments coming on stream.
Ten years ago no one had heard of the cancer drug herceptin.
Now it is widely available for the women who need it - at a cost of almost £100 million a year.
For diabetes, the cost of newer treatments meant drug costs rose by £200 million over five years - that's an increase of forty-two percent.
Timely interventions with effective new drugs and treatments can of course save money.
But when a new gene test can costs thousands and when robots costing millions are increasingly the right option for complicated surgery, the pressure on costs far outstrips any potential efficiencies.
And it's not just the pressure from the increasing use of existing technologies.
Right now scientists are working on artificial limbs that are controlled by thought alone.
Breathalyzers that can diagnose disease with one puff.
Kidneys grown in laboratories from stem cells.
A world class health service demands these advances.
Our NHS and its patients should get them.
But that will only happen if we find a sustainable way to deal with the rising costs.
Sticking with the status quo and hoping we can get by with a bit more money is simply not an option.
If we stay as we are, the NHS will need £130 billion a year by 2015 - meaning a potential funding gap of £20 billion.
The question is, what are we going to do about that:
Ignore it?
No - because we'd see a crisis of funding in the NHS, over-crowded wards and fewer treatments.
Borrow more so we can chuck more money at it?
No - because we can't afford to.
Ask people to start paying at the point of delivery for it?
No - because as I said, the NHS must always be free to those who need it.
There's only one option we've got - and that is to change and modernise the NHS…
…to make it more efficient and more effective - and above all, more focused on prevention, on health, not just sickness.
We save the NHS by changing it.
We risk its long-term future by resisting change now.
Deep down even Ed Miliband knows this.
That's why he said "to create an ever better health service, change will be essential."
Listening exercise
So this is the consensus: no change is not an option.
But we have to make sure it is the right change, delivered in the right way.
Change needs to go to the heart of the current problems I have described…
…and the future challenges I have set out.
It must tackle the waste and the bureaucracy by reducing the overlapping layers we have today.
It must put the patient centre stage, giving them choices and chances that they are currently denied.
It must promote prevention and a healthier nation, which must mean giving GPs…
…who are our first contact with the system and have a good understanding of their area's health needs…
…a wider role.
It must tackle the longstanding and damaging divide between health and social care, including the bed blocking that still afflicts so many of our hospitals.
It must assist with the challenge to increase efficiency, raise productivity and keep costs down so we can go on meeting everyone's needs.
Change must do all these things…
…but change - if it is to endure, to really work - should have the support of people who work in our NHS.
We have to take our nurses and doctors with us.
They provide the care, they know what's best for patients…
…so we want to work with them, not against them.
Already, a significant number are on board with what we propose.
Last week, GPs representing 1,100 practices across England, caring for over seven million patients, wrote to The Daily Telegraph expressing their wholehearted support for our reforms to commissioning arrangements…
…arguing they will benefit the most vulnerable in society.
But we recognise that many doctors and nurses have concerns about what we're doing.
That's why at the beginning of last month, we decided we should pause, listen, reflect on and improve our NHS modernisation plans.
And since then, that's what we have been doing.
In the past six weeks, I've sat with staff in hospitals in Frimley, Reading and Darlington…
…have held events in the country's largest hospitals like the Queen Elizabeth in Birmingham and smaller ones like Chipping Norton too…
…and had meetings with voluntary bodies, community care providers and GPs.
What's more the NHS Future Forum, the independent organisation charged with overseeing the listening process…
…and which is led by Professor Steve Field and includes other eminent clinicians, patient advocates and voluntary sector representatives…
…has met more than 4,000 people.
These meetings have been open, frank, productive - above all meaningful.
We are listening - and we will make substantive changes to improve the reforms, based on what we hear.
I do not want to pre-empt what those changes will be.
The NHS Future Forum is due to report its recommendations at the beginning of next month, and we will issue our response later in June.
But it is clear for example, that when people working in our hospitals hear the term 'GP commissioning', they worry it's only GPs that are going to be involved in making decisions.
Now that's not the case, but I agree we need hospital doctors and nurses to be much more closely engaged in commissioning.
But whatever the results from this listening exercise, let me be clear about the reform package that will emerge:
There will be choice for patients, not competition for its own sake.
Innovation and improvement, not breaking up efficient and integrated care.
It will be evolutionary, not revolutionary.
Our changes are a logical extension of tried-and-tested policies initiated by governments of all parties in recent years.
Clinical commissioning has existed in one form or another for the past two decades.
Payment by results, and Foundation Trusts, for the best part of the past decade.
Working with others from the independent sector too - that's not new either.
The NHS has a long history of this - be it with social enterprises, charities or private companies…
…and the last government in particular understood the importance of introducing an element of choice to drive up standards.
The difference is that we plan to make these changes effective across our NHS.
As I said: evolution, not revolution.
That's why, when I think about what our NHS will look like in five years time, I don't picture some space-age institution, a million miles away from what we have now.
Let me make clear: there will be no privatisation…
…there will be no cherry-picking from private providers…
…there will be no new upfront costs people have to pay to get care.
Absolutely not. These are red lines we will not cross.
Instead, our NHS will be much like what we have today.
The values and ethos of our NHS that you care so much about - and Andrew Lansley and I care so much about…
…they will still be there.
You'll still be able to call your local surgery, and speak to a receptionist you know to book an appointment with a GP you trust.
You'll still be able to go through the doors of an A&E in an emergency, and be seen by a nurse or doctor quickly and effectively.
Your parents will still get the healthcare they need, from specialists and nurses on wards or in their homes.
And let me repeat: all this will still be free, to those who need it, when they need it.
It will be the NHS you love and recognise - only better.
You will have much greater choice of where you are treated, and how you are treated.
You'll also see much greater co-ordination and integration between nurses and doctors and between surgeries and hospitals
So if you have diabetes, professionals will work closely together with you to manage your condition from diagnosis onwards.
In our NHS, nurses and doctors won't be passengers, they will be drivers, supported by managers rather than in conflict with them.
They understand the needs of patients, they know what's needed…
…so they will have new powers to transform patient care in a way that's simply never been possible before….
…they will have the money and the freedom to complement their expertise and knowledge.
So if local GPs see that there is a significant need for more respiratory services in their local area, they will be able to organise local clinics for their patients…
…rather than making them travel to a hospital miles away.
If nurses feel that they can deliver better care to autistic children in partnership with a local charity, they will find it much easier to make this happen.
Ours is a vision of a stronger, more responsive NHS.
An NHS with consistent, high quality care for all - instead of just pockets of excellence.
An NHS which addresses the full needs of each person - of their physical and mental health…
…rather than offering a piecemeal or patchwork approach.
An NHS free-from-political control, where what matters is the care you receive not the headlines governments get…
…where a new and independent National Commissioning Board, staffed with senior doctors and professionals, takes responsibility for what services are provided, outcomes are achieved and how well money is spent.
A genuine National Health Service, rather than a National Sickness Service…
…with a greater focus on outcomes and on improving public health - so people don't get sick and ill in the first place.
A NHS which makes people healthy - and keeps them healthy.
Conclusion
Let me end by saying this.
It's been a year since the coalition came together in the national interest.
And we take those two words - national interest - very seriously.
We are two different parties, with different identities, bound by one common cause - to do what is good for the country.
And we don't just have the will…
… with a full five year Parliament to work with, we also have the opportunity to really tackle the long-term problems that have dogged our country.
So that's what we're doing.
Clearly cutting the deficit isn't pain-free - but it's in our country's interest to bring sense to our public finances.
Reforming welfare isn't easy - but it's right that as we help those who genuinely cannot work, we make sure those who can, do.
Changing our education system isn't popular with some parts of the establishment - but we have to do it if we're going to give every child the best start in life.
And it's that commitment to act in the national interest which means we will also modernise our NHS.
Believe me, it would have been so easy for me to stand on a platform like this and pretend - everything is fine, we can carry on as we are, nothing needs to change.
But that would be a complete dereliction of duty.
It would run completely counter to the purpose of this coalition - to act in our country's interest.
Sticking with the status quo is not an option.
That may not be easy on the ear, but it's the truth.
The NHS needs to change - so that's what we'll do.
Working with professionals, taking time to listen and improve our proposals…
…we will make sure we build a strong, sustainable and better NHS…
…free to all who need it.
That's my commitment. That's my promise. That's what acting in the national interest means.
Published 16 May 2011