Speech
Speech at HM The Queen's Birthday Party 2013 in Bangkok
This speech was published under the
2010 to 2015 Conservative and Liberal Democrat coalition government
British Ambassador Mark Kent hosted the Queen's Birthday Party 2013 in Thailand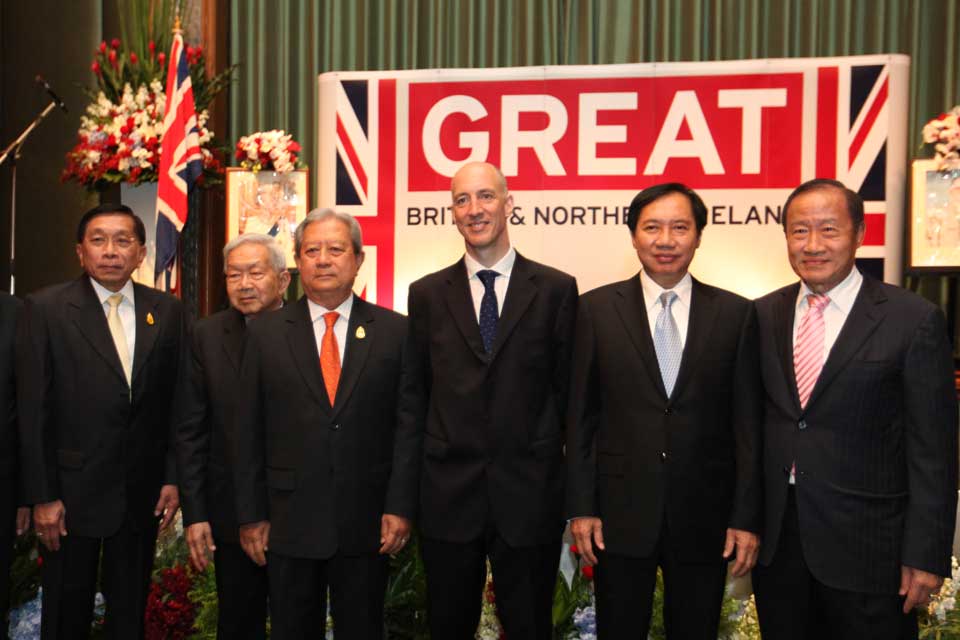 I am delighted to be hosting The Queen's Birthday Party this year as we are celebrating the start of the 5th century of Thai-UK relations. And this month is very special for the UK as it marks the 60th anniversary of the coronation of Her Majesty Queen Elizabeth II.
Thailand is an important partner for the UK in ASEAN and the two countries have many links: including monarchy, government, education, business, sports and tourism. We are also working together on global challenges such as global warming and human rights.
The importance of this relationship has been recognised by the British government. Last year, Thailand's Prime Minister Yingluck Shinawatra visited the UK and met with Her Majesty The Queen and our Prime Minister David Cameron. The British Foreign Secretary, William Hague, visited Thailand in the same month. This year, Hugo Swire, MP, Minister of State at the Foreign and Commonwealth Office, has recently made his official visit to Thailand where he met members of the Thai Government and the leader of the Opposition, and the two countries held the inaugural meeting of the Strategic Dialogue covering a wide range of issues between our two countries.
Thailand and the UK have established strong trade and investment relations. The bilateral trade between the two countries was worth around 250 billion baht last year. The UK is one of the largest EU exporters to Thailand and many UK companies have a strong presence here. We have seen British companies like Tesco, Boots, Rolls-Royce, and PCS have their business rooted here in Thailand. British brands of cars and consumer goods are increasingly seen here and British companies can play a strategic part in helping Thailand's further development in areas such as infrastructure.
Vice versa, more and more Thai companies are interested in investing in the UK. We are proud to say that the World Bank ranks the UK as the easiest major European economy to set up and run businesses, and we are keen to encourage Thai businesses to use the UK as their European base.
Thailand is a favourite destination for UK tourists, with over 870,000 British nationals visiting each year. There is also a significant British resident community. The UK is now a popular holiday destination for an increasing number of Thai people and is also the chosen destination for many wishing to attend schools and universities - more than 7,000 students went to study in the UK last year. The UK is also helping in provision of English language training in Thailand, an important component of the preparation for the ASEAN Economic Community.
As the number of UK alumni is growing, the Embassy continues our Chevening scholarship programme to support outstanding future leaders in a one-year master degree programme in the UK.
We have much to be proud of in the past 400 years of relations between our two countries, and much to look forward to in the fifth century of our relationship.
Further information
Follow British Ambassador Mark Kent on twitter @KentBKK
Follow the British Embassy Bangkok on twitter @UKinThailand
Follow the British Embassy Bangkok on Facebook