Speech
Secretary of State's speech to the CBI and Green Alliance conference
Secretary of State's speech to the CBI and Green Alliance conference.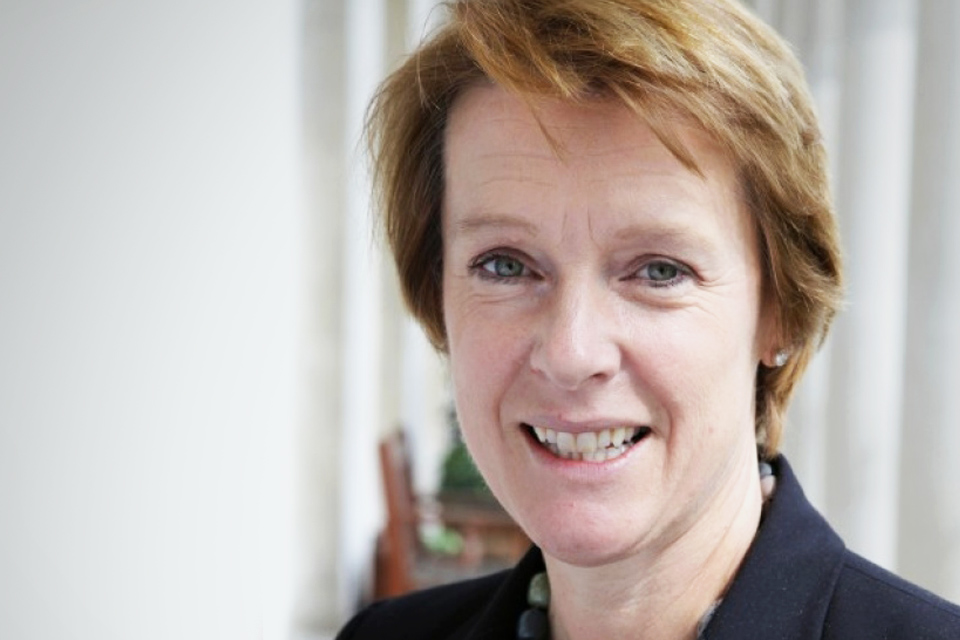 First, thank you to the CBI and the Green Alliance for this important conference, for your interesting and timely reports, and for all of your work to bring organisations together and identify common interests. 
This is exactly the kind of partnership work we need to build a new, green, circular economy.
This week we should celebrate the fact a deal was struck by 194 nations to create a roadmap towards a legal binding treaty for reducing our carbon emissions.  But this is by no means the whole story.
Today's two reports help tell the rest of the story.
Using resources efficiently; and reducing waste, are absolutely essential in the transition we need to make. As the CBI report states, resource efficiency will be key to our future economy.
My colleague Vince Cable spoke to you earlier. Resource security is essential for sustainable economic growth, and therefore a cross-departmental concern. Defra is working with both Vince's department and the Foreign Office to address it.
It's also a cross-European concern. The Roadmap to a Resource Efficient Europe, published in September, highlights the urgency and complexity of the challenge.
It also underlines the opportunities that are inherent in the challenge.
To this end, BIS, DECC and Defra set up the Green Economy Council, which brings together 20 leaders from business, ranging from car manufacturer Ford to IBM and Tata as well as key stakeholders like the trade unions.
Together we've also published the UK's own green economy roadmap in August, in response to requests from business and other organisations for greater clarity on what a 'green economy' really means.
Our document maps out Government action on resource efficiency and waste prevention; as well as on climate change, carbon capture and storage and offshore wind generation.
It also sets out how we will support businesses, how we will encourage private sector investment; and most importantly sets the future direction of policy.
Because we want UK businesses to understand and act on the really exciting opportunities the transition to a green economy presents.
Going green saves money. And going green makes money.
Recent Defra research estimates that UK business could save twenty-three billion pounds a year by using raw materials, energy and water more efficiently.
Simple measures which businesses can take would pay back in less than a year; and would also mean saving around four percent on our annual carbon emissions. 
There's also the recent McKinsey research, showing that global resource efficiency could create 3.7 trillion dollars by 2030, at the same time making half of the carbon savings needed to keep climate change within 2 degrees.
We want to help UK businesses seize these opportunities.
The London Olympics next year gives us a fantastic opportunity to showcase the resource-efficient technologies being developed in the UK.
Over 97 percent of demolition waste at the Olympics site has been recycled or reused.
A surplus oil pipeline was used for construction, saving 2,600 tonnes of new steel - and half a million pounds.
And the site will be using recycled water for all non potable uses like watering plants and grass  - saving over half a million litres of pure drinking water a day.
It will be the greenest Olympics ever and a chance to reach a wide audience with models of sustainable living.
The Green Alliance's report talks about circularity. One of the earliest geography lessons children learn at school is that rainfall doesn't come from nowhere, but is part of a circle: the hydrologic cycle. Water is in fact a finite resource.
Our Water White Paper, published last week, explains the pressure that climate change and a growing population are likely to put on water supplies.
But Water for Life is not a pessimistic document. It promotes the water stewardship you call for.
The green economy needs a sustainable, resilient, affordable water supply. It also needs an energised, innovative, competitive water industry.
We want water companies to innovate and develop expertise: and take advantage of the 300 billion dollar market in water products and services and help to change behaviour.
The White Paper's package of reforms will stimulate innovation and growth in the water sector, bring about more cost-effective services, and create opportunities for dynamic new entrants to the market.  
There will also be a £3.5m innovation competition in water security, to be launched by the Technology Strategy Board in the spring.__
We also want businesses and households to take advantage of new water-efficient technologies.
So we'll be incentivising water efficiency measures though the Green Deal, as well as encouraging water efficiency labelling so that customers to choose more efficient products.
The Green Alliance report looked at water. It also looked at metals. Defra has a particular interest in metals, for two reasons.
One - many speciality metals are essential to green technologies and high value manufacturing processes. 
And two - it's clear we're not about to run out of these resources, but we are depleting the best reserves. This means extracting new sources of metals and minerals is at a higher and higher environmental as well as financial cost.
So new, cleaner extraction methods are vital. I was fascinated to see how Thames Water are now able to recover phosphorous from sewage.
Pressure on metal prices is not just driving innovation it is also driving crime.
Defra also has a role in tackling the alarming rise in metal theft. The theft of memorial plaques is an outrageous and distressing crime. Metal theft can also disrupt travel, and put power supplies and communication systems and indeed lives at risk.
A new £5 million national metal theft task force will be cracking down on metal theft, and there will be very serious consequences for scrap metal yards that buy stolen metal.
The Green Alliance report devotes a chapter to phosphorus.
Risks to phosphate supplies are by no means the only factor threatening future food security.
The UN estimates that, by 2030, the world will need 30 percent more fresh water and 50 percent more energy; and that by 2050 demand for food will increase by 70 percent.
So Defra is helping food producers to find ways of using less energy, carbon and water intensive processes. We also need to encourage competitiveness, trade and, very importantly, resilience - the ability to cope with, say, disrupted trade, as well as the increasing population.
We are also working in Europe to ensure that the Common Agricultural Policy is aligned to the demands of the coming decades, facing up to the twin challenges of climate change and food security.  
We need a CAP framework within which a productive, competitive and sustainable agriculture sector can thrive.
We also need a Common Fisheries Policy that allows the fishing industry to prosper, while protecting fish stocks and the marine environment. 
But the challenge to ensure sustainable economic growth is not just for certain sectors. It's for all sectors, and for businesses of all sizes.
CBI's work is clear evidence that much of the private sector is embracing this challenge. And the people sharing this platform with me are from companies showing inspiring commitment and leadership.
We want all business to understand this challenge, and take advantages of the opportunities it presents.
We sponsor WRAP to help this happen. And Liz Goodwin will be speaking in the next session about their invaluable work.
We have also conducted a Waste Review to get us on the path to becoming a society in which resources are fully valued, financially and environmentally.   
The Green Investment Bank, which Vince was talking about earlier, will help unlock private sector investment and tackle market failures. Defra has been working closely with BIS to develop the proposals - and I am very pleased that the waste sector is one of the priority sectors for investment, helping to build the infrastructure we need to divert more waste from landfill, and reuse and recover more materials.
Vince has already mentioned our resource security action plan, which we're developing in partnership with business. The action plan will set out how we'll be helping provide businesses with information about the risks to the supply of individual materials. There will be actions on promoting the recovery, recycling and re-use of critical resources.
There will also be actions to develop a strong evidence base, by producing an overview of our own understanding, and by studying the approach of other countries.
And we'll be exploring the opportunities for UK companies in the global challenge of resource security; and supporting transparency and market liberalisation.
The challenge is for all sectors. It's also for all nations. International problems need international solutions. International cooperation and collaboration is essential.
I've just returned from a meeting in Durban, where the UK played a key role in securing a new deal on climate change and lay the foundations for a global low carbon economy.
Far less high profile, but very relevant to global resource security and the circular economy, is the Basel Convention, which governs global trade in waste.
The Convention met in Colombia in October.
The UK has been a strong supporter of the Convention, and worked hard to make the October meeting a success.
And it was.
The meeting broke through 15 years of wrangling to achieve the coming into force of the amendment banning the export of hazardous waste from developed to developing countries.
It also adopted the Cartagena Declaration on the Prevention, Minimization and Recovery of wastes, putting a global stamp on the vital importance of these issues.
And it adopted global guidance on the environmentally sound management of mercury wastes and computer waste among others.
Looking forward - In January, there'll be the World Economic Forum summit in Davos which has sustainable development on its agenda.
This meeting will convene forward-thinking companies who understand that business as usual is no longer an option; and who are busy creating the new, sustainable business models that properly value natural resources.
Resource scarcity is a key part of this agenda
And in June, Rio +20 provides an opportunity to shift the thinking, and the actions, of the governments and the businesses of the world. It is the 20th anniversary of the original earth summit and we need to make more progress on sustainable development.
Private sector engagement at Rio is absolutely vital.
We need businesses to make sure that we put the right frameworks in place, and get the tangible outcomes they need to make the shift to a green growth model.
Because it is businesses that will be the true creators of a global green economy.
The creativity and leadership of companies such as Veolia, Interface and Umicore, whom you'll now be hearing from.
Thank you again for this conference, and to everyone here.
Word count 1803
Published 12 December 2011