Speech
Safety and efficiency in the NHS
Jeremy Hunt, Secretary of State for Health, talks about efficiency measures and culture changes needed within the NHS.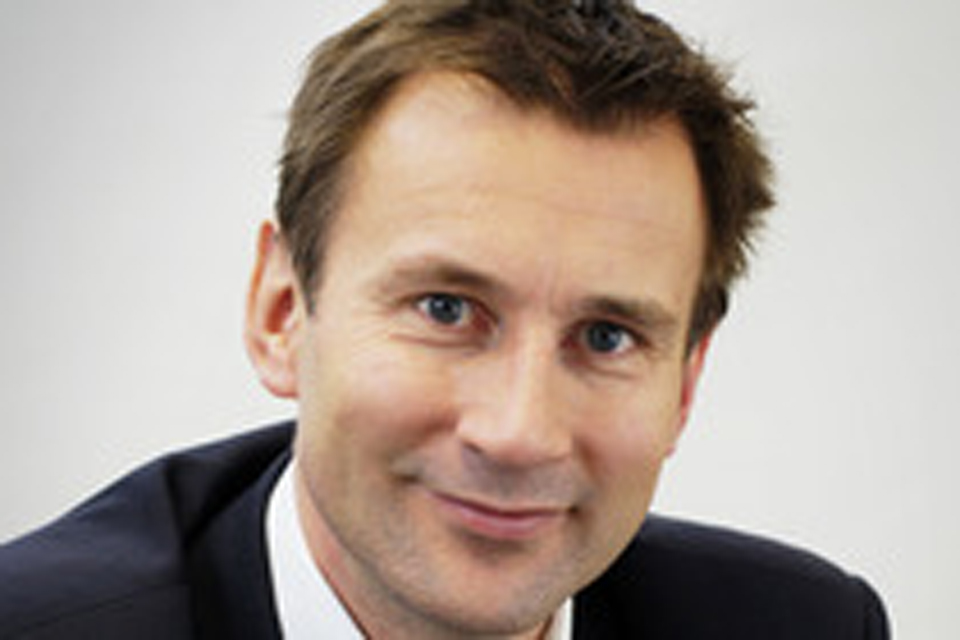 Watch Jeremy Hunt's speech at the NHS Confederation annual conference 2015
Good morning ladies and gentlemen, thank you very much indeed for inviting me this morning.
[Political content removed] And I promise you I am going to spend a lot of time this morning talking about the financial pressures that we all face in the NHS.
But the first thing I want to do is to thank you for having me back. It was a closely fought election and I am thrilled to be back. I can see from the ecstatic looks on your faces that you feel exactly the same. Sean Linton tweeted that he was strangely relieved to see me back and I think that is perhaps the closest it gets to a compliment from the HSJ.
I said when I was offered this job that it was the biggest privilege of my life and that was why I asked the Prime Minister after the election if I could come back, I may have been helped by what I suspect was not a long queue of cabinet ministers asking for the same job, but it is an incredible privilege and I am thrilled to be here and I am incredibly grateful to have the chance to work with the NHS over this very, very challenging period in its history.
And elections are a time when by definition politicians argue with each other and disagree with each other, but I think after elections it is also important to reflect on some of the things that your opponents have said and although I disagree with Andy Burnham on many things, I do want to pay tribute to his focus on the critical importance of integrating the health and social care systems at pace, and I think that is something we definitely need to do.
And I want to particularly salute my former deputy Norman Lamb for his pioneering work on mental health. I think he was the first minister that we've had in the Department of Health who has made this a real focus and it really needed that focus and I think we made significant progress. Of course there is lots more to do but I want to say to Norman that he can rest assured we will build on his legacy and he should be very proud of that legacy and I think mental health is centre stage.
And I think I also want to say a big thank you to all of you because we had an incredibly challenging winter and despite all those pressures the NHS has actually put in an absolutely remarkable performance. And if you take A&E, which is the thing that was most talked about in the newspapers, yes we didn't hit the target last year, we went down by 2.1% but we actually have the fastest A&E turnaround in England of anywhere in the United Kingdom, faster than Scotland or Wales, but actually faster than Canada or New Zealand or any other country anywhere in the world that measures A&E on a national basis and that is very impressive. If you look at RTT, we are doing now a million more operations than we were 5 years ago, every single year, and the number of people waiting 18 weeks or more has barely moved and that too is very impressive.
If you look at cancer - 5 years ago for all sorts of reasons we had one of the lowest cancer survival rates in western Europe. In that period we are now doing cancer tests on half a million more people every single year, and over the course of the Parliament we treated 700,000 more people for cancer than we did in the previous Parliament, a real step change in our cancer treatment.
If you look at safety we halved MRSA rates, we have introduced the toughest hospital inspection regime in the world, 21 hospitals in special measures, 7 turned round, all of them dramatic improvements in patient safety and care.
And if you look at some key things that matter to the public, like mixed sex wards, we have virtually eliminated those. If you take all of that together, and perhaps contrary to the impression that you would get from the press, the Commonwealth fund voted us last year as the best healthcare system anywhere in the developed world. Better than France, Germany, better than the United States, better than Australia, and so I think we should be proud of some real progress in the NHS under enormous pressure and I want to thank all of you for that. And I want to ask you to do something even more important for me, which is go back to the organisations that you work in and thank all of your staff for their contribution to that success, because our commitment as a country to the NHS is absolute. We saw that in the election campaign, it's non-negotiable. It is part of our identity and our NHS staff do our country proud and the people of this country are incredibly grateful to each and every one of them. I think that does deserve a round of applause.
Now, we have these big debates in elections, but after elections the time for debating recedes and the time for words and actions really starts. And that is what I want to focus on this morning. But before I do that, I just want to make a comment about your leadership echoing something that Anita [Anand – interviewer] said - because your leadership matters more to the NHS than any of my policies and although I'm going to announce I think some important things this morning that will help you in the end, none of it is as important as the leadership that you show.
Perhaps I could make the point this way: values-driven leadership matters in every walk of life, but it matters more in healthcare than anywhere else. Because in healthcare we are dealing with life and death every single day. And that intersection between the financial, the operational and the moral is what has driven everyone here to work in healthcare and it is also what's driven all our staff to join the NHS. And that is the other reason why values-driven leadership matters because we can't achieve anything without their support and they need to know that despite all these enormous challenges in the end they are led by people who share the same values as they have and so that is why your leadership is so incredibly important.
Let's look at those challenges. And I think we have good news and bad news. If I start with the bad news it is that we face a triple whammy of huge financial pressures because of the deficit that we know we have to tackle as a country, of the ageing population that will mean we have a million more over 70s by 2020, and also of rising consumer expectations, the incredible excitement that people feel when they read about immunotherapy in the newspapers that gives a heart attack to me and Simon Stevens but is very very exciting for the country. The desire for 24/7 access to healthcare. These are expectations that we have to recognise in the NHS but all of these add to a massive pressure on the system.
But the good news is that we have a plan, the NHS England Five Year Forward View, we have a government that is backing the plan and we have a government that is funding the plan. And I am the cabinet minister who argued inside my party that we should make a commitment to that £8 billion in our manifesto before the election and I did so with great enthusiasm because it's a good plan, it has been put together by someone who I think we all agree is incredibly smart and I pay tribute to Simon Stevens for his outstanding leadership of NHS England, and it is a plan that has the backing of all of you.
But now that tax payers have shown their commitment to the NHS and through the government committing to that £8 billion (which is in fact now £10 billion when you add in the £2 billion in the autumn statement), the time for discussion about whether that is the right sum of money or not has passed and we now need to focus all our attention on the very challenging other part of the deal which is the £22 billion of efficiency savings that were also part of the plan and which the NHS has also committed to deliver.
And it is really important to remember that these are not cuts, there is actually going to be more cash in real terms, at least £8 billion more going into the NHS year in year out by 2020, but as we know because of the trajectory of demand that will go up by £30 billion. So even with £8 billion we need to find those £22 billion of efficiency savings - and that is really what I want to focus my thoughts on this morning because I think that is going to be a very, very big challenge but one that we need to give a huge amount of attention to.
And so before we talk about the detail of how we approach that, I want to reflect for a moment on our approach to it. I want to show you a slide, which is something that Gary Caplin the Chief Executive of Virginia Mason hospital in Seattle says, 'the path to lower costs is the same as the path to safer care'. Many of you will remember last year that I talked about the experience of Virginia Mason in Seattle. And you will remember that this is a hospital [indistinct] that killed a lady called Mary McClinton in 2004 because by accident they injected antiseptic fluid into her brain because it was sitting in a container, which was the normal place that the right fluid was sitting, but it was the wrong fluid. It was the same colour and it was injected and she had an agonising death that lasted over 2 weeks. And while that was happening, Gary Caplin the inspirational leader of Virginia Mason took the very brave decision to email all the staff in the hospital to tell them what had happened, to try and make sure that they never repeated the same mistake. He knew that they would take a huge reputational hit if they did that, and sure enough, it was in all the papers in Seattle, massive damage to the hospital and their reputation.
But that really started their journey to becoming what is widely thought to be the safest hospital in the world and many people in this room have been to Virginia Mason and many of us have learnt of some of the things they have done by adopting the Toyota lean manufacturing techniques not just in secondary care but in primary care as well. It's always inspirational to visit them, and to learn from Gary and his team. But what is really interesting, is at the same time they've done that journey, what's happened to their costs. And that hospital was in deficit at the start of this journey. They moved from persistent deficits to persistent surpluses, and they had 1 key clinic which had been in deficit for 3 decades that moved to surplus. Their insurance premium for clinical negligence went down by 26% in 1 year, the cost of 1 key back procedure went down from $1500 to $150 with better patient satisfaction, and better clinical outcomes. That's why he says the path to lower cost is the same as the path to safer care. And he reckons that his costs are now between 20% and 60% lower than his competitor hospitals in Seattle, as a result of this journey that he's been on.
We see the same in this country where David Dalton in Salford thinks he is saving about £5 million every year because of Salford Royal's journey towards safer care. Frimley another outstanding hospital has consistent surpluses, and we can see it's not just in the NHS but in other industries as well, like the airline industry which has halved the number of deaths through air accidents over 30 years at the same time as halving its costs. Or the car industry, that since the 1970s has reduced the number of road deaths by 5 times at the same time as reducing the cost and improving the quality of new cars.
Or even in government where we can look at somewhere like the Home Office which has seen its budget go down by 23%, and at the same time seen crime fall to record low levels. Now this is not an easy process, and I don't want to pretend it is at all easy. But, it is about an approach to the elimination of waste, and the key point that Gary Caplin is making is that this is not about 2 parallel processes where on the one hand we are trying to save money by eliminating waste so we can spend the money on better quality care, it is one and the same journey. And that is really the heart of the lean philosophy, and what we need to adopt in the NHS in a much more widespread way.
And that's why I want to have a word about Mid Staffs - and actually the first thing I want to say is to pay tribute to the staff at the new County Hospital in Stafford who have done an absolutely brilliant job in turning that hospital around over the last few years in very, very challenging circumstances. But, it wasn't just those staff who responded magnificently to the challenge of Mid Staffs. It was each and every one of you, because you could so easily have said at so many times since the publication of the Francis report, you know this is a problem that is unique to one hospital in the middle of Staffordshire and it has nothing to do with what's happening at my organisation. But not a single person said that to me, in fact you all said something different, you know those problems at Mid Staffs, I think we may have some of them at our place as well and we want to do something about it. And as a result of that, we have really transformed our approach to safety and quality in the NHS and that is a fantastic thing.
But I don't want Mid Staffs to be one of those regular occurrences in the NHS where we have some tragedy then there's a public inquiry, then the government adopts the recommendations that are made and then we move on to the next, next thing whether it's a debate about deficits or out of hospital care or whatever it is. I want Mid Staffs to be a moment of change for us where we resolve to be the safest highest quality health care system anywhere in the world. It is just wrong that once a week somewhere in the NHS in England we put the wrong prosthesis onto someone, and twice a week somewhere in the NHS in England we operate on the wrong part of someone's body. Twice a week somewhere in the NHS we leave a foreign object in someone's body. And I am so proud that the NHS, because these are problems that happen all over the world, but it's the NHS in England that is asking the difficult questions about this, it's the NHS in England that's determined to blaze a trail across the world.
And I want us to be the first health care system across the world that says we are going to adopt the standards of safety that you see in the airline industry, the nuclear industry, the oil industry. And we're going to reap the benefits not just in terms of patient care but also the huge benefits in terms of efficiency that Gary Caplin talks about at Virginia Mason and so many inspiring people at our NHS in England are now talking about as well.
So, what are the things that need to be done? Well, most of these efficiencies are going to take a huge amount of effort from the people in this room, and they can't all be delivered by me or Simon Stevens or the people in the centre but I think there are some things we can do to help. I am very conscious of Ronald Reagan's saying, he said "the 9 most dangerous words in the English language were I'm from the government and I'm here to help". And I think it is important to have due humility about what we are able to genuinely do to help you. But I hope this week the announcements on resetting the market with respects to agency staff, the controls, yes the controls on VSM pay, and the controls on management consultancy pay will help you control some costs in your organisation.
But there are some more things I want to talk about this morning, and let me start by talking about procurement, and the costs that we can save by more efficient rostering of staff. For the last year Lord Carter, Patrick Carter, has been doing a huge amount of work on this, and many people here today have co-operated with him in sharing data so that we can understand what the potential savings are of improving our procurement and rostering processes and he will shortly be announcing his findings but some of them are absolutely staggering. He found one hospital, a major hospital, which had 650 sales reps who were just targeting that hospital with at any one time 65 sales reps on site. Now of course, we pay for all their salaries even though they all work for the private sector through the prices we pay for our NHS products. And we're not very good at buying those products. So if you look at a box of syringes, one hospital in the NHS will be paying £12 and another hospital will be paying £4. If you look at the cost of surgical gloves, one hospital will be paying £1.27 and another hospital will be paying £0.50 for exactly the same gloves. If you look at toilet rolls, I know this sounds like a sort of mad bet with Tim Kelsey if you bring up toilet rolls in your Confed speech I will buy you a pint or something, but this is actually not that… this is for real, a box of toilet rolls will cost 1 hospital in the NHS £66 and it will cost another hospital in the NHS £30.
Of course, this is all money that could be being spent on patient care. Best practice in procurement says that you should have between 7,000 and 9,000 product lines - we have 500,000 product lines in the NHS. Best practice says price variation of 1-2%, we have a price variation that exceeds 35% for many products, and that is wrong. And when it comes to the use of staff, Patrick Carter's done work on how much time nurses spend on admin as compared to patient care, and he found the variation between hospitals was as much as 78 hours per annum in terms of admin time, that's more than 2 whole weeks of a full time shift that could be being spent on patient care and patient contact that is being spent at some hospitals on that and isn't being spent at others. And then you look at the huge costs - nearly £500 million - spent on adverse reactions that could be 10,000 nurses' salaries.
So what are we going to do about this? Well I talked last year about a compact with you to try and find these efficiency savings. And our plan is that shortly Patrick Carter will publish his plans for a model hospital - what the best practice is in procurement, and how we can get the best prices as we should be as the biggest purchaser of health care products in the world as our NHS is. Then by September, he will share with you a sum of money that he estimates you could save in your trusts if you adopt these practices. And then we will spend between September and December working through that sum of money with you so that by December it is an agreed sum of money. And then I'm afraid from January the hard bit starts which is actually implementing that change in practice, but it will be done on the basis of transparency of data, and I hope this will help you to release a lot of extra savings.
Now, the second thing that I think we can help you with is around the sharing of best practice. We have fantastic practice in our NHS, I mean, just to give some random examples in Sheffield - the way they saved over £3 million by improving bed flow, reducing bed stay, and death rates at the same time. In Cornwall the way they reduced emergency admissions by 30% by the use of GPs. Guy's and Tommy's, the way they used an early screening process to reduce their bed length of stay from 13 days to 8 days and there is fantastic practice, world-beating practice in the NHS. We're just not very good at spreading it around the system and one of the things that happens in nearly every other country in the world which helps diffuse best practice that we don't have in the NHS is hospital chains. So we have accepted David Dalton's recommendations as to what we could do to develop hospital chains, FT chains, in the NHS, but I want to go further and by September we are going to have a competition, and NHS England and Monitor, and choose by September our first 4 nascent NHS FT chains. Any of you people who think you are up for being one of the first hospital chains in the NHS now is the time to think about what your proposal is, and if you are one of the 4 people who are selected, the government and NHS England will do everything we can to remove the obstacles in your path to developing those chains. And that I think will be something that will make a major difference.
A third way we can help you is about the way we publish performance data. Bruce Keogh has written an important letter that points out the inconsistencies in the way we publish performance data with any figures published weekly, RTT monthly, cancer quarterly. And he has said that we need to have a much more consistent approach, publish it all monthly on the same day, and also include the safety statistics in that. And that way we can have more consistency in the way we report performance and that's something I think will also be welcomed.
And then the final area where I want to support you today is recognition that improving efficiency and productivity doesn't just stop at the front door of a hospital. It's also about what happens outside the hospital. And Simon Stevens' comments yesterday about the scandal of childhood obesity are absolutely right. I can commit that the government will be publishing a national childhood obesity strategy before the end of this year. But, it's also about looking at the whole patient pathway, and it's bringing the same transparency, and efficiency and accountability to the commissioning of healthcare as to the provision of healthcare. And so I have asked Chris Ham of the King's Fund to help myself and NHS England develop some transparent metrics that look at the provision of healthcare in every part of the country as the proper and correct way of holding CCGs accountable for the way they deliver healthcare.
Let me show you what this might look like. So, the intention here is to look at global best practice and look at the models that have been used in places like Sweden or the HEDIS system in the US, and to really move one step closer towards true outcomes based assessments. And for that reason the main lens through which we are going to look at the performance of healthcare economies is going to be patient-focused. So these aren't the final proposals, this is one of the things that I'm asking Chris Ham and the King's Fund to look at closely, but I want to give you a flavour of what it is that we are thinking. We're thinking that essentially we would look at the performance of CCGs who as you know we hope will be responsible for all commissioning of healthcare not just secondary care but co-commissioning social care, co-commissioning primary care, specialist commissioning and so on, through the lens of 5 key patient groups. And the idea is that everyone will be a patient in one of those groups. So the groups that we think broadly cover the main priority areas are older people, people over the age of 70, vulnerable older people, other people with long-term conditions, diabetes and so on, people with mental health conditions, mums and children, and then the generally healthy. And for all of those patient groups we all know that healthcare is a combination of 3 things, it is a combination of access, getting the care you need when you need it, it is a question of quality, clinical outcomes, safety, all those very important things, and it is a question of prevention, what we do to actually stop conditions deteriorating, stop people getting conditions in the first place.
Now how you weight those different factors is of course very, very important and that's one of the things that Chris and the King's Fund will be helping us to think through, and also they will be helping us to understand where we don't collect data that we need to collect. So I think it's very important that we know about the quality of mental health provision in any town CCG, and we know whether the mental health provision is better than next door town's CCG, or worse than next door city CCG, very, very important information. Of course, it is not just going to be about the CCG it is going to be about the mental health provider, it will be about the service offered through GPs, and so on but in the end the CCG holds the cheque book so they are responsible for making it work and if we do this we will be truly one of the first countries in the world to try and understand the quality of whole patient care - of an entire patient pathway, primary, secondary, social care, where it's working, where it isn't working, and this will be absolutely vital information for the intervention regime that Simon talked about yesterday for under performing health economies.
Because the intention here is that we are able to leave you alone if you are getting lots of green ticks and lots of blue okays, but on behalf of patients we have a responsibility to step in if we have persistent failure that is not being addressed. And then we have actually got 2 other columns at the very end there which you may have noticed, which are about resilience, your preparations for winter, preparations for some spikes in care, that's really important - the urgent and emergency care picture.
And then transformation. Because not all of the work you do will be work that you can see the benefit of within a 12-month horizon, some of it is incredibly important for the next 3 to 4 years, health and social care integration, electronic health records, per-patient costing, governance. And so we think it's very important that we have a transformation metric that recognises the progress in these key areas as well, even if they're not going to be immediately apparent in terms of improved care for patients.
So, that is how it looks, and yes you will be able to compare the outcomes area to area, but I want to stress this is a way, if we do this, that we can actually move beyond targets as a way of driving change in the NHS to transparency, to peer review, and to learning becoming a true learning organisation - the world's largest learning organisation - as the real way that we drive up quality.
And if we can do that, it will be transformational for the NHS, because in the end a system like the NHS lives or dies by the quality of care that we offer. Nearly 70 years ago Nye Bevan was standing behind the same dispatch box in the House of Commons that I stood behind this week, piloting through Parliament the Bill that set up the NHS. And he did not talk about healthcare for all, he did not talk about universal access, the phrase he actually used was "universalise the best". And I think it is really important that we remember that vision, now we have big challenges as taxpayer funded system resources are always going to be tighter, although we avoid the cost inflation that you get in insurance based systems. We have been very good at universalising access, better than anywhere else, going further or faster than anywhere else in the world, but we have been less good at universalising quality. But I think we can be the first in the world to do that as well. And I think we can be for a number of reasons, but first because we are by far the most transparent healthcare system in the world, we have gone further in the NHS at publishing variations in the quality of care than anywhere else. All countries have disparities between their best hospitals and their worst hospitals, there is no country anywhere in the world that has put 10% of its hospitals into special measures in the last 2 years alone in order to deal with that discrepancy.
We also have the most developed primary care network anywhere in the world and that's why treasuring and valuing the role of GPs is going to be a very important theme of mine over the next 5 years. But part of that is that we have electronic health records in primary care which most countries don't have but we have gone further and 97% of patients now have access to their own [indistinct] system one records in primary care. That is a huge step forward. We have other advantages in the NHS, we have our huge commitment to innovation - the fact that we want to be the first country in world to decode 100,000 genomes. And we also have the rock on which it is all built - the values of our amazing 1.3 million NHS staff.
And that is really where I want to finish this morning, I want to come back to values-driven leadership and the importance of getting the culture right because if we are going to do this we have to think about the culture at the start of the process, not as a bit of seasoning at the end of making the meal. If we talk to doctors and nurses first of all when we are talking about how to improve quality for patients, we need to talk to them first of all about how to have more efficient healthcare and less waste. And we need to carry them with us on this journey.
And I want to tell you a story of when I went to China with David Cameron a year and a half ago, and it was a 3-day visit and I want to let you into a secret which I'm sure you will all keep, which is by the third day we were in a city called Chengdu and actually had had enough of visiting Chinese hospitals, and I asked if they would sneak in a visit to a temple. And I went to this temple and I was met by a smiley, shaven-headed Buddhist monk and I said to him, what advice would you give political leaders? And he thought for a moment and he said: leadership by values. And I came back to the UK and 2 days later Nelson Mandela died, and I thought there is the supreme example of leadership by values. And you know in our NHS we have so many examples of leadership by values whether it's Tracey Fletcher, Claire Pannick - I won't ruin anyone else's career by mentioning their names, but we have incredible leadership by values in our organisation. But we should remember it isn't just the big names, it is also the people we see every day, the A&E doctor who stays with someone while they die. The GP who takes extra trouble to get to the bottom of a diagnosis that may or may not be cancer. The nurse who takes that extra trouble in a dementia care ward. That is leadership by values.
And that is what in the end our entire NHS is built on, and so it's about safer care, higher quality, lower costs. It is about being patient-centred and being patient-driven. It's all those things that really matter. It is about a dream that is not just universal healthcare for all, it is the best quality healthcare for all, to universalise the best, that's not just my dream, that's the dream of over a million people out there who have given their lives to the NHS. We mustn't let them down. Thank you.
(You can watch the question and answer session that followed the speech in the video above.)
Published 4 June 2015
Last updated 5 June 2015
+ show all updates
Added the transcript
First published.