Speech
Royal Institute of Chartered Surveyors 'Invest in Northern Ireland' lunch
Theresa Villiers addresses an audience at RICS on the current state of the economy and the benefits of investing in Northern Ireland.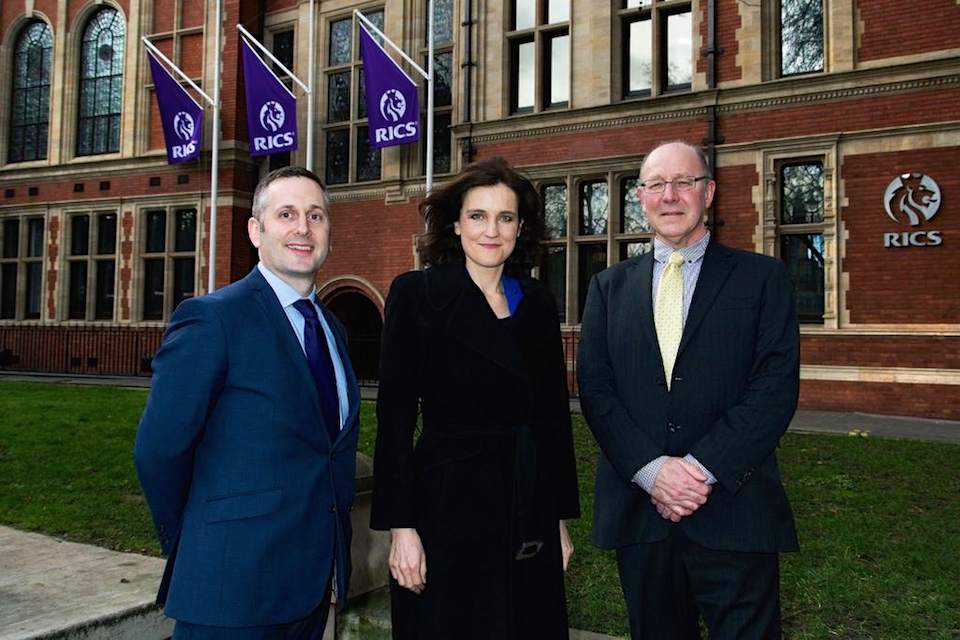 It's a great pleasure to be with you today and I'm very grateful to you for your kind invitation to this event. I'd like to thank RICS for hosting what I am sure will be a very successful discussion of the fantastic opportunities there are to invest in Northern Ireland.
This afternoon I'd like to reflect on the current state of the economy and the benefits of investing in Northern Ireland.
Let me begin with the UK economy.
Five years ago this Government came to power in the midst of a full blown economic crisis. We had the largest budget deficit in the UK's peacetime history and the biggest structural deficit of any major advanced economy.
Unemployment across the United Kingdom had risen by half a million. And the country was experiencing the longest and deepest recession since the war. Added to that, the eurozone to which we send half of our exports was in turmoil.
Against that backdrop the Government had 2 choices:
We could have carried on borrowing, spending and piling up more and more debt, which future generations would have no chance of ever paying off. Or we could make a realistic assessment of the state of the UK economy; take difficult decisions to reduce the deficit; control spending and ensure that we could pay our way in the world again.
And as everyone here knows, the Government chose the latter course.
There were of course those who said it couldn't be done.
I seem to recall some distinguished economic commentators predicting that unemployment would rise to 4 million and the UK would be plunged into a depression not seen since the 30s.
Today the UK is the fastest growing economy in the G7.
More people are in work than at any time in our history with over 2 million more private sector jobs and 760,000 more businesses since the last election.
We've created more jobs here in the UK than in the rest of Europe put together, roughly a thousand a day over the course of the parliament.
The deficit is down by half from 10.2% of GDP in 2009-10 to 5% in 2014-15.
Inflation is now at its lowest levels since records began.
Interest rates have remained at near record low, something which would be completely impossible without the success of our deficit reduction programme.
House prices are rising and the Bank of England predicts that real household disposable incomes will rise by 3.5% this year.
But none of this has happened by accident. It has taken the hard work and resilience of the British people and the determination of a Government prepared to do what's right and determined to implement a long-term economic plan to restore our economy to health.
It's taken a Government prepared to do whatever it can to back British business.
So we've cut corporation tax to the lowest level in the G20 and we've introduced the national insurance employment allowance worth up to £2,000 for every business, abolishing the jobs tax altogether for employing people under 21.
As a result of our long-term plan, we are seeing economic recovery and rising in living standards.
But for all the progress that's been made to deliver economic stability and help to secure a better future for Britain, the job is far from finished. There is still a long way to go and there are clear risks ahead.
The UK is not immune to the problems being experienced in Europe and other parts of the world economy.
For very many hardworking families across the country times remain difficult, which is why we've cut income tax for 25 million people, frozen fuel duty and reformed welfare to reward those who work hard and play by the rules.
And of course every job created means the security of a regular pay packet so that people are better able to provide for themselves and their families.
The recovery is now also clearly visible in Northern Ireland. Economic activity is up with independent forecasters predicting growth of around 2% in 2015.
Unemployment is down, with the claimant count falling for each of the past 25 months and 51,000 more private sector jobs since the election.
House prices, while considerably below their peak, have increased for a 7th consecutive quarter up by 7% in 2014, a year that also saw 20,000 house sales, the largest volume since 2007.
And Northern Ireland is continuing to attract significant foreign direct investment with the latest report from UKTI revealing that Northern Ireland outperformed the rest of the UK last year.
In fact with over 800 foreign investors Northern Ireland is one of the top UK destinations for inward investment. And here are just a few of the reasons why:
We have a highly educated and talented workforce.
Our labour costs are around 15% lower than the UK average.
We have some high-quality infrastructure, including strong air links to Heathrow.
We have some world-beating local companies and instantly recognisable global brands.
And Northern Ireland has a quality of life that twice in recent years has led it to be voted the happiest place in the United Kingdom in which to live.
At the International Investment Conference in 2013, held in the aftermath of the hugely successful G8 Summit in Co Fermanagh, overseas companies were falling over themselves to sing the praises of Northern Ireland as a place to do business.
Companies like Citi Group who are investing £54 million and creating 600 new jobs in Belfast where it already employs around 1,500 staff.
Or global insurance giant Allstate whose chief executive told the conference that the company had saved over $1 billion by taking the decision to locate to Northern Ireland 15 years ago.
And of course HBO who film the world's most successful television programme, Game of Thrones in Belfast and locations around Northern Ireland.
I had the chance to meet HBO executives during a visit to New York and they emphasised to me how crucial the Chancellor's tax breaks were going to be for high-end TV production.
These tax breaks are now up and running and provide another reason why Northern Ireland offers an attractive location for business and the creative industries.
But it's not just the big overseas investors who are going from strength to strength. Many of our locally grown companies are thriving too.
Like Global diagnostics firm Randox that's just announced plans to create 540 quality jobs over 4 years, or one of Northern Ireland's most famous companies, Harland and Wolff. Last year, they completed major work on the Blackford Dolphin oil rig and they've now won the contract to work on its sister rig.
And you only have to look out over Parliament Square a few yards from here to see the iconic new London routemaster bus built by Wrightbus in Ballymena, an example of where this Government's commitment to improving public transport in the capital is providing benefits in many different parts of the UK.
So Northern Ireland has some great success stories of its own. But we also still face some significant economic challenges.The most obvious is an economy that remains over-dependent on public spending.
According to some independent studies, public spending could account for almost three quarters of Northern Ireland's GDP.
That's why the UK Government and the Northern Ireland Executive share a determination to rebalance the economy by boosting investment and strengthening the private sector.
The economic pact we jointly signed on the eve of the G8 Summit in June 2013 was an important step forward in this respect. As a result, our 2 administrations are working more closely than ever before on economic issues.
And under the terms of the Stormont House Agreement, the Government is taking legislation through Parliament to devolve Corporation Tax setting powers to the Northern Ireland Executive and Assembly.
That holds out the realistic prospect of that the Northern Ireland Executive could reduce the rate of Corporation Tax to the 12.5% currently enjoyed by the Republic of Ireland, or as some ministers in the Executive would like, an even lower level.
With its land border with a low corporation tax jurisdiction, devolving rate-setting powers in Northern Ireland has the potential to have a transformative effect on investment, jobs and prosperity. And I'm proud of the fact that it's this Government which is delivering it.
It's estimated that this measure will affect some 34,000 companies of all sizes including 26,000 SMEs operating in Northern Ireland. Of these businesses, the majority operate wholly in NI, so will stand to benefit from a reduced rate.
And ministers in the Northern Ireland Executive believe that some 40,000 jobs could be generated for Northern Ireland over a period of time with the economy growing by over 10% and productivity levels increasing.
The legislation to devolve corporation tax should complete its passage through the Commons next week and I'm confident it will be on the statute book by the time Parliament is dissolved for the General Election.
But it's only been possible to deliver this legislation now because of the successful conclusion of the Stormont House talks just before Christmas.
That Agreement has helped to stabilise politics.
It has averted a potentially disastrous budget crisis and set a path to putting the Executive's finances on a sustainable, long term footing for the future.
It's another step on the road to a peaceful, stable and prosperous Northern Ireland where politics works, the economy grows and society is stronger.
The Agreement is testimony to the resilience of the 1998 political settlement and to the determination of local political leaders to make Northern Ireland work.
Northern Ireland has come very far in recent years but still has enormous potential to achieve so much more.
So I hope that in looking ahead, many more of you will choose to be part of the incredible journey that Northern Ireland has taken by looking on it as a world class destination to do business and invest.
You will all be assured of the warmest Ulster welcome.
Published 23 February 2015