RADAR event: Financial Independence and Disability
A speech by Lord David Freud, Minister for Welfare Reform, DWP.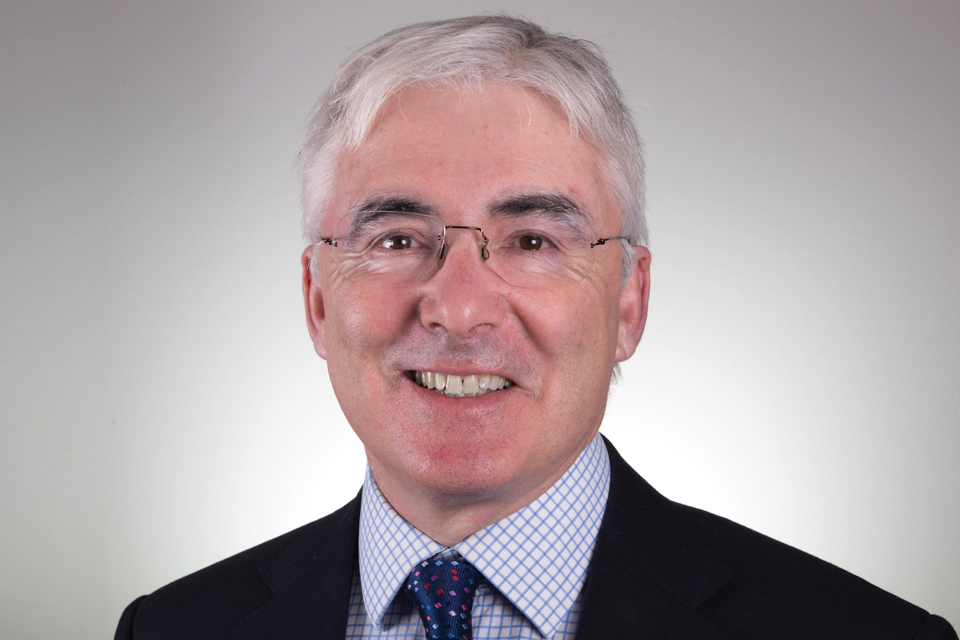 Introduction
This afternoon the House will host a debate in recognition of the 40th anniversary of the Chronically Sick and Disabled Persons Act.
So given the occasion, I'd like to say a few words on how far we've come since then.
But first, I want to go beyond the issues of disability rights and financial independence to address the core of the issue: how social and attitudinal constructs impede disabled people's independence - and how we're breaking them down.
Happiness and fulfilment
Issues around disability lead rapidly to questions about the meaning of life for all of us. I've been most impressed by the recent debate on what produces a happy, fulfilled life.
In particular, the reinforcement between feelings of self-worth and the social approval which validates it.
In simple terms, to be happy you need to be doing something that you think is valuable - and you need feedback saying that.
It's interesting how MPs became so depressed last year with the expenses scandal. It's not that their job had changed - it hadn't - but the social response to them had.
Those social responses, those perceptions, can have a huge impact on how we feel about ourselves.
So this starts to point towards the goal we should have for disabled people.
To have fulfilled lives on this model, disabled people need to be able to contribute fully and to be seen and appreciated for that contribution.
Far too many disabled people are still not in control of their own lives, whether that means the ability to support themselves financially, determine the course of their days and weeks, or do the things that they want to do.
But let me be clear: this is a social issue, not one of capability.
So we need to be constantly challenging society's attitudes and perceptions toward disabled people, so that they can be fully involved in society - not passive consumers of its benevolence.
Progress since 1970
But as I said, we've come a long way since the Chronically Sick and Disabled Persons Act.
The very fact that we are talking about something as specific as financial independence, rather than the issue of rights as a whole, is indicative of that.
We have a strong legal framework for disability rights - in fact, we were the first in the world to create one.
We have a UN Convention on the Rights of Disabled People - and we are committed to using it as a catalyst for achieving disability equality.
We have the Equality Act 2010 - and the new Government is looking at how best we can implement it.
And we have a benefits system which, for better or worse, rightly recognises that disabled people have a specific need for their own cash.
Benefits reform
That is a valuable thing.
Providing financial assistance for those incapable of work is hugely important.
But sadly, the system's structure means that, in too many cases, it holds those who are actually capable of fulfilling work back from doing it.
We know that work can be beneficial to people's health and well-being.
But it's sometimes much easier for people to remain dependent on benefits than become dependent on themselves.
Work should be the best route to financial independence for all, not just most. Our benefit reforms will make sure that happens.
So we're looking at ways to simplify the system so that people can navigate what is currently a phenomenally complicated tangle.
We're going to widen benefit withdrawal tapers as people move into work, so that the fear factor of moving to employment is eliminated.
Incapacity benefit
And for our disabled customers, we are absolutely determined to implement the much-needed reform of Incapacity Benefit which we have promised.
There are rules which actively discourage customers from working - rules with which some people here may be far too aware.
I have friends on IB who are absolutely terrified of doing any work or accepting any money in case they go over their £93 per week maximum earnings threshold.
This cannot be right. It is profoundly discouraging.
It forces disabled customers into a life of dependency and robs them of their dignity.
Furthermore, only 17 per cent of working-age Disability Living Allowance customers are employed - that is compared to 47 per cent for working-age disabled people overall.
Why is this? We'll be trying to answer that question over the coming months, and we're very keen to hear your views.
ESA and WCA
Recent years have, however, seen moves in the right direction.
The Employment and Support allowance is helping people move closer to the labour market.
And the Work Capability Assessment is a good start towards this end, but there have been criticisms. We're going to look closely at those and see how we can improve it.
But we do want to expand the WCA to all IB customers. 2.2 million people are currently left in the lurch on old-style incapacity benefits, and we want to change that.
Welfare to work reform
These benefit reforms won't exist in isolation.
We're going to implement a wholesale overhaul of the entire welfare-to-work system.
So efforts to implement our brand new Work Programme, which I actually designed with people with autism in mind, are already underway.
Private and voluntary sector providers will be able to run their own affairs, using their own ideas to help people into work.
I hope that this will mean more personalised, more comprehensive, better-informed approaches for disabled people than we've seen so far from a system which categorises and segments people into arbitrary classifications.
Disabled people will generally be given intensive support from the start of their claim. And there will be greater incentives for providers to help them.
Conclusion
These are not modest tasks, but they are vitally important.
Right now, nearly one in every four families with a disabled member is living in poverty.
One third of those families' household incomes are made up of benefits and tax credits.
These are serious barriers to financial independence for disabled people. And they will not be easy to overcome.
But there is a deep resolve in the Government to pull these barriers down.
As you know, Maria Miller is our fantastic new minister for disabled people, and I've already seen first-hand the great enthusiasm she has for tackling the barriers which still, in 2010, hold many disabled people back from financial independence.
And I'm looking forward to working closely with her on ways to reform our benefits system, our welfare-to-work system, and the many other impediments to independence, so that we can put right the injustice of social and financial exclusion.
The American Declaration of Independence opened by describing the pursuit of happiness as an inalienable right.
That single statement codified what is now regarded as one of the central components of modern society: that we must, all of us together, create a climate in which everyone has the ability to forge their own happiness.
We've come a long way, but we're still letting people down.
It's not just a waste of money. It's a waste of people's lives.
Thank you.
Published 17 June 2010