Speech
Prime Minister's press briefing at the Foreign Press Association
The Prime Minister gave a press briefing on the G8 at the Foreign Press Association on 12 June 2013.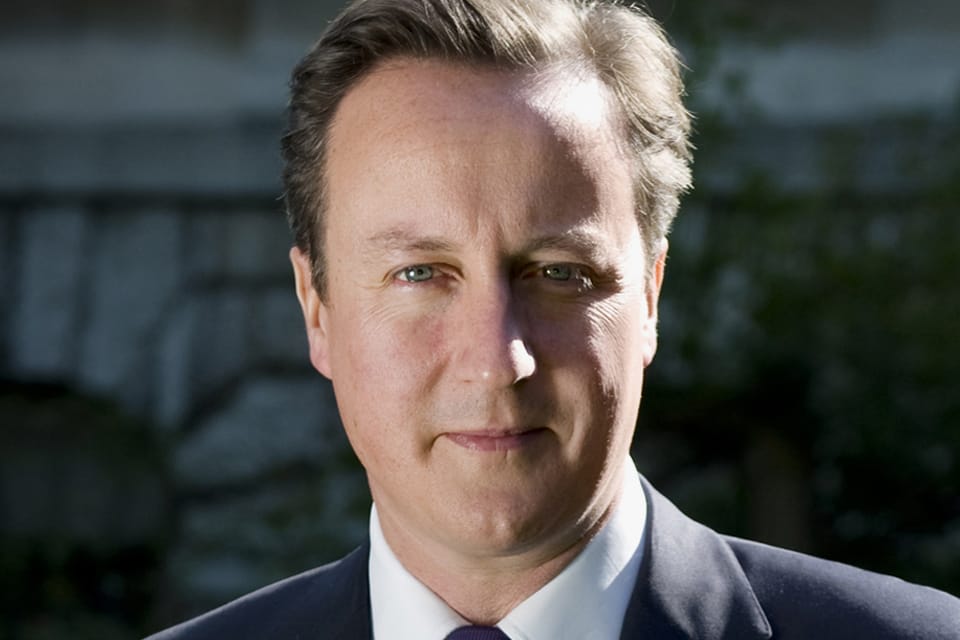 Facilitator
Ladies and gentlemen, it's a great pleasure to welcome the Prime Minister today. The pressure on his diary is hard to imagine, especially just before the G8 summit in Northern Ireland next week, so time is tight and we are really grateful that you have made time to talk to the Foreign Press Association and afterwards we'll answer questions from our members around the world. Prime Minister, the floor is yours.
Prime Minister
Well, thank you very much for that and welcome everybody. Great to be here to talk today about the G8. I know it's the first sign of madness to advertise one of your own speeches but so much of what I want to say about Britain and the G8 was contained in that speech that I gave on Monday this week at Dubai Ports World, so I hope that you've all had a chance to have a look at that. I just wanted to try, though, today to just run through the specific G8 agenda items that I'm keen to push.
I mean, last year, when we started planning our summit, I had a very clear and concrete goal in mind: action to boost growth and to help us all succeed in the global race; action that will create jobs and reduce poverty; action that benefits people whether they live in Leeds, in Lyon or in Liberia. So we've focused on three issues that I believe are vital drivers of growth, that is trade, tax and transparency. You know how important I think the debate about global development and aid is and I'm very proud that Britain has met her aid promises of getting to 0.7% of GDP. But I think it's time to move the debate beyond aid, in many ways, into the other things that can help developing and developed countries move ahead. And I think these three 'T's – tax, trade and transparency – will really make a difference. And I think Britain's in a good place to switch on to this agenda because we've kept our promises on aid and will continue to do so.
So 'T' number one, trade: the most powerful engine of economic growth. The G8 should be sending a very clear signal that we'll fight protectionism, not just rhetoric in communiqués but three specific actions. First, ambitious trade deals: no better way to show our commitment by trying to launch negotiations for the EU–US trade deal. Right now, this is hanging in the balance. Discussions are ongoing on both sides of the Atlantic and we've got to find ambition and political will to do this. And I hope to close an EU deal with Canada as well. It will be worth the effort: the EU– US deal alone would inject €100 billion into the global economy and that's on top of the £10 billion of benefits here in the UK, 63 billion in the US.
Second, on trade: a concerted G8 push for a WTO deal to cut bureaucracy at borders. I know this sounds rather technocratic and boring but actually it can add $70 billion to the global economy. Right now, a trucker transporting goods from Cape Town to Kigali needs a thousand documents. This is absurd and we need global action to deal with that. And so, third, helping African countries to achieve their goal of doubling intra-African trade by 2022 by providing better advice on project plans and securing private investment. So that's some of the trade stuff we're going to be looking at.
Next 'T' – tax: people rightly get angry when they work hard, they pay their taxes and then see others not paying their fair share. But in a globalised world, no one country can on their own effectively stamp out either tax evasion or aggressive tax avoidance and this is exactly the sort of issue that the leaders of the eight major economies should address. We should be galvanising international action.
Now, the good thing about this is it's already started before we even got to the G8. The EU discussions on tax have actually unlocked agreement in the EU that was stalled for year after year. So we've already had, if you like, a deliverable from this G8 summit of getting European action and European cooperation. I believe we've got a real opportunity to make this a turning point where we break down the walls of corporate secrecy, by trying to agree some of the following: new standards to uncover who really owns and controls each company; second, automatic exchange of information between tax authorities, including about beneficial ownership; and then more to tackle aggressive tax avoidance by driving reform of the international tax rules so they reflect today's globalised economy. And also identifying ways to make sure companies report where they earn their profits and where they pay their tax. As I've said, a really important agenda and one that requires global action, Britain in the lead, and good action at the EU already.
Third 'T' is transparency. Now obviously, this sort of transparency that we're talking about with regard to tax and ownership shouldn't just cover who owns companies. It needs to go further. Too many developing countries have been held back by corruption. If you take, for example, in Nigeria, there was a – years ago – a multimillion pound discrepancy between what companies were paying and what the Nigerian government was receiving. This realisation led to a new regulation of Nigeria's oil sector. The potential of this is staggering. For instance, last year Nigeria oil exports were worth almost $100 billion. That is more than the total net aid budget to the whole of sub-Saharan Africa. So this whole agenda about trying to make sure that when countries have resources that they are a blessing and not a curse requires action on transparency. And I think when you look at the record that some countries have suffered – the Liberias, the Sierra Leones, the Equatorial Guineas and others – you can really see how powerful this agenda can be for the developing world.
So we want higher standards on how gas, oil and mining companies operate. We want commitments to greater transparency in land transactions. And we'll push for more data to be made available to citizens so they can hold their governments to account. A unique agenda to help the developed and developing world to grow together. It's a vision, as I like to call it, of proper companies, proper taxes, proper rules. That's what it's about: very, very powerful agenda. Britain really squarely putting it on the global agenda.
Final 'T' is terrorism, because of course it's our job not just to make people more prosperous but also to keep them safe. So we'll be discussing terrorism and security at Lough Erne, how we can work together to tackle the threat of extremism and terrorist violence, particularly across north and West Africa. I want us to look at practical ways to share the burden of meeting this threat. We can't all do everything in every country, so we should be partnering up with the countries worst affected in order to overcome these challenges. I want us to discuss how we crack down on terrorist ransoms because this would suffocate one of the main sources of funding for these terrorist organisations, and of course would reduce the incentive to take our citizens hostage. We will also take advantage that the open and honest format of discussion at the G8 has to discuss Syria. I want us to focus on the tangible steps we can take to help forge a political transition.
So I think you would agree it's an ambitious agenda. It's a very practical agenda. It's not just continuing with previous G8s. It's marking a very clear set of issues we wanted to put on the agenda, and it can make a real difference to country's lives and to people's lives. All these issues require political will to take them head on. I believe we can rise to the challenge, and of course we're going to be doing so in a place that knows all about the importance of political will and all about the importance of political progress. Frankly, ten years ago, 20 years ago, it would have been unthinkable to hold a G8 in Northern Ireland in County Fermanagh, and I'm really proud that we're taking the G8 there to showcase this extraordinary part of our country – extraordinarily beautiful but also with wonderfully talented people.
Northern Ireland's prospects have been transformed by the peace process in the last 20 years, and I think we'll be able to show the world this is a modern and dynamic part of the United Kingdom. It's open for business, open for investment, a great place to visit. So I'm looking forward to welcoming the world there, and I hope there'll be an adequately facilitated press centre so that all of you can come along too and report on what we do.
Plenty of time for questions, points. Who wants to kick off? Gentleman here.
Question
To arm or not to arm Syria, that's the question. By the time you come round to that, probably there will be no more rebels. Thank you.
Prime Minister
Well, as I have said and repeated again in the House of Commons, we haven't made a decision to arm the rebels but I do think lifting the arms embargo was an important step forward because, prior to that, the European Union was effectively saying that we were treating Assad and the Syrian opposition in an equivalent way, and that's wrong. The Syrian opposition, through the statements they have made about the importance of democracy and rights and pluralism – we have made important statements about them, about recognising them as legitimate spokespeople for the Syrian people. I think it's right that we ended that equivalence.
Now, what we have been doing with the Syrian opposition is we've been helping, advising, mentoring, technical assistance, non-lethal support. We should go on doing that. But I think should all be clear, as I said in the Commons today, what we want is not a continuation of conflict but what we want is a transition. We want to have a transitional government in which all of the Syrian people can have confidence. And the only disagreement here politically in the UK, and I would argue probably across Europe, is how you get that transitional – how you get that transitional government. But I believe we're taking the right steps. Anyway, G8 – good opportunity to discuss these issues. Sir.
Question
The question about the most hard point of UK–Russian relationship, the Litvinenko case. In the very beginning it was obvious but now it's more obvious that they will probably never know the truth and the ball is on your side because of British Intelligence blocking the investigation, now claiming all relevant documents as a top secret. Can you respond to that?
Prime Minister
Well, first of all in terms of the relationship I think that previously President Medvedev and I, and now President Putin and I have been improving and building on the British–Russian relationship. We have a disagreement about the Litvinenko affair. We haven't changed our positions on that but we don't want it to get in the way of otherwise trying to build a good relationship. But those disagreements continue. As for the processes here in Britain, they are governed by law in terms of inquests and all the rest of it, and they will be proceeded with in the proper way. Lady here.
Question
In light of the recent events in Istanbul, unprovoked and unnecessary use of violence in the heart of the city, your government has been silent since it started. What is the British government's stance regarding these events?
Prime Minister
What I would say is that I think that Turkey's journey over the last few decades in terms of political freedom and economic freedom has been remarkable, and has been very important for the stability of our world, and is something we should encourage and something I've talked about to Prime Minister Erdogan frequently. And we admire that progress. Obviously the events taking place in Istanbul are disturbing and concerning and what I'd say is that it's very important that everyone shows a proper sense of responsibility. And that is the – that is the view that I take about what needs to happen. But let me just reinforce the point that I do think Turkey's progress overall is something that other countries have quite rightly looked up to.
Question
You mentioned Northern Ireland. There is also a lot of international interest in what's happening in Scotland. I would like to ask you to what extent the referendum of Scotland would affect – would help or otherwise damage your own vision on the referendum of the European Union?
Prime Minister
Well I'd see the two issues as separate in that there's a referendum in Scotland about whether people in Scotland want to remain in the United Kingdom, and then there'll be a referendum after a renegotiation about whether the people of the United Kingdom want to remain part of the European Union. My approach to these issues is that, when you face a political challenge, the best thing to do is to take it head on and have a plan to deal with it.
Now Scotland elected a nationalist government that believes in separating Scotland from the United Kingdom. They supported – they said they wanted a referendum, so my approach was to say, 'Well if you want a referendum, let's have a referendum. Let's make sure it's fair, it's legal, it's decisive.' So it's a single question and the Scots will hold that referendum in September 2014. I dearly hope they will vote to remain part of the United Kingdom. I believe they will. I believe the arguments for keeping the United Kingdom together are very strong.
And then we will go on before the 20 – before the end of 2017 to have that referendum about whether the United Kingdom wants to stay in the European Union. Now of course there's a process of reform between now and then and I am convinced that we'll be able to secure proper changes and reform. We need to make the European Union more open, more competitive, more flexible. We need to make sure we have the right deal for Britain within that European Union. But then in the end the people will decide.
I don't believe that – in the end, that it's right for – it's right to try to ignore these questions of nationality, independence, identity. I think it's right to make your arguments, take them on and then you let the people decide. But that's the way I want to do things in the United Kingdom. I would never presume to tell people in Spain how to meet these challenges themselves. That's a matter for the Spanish government and the Spanish Prime Minister.
Question
And in April G8 foreign ministers agreed that a safe and open and accessible internet is an essential tool. But the reality is now people's trust on internet is being shaken because of the – due to the recent report on – trust on internet is being shaken due to the recent report and because the people don't think it's safe when government is looking into their internet communication without their knowledge. How are you going to make sense of these things as a Prime Minister of UK and as a Chairman of G8? Thank you.
Prime Minister
Well I think the Foreign Secretary made a statement in the House of Commons this week. I thought it was very clear, very well argued. I think British people understand that we face a threat from terrorism, that we have to have well-funded, well-organised intelligence agencies, that they have an important job to do, but they have to operate under the law. And that's what they do in the UK.
We've moved a long way over 20 years. We now have a committee of the House of Commons that investigates the work of the intelligence agencies. We have laws in place that govern the way they operate, and I think the accusation that was being made that somehow they were collaborating with foreign intelligence agencies in order to get round the rules in the UK, I think we've demonstrated that that's not the case.
So I'm satisfied with the situation in the UK but you need always to have scrutiny, always to have a legal framework and I'm sure this is something that, perhaps in the margins of the G8, we might want to discuss: what other countries do; what we can learn from each other. No one achieves perfection in this area but I think we've got a good record and I'm happy to talk to others about what – what perspectives they have. But I think the British people understand the way our system works, and I think there's quite good confidence in it. Lady here.
Question
I want to ask you – you will have a bilateral meeting with Mr Putin. Are you going to raise the questions about the Russian internal affairs during this meeting, I mean human rights, NGOs problem, all these things?
Prime Minister
Well certainly in the meetings I've always had with President Putin there's nothing off limits. We have a good and frank relationship. There's no subjects we can't discuss, and so always happy to come – the main purpose of the meeting, I think, will be talking about British and Russian economic cooperation. I think we'll be talking a lot about some of the issues on trade and the economy that we spoke about in Sochi. I think also we'll be talking about Syria, but there's nothing off – there's nothing off the agenda, is the way I go about these meetings. Gentleman with the glasses?
Question
The Canadian Prime Minister, Stephen Harper, is in town. I believe you're meeting with him tomorrow. Can you tell me what you want to talk to him about, and can you elaborate a bit more on the status of the EU negotiations with Canada because they seem to be at a bit of a standstill and not going anywhere?
Prime Minister
Well Stephen's been a huge supporter to the United Kingdom, also been a great supporter to me, and someone I always enjoy meeting with and talking to. He's addressing both Houses of Parliament, which I think is significant and important and a great honour for us to have him to do that. I'll be giving him lunch afterwards in the House of Commons and we'll have some discussions as well.
I think right up there is going to be the EU–Canada trade deal. It seems to me we're close. It would be a pity if we can't get it over the line. I think it's important for both of us, frankly. We are both, Britain and Canada, open trading nations. We should be demonstrating to the rest of the world that these bilateral trade agreements can drive growth and are a very good thing.
Also, as someone who used to lead a minority administration and then had managed to get re-elected as a majority leader, he's always got some interesting advice for me. Gentleman here, striped shirt.
Question
One question on tax. Isn't it time that you put your own house in order about tax? The city is thriving on tax optimisation, part of that is based on the overseas territories. You could have put pressure on those territories for a very long time. You haven't. Isn't it time that you do that first?
Prime Minister
Well I have, I am and I will, is the short answer to that. We've made big progress, actually, with the crown dependencies and overseas territories. They've agreed to share tax information. You know, remember in the European Union there were countries, members of the European Union, who wouldn't share tax information with each other.
So to try and pretend that the problem was small crown dependencies of the UK or France or elsewhere I think is not right. Anyway, we have made good progress and they'll be coming on Saturday to this event that I'm holding before the G8. So I think we'll make some further progress, and I think there's a good area of joint-working between Britain and France on this issue, but we're not planning a 75% tax-rate.
Question
A permanent solution for the debt problems is not only a problem for the poor countries, but as well for the rich countries of the North. So a permanent solution seems impossible under the current situation.
Prime Minister, do you think it's time for us – for the strong rich countries, like Britain, France, Italy, to take an initiative to try and solve the debt problems and the crisis of the South for Europe? Thank you.
Prime Minister
Well I think this is a eurozone issue. You know, Britain and Greece have very good strong relations, and I've had good meetings with your new Prime Minister. But we're not a member of the euro. I think it is predominantly for eurozone countries to decide how to deal with their currency, how to deal with their debt problems and the decisions they need to make.
What Britain has done is said (because we're not a member of the euro but we are members of the European Union), 'We won't try and stand in your way as you sort out some of these problems. So as long as you can find a way to move towards a banking union that doesn't impact us unfairly, then you must go ahead and sort out a banking union. If you want to have a fiscal compact outside the European Union, have a fiscal compact outside the European Union.'
You know, that should be our approach but this is a eurozone problem and it's a matter for the countries in Southern Europe to decide their own way forward. And I respect the fact that the Greeks and others have – want to remain in the eurozone. That is – that's a decision for you. It's not a decision for me. But it's the eurozone who have to effectively come together and work out the best way of sorting out these difficulties. Gentleman – lady right at the back.
Question
Prime Minister, what would really showcase Northern Ireland as a safe place to be would be if you and some of the other leaders got out, played a round of gold, did some fishing. Is it safe enough for that and will you be taking part in any kind of activity like that?
Prime Minister
I think the issues around golf and fishing aren't so much to do with security as re-electability, I think probably more – more accurately. But I think I'll be able to say to other members of the G8 and of course all of you that, while we're all going to be there working very hard, is make another trip and get back to Fermanagh and go and see the Giant's Causeway, go and see some of the amazing sites of Northern Ireland.
I certainly, as part of my visit, will be doing some other things around the G8 as well. But that's – I think, you know, it will be a great showcase for this part of Northern Ireland that people don't know very well, and I think – I hope the eyes of the world will have a good look and like what they see.
Question
What would you regard as a success at the end of the G8 on your agenda on fighting against tax evasion?
Prime Minister
Good question. I think on all of these issues, you know, you never at any of these conferences sort of shoot the lights out and hit every target, but on the agendas of tax, transparency and trade, and indeed terrorism, I hope we make some good solid progress. I would argue on tax already, the fact that the EU after – I think it's nine or ten years of total stasis on sharing tax information, that went through at a recent European Council, as countries like Austria and Luxembourg remove their blocks.
So we've already made some progress. You know, what you get as Chair of the G8 is the opportunity to push things up the agenda and galvanise global action. I would argue we're already – we've already had some successes on that but I hope for some further progress at the G8 itself. Gentleman here, yes. We'll get through everybody eventually, if I'm quick.
Question
Aren't you worried that if you're too successful on Saturday with the crown dependencies, people and capital will flee to Switzerland?
Prime Minister
Well, no, because the Swiss are also taking on this agenda and we've had the recent tax treaty between the UK and Switzerland. A lot of this flows from the action that the US took on FATCA, and the threat of the withholding tax if countries didn't cooperate, and I think we've just seen a global movement of action on this.
I would praise the Americans for what they've done, praise the European Union for what it's done but also, frankly, I think the campaigns, the grass roots pressure on this issue – because this is now a sort of kitchen table issue, not just some sort of lofty communiqué issue, I think it's pushing pressure on everybody, and that's good.
So of course I want to see not just Switzerland but other, you know, small jurisdictions that have had a lot of secrecy, also jurisdictions within bigger countries, make sure that we have a more common set of rules. So this is a process that's going to involve everyone from, you know, Delaware to Anguilla. You know, that's the point. Sir.
Question
Can we have more details about British situation or what they will deal with the Bashar regime? Is there – is there anything in the agenda during the meeting?
Prime Minister
As I said, I think the most important thing at the meeting – particularly having presidents Putin and Obama there – is to talk about how we up the pressure and up the action on getting Geneva II and a proper peace conference with the participation of the right people to deliver a transitional government. And that means just trying to speed up the processes as much as we can and try and crunch through some of the difficult questions about what – who should be going, what the negotiations should consist of, what a transitional government would look like, you know, what the end-state would look like. All of those things, I think, we can use the G8 to push on and try and make some progress. Lady here.
Question
Thank you Prime Minister. As you know, the Turkish people urgently need – have their voices to be heard. Can you hear their voices? And would you like to tell them anything? Besides, how do you think – or do you reckon Prime Minister Erdogan is handling the situation in the right way?
Prime Minister
Well look, I think everyone in Britain has been watching the television over recent nights and has watched what has happened in Istanbul, and obviously that raises lots of concerns. We say this as friends of Turkey, as friends of the Turkish people, and obviously we want these things resolved. I note that Prime Minister Erdogan today, I think, is meeting with some of the protesters. And we hope that that will go well but, as I say, we say this as a friend of the Turkish people, a friend of Turkey, we want – we want your country to go on succeeding. And, as I said earlier, that means I think everyone is going to have to fulfil their responsibilities. Lady here.
Question
My question is do you have an agenda talking about China? And also how do you think the dialogue system in G8 compare with the other dialogue system in the world talking about China? And for example like leadership – new leadership taking seats in China: what will you expect to get progress in redefining the relationship with China? And what's the issues are you concerned about in the Asian-Pacific region? Thank you.
Prime Minister
Well I think everyone in the G8 wants to have a very good, strong, positive, engaged relationship with China. That is certainly my position. I think that the Partners for Progress approach that we have with China, the very high level of dialogue we have is very important for both countries.
I think it's true – and we should be frank about this – clearly, because of the countries involved, I think the G20 has grown in importance in recent years because China is there, India is there, Saudi Arabia is there, and the G20, I think, has a very important role, particularly on some of those financial global issues. And I look forward to attending the meeting in St Petersburg this year.
I think the G8 as a result has – able to gone back a bit to what it used to be, which is more informal, less of a sort of communiqué-based approach, more of an informal conversation. But as I say, everyone round the G8 table is keen to have a good relationship with China. Gentleman here.
Question
Another question about tax. You talked about more transparency, you want to forge a deal with the UK offshore centres. But we all know companies don't to go – need to go as far as the Caribbean. We have seen the examples of Google, Amazon, Starbucks using your small neighbours like Ireland, the Netherlands and Luxembourg. Would you like to clamp down on those routes as well?
Prime Minister
I think what we need – look, I don't believe in saying that countries can't have – we can't have tax competition between countries. I don't believe in saying that you have to have some sort of minimum rate. I don't think that is the right answer. I think tax is a matter of – tax rates are a matter of national competence, a matter of national sovereignty. But I think what we can agree about in this very globalised world, where companies are able to structure themselves in all sorts of different ways, that we need more exchange of information, we need more information about who owns what, we need a clearer set of rules of the road so that, of course, you know, we – I'm a low-tax Conservative. I've cut the rate of corporation tax here in Britain to 20%. I think that's important for companies to know. If they locate here, it's a competitive tax-rate, and I want them to invest rather than just pay taxes.
So, that's all fine, but I think we need rules of the road, more – more exchange of information, more rules about beneficial ownership. And, if we do those things, I think we can all, we can all benefit. It's a win-win.
Question
Another question on tax. You have praised the United States for their law of FATCA, which have – has put a lot of pressure on other countries. Are you going to demand from President Obama similar steps from themselves to open their – themselves for more information?
Prime Minister
Look, the point about this agenda is that it does involve every country in taking some new steps. Just as we in the UK have had conversations with the crown dependencies and the overseas territories; just as Switzerland has been signing tax agreements that it hadn't previously done; just as Austria, Luxembourg are now in the EU consensus about what needs to be done – there are steps for all of us to take, and we'll be discussing some of those at the G8.
Question
Are you going to discuss tax issues with Mr Putin? You got lots of oligarchs around. Are you getting money from them?
Prime Minister
All right, well look, anyone who comes to the UK should pay their taxes. That's an important point. I've discussed this agenda with President Putin at Sochi because I wanted to make sure that his chairmanship of the G20 and my chairmanship at the G8 worked well together, and I got a very good response about the tax transparency and trade agenda from him. And I think that Russia will be playing a full part in the proceedings.
Question
You'll be soon meeting President Mohamed Morsi. What are issues on the meeting? And also it will be on the G8 summit – the Arab Spring countries, will it also be there, support to the…?
Prime Minister
Look, I think President Sarkozy rightly focused his G8 on the – on the Arab Spring, on the events taking place in North Africa. And some of the commitments that were made then, it's very important we continue with them. And obviously at this G8 we are going to be discussing that and, as I said, discussing some of the issues of how we combat terrorism and extremism in parts of North Africa like, for instance, in Libya where the recent events over recent days have been very disturbing.
I'm looking forward to seeing President Morsi again. I had a good meeting with him in New York. I think the main issues on the agenda are we want Egypt to be a success story. We want there to be the economic reform which I think is absolutely essential to help Egypt succeed for all her people. I think we need to discuss all the issues of regional security, which will be important. And so I'm looking forward – I'm hoping that we're going to have that meeting shortly.
Good, I think we've got to leave it there. I'm very sorry. I think we covered most of the major regions of the world but if I left you out I'm very sorry. But please – look forward to seeing you all in Northern Ireland for what I hope will be a successful G8. Thank you very much.
Facilitator
Prime Minister, thank you.
Published 13 June 2013