Speech
Prime Minister's and Ghanaian President's speech about Ghana
Prime Minister David Cameron and Ghanaian President John Dramani Mahama gave a speech about Ghana's economic progress.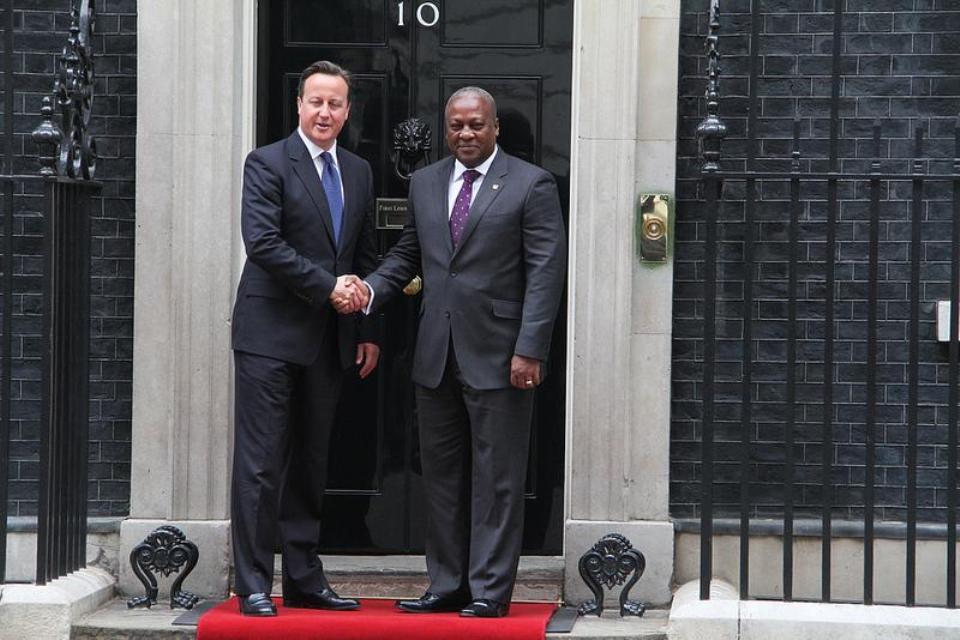 Prime Minister
It is a great honour to welcome the Ghanaian President to Number 10 Downing Street. You are very welcome here. We are full of admiration for the economic progress that you are making - I think the eighth fastest growing country in the world in the current period, which is immensely impressive.
We are very grateful for the support that you have provided to my G8 agenda in making action on tax, transparency and on trade. All these are really important for the developing and the developed world. We also want to increase and enhance our bilateral relationship, so we can do even more in terms of trade and investment.
We are also very impressed with your role in regional security issues, such as Mali where we have been helping with C17 planes. A very warm welcome to you. There is a lot to talk about today. Thank you for coming and to my conference on trade, tax and transparency on Saturday.
John Dramani Mahama
Yes, thank you very much Prime Minister Cameron. Thank you for the very warm hospitality we have enjoyed since we arrived the day before yesterday. We have had many useful meetings.
As you know, Ghana is a low income country making the transition to middle income. We are looking for partnerships that would be beneficial to all of us. Because of the historical links, the United Kingdom is a natural ally in terms of making this transition.
I'm very happy to be here and to attend a conference on trade and tax. Especially as Ghana has a young oil and gas industry that has just started to contribute to the economy, which we want to make as transparent as possible. We are very certain that this conference will give us many additional ideas, and continue to move our industry forward. Thank you very much for having us.
Prime Minister
Thank you. Thank you very much.
Published 14 June 2013