PM's press conference in Moscow
A transcript of Prime Minister David Cameron's press conference with President Dmitry Medvedev in Moscow on 12 September 2011.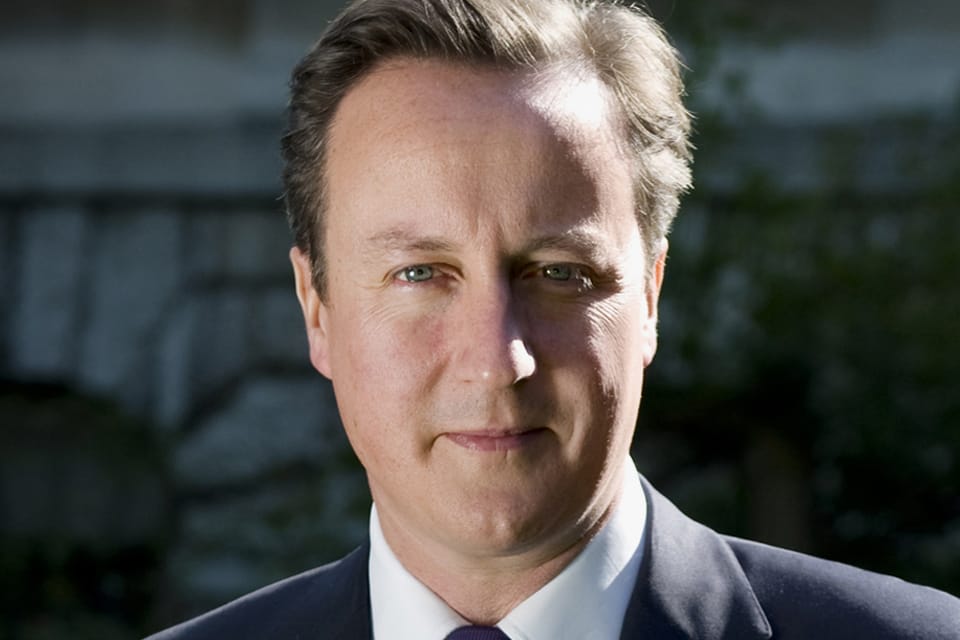 President Medvedev
Dear ladies and gentlemen, mass-media representatives, we just completed the talks with the Prime Minister of United Kingdom, David Cameron, and maybe the main outcome is that we have made an important step in order to bring our bilateral relations to a higher level, to a level of constructive and fruitful interaction so that they reflect the modern state of affairs in our states and societies.
Without any exaggeration, this is an important event and this is further contribution into the development of the pan-European co-operation and processes.  We proceed from the understanding that we have more in common between our countries and more things that unite us rather than divide us, and even if our questions or views or approaches on various issues do not always coincide, that is not the prerequisite to over-dramatise the situation.  What is more important is just not to let them have an adverse impact on our overall relations. 
Today we focus in on the resumption of fully-fledged political dialogue.  We have covered practically all the relevant international questions, issues of the international, global situation in the north of Africa, in the Middle East, in Europe and the global crisis have showed that we have jointly searched for new ways to build a new post-crisis world order and we have discussed repeatedly this with Mr Prime Minister during all the meetings in G8 summits or G20 summits and we have discussed these issues as well. 
Should we talk about the economy, then?  Recently when in politics we have some slow down, in the economic area we are doing well.  Our turnover grew by 25% and reached 16USD and in the first six months it practically doubled.  This is a good figure because not only turnover is growing but mutual investment are growing as well, and our task is just to bring this investment to the guaranteed level and to ensure the specific legal framework applied to this investment and to ensure that they're mutually beneficial.  I'm talking about the investment of British companies to Russia and Russian companies to the UK.
We have made a huge importance in deepening co-operation in the field of high technologies.  We have signed a declaration on knowledge-based partnership for modernisation.  We have done this in order to shift the focus of our relations on the modern agenda to go away from the raw materials and to optimise and to cover all other aspects of economic co-operation.  I believe that this memorandum would serve these objectives as well.
It is very important to develop humanitarian co-operation, contacts between common people, between students, teachers, scientists, prominent cultural figures and of course between business people.  We have lots of good examples to this co-operation.  Recently the Russian delegation visited the London Book Fair and inauguration in the context of the Russian-British outer-space year of co-operation of the monument to Yuri Gagarin.  I believe this is all good examples.  Taking into account that our countries would host Olympic Games, this would be another important area for co-operation in terms of investment, security and safety ensuring and I believe this topic would become increasingly relevant in our relations in the near future, so I would like to thank my colleague David Cameron for open and fair talks.
We have quite good relations that we have established during previous summits so I turn the floor over to you, David. 
Prime Minister
I am very pleased to be here in the Kremlin with the President Medvedev today.  I think it is a year since we first met in Canada and we've had good meetings since then because Britain shares with Russia many interests and challenges from trade to security at home and abroad; from culture to education and sport and research.  Britain - as the President has said - invests more here than almost any other country and our bilateral trade is worth almost £12 billion and accelerating.  We work together to counter piracy in the Indian Ocean and on issues like Iran and the Middle East peace process and financial stability in the G8 and G20, almost all of which we've discussed this morning. 
So as I said at Moscow State University this morning, if we can build a stronger relationship I believe both our countries will gain.  Of course it's no secret that there are difficult issues where we differ.  We can't pretend these don't exist; we must continue to have frank discussions about them as we've had today.  At the same time, without wishing these issues away, it is right to rebuild a more effective relationship on those things that are vital to the safety and well-being of people in Russia and in Britain.  So I'm pleased the President and I have agreed to strengthen our co-operation in a number of areas.
First, on our commercial relationship we agreed on the need to increase trade and investment between Britain and Russia and on the partnership we've just signed to support modernisation.  It's good for Britain and British jobs to connect our economy to faster growing parts of the world like Russia.  And it's good for Russia too because Britain is strong in the financial and business services and sectorial expertise that a high-tech and diversified economy needs.  Today we're announcing £215 million worth of new commercial deals, creating 500 jobs back home and safeguarding thousands more, from engineering companies like AECOM working on the new Moscow-Saint Petersburg highway, to small companies like Global Immersion providing cutting-edge technology for the Moscow Planetarium.  And there's a new joint company launching today to create a state of the art pharmaceutical plant here in Moscow and 300 jobs back in Britain.  And this growing business is why British Airways is today announcing more seats on its London to Moscow route.
We've also agreed to work together on new technology in areas like civil nuclear power.  This will pave the way for Rolls-Royce to win a substantial share of Russian-backed projects to develop nuclear reactors elsewhere, with wider benefits for the 250 British companies involved in the nuclear supply chain.  I'm delighted that Rosatom and Rolls-Royce have signed that agreement today.
On international issues, we agreed on the importance of completing Russia's accession to the World Trade Organisation.  We discussed the need to ensure security and confidence for Georgia and Russia implementing the 2008 ceasefire in full.  We also discussed key issues on the agenda of the Security Council and G20.  On Libya, I've strongly welcomed Russia's role at the Paris conference and Russia's recognition of the National Transitional Council.  We agreed to support a Libyan-led and UN-backed transition to build a united, stable and democratic Libya and we discussed ways to tackle the danger of surface-to-air missiles getting into the wrong hands. 
On Syria, I was interested to hear more about the recent messages that Russia has sent the Assad regime.  We agreed the UN has a role to play to end the violence and support a genuine process of real reform and to continue discussions on a UN resolution.
We've had a productive meeting; there's more work to do today and more conversations to be had.  I very much look forward to the rest of my visit and to working with President Medvedev on all of these important issues.  Thank you very much for the warm welcome you've given me today, Mr President. 
Question
Thank you very much. A question to both leaders. Russian-British relations are quite paradoxical. Britain has in the first place on investment and recently over six years we witnessed the full freeze of the political contacts.  Have you managed to overcome the situation today, maybe to manage to address and solve those issues which delay our interaction between these two countries?  Thank you.
President Medvedev
Thank you very much.  Judging by our faces, we are not frozen, so we are pretty warm.  So should we talk about our relations between our countries?  Then investment and economic relations have been quite good, even excellent.  Of course, there is room for improvement.  There has been US $40 billion of investments provided by British companies, but the structure of this investment is far from being optimal. This is mainly related to the hydrogen trade and we have to change this investment balance. And in the field of trade and economic relations we have something to address, but the results are excellent and I welcome the delegation of business community which came from the UK to discuss with their counterparts the relations of trade and investment co-operation.  This is very good.
As far as political contacts are concerned, we never stopped them but they were maybe related with some difficult issues. We started discussing these complex issues, and the result of discussions was this visit. I believe that we have managed to overcome some difficulties which existed, but it doesn't mean that we don't have difficult topics.  There are some topics in which we differ, but we are quite frank on that and we are talking what is acceptable to us from the legal point of view and what is not acceptable to us from the legal point of view as well, because we have to base ourselves on the legal circumstances, not political ones. 
Prime Minister
I very much agree that Britain and Russia have very strong business-to-business relationships; we have very strong people-to-people relationships.  In terms of the government relationship, it's not been frozen.  President Medvedev and I have had very good meetings over the last year.  Of course we haven't solved every problem.  As I said in my statement, there are difficulties and problems between the two governments, but these are issues that we are working on and while we're doing that we don't see any reason why we can't try, at the same time, to build a stronger relationship.  And that is what I think today's meeting starts to do and the agreements that have been signed by businesses and, indeed, between the two governments. The discussions we want to have about things like the World Trade Organisation, the Olympics, energy co-operation, these are all issues we want to make progress on even as we have the difficulties in our relationship that we don't ignore.
Question
Thank you.  Prime Minister, the Russian Foreign Minister has said you should move on from talking about the Litvinenko case.  Will you?  Do you think that Britain and Russia can have normal relations if it's not sorted out?  And Mr Medvedev, would you like Britain to stop talking about the Litvinenko case and do you think that there can be normal relations if Britain does not?
Prime Minister
As I said, there are still issues between the two governments.  It's not so much a question of whether we go on talking about them.  The question is there are legal issues and in Britain we have a legal system that is independent of the government and those legal avenues have to be pursued in the proper way and government should help with that and shouldn't stand in the way of that.  But as we've discussed this morning, while these difficulties and disagreements between us remain, we're not changing our views on those issues, that doesn't mean we shouldn't pursue stronger business relations, stronger commercial relations, we shouldn't work together on issues like stability and peace in the Middle East, we shouldn't work together to try and work out the very best that the world can do at the G20 in Cannes.  It's absolutely vital for Russia, vital for Britain that those meetings are productive, that we solve the problems of the Eurozone, the problems of debt and we get the world economy to move on.  So we're committed to building a stronger relationship even while some of the problems and issues between us haven't been resolved.
Question
President Medvedev, do you want Britain to stop talking about the Litvinenko case?
President Medvedev
I agree almost fully with what has been said by my colleagues.  Regarding any legal case you should look through the legal prism.  Any politicisation of these legal cases is harmful.  We have a different legal framework, but anyway we should talk to each other, we should look for solutions, but if we so far are not likely to manage to find solutions then we should continue these issues.  We have different views on the Litvinenko case because of differences in our legal framework, but it shouldn't hamper our contacts in other areas.  Of course we should continue this based on our national legal framework. 
Question
I have a question to both leaders.  Moscow and London seem to agree the UN resolution regarding Syria, but as far as I understand, they differ regarding the content of this resolution.  Can you explain why it is so difficult for you to agree upon that?  Second question.  Have you discussed the counter-terrorism actions?  Is it possible when the British and the Russian intelligence and special services have frozen their contacts?  Have you discussed these possibilities?
President Medvedev
Just talking to the point, we discussed the Syrian problem in the first part of our talks.  This is the question where we have different feelings and maybe we are different in our positions despite the practical co-operation between us.  What is the difference?  It's not a dramatic difference, but still it exists.  We proceed from the assumption that on Syria you should adopt such a resolution which should be tough and balanced and address both parts of Syria or both participants of the conflict, the official part headed by Assad and the opposition.  And in this case this resolution would be a success.  Then this resolution should be stringent, but it shouldn't lead to the automatic use of sanctions.  There are a lot of sanctions introduced by the United States, the European Union and additional pressure is not required today in this area.  And finally, what is more important for me is just that the resolution on Syria, once it is adopted, will not turn into a sort of Resolution 1973, not in the sense of its content because the content is broad, but in terms of its implementation in practice.  So this is the focus of our discussion between our British colleagues and us and other colleagues, so I believe this discussion would lead to the reasonable sanctions.
I now turn to the counter-terrorism co-operation.  This is an important area of our co-operation.  Let's remember what happened yesterday in the United States: the 10-year anniversary of the 9/11 terrorist attacks which shook the world and which changed drastically the situation in the world.  We have our own tragedies and we have our own day dedicated to the victims of the acts of terrorism.  That is why this topic is exclusively important for our countries, be it the UK, Russia and other states, so we have to do everything to have the constructive and efficient co-operation in this area in order to have the practical results, so that to use the information and share this information with our partners.  In this regard, I believe that there is a need to reanimate the contacts, not only between the law enforcement authorities but also between special services - should be the case.  We are prepared to discuss the practical ways how to do this work.  Thank you.
Prime Minister
On Syria, I think there is some level of agreement that what is happening in Syria is unacceptable, that what President Assad is doing to his own people is wrong, that the violence needs to stop.  But there is a difference in perspective between Britain and Russia on this issue, and we don't hide that.  We've had discussions, because we want to move ahead and try and get a good UN resolution.  I think the differences are clearly Britain would like to go further.  We don't see a future for President Assad and his regime in Syria.  We think it has lost legitimacy and he must stand aside.  But nonetheless, we want to work together to try and get the best possible UN resolution to show that the world wants to make a clear statement about what is happening in Syria, and that's backed up, obviously, by the action we have taken at the European level, where we have put in place travel bans, asset freezes, and indeed quite tough sanctions on Syrian oil.  But it's an issue we will go on discussing. 
In terms of counterterrorism, clearly we have a common interest in combating violent Islamic extremism.  It's something I think we are going to discuss over lunch.  We haven't changed the arrangements between our security services, which were frozen at the time of the Litvinenko issue, and that's not being discussed as something that is going to change, but I think we can talk about how we co-operate in terms of combating criminality, how our police services, how our Serious and Organised Crime Agency work together in the future, and that's something we can discuss, as I say, over lunch.
Question
Prime Minister, I am still not entirely clear.  How can you come here and bang the drum for British business while the suspected killer of Alexander Litvinenko is being protected by the Russian state?  I don't understand how you can park the issue without being accused of putting trade before human rights.  Can you confirm that you will raise this with Mr Putin later?  Mr President, if I could give you a question.  Can you explain why a British businessman should invest in Russia when he faces the possibility of intimidation, corruption and an inconsistent rule of law?  Finally, Mr Cameron suggested this morning that the KGB tried to recruit him on a visit here in 1985.  Do you think he would have made a good KGB agent?
Prime Minister
The answer to that last question I think is no.  Let's be clear about that.  First of all, on the issue of Litvinenko, this issue hasn't been parked.  The fact is that the two governments don't agree.  We don't agree with each other about this issue and it's an important issue to the United Kingdom.  I'm not downplaying it in any way.  William Hague spoke to Litvinenko's widow before coming to Russia.  It remains an issue between Britain and Russia, and we haven't changed our position about that and the Russians haven't changed their position.  But I don't think that means that we freeze the entire relationship.  What we should do, as two mature and sensible countries, is try and see if we can build a relationship that's in our mutual interest, covering important areas that will help us both. 
We both need to see growth in trade and investment and jobs.  We both want to see progress and stability in the Middle East.  We both want to deal with issues like nuclear proliferation and the danger of arms getting into the wrong hands.  There is a bilateral agenda for Britain and Russia that needs to be progressed and should be progressed, and there's also a whole set of international issues where we meet together at the G8, the G20, the United Nations, climate change, where we should understand each other's positions and try and work with each other.  It's not parking an issue; it's just recognising there is a disagreement.  That hasn't changed.  The two countries aren't changing their arrangements because of it, but we should work on our relationship beyond it.  I think that is the right thing to do, and that's why when Dmitry Medvedev asked me to Russia, I agreed to come and have enjoyed undertaking this visit.  Now, for the question about my conversations by the Black Sea in Yalta, I will leave it to Dmitry to answer.
President Medvedev
We all have to learn to respect our legal frameworks.  I would like to remind you that article 65 of the Russian constitution directly says that a Russian citizen cannot be extradited to foreign states for legal proceedings.  That will never happen, no matter what would be the circumstances, so we should understand this and respect this, because we have also many questions regarding how the court decisions are implemented in the territory of the UK.  But we are not raising these issues.  So, we have to respect our legal framework and no matter who raises this issue, the answer would be the same: this is not possible.  Please remember this.
As far as how we implement our co-operation in business areas, we in Russia fail to beat the corruption.  Should we use these criteria then?  It would be very difficult to deal with many states existing on our planet because corruption as a social element exists everywhere, and I open a secret to you that corruption exists in Great Britain as well, but we are prepared to co-operate and invest into the UK.  It doesn't mean that we are not intending to cope with that, to deal with that, but this is a large-scale corruption and we should make drastic measures, radical measures in order to improve the situation in our economy.
Published 12 September 2011