Speech
PM press conference with Enda Kenny: June 2015
David Cameron gave a press conference at 10 Downing Street with Taoiseach Enda Kenny on 18 June 2015.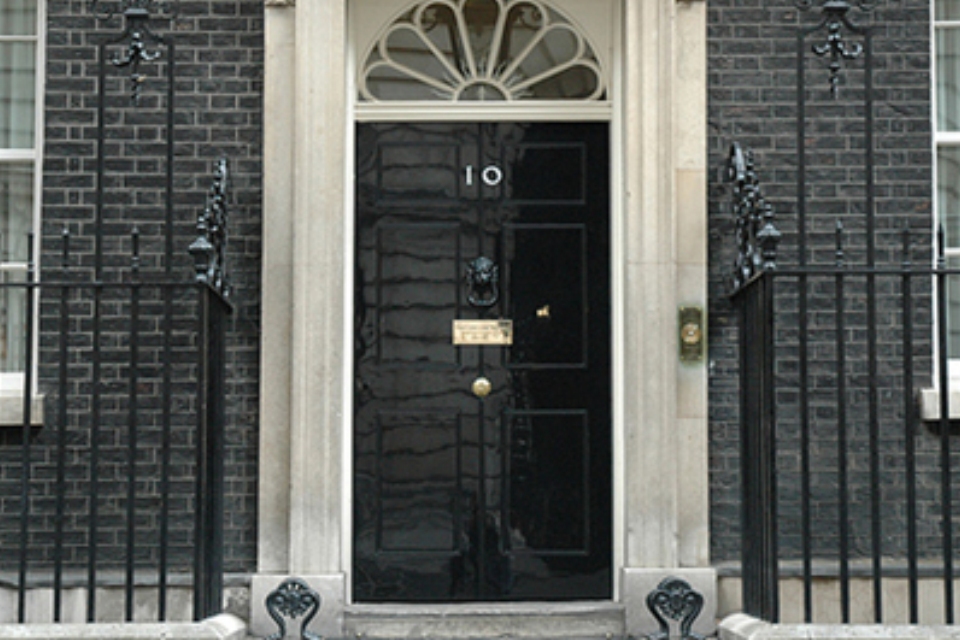 Good afternoon and welcome, and it's great to welcome my good friend Enda back to Number 10 for another Anglo–Irish summit and discussion. I want to start by expressing my condolences to the friends and families of the 6 Irish people who were killed in the tragic incident in California earlier this week. Our thoughts and prayers go out to their families and to their friends.
Great pleasure to welcome you, Taoiseach, back to Downing Street. We've had good conversations today on a range of issues, including the strength of our bilateral relationship, which I think has never been stronger, on Northern Ireland and on the UK's renegotiation and reform programme with the European Union.
First, on our bilateral relationship: this continues to flourish. This year we signed a landmark agreement on defence co-operation, and I want to thank the Taoiseach for the vital support provided by Irish forces to help British troops battling Ebola in Sierra Leone. Our trade relationship is also growing, with trade between our countries now worth more than a billion euros every week. The Taoiseach's economic reforms have had a real impact, and I want to build on that success in the months ahead.
Second, we reiterated our joint commitment to fully implement the Stormont House agreement. The current situation in Northern Ireland is serious. It is vital that Northern Ireland's political leaders deliver on their side of the deal if we're to deliver a brighter, more secure future for the people there.
And finally, on Europe, I set out how I want to address the concerns of the British people about the EU through renegotiation and reform. The UK and Ireland share a strong desire to make the EU more competitive, to prioritise free trade agreements with the growing markets across the world. We need the EU to be a driver for growth, not a lag on growth. We found a lot of common ground today, and I'm pleased that the Taoiseach is willing to work with us to find solutions to these issues.
A very warm welcome, great to have you here, Enda.
Enda Kenny
Well, arising from the very tragic circumstances in Berkeley, California, let me say that I'm very pleased to receive the sympathies of the British people and the population at large through the words of David as Prime Minister. This was just an incident that was so sad, the loss of young lives so tragically, and I accept those condolences and sympathies in the manner in which you give them.
Let me say as well that I'm delighted to be here with the Prime Minister at Downing Street. I obviously congratulated him on his recent electoral success, learned a few lessons from that I might say, and wished him well in his new term in office. I briefed the Prime Minister on Ireland's continuing economic recovery, and on our ongoing work to ensure further sustained growth, investment and jobs.
On Northern Ireland, we reaffirmed our commitment to full implementation of the Stormont House agreement. We recognise the difficulties that must be and are being faced by the Northern Ireland parties as they continue to have our support in seeking to resolve their budgetary issues. Dealing with the past is also an important element of the Stormont House agreement. In that context, we discussed a number of legacy issues, like the Dublin and Monaghan bombings, Ballymurphy and the Finucane case. I also briefed David on my meeting with the Kingsmill families, and our efforts to ensure that we provide the greatest amount of material that is possible to give to the coroner's inquest, in accordance with the law.
We also reaffirmed the importance of our bilateral partnership. We spoke of the recent, very positive visit by the Prince of Wales to Ireland. We discussed progress on the joint UK–Ireland work programme, which stems from our joint statement signed back in 2012, and we look forward to continuing that work together on this important initiative.
The Prime Minister explained his approach to the UK position on Europe. I reiterated our view that it is important for the UK to remain an active member of the European Union, and that we share very similar views on a range of issues. It is in Ireland's interest, and in Europe's interest, that Britain remains a central part of the European Union. We will have the first opportunity to discuss the EU issue collectively at next week's June 25th meeting, and this progress will obviously take some time, and we look forward to working constructively with the United Kingdom over the coming months in that regard. Thank you.
Prime Minister
Thank you very much Taoiseach. I think we've got a couple of questions.
Question
Yes. So to Mr Kenny, what are your concerns about what David Cameron is trying to achieve in Europe?
And to the Prime Minister, with so much focus in Europe on Greece, are your negotiations making an impact? And if so, what number or proportion of the member states are going to be supporting you at the summit at the end of June?
And finally, if I may just ask you what you feel about the cost of refurbishment to Westminster, and whether you felt that means that, to keep those costs down in these times of austerity, MPs need to move out?
Prime Minister
Okay, first of all, on the report into the cost of refurbishing Parliament: this is an issue predominantly for the House of Commons and the authorities there. I haven't read the report yet; I'll study it perhaps over the weekend, and be able to give my view after that. But in all these things, we obviously have to be cost effective.
On the issue of the European Council, obviously there are a lot of things being discussed at this coming European Council: there's the situation in Greece; there's the migration crisis in the Mediterranean; there's the importance of renewing sanctions against Russia over the situation in the Ukraine and of course there's the issue of Britain's future in Europe. What I've been doing in the weeks running up to that is making sure that I speak with the Prime Ministers and Presidents around the European Council table, to talk them through my plans for renegotiation and reform, and referendum. And I'd say, overall I'm getting a good response.
This is going to take time; it's a complicated process. As I said before, there'll be ups and downs; there'll be days when it looks like it's going well and days when it looks like it's going badly, but that is in the nature of a complex renegotiation. What I'm driven by is the British national interest: getting this right for Britain, getting this right for Europe and then putting the right package on the table and holding that referendum. That's what's going to happen in the coming months. I wouldn't say there's any one particular date that's going to be crucial, but obviously the forthcoming European Council is an opportunity to get this process underway.
So that's the way it's going to work. Enda, over to you.
Enda Kenny
There's a very long agenda for next week's meeting. Actually, I think it probably will be dominated by Greece, and I would say in that context that the instability that has been created over the past number of months has led to a serious situation for the people in Greece. And that's why it's absolutely critical that a solution be arrived at here which will restore stability and which will allow Greece to remain a country that plays its part as a member of the European Union. Because who is hurting here are the people in Greece, and that's the result of instability, and we need to fix that.
In respect of concerns that you mention about Britain and its situation insofar as the Union is concerned, this is the start of a process here. There are a whole range of issues where we have, I think, a lot of agreement in terms of the single market, the digital market, the energy market, services, red tape, administration. These are issues that most of the leaders of the European Union have referred to at one point or another. There are other issues about the relationship of a country that is not a member of the eurozone and the European Union; the question of trade and all of these things.
But that's a process that I've commended the Prime Minister for going round to the leaders to talk to them all; to say, like, 'This is what I want for Britain and for Europe, but if that's what it is, it's for everybody.' Because leaders do not want a situation where unemployment is too high, where their country is not functioning properly, where it's not developing properly. And the argument's been made at the start of this process. So it's not a time now to deal with detailed proposals that have come from anybody here. I think the value of what you've done is replicated by the presidencies who call to all the countries and talk about these issues. Maybe we should have more of this in looking at how you can actually make the working of the Union be more effective in the interest of its citizens.
So at this stage, this is a process of understanding how we might be able to get to a better place for everybody, and clearly, when you finish your process and you put your question in a referendum, we want that to be a referendum that can be carried because it's critically important that Britain stays a central and leading player in the European Union of the future.
Prime Minister
Thank you, we've got a question from the Irish media.
Question
Yes, given the the close border and economic ties between Britain and Ireland, how worried or concerned are you both that a referendum campaign could damage those ties between Britain and Ireland as the campaign continues?
Enda Kenny
Well, we have very close relationships with Britain now, and the Prime Minister pointed out about trade. There are so many other issues going on there. We have connections in so many ways with, I think it's 60,000/70,000 people on the boards of British companies. So I'm not focused at all on negative consequence here. I want to see Britain, as the European Union wants to see Britain, remain a central, leading, trading partner in that Union.
So, this is the start of a process of explanation from the British point of view, and in that we will be as supportive and as constructive as we can be. It doesn't mean that you'll follow blindly on every issue, as we've got our own positions. But in so far as the process is concerned, I want to see that leading to a decision by the British people to stay in the European Union, because that's where the future for everybody lies: expansion, development, jobs, economic opportunity, careers, society.
Prime Minister
Thank you, I think it's right to have this referendum from Britain's point of view. We haven't had a say on Europe since 1975 and I think it's important that, when it comes to such an important decision, that you're asking the people to make that decision and I want Britain to stay in a reformed European Union. That is the aim that I have and I'm setting out with the Taoiseach and others the changes I think that are necessary.
In a nutshell, it's to make sure that Europe can work as an organisation for countries that are in the eurozone, and I would argue that we're seeing, through Greece and other things, the need for change there. But also to make sure it's an organisation that could work for countries that aren't in the eurozone, like Britain. And in a nutshell, that's what this is about: whether or not Europe can show the sort of flexibility that is required to make either sort of membership to work and work well for the countries that are involved. That's what it comes down to.
Thank you very much indeed for coming. Thank you again, Enda for coming to these discussions. Good to see you again. See you next week. Thank you. Thanks very much.
Published 18 June 2015