Speech
PM Direct in Manchester
Prime Minister David Cameron took part in a PM Direct event with local residents in Manchester.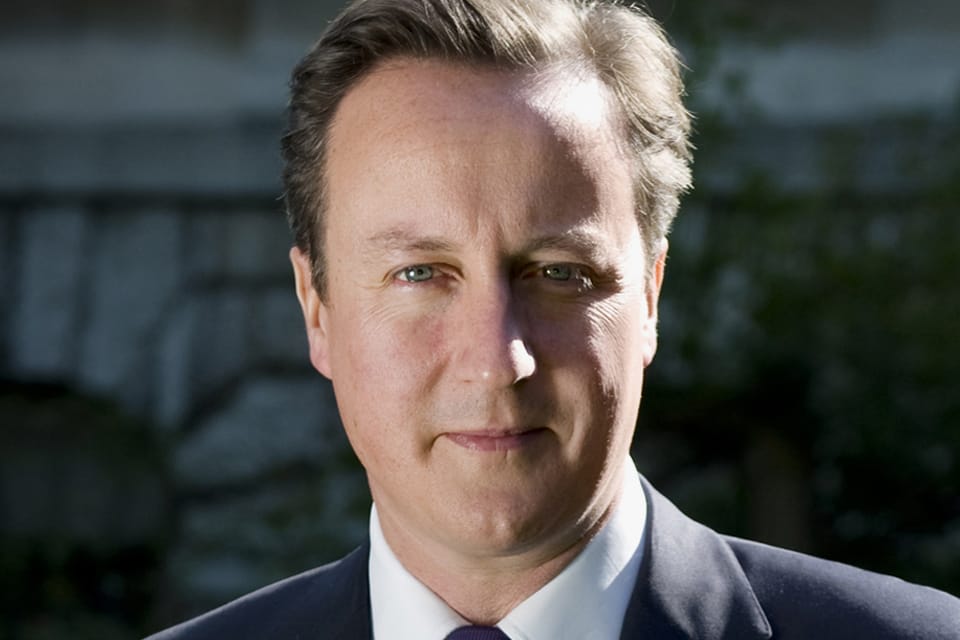 Read the transcript
Thank you very much.  Well, you were promised the man at the top; I'm afraid Fabio Capello wasn't available, but as he's not here I'm happy to stand in.  I'm very pleased to be here in Manchester, and thank you very much to Key for arranging today's public meeting. 
The purpose of doing these PM Direct meetings is because I want to get out from the Westminster bubble and spend time listening to people and trying to answer their questions at the start of what's going to be a really important time in our country, as we deal with this massive budget deficit, as we deal with the fact that we've been living beyond our means for too long - and just like a family, just like an individual, you can't go on doing that, and we have to deal with it. 
So the point of today is to spend the time answering your questions, no long speech from me.  I just wanted to say a couple of words about why this is so important.  If you have a big budget deficit, and we're borrowing more this year than almost any other major economic country, if you're doing that, you risk higher interest rates, you risk sucking confidence out of your economy, and you're also building up debts because of course the more you borrow, the more you build up your debts, the more interest you pay on that debt.  And if we don't do anything about it, by the end of this Parliament, we'd be spending £70 billion just on the interest on our debts.  That is more than we spend on schools; it is more than we spend on defence.  It's a massive amount of money. 
So I think the responsible thing is to try and get our spending and our taxing into balance, and to have a balanced budget, broadly, by the end of the Parliament.  That's what this programme is all about.  And obviously, as we do that, there will be some difficult decisions, there will be some painful decisions, but I think it's important before we take those to make sure we cut out waste and inefficiency - and also, something I'm talking about today - fraud. 
In our benefit system, there's about £1.5 billion claimed every year by people who aren't entitled to claim that money.  Now, that's fraud.  That is wrong.  That money shouldn't be claimed; it shouldn't be paid.  £1.5 billion is enough to pay for something like 40,000 nurses in the NHS, so it is wrong and I want the government to cut this fraud out and also cut out the error and the waste in our benefits system too.  And so Iain Duncan Smith, the Head of the Department for Work and Pensions, will be reporting back to me in the autumn about all the ways we can make sure we do this. 
Obviously, prosecuting those who commit benefit fraud; obviously making people pay back the money; obviously having tough penalties; but also using more modern and new methods to make sure we get to grips with benefit fraud, including using other private-sector companies - and credit rating agencies to share information so we can go after those who are claiming illegally and fraudulently.  I think it's the least we can do as we try and get the budget deficit under control. 
That's the end of the introductory speech.  I told you it'd be short; it was relatively short.  Who wants to ask the first question?
Question
Just with regards to the deficit, I was wondering, should our focus not be on corporate tax avoidance and taxing the financial sector, rather than brutal cuts that affect the worker?
Prime Minister
I know no one wants brutal cuts, and of course we've got to look at taxation as well as spending.  But we've got to try and deal with this deficit in a way that's good for the economy, that keeps the economy growing.  And the evidence from around the world is that you ought to, when you're dealing with a bad deficit, when your spending is completely out of whack with what you're receiving, you ought to be looking at something like a ratio of 80% spending reductions and 20% tax increases. 
We're doing slightly more tax increases than that, and we have - as well as the VAT increase, which I know won't be welcome, but I think is necessary - we have put a new levy on the banks.  So we're going to be taking about £2 billion off the banks, so they make a contribution every year to dealing with our deficit. 
And yes, of course, as well as chasing people down for fraudulently claiming through the benefits system, we should also be chasing down people who don't pay the tax that they ought to pay.  So absolutely both things need to happen, but the truth is I would be misleading you if I didn't explain that, as well as those tax increases, we didn't also have to make some reductions in spending. 
And as I say, we should start with things that we shouldn't be spending money on anyway.  You know, like benefit fraud or, for instance, I would say, ID cards - a wasteful programme, costs a lot of money, the government shouldn't be doing it.  So you've got to cut out the fraud, you cut out the waste, then you cut out the things the government shouldn't be doing, and then, only then, should you be asking, 'Well, how can we try and do things more efficiently and better?'  And then only after you've done that do you go onto the next stage and say, 'Well, are there some things the government's currently spending money on, which, actually, even though they're quite welcome, we can't afford given the circumstances today?'  But you're quite right: tax evasion is as bad as benefit fraud and both need to be combated.
Question
I work for a really good service called Connexions and wanted to ask you: with the proposed cuts that you plan for Connexions, who will offer impartial information, advice and guidance to all young people to enable them to make an effective transition?
Prime Minister
This is a really important question, because we need to give young people proper information to make choices about future careers.  I know people working for Connexions work very hard to try to do that.  It will be up to local authorities to decide how they make reductions, where they decide they can try to save money, and how to obtain more for less.  It will be their decision on how to do that, but there is a case going forward to see if we should be looking at more independent careers advice within schools and making sure we are really giving that independent advice within schools, because Connexions has sometimes tried to do too much. 
It does great work trying to help very disadvantaged people.  It is also trying to run a careers advice service.  In our manifesto, we looked at having an independent careers advisory service.  That is not coalition policy, so we have to discuss that with our coalition partners and look at how to do that best in the future.  However, as I say, it is going to be for local authorities to decide how they make reductions.  All the time, they should be asking themselves how they can do more for less, rather than just saying they are going to have to make a cut across the board.
Question
I have recently had a baby and have been using the Sure Start centres in Wythenshawe.  Sure Start centres, with the parenting classes, baby massage, rhyme and sign, promote positive parenting and relationships, good communication, secure attachments with babies and children and appropriate stimulation.  Also, they reduce isolation, feelings of dependence, post-natal depression and neglect.  All the above reduce the chance of mental health problems and anti-social behaviour in later childhood.  I hope they are still going to be around.
Prime Minister
How old is your baby now?
Question
Nearly eight months.
Prime Minister
What was the best part of Sure Start?  What did you think you took the most from?
Question
All of it.  I found I was not on my own.  We could go there and interact better with our children.  I met other people in the same situation as me.  I work full-time.  When I go back to work, I am not going to be able to do that.
Prime Minister
I support Sure Start.  It is very important for this reason.  If you look at all the evidence, where disadvantage kicks in between children from better off homes and children from less well off homes, you might think the disadvantage really starts when the children are five, ten, or maybe even fifteen.  Wrong.  The disadvantage kicks in right from the start, between nought and two.  That is why the last government set up Sure Start.  That is why the whole idea of trying to help parents and children in the very early years started.  I support that and think it is absolutely right.  That is why, in our emergency spending review that we had earlier this year, Sure Start came out of it very well. 
Obviously, we have to try to make sure, as we go forward, that we are focusing on the people who need help the most.  There is a criticism sometimes of Sure Start that a great new centre is established and the sharp-elbowed middle classes go in there and, like my wife and me, take all of the services.  We need to make sure that we keep the idea behind Sure Start right at the beginning, which was to go out into the community and find those who are hard to reach, who really need help bringing up their children and need that help, advice and support that you benefitted from so much, and that we make sure that the money we are spending is really going to help those whose disadvantage is greatest.  As we try to make sure that the money that goes to Sure Start stretches as far as possible, we should be making sure they are really linking up with voluntary bodies, that they are really going to help those who need it the most, and that they are not just providing a service that everyone can jump into and take advantage of; it is really there for those who are suffering from the greatest disadvantage.  That is what it should be about, but it is a very good idea and one we want to continue.
Question
I have recently moved to the UK from New York City.  I am the artistic director of an organisation called Contact.  We are an arts organisation dedicated to young people's journeys, from artists, to community leaders, to entrepreneurs creating their own companies.  We have been meeting recently with the young people with whom we work and they are really concerned about what is happening, the changes and the funding.  You referenced young people who are hard to reach and the arts is a place where they develop confidence and self esteem to go on to university or establish their own careers.  I am meeting with a group of these young people tomorrow.  What is your message?  What should I pass onto those people, particularly about long-term strategies about investing in the arts for young people?
Prime Minister
The message I would pass on is that they are the greatest resource that this country has.  In the end, in the great competitive world we live in, the one thing we're going to have is our people and the talents of our people and we're going to do everything we can to nurture and develop them and make sure we don't leave people behind.  And I think you're right that the arts and voluntary bodies and organisations, social enterprises like that have a huge role in actually making people make the most of themselves.  So I hope you'll go on doing what you're doing, but I don't want to hide from you the fact that we're borrowing basically 10% of our GDP this year.  That's pretty much more than any other country in the G20.  I mean, you know, if you look at even Greece, it's actually borrowing less than we are this year, so it's very serious.
And the real truth and one of the reasons for having these meetings, the real truth is that what I don't want to do is just go through all of the departments, including the arts and sport and education and take a fixed percentage off each one and say 'we've just got to share the pain like that'.  That would be a bad way of doing this.  What we should be doing is looking at the really big budget items like, for instance, the welfare budget, like, for instance, public sector pay, like pensions and say, 'Right, these are the really big things we spend our money on, how do we make sure we make some savings there, some real savings through proper reform so we can go on supporting the arts and education and infrastructure, the things that are going to make a difference to the future of our country?' 
To put it in context, the welfare budget is something like £192 billion a year.  The Home Office, the whole of the police budget and everything else is £10 billion, so it dwarfs everything else.  So the truth is if we're going to deal with this deficit, get our country living within our means again, build a stronger economy, have all that confidence you've got to look at the big budgets otherwise you end up making lots of reductions to lots of budgets and probably doing some things that wouldn't be such a good idea.  So that's the message I hope you can take away, but you're very welcome to come from New York City to this great city of Manchester and thanks for all you are doing.
Question
It's a great city and you should come visit us some time, if you can.
Prime Minister
I will next time.
Question
Prime Minister, welcome to Manchester.  My question really is a little bit about small and medium-sized enterprise.  You keep talking about how they are the engine for growth and for opportunity, yet on your recent trip to India you took some of the largest companies with you that are shedding jobs.  Is that the right message to be sending out to small and medium-sized enterprises when you want to stimulate growth, stimulate export and import and what is the real message to SMEs in driving some economic benefits to our region as well as the country?
Prime Minister
I think that's a very good point.  I went off to India with a jumbo jet full of not just businesses but also the heads of the British Museum, sports stars, media businesses, to forge stronger links with India, which is a great growing economy, because we're going to have to trade our way out of this recession.  Now, of course, you can't take every small business in the country, so you tend to focus on some big businesses that can attract investment from India back into Britain and that can sell goods and services from Britain into India.  But I also took with me the head of UKTI, UK Trade and Investment, which is the body that tries to attract two-way trade and attract investment into our country, and small and medium-sized enterprises are going to have a huge role to play in that and they represent small and medium-sized enterprises. 
You're right, sir.  If you look at the job growth in the economy, it's going to come in the future from the small companies.  If every company that employed, you know, five or six people employed another couple we would cure unemployment, and many of the biggest businesses, as you say, will probably be shedding jobs rather than adding to them.  So what are we going to do to help the small businesses?
Well, the first thing is a very simple thing: we've got to make sure we're making it easier to employ someone.  We want to make it less costly to employ someone.  And that's one of the reasons we, in the budget, in spite of all the difficult decisions we had to take we said any new small business that sets up, the first 10 new people it employs they don't pay National Insurance on those people.  That's why we've got a 'one in, one out' rule for regulations.  So if any of my ministers comes up with some clever idea for a new regulation because they've got some great thing they want to change, they have to find a regulation they're going to abolish before they can put it in place.
So these things will help to stimulate the small-business sector, which is where the jobs will come from.  And I don't believe that it's just big businesses that export.  There are many small businesses that are really active in looking overseas and I want to make sure that UK Trade and Investment and all of the bodies the government has are there for you to go and sell overseas. 
I summoned every ambassador that serves our country all over the world back to the UK - they all came back standard class I'm pleased to say; some of them weren't very happy about that - and said, 'Look, you do an important job standing up for us diplomatically, making sure our interests are promoted abroad, encouraging good relations between our country and every country around the world, but the most important thing you can do right now is help open markets for British business.'  And those embassies and those ambassadors, they're not just there for the big companies, they are there for the small companies and you should be able to pick up the phone to any one of our embassies anywhere in the world and ask them for advice for how to sell into that market.  I don't want to change the name of the Foreign and Commonwealth Office to the Foreign and Commercial Office, as someone suggested, but I do want them to be more commercially orientated to help this great economy of ours get going again, open markets again and start trading and creating jobs again.
Question
I would just like to ask why, despite all these cuts that need to be made, which I understand, that you're actually targeting the most vulnerable in society in disabled children.  They're losing all their clubs and everything due to the restructuring that has got to come about because of the financial cuts the departments have got to make.  I'm a single mum who is going to have to give up work if these cuts go ahead because I will not be able to find suitable child care for a 13-year-old child.
Prime Minister
Right, well, the whole point about the cuts is the cuts we're going to make, we want to make them in a way that protects the poorest and most vulnerable.  And so, for instance, in the budget that we passed just 50 days into office, we made sure in that budget by increasing child tax credits that that budget did not add a single family to child poverty.  It didn't increase child poverty at all.  And I want to make sure, because I've filled in the forms myself and I know how important it is, that Disability Living Allowance, which is the key benefit for parents with disabled children, is there for parents with disabled children, is simpler to fill in, you get the money faster and it's there for you.
Now, if there's a particular decision that's been made I suspect locally about clubs and support and the rest of it, I'll very happily go and look at it for you, but I suspect that was a local decision not a national decision, because it's really important that parents of disabled children are able to get out and work, are able to have all the experiences that the rest of us are able to experience.  And so I don't want the cuts to fall on the most vulnerable, quite the opposite.  I will do everything I can to make sure the most vulnerable get the money that they need.  The budget did that and I'm going to do my best to make sure that in other reductions we do the same.
Question
Good afternoon, Mr Cameron.  I'm Anthony Hall and I represent AlternEnergy, who are renewable energy specialists.  We see the huge potential for home owners and businesses to save energy.  My question is when will the government implement policy on the Green Bank and the future of the Carbon Trust so we, as a business, can develop our strategy around providing energy-saving solutions to families and businesses alike?
Prime Minister
Very good question.  The Green Investment Bank we are going to deliver on, but I think most important from your business's point of view, I would think, is what we call the Green Deal, which is basically allowing companies like yours to go to households and say that if you want to have money spent on insulation or loft lagging or energy-saving improvements, that you can basically share the reduction in that household's bill from the measures that you take.  This is the Green Deal that we're establishing.  It's basically going to, I think, employ thousands of people up and down the country in important environmental work.  It should save people money on their energy bills.  It should cut carbon emissions.  It should help reduce fuel poverty.  I'm hugely enthusiastic about it.  It's quite complicated because you've got to have some rules and regulations that allow you to do a deal with the homeowner so they don't have to pay anything upfront, you carry out the work, but you share the money from reducing their bill.  And I'm seeing Chris Huhne, the Energy Minister, tomorrow evening at about 5.45 and I'm going to be pressing him on exactly that - when are we going to get this in place, because I think it's a really important project.  And it'll be backed by things like the Green Investment Bank about which you speak.
Question
Thank you.  Good afternoon, Prime Minister.  Just a quote first.
Prime Minister
Is it a short one, because it is questions and answers?
Question
It is a short one.  'We all know in our hearts that as long as there is deep poverty living systematically side by side with great riches we all remain the poorer for it.'  David Cameron, Prime Minister.  What policies does the government have to decrease the gap between the richest and the poorest in society?
Prime Minister
It's a very good question.  I think we have to go about this in a different way.  Of course, poverty is about a shortage of money and, of course, the thing that we measure, rightly, to measure poverty is the gap between the richest and the poorest and we look at relative poverty.
However, we have to stand back and ask a slightly more fundamental question, which is: what is making people poor and what is keeping people stuck in poverty?  What is keeping people stuck in poverty for a very long time?  Vitally, I would also ask: what is the nature of the gap between people stuck in that deep poverty, and people who have a normal and reasonable standard of living?  We should focus on those elements.
Now, of course, poverty is about money, but the causes of poverty are often different factors.  The causes of poverty are factors like family breakdown, drug abuse, poor educational opportunities.  Vitally, the greatest cause of poverty is lack of work and being out of work, often living in a family where no one has worked for 10 years or longer. 
I hope what this government will do differently is not just look at how we transfer money from rich to poor - though we should do that through the tax and benefits system - but have a much more forensic analysis of what it is that is causing people to be poor and keeping people stuck in poverty.  That is why, for instance, that you see a very pro-family policy.  We want to do more to help families, because families are a great way of combating poverty.  That is why we want new schools to be established, particularly in areas of social deprivation, so there is a great avenue out of poverty.  That is why I want to unleash the voluntary sector, to help people come off drugs and lead a drug-free life, because drug abuse is a massive cause of poverty.  Let us take each of the causes - drug abuse, addiction to welfare and being out of work, family breakdown and poor educational opportunities - and deal with each of those. 
Frank Field, who has written quite a provocative article in the Daily Mail today is helping the government with this, with an inquiry into the measures of poverty and how we look at this problem of people stuck in deep poverty.  That is what I think we should try to do differently to build on what the last government did. 
Question
Prime Minister, why do you want to include Turkey in the EU when we, ourselves, are not even fully integrated yet?
Prime Minister
I would say we are.  We are full members of the European Union.  There is one part of it where we have stayed out.  That is the European single currency, the euro.  I think that is absolutely right we are outside the euro, because it is very important for a large economy like ours to be able to set its own interest rates, to fix those interest rates for the conditions that suit us here in the UK.  If you have a single currency, you have to have a single interest rate across Europe and that is causing a lot of pain and difficulty for the countries in the eurozone.  Therefore, it is right that we are not in that part, the euro.
Why Turkey?  Very simply, where we benefit from Europe is really in two or three different areas.  The first is by having a large trading block, a large single market.  If you believe in that, it makes sense to include this fast-growing, very enterprising economy into that single market.  We will benefit.  The trade flows will increase.  We will increase jobs, investment and wealth, and it will be good for us.  That is the first reason.
The second reason is security.  Europe and NATO have been helpful at keeping peace in Europe.  Countries that were previously at each other's throats work together and, if you include Turkey into the EU, since Turkey is already a member of NATO, then that is a further development of increasing the security of Europe.  It is a little unfair in a way saying to Turkey that it can be a member of NATO and can guard the camp, but it is not allowed to sit in the tent.  On that ground, I believe it is right.
There is another ground, too, which is that Turkey is a country which has a choice about whether it becomes a more western, democratic, remaining secular, European-facing country, or whether it becomes more Islamic and eastern-looking and so on.  It is in our security and long-term interests to make sure that Turkey continues on the path to being democratic, have a higher regard for human rights, and be a secular country that is western-looking.  That is right for Turkey and us and, the longer we leave Turkey outside the European Union, the more there is a danger it starts looking the other way and becoming more Islamic and eastern-looking, and turns away from Europe.  That is why I feel very strongly about this that it is the right thing to do.
Question
Prime Minister, if you want to take people off benefits, could you please start with me?  I have been forced onto benefits, forced out of work as a qualified teacher, for over 18 months now.  I have been barred for two years by a quango called the General Teaching Council (GTC), which I hope Mr Gove is removing, though it will not actually put me back in.  I have done nothing wrong.  Here is my police record.  What I want to ask you is, given your recent statements about increasing teacher powers in the classroom to combat pupils' behaviour, disruption and anti-social behaviour, what are you going to do about people like me and other teachers who have been forced out and forced onto benefits by lies?
Prime Minister
First of all, sir, I do not know all of the details of your case so I cannot give you an instant answer about your individual case.  However, I will take away the papers with me and read them on the train, then maybe come back to you.
On the general point, first of all the GTC is a good example of a quango that is not strictly necessary and we can save some money by getting rid of it.  However, the more important, bigger point is that the balance of power in the classroom had just shifted too far in favour of the pupil and away from the teacher. 
Michael Gove, myself, and the coalition want to change that.  We set out in our election manifesto quite a number of specific changes that we would make to ensure it was absolutely clear that the teacher was in charge in the classroom because, when you look at the rules, which you will know better than me, sir, there are a lot of rules that say you cannot set detention on the same day as the offence is committed.  You cannot search for certain items unless they have been set out in detail before you conduct the search.  In lots of ways, as a country, we were starting to treat the adult, the teacher, like a child, and treat the child as an adult.  We had it the wrong way round, and we needed something of a shift, in fact, quite a major shift to make this happen. 
Michael Gove, as Education Secretary, will do this.  He will scrap a lot of those rules, will make sure teachers are back in power in the classroom, will give head teachers the power to make sure they can exclude pupils who are behaving badly.  As a parent of a six and four year old, I feel this very personally.  The main worry parents have is: when my child goes to school, is there going to be an orderly environment in which they can learn?  That is what matters, I think, almost more than anything.  If the class is disruptive, it does not matter how brilliant the teacher is or how brilliant the child is, they are not going to learn.  Discipline in schools is absolutely fundamental and we want to restore it.  As for your own case, you will have to let me read it on the train.
Question
I work in supporting employment.  I support people with disabilities into work.  I want to know, on the changeover from the Work Step programme to Work Choice, what do you see as the future of supporting employment in this country, especially for those with the most significant needs?
Prime Minister
First of all, thank you for what you do, because the work of taking people off welfare who are disabled into work is incredibly important, since all the time we should be trying to ask how we can help more people with whatever disability they have to do some work.  Most of us find that work is something that, not only puts food on the table, but gives us confidence, contact, a social life and a major element to our lives.  Therefore, firstly, thank you for what you do.  It is vital.  This is not just work that the state does.  It is work that voluntary bodies, charities, and private enterprises do. 
I cannot give you the specifics on the programme, but the basic thought we have is twofold.  One is that it is not just work for the state.  We should be open-minded in allowing new groups, bodies, enterprises and charities to come into this sector to provide this sort of training and help. 
The second thought we have is that we want to pay people by results.  There has been a danger in recent years that we have really been producing programmes that tick the boxes of putting someone in work, but do not really ask the question: was it the right sort of work and are they still in work in a year's time? 
If we have a payment-by-results system, where we pay you, the provider, by the results you achieve, we are then much more able to measure whether you are putting really difficult cases into work.  If you are, we should pay you more for that, rather than just encouraging people to go for the easier cases.  Also, are they still in work in six months or a year, and so on?  That is what makes the life difference. 
Otherwise, what you find is there is a bit of a revolving door.  You have some training programmes, where you take people off welfare, into work, and the job does not last very long.  They are back on welfare, but the provider has done quite well.  They did what they were asked to do, but the country's problem has not really been solved.  Those are the principles we would apply.
Question
One question that I would like to ask with regards to what you are saying about the benefits system.  Now it seems there's no reward for people who go to work and don't claim any benefits, i.e. there's a lot of schemes at the moment for Warm Fronts and Home Front grants for insulation and double-glazing.  Now, me and my partner both work full time, but because of that we don't qualify for any of these grants and couldn't afford to get any of these done to our property unless we go and get a loan, which is something we don't want to do, so why is it that people who do claim the benefits can get this?  Because the vast majority live in social housing, having worked in social housing, and it's only the landlords that are going to benefit in the long term.
Prime Minister
This is a really difficult question and this is a fundamental question at the heart of how we reform welfare because, on the one hand, some people say, 'Well, you've just got to take the welfare off people who don't need it, off people who are getting child benefit, but who are earning a good crust - take that away and you've solved the problem.'  The problem is then people feel they're paying into the system, but they're getting nothing back in return.  And, if you focus all the help on the people on the lowest incomes, you find you create huge benefit traps as people go up the income scale and lose everything, so there's no simple answer to it.
What we are looking at are quite radical ideas for welfare reform that mean it is always worthwhile for someone to work, that you try and get rid of the poverty traps and the benefit traps all the way down the line.  That's what we're looking at.
But, in terms of insulation and things like that, the Green Deal we're looking at is unrelated to whether people are on welfare or not.  Because actually it's in all our interests - it's in the whole country's interest - that we reduce carbon emissions from our homes.  And that goes for anyone, whatever income they're on, whatever-sized house they've got.  It's in all our interests to have more energy-efficient homes and so this Green Deal will be there for anybody.  All you've got to try and do is work out with the company what it is that you can do to your house to improve its insulation and its carbon efficiency, and then work out how much money that's going to save.  You shouldn't have to pay anything upfront; you share the reduction in the energy bill with the company that does the work.  And that should be unrelated to people's ability to pay.
Question
I'm a teacher.  I work with asylum-seekers, and my question is about asylum-seeking children.  Are you aware that your government is carrying out age assessments that are deeply flawed on vulnerable, unaccompanied asylum-seeker children?  They're carried out by social workers, who have had as little as three days' training and who work for local authorities who are set to gain financially if a child is assessed as an adult because the authority does not have to pay the care costs.  Of these children, about 50% have been incorrectly assessed.  As a result, children find themselves at risk physically, sexually and mentally, as in the case of Miss T, who was awarded a measly £5,000 damages after suffering witchcraft, rape and pregnancy because she lost her care placements.  And now I have told you that, what do you intend to do about it?
Prime Minister
I just wanted to ask you a question on the age assessments: you are a secondary-school teacher?
Question
My own student, who's been in the news quite a lot recently, he is 16 and he was age-assessed at 20.  He's now severely mentally ill and confused.
Prime Minister
And your point is that you think these age assessments are being done because the council will benefit financially if they're counted as adults, rather than children?
Question
I think that's part of the problem.  I think the other part of the problem is that they're being done on single instances or short visits by social workers without taking into account the views of the other professionals working closely with children - teachers, care-workers, sports people.  The young lad that I'm working with has been assessed by social workers in Wigan Council, who in the first instance totally ignored the views of other people who worked with him.  The only two people that assessed him as an adult were the social workers.  Everybody else - tens of people - assessed him as a child.  And he's now mentally ill as a result.
Prime Minister
Well, thank you for raising it.  I do not have a specific answer for you today, because this is one of the problems of doing these meetings - you're raising a problem, which is clearly an issue that needs to be grappled with.  I think we've all read in the newspapers about some asylum-seekers who are adults, who pretend to be children in order to try and get here and stay here, so I suspect there's a problem on both sides.
So the problem you're identifying is extremely serious and we need to make sure that social workers assess people properly, and if there's any perverse incentive in the system to count children as adults, that's not right, so we need to make sure this is done properly.  What we have done as a government is say, 'Look, we're going to end the system of detaining children who are asylum seekers,' and making sure that we get that out of our system because it's been there for too long.
But the specific problem you raise, perhaps I can get one of my team to get the specific instances off you, and I can find out from the councils why they're doing what they're doing.  Clearly, it makes sense to assess these people properly but, as I say, I think there have also been problems with people who are adults pretending to be children to play the system the other way round, so it's a very, very difficult problem, but I'm glad you raised it.  Thank you.
Question
Given that the government says they find it very important to decentralise power and give it to the people, what would you say your answer to the West Lothian Question is?
Prime Minister
Very good.  For anyone who's not up on the West Lothian Question, this is the problem, as it were, that in Scotland you've got a Scottish Parliament with Scottish MPs who decide Scottish health and Scottish education and Scottish housing, but Scotland then also sends MPs down to Westminster, where they vote on English health, education and housing.
In the coalition, I'm afraid it's one of those questions where I'm going to have to answer that we've set up a review - we have - and we've said that this will sometimes happen in a coalition.  There's no shame in that.  We have to try and persuade our coalition partners this is the right thing to do, that we can find a way of correcting the West Lothian Question.
But, in a way, what I don't want to do is create something divisive.  I think that what you don't want is the sense there are two classes of MP at Westminster.  And so what I'd like to do is try and persuade our partners and others that the policy we had, of having a convention that, when Westminster discusses only English things, the House of Commons sits in that way and then the whole House of Commons doesn't overturn the result with its reach.  That was our idea, but we're going to have a review and we'll have to see what comes out of the review.
Question
Good afternoon, Prime Minister.  I'm an NHS dentist and I have a stake in running three practices in north Manchester.  All of the practices, as you can appreciate, are small businesses and we have contracts with primary care trusts, which your government has pledged to abolish in 2012.  That's in itself not a problem, but the issue of dentistry was barely mentioned in the white paper.  We're all very, very uncertain about what's happening in the future.  I'm going to invest and employ more people as a small business. What is your timescale for improvements in NHS dentistry?  What do you propose to do?  And how can you reassure me today that I can invest?
Prime Minister
Well, first of all, it's incredibly important we've got good NHS dentistry.  There were big problems a few years ago and we have to recognise that.  I want to ask you a question actually.
I mean what we've been looking at is trying to move further away from drill and fill, and to have more capitation payments for the number of patients you have on your book, so you encourage preventative dental work. That's the direction we're going in, but what would you recommend?  Because I think you're right; we've spent a lot of time on health reform, but we haven't spent so much on dentistry reform.
Question
There has to be a measure where you care for a cohort of patients.  At the moment it's purely activity based.  There has to be a measure, basically, where you have a cohort of patients that you look after, you're also rewarded for quality and then you're also rewarded for activity.  It has to be a three-way split.  At the moment it's purely activity driven and it always has been.  And that's the issue.
Prime Minister
Well, I think we're happy to work with you to get this right, but the direction of travel I think, as you've just said, if it is all activity based, you are putting a perverse incentive into the system, which is just too much drilling and filling, whereas we all know the way dentistry's moved on is all about preventative medicine, oral hygiene and all the rest of it.  So some sort of balance like you are suggesting would seem to me to be a sensible way forward.  We will be working with the dental profession to deliver that and deliver what we want, which is good NHS dentistry.
Question
Will the government be taking any measures to increase FDI in Greater Manchester and the northwest, and if so how do you plan to achieve this?
Prime Minister
First of all, we are going ahead with Metrolink work which I think is very important - I know George Osborne came and made that announcement - and I think infrastructure is vitally important when it comes to encouraging direct investment here in Manchester.  Infrastructure is absolutely key.
One of the changes we are making gives Manchester a really exciting opportunity; we think the Regional Development Agencies were the wrong way of going about trying to encourage inward investment.  I don't think people identify necessarily with a region in the way they identify with a city, and I think what we should be doing is empowering Manchester, the people in Manchester and the local council in Manchester to stand up for and work for a better Manchester.
We are going to do that in a number of ways.  First of all, because the Regional Development Agencies are going, we are giving you the opportunity to have what we call a Local Enterprise Partnership where the city council can get together with the private sector and the Chambers of Commerce and have some of that development money to attract people here in Manchester.  I think that is a great way to take forward the reform of the Regional Development Agencies.
The second thing is that I am a great believer in city mayors.  I think if you look around the world you have got to ask why some of our cities haven't done as well as some of the great European cities.  Of course, you can't put it all down to the mayors, but I think that a great city should have a great and visible leader.  I think that if you have someone responsible who everyone knows is the person trying to drive forward change in that city, that is a great way of attracting investment, innovation, and actually getting things done.
I think you see that in New York with Mike Bloomberg, a good friend of mine and a fantastic mayor at cracking down on crime, getting investment into the city, making sure that people pay their taxes.  I think you see it in London, I think you see it across Europe and I think the idea of city mayors is a good one and I think Manchester would benefit too.  We will be producing legislation but in the end it will be for people in Manchester to decide whether you want to carry on with what you have now or whether you want a mayor.  I hope you opt to have a mayor; I think it is the right way to do it.
Question
Good afternoon, Prime Minister.  I am the father of two severely disabled young adults and I find myself basically fighting constantly for what we all take for granted.
Prime Minister
What age are they?
Question
My daughter is 18 - that is her there - and my son is 25. She is the first person in Manchester to be built a sensory room, but they didn't put anything in it.  That's how backward Manchester is.  I want to know, as a parent yourself, what advice would you give me?
Prime Minister
The first thing is to say thank you for what you do.  If you give up caring for your children - who are now young adults - if you give up, then we are weaker as a society.  We really rely on and we praise you for what you do to keep your family going, so the first thing is please don't give up, please keep going.
I totally recognise the problem you are talking about.  One of the problems is that - and we have to be frank about this - lots of very disabled children in years gone past didn't always make it to adulthood.  Tragically, in my case, my lovely boy died age six and I wanted him to be an adult.  However, lots more children are growing up to be adults and the country doesn't really know what to do about that, we are not used to it and we need to work out how to change.
When you get to 16 and you go through that transition for a very disabled child out of school, it is a mess because we are just not used to so many children living so long.  What I am saying is that we need to change and we need to work out how it is that the state and the parents can work together.
I can't give you a specific answer today, but I think the basic problem is that if you packed up tomorrow and said, 'I can't cope anymore, I've had enough,' if you gave up completely the state would have to take over completely and would then put a vast and expensive care package around those two young adults because the state would be responsible.
I am now thinking, if only the state could give you a little fraction of what they would have to spend now, they could help you to have a sensory room that's got more kit in it and to make you feel as you should feel, proud of what you do as a dad.  That is what we have got to grapple with because in too many ways the state only helps if you say, 'Right, that's it, I've finished,' and that's not right.  So I don't have a specific answer but that is the thinking we need to do.  If you have got specific suggestions -
Question
Sorry, Prime Minister, I have plenty of suggestions.  I have now set up my own home to cater for both my kids.  I have adapted it but I've got social services at the gate wanting to carry out capacity and remove them and put them in institutions which is not the way forward.  It is not the way forward and the people I am dealing with are not accountable.  They are not accountable; they can make decisions at the stroke of a pen and they are not accountable.  There has just been a review in the House of Lords and I spoke to Lord Morris, who was actually horrified, and his legislation was the only thing that has been put on the statute, there was nothing there before.
Prime Minister
So we have got to make them accountable.  They work for the local council so you can go off to your council and you can say to them that you are not happy with what you are getting, because social services should be there to help you to go on caring.  So if that means a grant to adapt your home, as you say, that is better and, frankly, for the tax payer it is cheaper than them having to go into care.
It is the right thing; we should always try and keep our children at home rather than have them go into care.  So if it is not working I will help you, if necessary, to bash down the walls of the council to make sure that the social workers are listening to you, because in the end you pay your taxes so that they are there to help you with your children and the longer your children can live with you, that is a much better way than having them go into care.  I have tried to answer as best I can.
Question
Good afternoon, Prime Minister.  I work in the construction industry; we are the 15th largest architectural practice in the country and we employ over 300 staff.  I am sure you will appreciate that in the last two years the construction industry has suffered horrendously.  We have consulted with our staff and recently made 10% redundant.  Following the cuts in the education programme, we are going to have to make a further 10% reduction.
We quite understand why the government has to make these cuts, but we wonder if the government really appreciates how little private-sector work there is within the construction industry and that there simply isn't enough work.  What are the government going to do to encourage the banks that are refusing to lend to private-sector projects?
Prime Minister
Okay, there are lots of points in there that I will try to deal with.  First of all, the banks should be lending; we have put all this money into the banks to stop them falling over, they should now be lending money to business.  We are working on a programme of looking at either net lending agreements with the banks or actually having a loan guarantee scheme to help make sure the money goes out of the banks into the businesses.  There is a very big focus, I can tell you - including from my office - to make sure that happens.
The second thing is the schools programme.  The last government cut capital spending by 50%. They didn't say which school wouldn't be built, which road wouldn't be built, which hospital wouldn't go ahead, not a single example.  So we came in and we had to say to the schools, 'Here are the projects that can go ahead and here are the projects that can't go ahead.'
While we were doing that we discovered that the Building Schools for the Future programme was hopelessly inefficient; three years went by before a single brick was laid.  I spoke to a construction company that was doing the Building Schools for the Future in Birmingham and it cost them £6 million just to complete and win the competition.  For £6 million you could build about three schools at least, so it has been fantastically wasteful.
Your last question was about what we are going to do to stimulate private construction.  That is, as you say, getting the banks to lend and, I would argue, dealing with the country's debts and bringing confidence back to the economy is a very big part of getting Britain building again.
The other thing we need to do is unlock the housing market where the current top-down system has actually not led to houses being built.  We are saying to local councils, 'You decide, but if you build houses you can keep the council tax, you can keep more of it for longer, if you attract more business to the area you keep the business rates, you keep the money.'  I think that is the way to get building going again in Britain, not these bureaucratic schemes that simply weren't delivering.  By the way, we are not going to make further cuts in capital spending, that 50% cut, that is the floor.  We're not going to go further than that, because it's vital that we make long-term decisions, whether it's the Manchester Metro system, or other developments, it's vital we go ahead with them.
Question
As you've said yourself, deficit reduction is the most important thing facing your government, so I'm sure you're aware that a number of well-respected experts, such as the IMF, the IFS and 60 leading economists in an open letter to the FT in February have all been extremely critical and pessimistic about your fiscal policy.  So obviously it would be irresponsible of you to continue with such a policy unless you commissioned some sort of research, or you had some hard evidence that contradicted what they said.  So I guess my question is: on what factual evidence do you base your fiscal policy in light of those criticisms? 
Prime Minister
Right, well, the first thing is that the IMF's view is that what we're doing is right.  They've identified that there are countries with excessive deficits, and Britain has got the most excessive deficit - we're borrowing more than 10% of our GDP this year, as I said, more than Greece, more than other countries in Europe, more than almost any other leading country in the world - and the IMF has said those countries with large deficits need to take action and they need to take action now. 
And the reason is, as I said at the beginning, not just because you've got to get the debt interest bill down, not just because you've got to have some confidence in your economy, but if you're not careful, if you go on borrowing recklessly, you could end up in a situation like Greece, where you're not politely discussing 'well, how can we pay for ourselves and carry out the cuts to get the economy back living within its means'.  You do not even have that conversation, you just have to cut everything because everyone's lost confidence in your economy.  So that's the IMF that actually do support what we're doing.
You ask what evidence?  Well, we set up an Office of Budget Responsibility independent from government and said, 'Right, you look at our plans, and you decide what effect that will have on the economy'. They've come forward and said that under our plans, they believe unemployment will fall and the economy will grow.  We believe this is the right thing to do.  Look, I wouldn't be standing here talking about painful decisions we have to make unless I thought it was necessary.  I tell you, in politics it is much easier to go around spending money; it really is.  In the last government, they were really good at it.  They went around and they promised money here and they promised money there.  This government is clearing up the mess that they made, a 10% budget deficit.
If we do not deal with it, the risk is that there is a confidence in the economy, interest rates go up and we don't get the growth we need.  I don't think that's a risk worth taking.  I would rather suffer the unpopularity of taking the difficult decisions now so that we have a strong economy in two, three, four, five years' time.  I think that's what politics is about: doing the right thing, in the national interest, even if it's unpopular.  And that's why in the middle of August, I'm standing here in Manchester trying to answer people's questions. 
Question
Thank you.  You mentioned the Green Bank a couple of times.  There's a policy that's out for review at the moment called the Renewable Heat Incentive that had cross-party support before the election, but however has been completely quiet since.  Can you confirm whether the Renewable Heat Incentive will be introduced in April next year? 
Prime Minister
Very good question, and I'm afraid I'm going to have to reply with that 'review' answer again.  But let me just make one point, which is this, to me, does demonstrate the strength of our constituency system, because even though I'm Prime Minister and I'm meant to be thinking about all these things, I still have 75,000 constituents including lots of business, who write to me and lobby me about things they care about.  One of the things they've written to me about is exactly this issue.  I've got businesses in my constituency who are really interested in the Renewable Heat Incentive, and they want to know what sort of incentives there will be there, and so I've asked the government urgently to come forward with its plans and to look at what we're going to be able to do. 
Now, of course, everything has to go through this prism of the fact that this country is spending way beyond its means.  So there are programmes that are hugely worthwhile that we won't be able to do in the way that perhaps we would have liked to have done.  But anyway, that is being reviewed, and as soon as we have an answer, if you give your name to one of my assistants, with an email address, I'll try and get you the answer as soon as I can. 
Can I thank you all very much for coming. Can I thank Key again for laying on today's event. I'm sorry not to answer all of the questions, but I tried to get through as many as I could.  You've been a lovely audience, and it's been great trying to answer your questions - and thank you very much for coming.  Thank you.
Published 10 August 2010