Speech
Opening up the roads: the government's commitment to innovation
Speaking at Innovate2015, Business Secretary Sajid Javid underlines the importance of innovation and the government's support for it.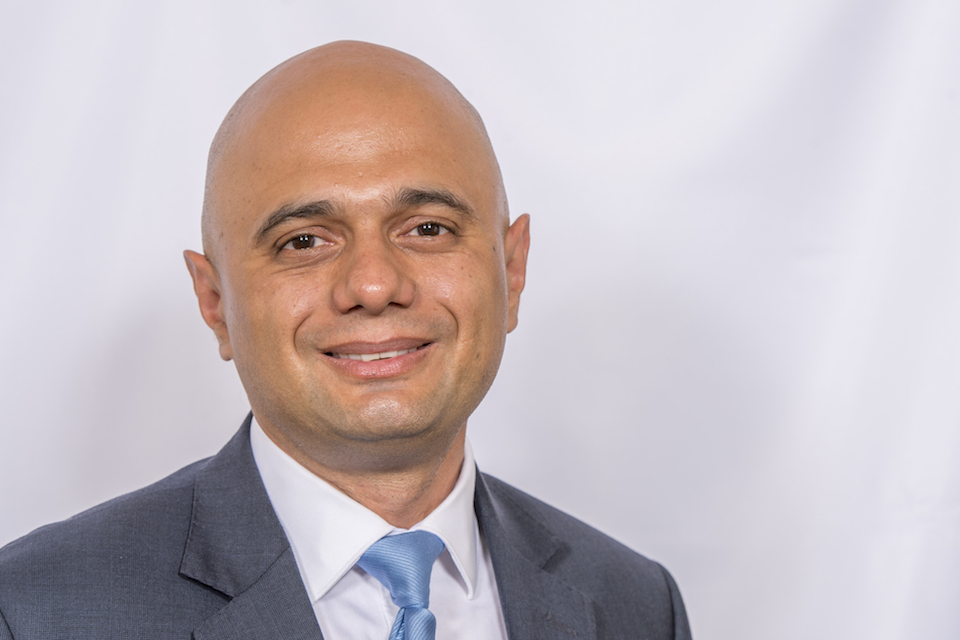 The United Kingdom is a nation of innovators. From the Spinning Jenny to the World Wide Web. From stainless steel to carbon fibre. And from the vacuum cleaner to the… well, the bagless vacuum cleaner! It's impossible to imagine a world without British inventions, ideas and insights.
Today, that tradition continues. Lithium air batteries that are 5 times more efficient than traditional versions. Augmented reality technology that transforms the way we experience the world around us. Nobel Prizes for medicine filling the UK's trophy cabinet.
It's a litany of amazing achievement, but for all the triumphs of our past I know that many of Britain's greatest innovations lie ahead.
As I stand here today, someone, somewhere is on the brink of a breakthrough. Maybe it'll be a lone inventor tinkering in the garden shed. Maybe it will be a biomedical research team in a cutting-edge lab.
Or maybe it will be a bright young start-up, offering a whole new way to analyse data. The possibilities are limitless and none of us can reliably predict exactly what tomorrow will bring.
But there is one thing I can say for sure: this government will always support Britain's innovators. Why? Because innovation is what powers our economy.
Whitehall isn't home to great industrial innovators, so we're not going to tell you what to do. But we can create an environment in which you can thrive.
Wilbur Wright, one half of the American duo that pioneered powered flight, once came out with a line that should probably be chiselled into the wall of my department.
"It is not really necessary to look too far into the future," he said. "We see enough already to be certain it will be magnificent. Only let us hurry and open up the roads."
And that's what this government is committed to doing.
We're opening up the roads so that you can continue to drive the innovations that will change lives, boost productivity, and help the UK unlock its full potential.
We're doing that in a variety of ways, the most obvious of which is direct funding, much of it allocated through organisations like Innovate UK. And let me just thank Ruth and her team for all of their incredible work.
But our commitment to innovation, science and research goes well beyond simply signing cheques. Right across government, we're working to make sure this country can make the most of its incredible potential.
For starters there are our tax incentives. In fact the Research and Development Tax Credits scheme is now the single largest source of government support for business investment in research and development. It underpins work worth more than £14 billion at more than 18,000 companies.
Two years ago we backed this up with the new Patent Box. It offers a significantly reduced corporation tax rate, providing a further incentive for companies to develop, retain and commercialise new products here at home. And that means more investment in research and development, and more high-value jobs.
HMRC is running a consultation on the future of the Patent Box, and I'd encourage all of you to get involved.
I know that debt or equity finance, including venture capital, isn't the answer for everyone. But there's no doubt that it can be an important source of finance for early-stage businesses.
Last year alone more than £2 billion was raised in venture capital in the UK, up 50% from the previous year. And I see no reason why the UK can't be Europe's number one destination for innovation finance.
The British Business Bank is also doing great work in this area, helping small and medium-sized companies access the finance they need to start up, scale up and stay ahead.
We're using the Catapult network to bridge the gaps between business, academia, research and government, turning inspired ideas into practical reality. By giving companies access to expertise and equipment, Catapults speed up innovation and keep jobs in the UK.
Our relentless effort to cut red tape is also helping British innovators. On the exhibition floor you might have seen one of the driverless cars being tested in Milton Keynes. This pioneering work can happen because we're taking a non-regulatory approach to testing driverless cars here in the UK.
We've got a code of practice to keep things safe, but developers don't need to apply for permits or jump through legal hoops. I want to see this success repeated elsewhere. That's why we're using the Challenger Business Programme to identify and remove barriers that cause problems for disruptive new businesses.
Britain's innovators already have a great track record of exporting both their expertise and technology. For example, scientists from the National Physical Laboratory recently completed a 3-year project to design, build and install an atomic force microscope at NPL India. And an NPL project to install an antenna extrapolation range at China's National Institute of Metrology was officially opened earlier this year. We want to make it easier for other innovators to follow their lead.
So today (9 November 2015) we are launching Exporting Is GREAT. It's the government's most ambitious export campaign ever, aiming to inspire and support 100,000 additional UK exporters to sell their goods and services overseas by 2020.
It will run for 5 years as part of the world-renowned GREAT Britain campaign.
And its approach will be unique – presenting real-time export opportunities through multi-platform adverts to businesses of all sizes, from across sectors and every region of the UK.
And we're making it easier for Britain's innovators to share their work with the world, forging international partnerships to open up new markets. The Newton Fund has partners in more than a dozen countries. And the UK Space Agency's £32 million International Space Partnerships programme is making a difference in everything from telecommunications to maternal health.
All this support is delivering real results. The UK has already moved up to sixth place in the World Bank's "ease of doing business" ranking. And looking at the talent in this room, it's no surprise that Britain has now reached second spot in the Global Innovation Index, ahead of the USA, Japan, and every other nation in the EU.
I know that the level of direct funding, both for science and innovation, is the subject of much discussion right now. I know many of you have had to make difficult choices about priorities, and are worried about what the future holds.
And while I'd like to stand here today and tell you all about funding beyond 2016, those decisions will not be made until the spending review later this month.
What I can tell you is that we will continue to support the UK's innovators, while also continuing with our long-term plan to secure the future of our economy.
This support shouldn't be limited to traditional centres of innovation. When my colleague the Minister for Science spoke in Sheffield over the summer, he asked why productivity there is less than half that in Oxford and London. One answer to this is that investment in research and development is much higher in those cities.
It is clear that research and innovation have a critical role to play in closing productivity gaps around the country. We need to do more to help local areas exploit their strengths in research and innovation so that their businesses remain competitive. So today I am announcing two initiatives that will work closely together to support this aim, both in England and across the UK.
In England, I can announce that we are setting up an independent hub for expert advice on "Smart Specialisation". The Hub will forge better links between businesses, universities, investors and Catapults and provide better evidence on cluster strengths to unlock local innovation. It will do so by sharing best practice, identifying partnering opportunities and helping target investments on local innovation. A local business will be able to tap into the Hub's expertise through their Local Enterprise Partnership (LEPs) to access funds and participate in projects. This initiative will also help LEPs access £580 million of EU Structural and Investment Funds available for research and development over the next 6 to 7 years.
The second initiative will operate across the UK. In July we announced that the government would be helping areas map their research and innovation strengths and infrastructure through a series of Science and Innovation Audits (SIA).
SIAs will provide an evidence base for decision-making on innovation priorities in specific regions. They will help local businesses, universities and LEPs, and their equivalents in the Devolved Administrations, to focus their investments and bid for funds where they have the potential to excel. We have already begun tendering for the analytical support that will underpin these audits.
And I am today launching the call for expressions of interest from consortia to participate in the audits and work with our analytical team to explore and validate areas of emerging strength in their areas.
This is a significant opportunity for local leaders to come together and focus their efforts. We want universities, institutions and businesses to seize this opportunity and propose audits in their areas.
The Hub and the SIAs will be closely linked to each other – the Hub will act as a repository for innovation evidence for England in the longer term, which the Audits will feed into. Taken together, they will build solid evidence to ensure that all parts of the UK can really reach their full potential.
Five years ago, in his first major speech on innovation, my predecessor said that Britain's researchers were going to have to "do more with less".
That's far too simplistic. Because our support for innovation is much broader than direct funding alone. Whether it's tax incentives, help with business development, reform of regulation or support with exports, our commitment to innovation runs right across the government.
And then there's wider policy that provides indirect benefits. Our long-term plan to balance the books and grow economy means more funds available for innovation. Our work to improve skills and raise standards at schools and universities supports the next generation of innovators. Lower corporation taxes mean innovative companies are more likely to invest here.
It's a cross-government, multi-layered approach that's both sustainable and effective. We're not asking you to do more with less. We're giving you the widest possible package of support so you can achieve more than ever before.
The UK didn't become one of the world's most creative nations by sticking to the rule book, doing things the way they have always been done.
Change is constant, and all of us have to change the way we work and think in order to remain effective. That goes for governments as much as innovators! But we're never going to stand back and say "You're on your own, now get on with it".
We recognise the importance of innovation, that's why it's at the heart of both our approach to industry and our plan to boost British productivity.
An innovative country means a strong economy, and a strong economy means greater investment in innovation. It's a truly virtuous circle, which is why government support for those who push the boundaries is nothing new.
Last year saw the 300th anniversary of the first Longitude Act. As well as offering substantial rewards to anyone who could crack the problem of determining longitude at sea, the Act also provided an early example of government support for innovation. An independent board was created with the power to identify promising ideas and allocate awards for further development.
John Harrison received thousands of pounds to support his work on marine chronometers, work that eventually revolutionised navigation, providing a massive boost for trade and saving countless lives.
Fast forward 3 centuries and the government is still committed to keeping Britain at the cutting edge of innovation, with all the benefits it brings. Just next month, the whole country will be watching when Major Tim Peake blasts into space. As well as the direct research benefits of his mission, this modern-day explorer will also help to inspire the next generation of innovators and scientists. It's an unquantifiable return on the UK Space Agency's £320 million budget.
So in 2015, the UK remains at the top table of research and development. To say we punch above our weight is a gross understatement. We're home to only 1% of the world's population, but we have 4 of the world's top 10 universities and generate 16% of the most highly cited and influential research papers.
The world is changing rapidly and there are undoubtedly challenges ahead of all of us, but one constant remains. I'm part of a government that understands the importance of innovation. A government that will do everything possible to support it in a way that works for you, for the economy and above all for the people of our innovation nation.
Published 9 November 2015