Oman Trade & Investment Forum keynote address by International Development Minister
International Development Minister Alan Duncan delivers keynote speech to Omani business leaders in London.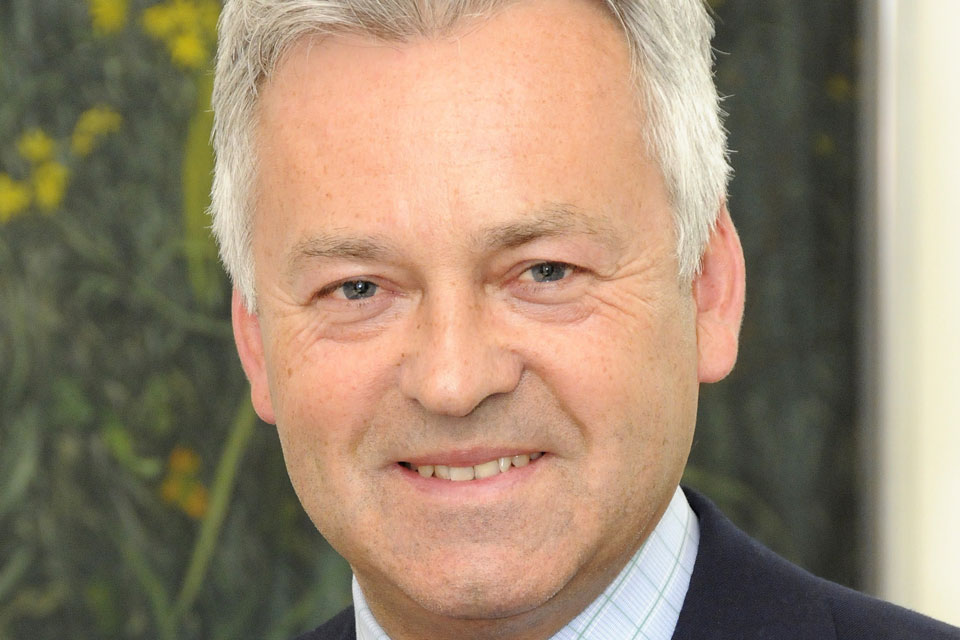 Lord Mayor, Minister, Excellencies, Distinguished Guests.
Good morning and welcome.
I am delighted that the British Government, through UK Trade & Investment, has been able to support this event. A high profile conference on opportunities in Oman is long overdue. My congratulations go to the Middle East Association; the Omani Centre for Investment and Export Development; and the OBFA Business Council; for their hard work in its organization.
It is a particular pleasure to help launch your conference today in the company of Maqbool Ali Sultan. I have known him for about 15 years and can attest to his achievement and dedication as a Minister. He is but one of a team of Omani leaders who have done so much to make the Sultanate such an attractive place to invest.
I have been going to Oman for over 20 years, and am such an enthusiast for it that I am sometimes accused of being half-Omani. My enthusiasm stems from one simple fact: it is a very special country. In just 40 years, it has arisen from unchanging simple existence into a most remarkable nation. Its landscape is varied and beautiful, its people are polite and elegant, and its government is enlightened and effective. It enjoys dignity, the rule of law, and well-developed institutions.
This is a very important year, marking as it does the 40th anniversary of the rule of His Majesty the Sultan. I am delighted that this will soon be celebrated by a State Visit by Her Majesty the Queen - and I am certain that this will help to pull us even closer together and to open up new possibilities for greater partnership.
Last year, the Gulf was the UK's seventh largest export market, with exports of goods and services worth around £14 billion, which put the region on a par with India and China combined.
Last year too, we were the largest overseas investor in Oman. The UK exported £349 million in goods there in 2009 and £137 million in services - while Omani exports to the UK reached £113 million.
The good news is that the overall trend is upwards - with trade with Oman increasing by 60% over the past 5 years. But it concerns me that the UK appears to be losing market share, both to established competition (such as the USA, France and Germany) and to emerging markets (like India, China and Korea).
Pricing may have played a part - and the reality is that we cannot compete with some other nations on price alone. But, in a global economy, we should be maximising the potential offered by traditional British strengths: the value that British firms add in terms of greater technical ability; our reputation for delivering projects on time, to budget and to the highest international standards; and through proper aftercare for our projects.
I want British companies to be viewed as "partners of choice" in Oman - building on our long-standing and very close ties - in trade, finance and politics. British Standards are widely used and accepted. British technology and expertise in capacity building and upgrading industrial sectors is in demand. British architects, consultants and specialist service providers have a long record of successful operation and continue to win large, strategically important contracts in the Sultanate.
We are, I am pleased to say, detecting renewed interest in Oman as a commercial partner. Five UK trade missions have visited the country over the last 12 months. British companies that have re-entered Oman include Taylor Woodrow and Laing O'Rourke. And new investors, such as RMD Kwikform and Lotus Cars, are expanding operations. British companies continue to win significant levels of new business. But we could and should be doing more.
So where do we see the main opportunities for the UK?
As you will hear today, a multi-stranded infrastructure development programme is underway and gathering momentum - focused primarily on free-trade zones, industrial hubs, ports, roads and core utilities. Increased government spending has produced an upturn in construction, with more than $10 billion of civil, industrial, transport, petrochemicals, oil and gas, and tourism projects planned. Carillion Alawi, WS Atkins and Mott McDonald all report good progress in 2010.
Government spending has been a key driver but, increasingly, with much more private sector involvement. In the pipeline, are investments of $7 billion in power generation and water desalination projects, including the expansion of power transmission and distribution networks. With our world-class consultancy expertise and technical capability in the power sector, you can imagine the potential on offer to British companies.
Oil & Gas has been key to Oman's prosperity for the last 50 years and is likely to remain so for the foreseeable future. Recent new oil discoveries are estimated to be in excess of 1 billion barrels. And a significant amount of gas has been found too. Existing fields are maturing - so there are opportunities for UK companies involved in Enhanced Oil Recovery. On the Renewables front, a new generation of solar and wind power projects are being explored.
Education is of critical importance in today's fast-moving and ever more inter-connected world. There is a strong commitment in Oman to ensuring that the population has the knowledge and skills needed to succeed in the market place of the future. Education and training is a vital component of every industry - from tourism to oil & gas - as well as in its own right. It is a sector in which the UK has an outstanding reputation - and is well placed to offer guidance and support.
You will hear more about these and other opportunities over the programme today.
The Omani British Friendship Association (OBFA) has put a huge amount of effort over the past two decades into promoting and encouraging trade between the private sectors of our two countries. Today's Forum is a fine example of what can be achieved and I wish OBFA's current Presidents, Yahya Nasib and Martin Amison, every success over the coming decades.
The Coalition Government will play its part too. We will not just send Defence Ministers on visits; we will send Trade Ministers, and Education Ministers, and Foreign Ministers and even a Minister for International Development - whenever he can find an excuse to go there. In Oman we are looking at loyal and generous ally, but who we must never take for granted.
I wish you all an interesting and fruitful day and I urge you to make the most of the opportunities you will discuss. Realising those opportunities together would be the best way to celebrate the 40 years of His Majesty's rule and the great association between the Sultanate and the UK.
I am certain that Oman has a bright future and I am committed to ensuring that the UK plays a major role in helping to achieve this.
(Check against delivery.)
Published 21 October 2010