Nicky Morgan: the benefits of technology in education
Education Secretary opens the 2016 BETT show by talking of the benefits technology can bring to education.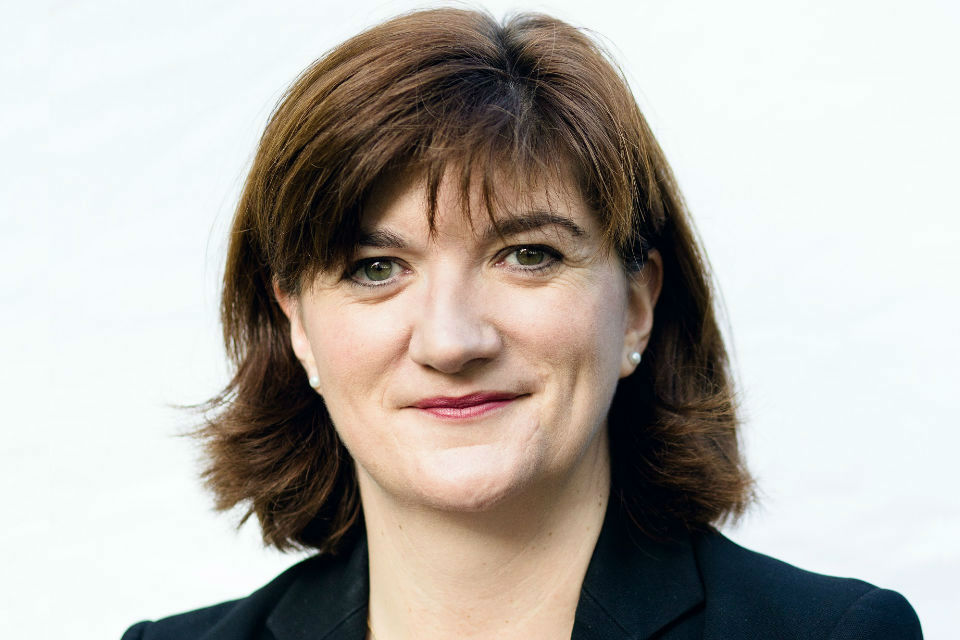 I spoke 2 days ago at the Education World Forum and in opening this session of BETT I officially close the forum until 2017.
I hope ministers from around the world found it as constructive as I - and my ministers - did and I'm sure we are all looking forward to sharing our ideas again next year.
It is such a treat to be here at BETT again.
This showcase of education technology continues to go from strength to strength. There is no doubt that British exports of ICT products are stronger than ever with a more than 5% increase last year alone.
It's brilliant to have the best minds from Britain and around the world here and I'm really keen to see some of the stalls when I get the chance to have a walk round.
Broadband in schools
I'm excited by the possibilities for the education profession opened up by technology. The creativity and passion of so many in this sector is irresistible.
But it's the inevitable nature of it that some ideas will flourish while others fall by the wayside. So whilst we're not in the business of picking winners we do want to make sure every young innovator in this country has the access to the sector they need.
That's why, as part of our long-term economic plan, we're backing broadband to the tune of £1.3 billion. So that it doesn't matter where our children are - at home or at school, inner-city academies or countryside schoolhouses - they will have that access.
Big brains are big brains no matter where they come from.
I'm concerned much more with where they're going and if we are serious about being a world leader then we have to nurture all our talent. And this drives to the heart of our mission to spread educational excellence everywhere. Because a one nation government must open doors to all students, of all talents.
Computing in the curriculum
I want our next generation to have the skills to compete in the global jobs market. That's why we have put in place a computing curriculum that gives them the basic building blocks but also seeks to give them specialist knowledge too.
So we are championing the teaching of coding throughout each key stage. Last month I had the pleasure of attending an Hour of Code initiative at Downing Street where the Prime Minister and I had a tutorial alongside children from Eastlea.
I won't say which one of us picked it up quicker! But I will say that getting these foundations in place early on is vital.
I've just had a look at the BBC's codeable micro:bit computers I saw at Downing Street that day. They are a fantastic way to spark an initial interest in technology in our young people.
We are committed to world-class computer science qualifications to give our students, as well as employers, the confidence they really need. That's why computer science is at the heart of the new computing curriculum and I'm pleased to say that our reformed Computer Science GCSE and A level are on a par with the best in the world.
But I must stress that equipping the future workforce is not a mission for government alone. Employers have a role to play too.
Last week I visited the Fashion Retail Academy - a vocational college founded and led by giants of fashion retail. They offer courses designed to give students the skills employers really want, including a suite of digital qualifications to complement their more traditional ones.
It is these kinds of partnerships that will lead Britain to be the very best at vocational training because they are focused on what the economy needs.
Technology not a substitute
We have made it clear over the last 6 years in government that knowledge is the key to excellent educational outcomes. A rigorous curriculum, putting the right foundations in place, alongside high quality assessments are the embodiment of that.
Probably the worst attitude we can take is that access to search engines is somehow a substitute for knowledge.
It isn't.
That's why we have put in place the EBacc - a core set of qualifications - to ensure that all our children are getting a firm basis of knowledge on which to grow their skills. A set of qualifications that - let's not forget - include Computer Science as an option.
The best teachers
And we've made it clear that teachers are our greatest resource because you can't have an excellent education system without the highest quality teachers at its frontline. Which is why we have committed to bringing the very best candidates into the teaching of Computer Science as well as developing the talent already there.
The Computing At School Network of Excellence has provided over 56,000 instances of professional development to teachers since the autumn of 2012, in part due to DfE funding and with thanks to funding from our partners in the private sector, such as Microsoft. This includes formal training events, mentoring, coaching, peer observation, peer partnering to develop resources and co-teaching.
What's more, with 10 universities now providing regional coordination for the network, the level of support to teachers has doubled year on year. We also know that the professional development teachers receive has a tremendous impact in the classroom.
Technology as an aid to running schools
So we see teachers as our greatest resource but there are plenty of ways in which we see technology as an aid. As a starting point there are things that ease the smooth running of school days like capturing data for class registers, attainment and pupil progress. The paper trails that create work for teachers already rushed off their feet and we are keen to see what innovations the sector can come up with on this. Then there is the use of data to better plan technology strategies in schools.
I know that the British Educational Suppliers Association and Naace have done a really interesting piece of work on this in their 'Leadership briefing paper' which seeks to guide system leaders on how to make the best use of the technology they have and make smarter use of other technology, allowing them to plan ahead using previously unavailable evidence and research.
This advice is being given out for free here at BETT and I hope schools make good use of it.
Open Standards principles
While we're talking about data I should mention our Open Standards principles. Too often it is difficult to get data out of systems used in education without considerable effort.
As a consequence people re-key information or send similar data to different people using different systems. This wastes money and constrains the power of data. Put simply, systems need to be able to talk to each other better.
Within our daily lives system integration allows information to flow seamlessly behind the scenes to benefit users. It requires 2 things: a will to improve, and commitment to implementing common standards.
Common data standards will help us overcome this.
My department intends to begin prototyping new systems for data collection - data exchange - in 2016. It will implement common data standards and work with the Access 4 Learning Community who have achieved great things locally and internationally.
This will make it easier for schools to share data with us. It will reduce our data burden on the sector and provide, and enhance both what we know, and how quickly we know it.
Better system integration should allow education technology firms to enable easier data movement within and between schools.
Adaptive assessments
So where do we see technology impacting teaching outcomes?
One exciting area is assessments. The instant nature of online and computerised testing has obvious potential to lighten teacher workloads as well as collect data. The analysis of that data can be invaluable to teachers and system leaders in their pursuit of excellent educational outcomes. Informing them which parts of the curriculum they are teaching well and signalling where there is room for improvement.
What's more is that these assessments are becoming more intelligent, allowing the tests to grow with the students. This is really exciting because it means assessments can be tailored in real time to the needs of students. Benefiting high-performing students by stretching them to the very top of their abilities. And, for lower-performing students, tailoring assessments to shepherd them away from misapprehensions toward more accurate understanding of a given subject.
There are established market leaders in this area such as GL Assessment and the Centre for Evaluation Monitoring but there are exciting new prospects, too.
Just last week, the Minister of State for Schools, Nick Gibb, met with a new player in this field.
Colin Hegarty, an award winning teacher, has created a website which combines maths tutorials and formative assessments. Constantly growing, his website currently has 1000 tutorials and 400,000 questions covering every area of the national curriculum at key stages 2, 3 and 4. The website is already being trialled in 70 schools and Colin Hegarty expects to be able to market it later this year. And this is just one example of the exciting education technology prospects in Britain right now.
Security and cyber bullying
So there are plenty of ways in which we see access to technology improving the running of schools as well as educational outcomes. But it isn't just access our children need. They need that access to be safe and appropriate too.
And we want parents to have confidence in the way their children are using technology. There are excellent examples at the moment such as the Family First app by Group Call. It uses GPS in mobile phones to help parents keep track of their children's whereabouts, allowing them to check that they have arrived safely to school, alerting them if they stray from their usual schedule.
As a parent I think Family First is fantastic example of how we can take technology we are already using and combine it with clever software to make something that really works.
But we know of the dangers technology poses to our children too. That's why we announced a consultation in December on measures requiring schools to take the strongest possible action to protect children from harm online - including cyber bullying, pornography and the risk of radicalisation – and teach them about safeguarding too.
Government is doing all it can to harness technology in this area, including just yesterday launching the Educate Against Hate website. The site offers advice based on our own resources and the work of charities who seek to protect our young people from the influence of radicalism.
And it isn't just our children who need to be kept safe online. Anyone who shops or banks online needs to be protected too.
In Britain cyber security contributes over £17 billion to the economy with a 39% increase in the years 2013 to 2014.
In November the Chancellor announced a Cyber Security Programme for schools.
Utilising our homegrown experts, it will use classroom as well as extracurricular activities to instruct and mentor our best young minds to become the cyber security professionals our country really needs and ensure Britain is leading the way in this vital sector.
It is so inspiring to see the many wonderful innovations on show here today and I hope you all enjoy the rest of BETT 2016.
This government is excited about education technology and wants to see the sector grow but we are also thoughtful about how it should be used. We see education technology as an aid to excellent schools and excellent teachers, not a replacement for them.
We believe that in, line with our long term economic plan, education technology must represent good value for money in our education system. Where technology is evidence based and outcome driven - where it really works - we will back it all the way.
And we believe that all our children can benefit from innovations in technology that will help them develop both the knowledge and the skills they need to succeed in modern Britain and the modern world.
Thank you.
Published 20 January 2016