Speech
Model UN debate on preventing sexual violence in conflict
High Commissioner Judith Macgregor speaks at the model UN debate on preventing sexual violence in conflict event in Pretoria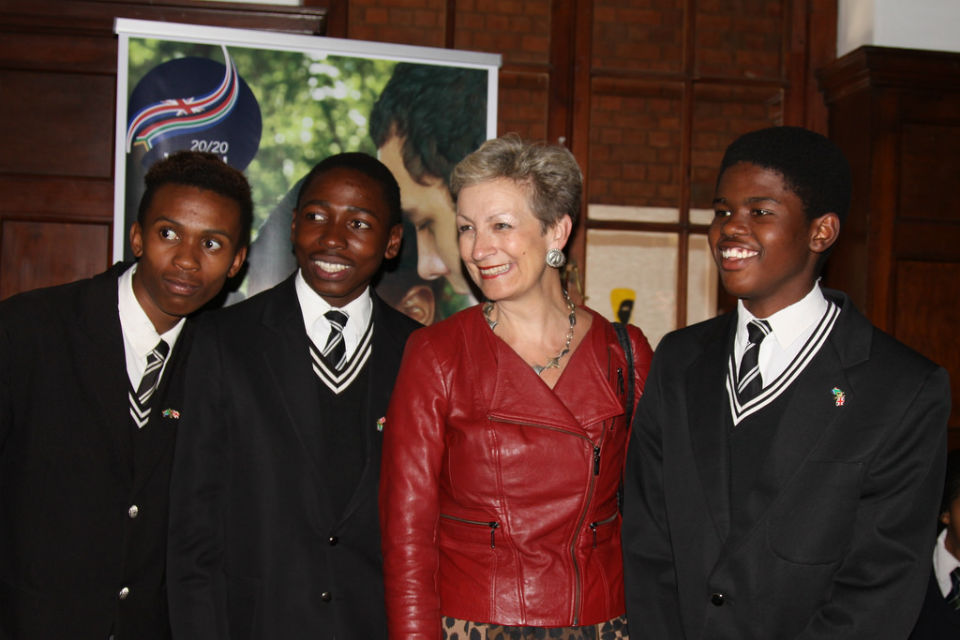 It is with great honour and pleasure that I extend a very warm welcome to you all. I am very excited to be here with you all today. I'd like to express our gratitude to Pretoria High School for Girls for hosting us today – especially to Jeanne Cyrus. Thanks to SAIIA and Desirée Kosciulek working with us on today's Model UN Debate. Thanks also to the Mams FM Young Reporters Network from Mamelodi who will be reporting on this afternoon's debate. And most importantly, thanks to you, the students of today and the future leaders of tomorrow.
2014 marks 20 years of democracy in South Africa. To celebrate this milestone, the UK is working with South African partners on a range of programmes and activities to strengthen our people-to-people links. Entitled "20/20 Vision: Celebrating 20 years of Democracy with 20 Partnerships for the Future", the programme will celebrate the achievements of democratic South Africa, and look to the future with new and vibrant partnerships in the fields of arts, culture, education, skills, science and research, trade, business and sport. Examples of these are the UK-SA Arts and Culture Season, Connect ZA, a new fund to support research partnerships and across areas of education and skills development.
For the UK, preventing sexual violence in conflict is one of our key priorities. It is one of the greatest, most persistent and most neglected injustices. Sexual violence in conflict inflicts unimaginable suffering. Sexual violence also represents one of the most serious forms of violation or abuse of an individual's human rights.
The Preventing Sexual Violence Initiative seeks to change mentalities and misconceptions connected to sexual violence by supporting survivors, bringing perpetrators to justice and providing support for the restoration of communities. In 2013 G8 Foreign Ministers signed a declaration that reaffirmed sexual violence in conflict is a grave breach of the Geneva Convention and its additional protocols.
The UK Foreign Secretary will be hosting the Global Summit to End Sexual Violence in Conflict with the Special Envoy of the UN High Commissioner for Refugees, Angelina Jolie in London from 10th – 13th June in London. This Global Summit will be the largest event ever held on this issue, with around 140 countries and international bodies represented, as well as NGOs and members of the military, medical and legal professions from around the world.
South Africa will be represented at the Summit. We have invited the Ministers from both the Department of Defence and the Department of International Relations and Cooperation. South African academics and NGOs will also be present at the Summit. Tumi from Sonke Gender Justice, who will be adjudicating today's debate with the team, will be in the UK attending the Summit with her colleagues, they will be demonstrating some of the fantastic work they do here in Southern Africa, particularly on innovative ways of working with men and boys to bring about positive change.
The British Government, through the Department for International Development, is also working in more than 20 countries to directly address violence against girls and women. In South Africa, I know that DFID is proud to be supporting the "Safer South Africa for Women and Children programme" with key government partners at the heart of the prevention agenda in South Africa, including the Department of Women Children and People with Disabilities, Department of Social Development, and Department of Basic Education.
The success of the programme relies on our solid and valued partnerships with key implementing partners such as UNICEF and UNFPA, Save the Children Fund, Sonke Gender Justice, the Children's Radio Foundation and Lovelife. Key activities we support include strengthening protection and prevention measures in and out of schools: scaling up child-friendly schools and clubs; and communication and social mobilisation involving teachers, learners, parents/communities; DFID is also supporting scaling up a nation-wide Young Reporters Network of 18 community-based radio stations, such as Mams FM locally. This initiative provides an important platform for young people's own voices to be heard, and to disseminate messages to their communities for mobilising social change on issues such as gender based violence.
But, it doesn't stop there, your work today and the final communiqué that you will produce will also feed into the Global Summit. This will be an important representation to the world of what the youth of South Africa think.
As the Foreign Secretary has said, by working together, sharing our knowledge and our experience, mobilising resources and showing our commitment we are determined to end the use of rape and other forms of sexual violence as weapons of war. I look forward to hearing your thoughts on today's topic and would like to formally open today's debate and hand over to the Chair and Co-chair, Lerato and Wihan, to start the proceedings.
Published 29 May 2014