Speech
Minister for Africa Speech at Global Africa Investment Summit
Speech delivered at Global Africa Investment Summit on 2nd December 2015
I am delighted to be here and it is great to see such a wide variety of African leaders and businesses. I have enjoyed meeting many of you over the past few days.
I'd also like to thank the Daily Mail Group for organising this event and bringing together an impressive array of people who share my enthusiasm for supporting Africa's economic potential.
Yesterday, the Foreign Secretary gave an overview of the importance that the UK places on our trading and investment relationship with Africa.
Today, I would like to add some personal reflections on that relationship.
And I also want to outline the steps that I, as the UK's Minister for Africa, am taking to draw together a strategic approach - integrating security, diplomacy, development and commerce in the British Government's relationship with African countries.
Now, it is unsurprising that as the Minister for Africa I am keen to champion trade and investment with Africa. But my passion for Africa goes much deeper.
I have had the privilege of working extensively in Africa in the banking sector. Swaziland, my first African home, will always be particularly special to me – I met my wife in that country, and we later returned there on honeymoon.
The Africa I came to know in Swaziland, and later living in Cote D'Ivoire and Botswana, is a dynamic place of entrepreneurs, opportunities, an aspirant middle class and a vibrant youth culture.
And a couple of years ago, frustrated with hearing sceptical comments about the business opportunities in Africa, I decided to put my money where my mouth was.
I set out to invest £1,000 a month, for 12 months, in 12 different African stock exchanges, in 12 different sectors and write 12 articles to highlight the opportunities and change perceptions.
I invested in a safari company in Botswana. Fast food, car sales and property in Nigeria. And the Tusker beer brewery in Kenya.
I won some and lost some – as you do anywhere else in the world. But I became more convinced than ever of the importance – and the rewards - of investing in Africa.
This is the Africa that I think all of us here today are reaching out to.
And it is important that whether we are from the private sector or government officials, that we respond to the aspirations of citizens and consumers.
No longer should people think of the 1980's Band Aid depiction of Africa. But rather that African markets are places of opportunity - where the next major economic transformation will happen - hotbeds of innovation, where we might find the next big tech entrepreneur.
Indeed, this transformation is already taking place. Sub-Saharan African growth averaged more than 5% over the last 5 years. And growth this year is forecast to be nearly 4% - and that's despite the current global commodity slowdown.
The story is even more positive in supposedly low-income countries. Cote d'Ivoire, Mozambique and Tanzania are three of the five African countries with which we have a High Level Prosperity Partnership – and they are all expected to grow by around 7% this year and next.
I know that all of us here today have a shared interest in changing the perceptions of Africa, of supporting Africa's continued growth out of poverty.
It has been very clear to me from my own personal experiences in Africa that traditional notions of aid are only a small fraction of the story.
Investment, trade and commerce are an integral part of this. It is the private sector that is right at the heart of driving this transformation.  
Allowing the private sector to flourish in Africa will create jobs and generate taxes. Taxation will fund the vital social infrastructures such as health and education. A better educated, healthier workforce will create the entrepreneurs and innovative business of tomorrow, further supporting African growth.
This is a virtuous cycle and it is up to all of us here to help make it a reality. And I have made it my mission to ensure that the whole of the UK Government is joined up on this - both to address the constraints to growth – and ensure that taxpayers' money is well spent.
Take, for example, the Foreign Secretary's announcement yesterday – that the UK is establishing a 1.3 billion pound global prosperity fund. This will promote economic reforms, help remove trade barriers, and tackle corruption. I will make sure a substantial part of this will be directed towards Africa.
Or the Prime Minister's announcement last week of a new Government strategy for Official Development Assistance. At the heart of this strategy will be the Department for International Development's commitment to refocus half its formidable budget on supporting fragile and conflict affected states.
This shows our clear intent to be smart about how we tackle conflict - and to promote what the Prime Minister has called the 'golden thread' of conditions that drive prosperity – the rule of law, good governance and the growth of democracy.
But as a government, we also need to communicate better. Not just about the opportunity Africa presents - but how we will work with Africans to support your legitimate aspirations for development, growth and peace across the continent.
So as part of our implementation of our new spending review, I want a more strategic approach to Africa – including a reassessment of how we deliver and with whom.
Much of Africa's growth story comes from innovation – driven from the bottom up, by young people, by creativity and by entrepreneurial spirit.
These are the relationships we want to build and invest in.
Because these are the relationships and partnerships that will add value, not just tomorrow but into the future.
In conclusion, the Africa I see is a continent of hope and opportunity. A continent ripe for trade and investment. A continent of the future.
And I am convinced that the prize of a prosperous, stable Africa is within our reach if we take a strategic approach - integrating security, diplomacy, business, development and commerce.
So, let all of us here work together – and seize that exciting opportunity with both hands. Go forth and invest in Africa.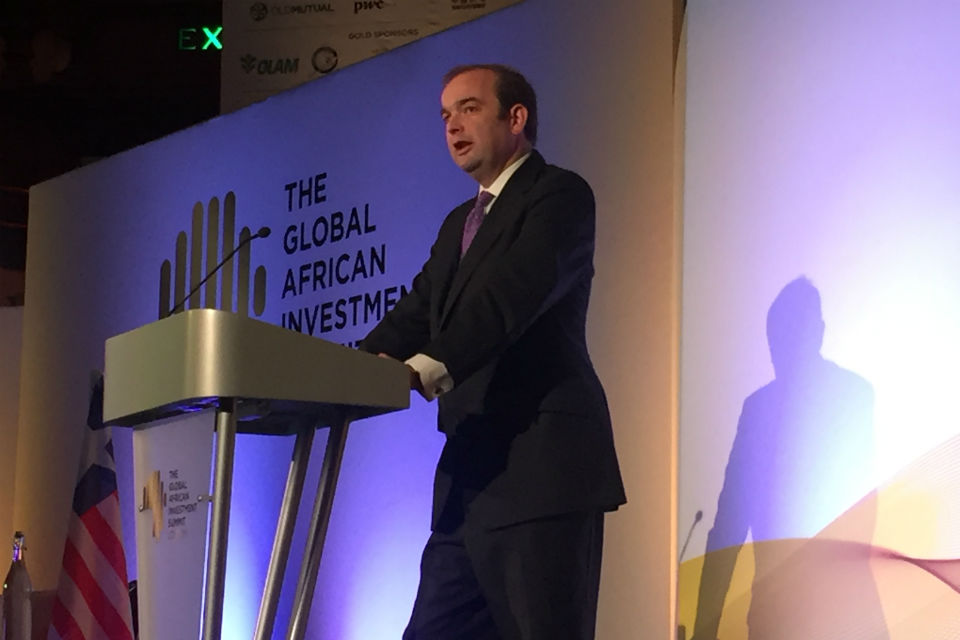 Further information
Published 2 December 2015