Michael Gove speaks about computing and education technology
Education Secretary Michael Gove speaks to the BETT conference about how technology and computing are changing education.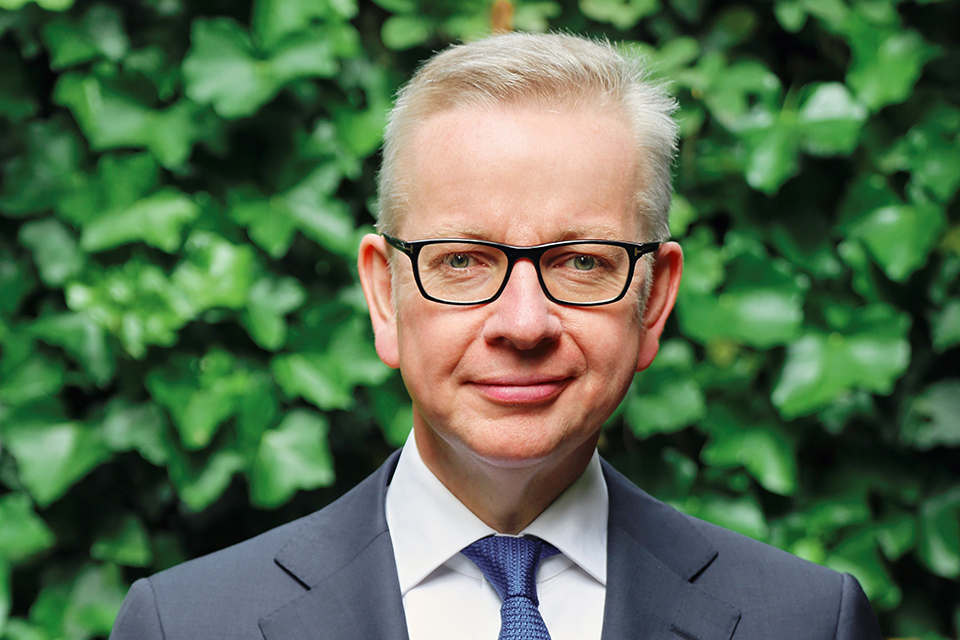 Thank you very much for that kind introduction - it's a great pleasure to be here today, kicking off what, I'm sure, will be a brilliant few days at this exhibition.
I'd also like to congratulate particularly those companies which are exhibiting here this week. From software to hardware, products to services, they represent the cutting edge of educational technology - where British businesses have become world-leaders.
Like TSL Education - long known in the UK for publishing the 'teachers' bible', the TES - which has over the past decade become one of Europe's largest ed tech companies. Its online platform, TES Connect, now hosts the largest network of teachers in the world - in fact, the largest single-profession social network in the world - connecting 58 million teachers and students from 197 different countries, and containing over 710,000 teaching resources - with downloads now averaging 10 per second - created by teachers for teachers.
Or Frog - a UK education solutions provider which is transforming how technology is used in schools in 14 different countries, including the world's first project to connect an entire nation through a single, cloud-based learning platform, in Malaysia. All 10,000 state schools and 10 million users are being provided with 4G connectivity to Frog's virtual learning platform - so no matter where students live in the country, they all have access to the same, high-quality resources and content.
Or Little Bridge, an innovative tech SME that has developed an online resource for young, digital learners of English with users in over 40 countries. As well as working with ministries of education and 'traditional' B2B distributors, Little Bridge also sells direct to consumers: over 5 million students are now learning English with Little Bridge, with 1 new young learner joining them every 5 minutes. And as if that weren't enough to keep them busy, this year Little Bridge is developing an international TV series.
Of course, what is so remarkable about many ed tech companies is how young they are.
In our lifetimes, traditional industries, markets and workplaces have been totally transformed; new products, new technologies and new applications - like Instagram, Tumblr, Spotify and Snapchat - develop and become mainstream parts of our lives with breath-taking rapidity.
Looking back - and looking forward
Which is why we need an education system which is open, creative and adaptive - which is open to innovation, which can use technology creatively to advance learning and which is structured flexibly to adapt to change.
The reforms we have introduced in the last 3 years have been designed to achieve just that.
Our academies programme, the launch of free schools and the removal of a huge amount of existing bureaucracy have helped make our school system more adaptive and flexible.
We have decentralised power to individual schools, networks of headteachers and collaborative communities of classroom teachers.
And we have also taken the same approach - of openness, adaptability and flexibility - to curriculum development.
When I last spoke at BETT in 2012, I announced that the then ICT curriculum - universally acknowledged as unambitious, demotivating and dull - had to go.
In its place, we would introduce a new computing curriculum, ambitious, stretching and exciting - drawn up by industry experts, allowing teachers and schools more freedom, designed to equip every child with the computing skills they need to succeed in the 21st century.
As proof of good faith, I promised that - if new computer science GCSEs were sufficiently rigorous in content and assessment - the subject would be included alongside physics, chemistry and biology in our English Baccalaureate - a roster of the most highly valued, highly valuable academic qualifications.
Two years on - with the help of many people in this room, and their colleagues elsewhere in the tech world - we have made hugely encouraging progress.
In September 2012, we disapplied the national curriculum ICT programmes of study, attainment targets and statutory assessment arrangements - allowing schools and teachers to start creating and teaching more ambitious content, straight away; or to start using the top-quality content already available online.
A brand new computing curriculum was published in September 2013 - drawn up not by bureaucrats but by teachers and other sector experts, led by the British Computer Society and the Royal Academy of Engineering, with input from industry leaders like Microsoft, Google and leaders in the computer games industry.
And it will be taught from September this year - much shorter and less prescriptive than the old, discredited ICT curriculum, allowing schools room to innovate, and be much, much more ambitious.
ICT used to focus purely on computer literacy - teaching pupils, over and over again, how to word process, how to work a spreadsheet, how to use programs already creaking into obsolescence; about as much use as teaching children to send a telex or travel in a zeppelin.
Now, our new curriculum teaches children computer science, information technology, and digital literacy: teaching them how to code, and how to create their own programs; not just how to work a computer; but how a computer works, and how to make it work for you.
From 5, children will learn to code and program, with algorithms, sequencing, selection and repetition; from 11, how to use at least 2 programming languages to solve computational problems; to design, use and evaluate computational abstractions that model the state and behaviour of real-world problems and physical systems; and how instructions are stored and executed within a computer system.
These are precisely the sort of skills which the jobs of the future - and, for that matter, the jobs of the present - demand. From now on, our reforms will ensure that every child gets a solid grounding in these essential skills - giving them the best possible start to their future.
And, as I promised 2 years ago, the new computer science GCSEs - having been judged to be sufficiently stretching and high-quality - will be included in the English Baccalaureate from this summer, giving schools, teachers, parents and pupils unequivocal proof of how vital this subject truly is.
With a highly trained workforce
But as I said back in 2012, nothing has a shorter shelf life than the cutting edge.
And even as technology advances by leaps and bounds, nothing could be more essential than to make sure that the teachers in our classrooms are properly prepared to make the most of every opportunity.
So we've replaced the old ICT initial teacher training schemes with new computer science ITT courses - more demanding, to match our more demanding curriculum.
There are now more and bigger bursaries available to those wanting to become computing teachers - commensurate only with the bursaries for maths and physics.
But this isn't just about new recruits, but seasoned old hands too. So we have funded Computing At School through the British Computer Society - with generous pro bono support from organisations including Microsoft and Google - to establish a national network of teaching excellence for computer science teachers.
Forging links between teachers, schools, universities and employers, the network is already working hard to recruit 400 'master teachers' right at the top of their computer science game, who will be able to train up teachers in other schools in their turn; and to develop a comprehensive set of resources across all key stages, ready for any computer science teacher to use in their own classrooms.
In December last year, we also announced that we would be giving more funding to Computing At School and the British Computer Society to deliver the Barefoot Computing programme of resources and workshops, designed to give primary school teachers with little or no experience of teaching the computer science aspects of the new computing curriculum the subject knowledge and - just as importantly - the confidence to do so when the new curriculum starts.
Inspiring the next generation
Teachers will be in the vanguard of this change - not just equipping young people with crucial computing skills and knowledge, but inspiring them with the incredible possibilities opened up by science and technology.
Like 3D printers. Over the last few years, they have developed from an expensive, experimental toy to a tried and tested technology: embraced by the industrial world for rapid prototypes and bespoke manufactures; used last year to create the first ever fully functional living human kidney.
Our new design and technology curriculum - backed by world-famous British inventor Sir James Dyson - has been redesigned to enable students to master the skills needed to create new products with 3D printers alongside other advanced technological skills and techniques, including robotics.
So after a pilot across 21 schools in 2012 to 2013, last October we announced a new scheme inviting teaching schools all over England to apply for a 3D printer and up to £5,000 funding - for use not just in design and technology lessons, but across the sciences, computing, engineering, maths and design; and for the development of top-quality CPD, for use within and beyond their teaching school alliances.
Schools in the pilot used their 3D printers in a host of imaginative ways - to help teach the properties of plastics, to build models of things like molecules, eyeballs, cells and sine waves, to practice and prove calculations for the volume of 3D shapes like cones, and even to build components for rockets - giving young people from all sorts of backgrounds, in all sorts of schools, the opportunity to explore and experiment with the very latest technology.
Making the most of MOOCs
That's just one inspirational project - and there are many more.
But just as important are the technologies that are changing the way we think about education itself.
Innovative, transformative educational technology - like the products and ideas showcased at this exhibition - is already transforming education; has already transformed education; in ways that we could barely predict 2 years ago, and could never have imagined 50 years ago.
This technological change is - by its very nature - disruptive, endlessly innovative and driven from the bottom up.
So precisely the wrong way to react to the transformative opportunities offered by educational technology would be for government to try to dictate, from the centre, every last detail of how schools should respond.
Government regulation cannot keep pace with the scale of change technology brings. When I spoke here 2 years ago Instagram and Snapchat had barely been heard of, now they're mainstream. How can government departments legislate for and regulate innovations which develop at such speed?
So, just as we've done in the curriculum, we are determined to give schools and teachers the freedom and autonomy to keep their eyes open for the next opportunity, the next development; and to recognise and react to it, when it comes.
No government, for example, could ever have imagined the impact that Sebastian Thrun is having on 21st century education.
As many of you will already know, he decided in 2011 to put his entire Introduction to Artificial Intelligence Stanford course online, for anyone, for free - exponentially increasing the number of students he could personally reach and teach.
Over 160,000 students in more than 190 countries enrolled - and at a stroke, learning was liberated from the traditional strongholds of knowledge, to become open source and equal opportunity.
Just a few years on, MOOCs - massive open online courses like his, and those on Andrew Ng's Coursera, FutureLearn and iTunes U - are transforming the world of education, opening world-leading courses at highly prestigious universities - previously, only available to a privileged few - to anyone in the world, anywhere in the world, with an internet connection and a thirst to learn.
Just last week saw the start of what Udacity (Thrun's post-Stanford project) claims is the world's first ever MOOC degree programme, jointly developed with AT&T and Georgia Tech university - a course which they say costs less than 20% of the price of an on-campus education, and is attracting students with an average age of 35.
Obviously in such a fast-changing new field, there are teething problems.
Some point out that the most motivated students get the most out of MOOCs while many others drop out.
In response, Thrun has done something very interesting - instead of making his MOOCs more like universities, he is following a different path.
Udacity is now working very closely with employers such as Cloudera, Salesforce and Google to co-design new courses that deliver the precise skills that the companies want, like Big Data analytics - courses which, in Udacity's own words, aren't just cutting edge but "bleeding edge, often way beyond the materials taught by universities".
However these experiments play out, they are already changing how universities - and, very soon, schools - operate.
So when we recently consulted on our new accountability system for 16- to 19-year-olds, we made sure to ask about the possibility of using MOOCs to support learning for 16- to 19-year-olds, and recognising the best online courses in our new accountability system. We're looking at the responses to that consultation now - and will provide an update as soon as we can.
Because these changes are already happening.
OCR recently launched a MOOC to support their new computing GCSE - in collaboration with the brilliant British tech business, Raspberry Pi - designed for students and teachers alike. Young people can register as individuals and study the course in their own time; teachers can use it while teaching the normal syllabus.
And as part of the Rutherford School Physics Project, we are funding Cambridge University to develop a MOOC to support the transition between A level physics and undergraduate physics, engineering and maths - allowing students to get a head start on their course, long before freshers' week even begins.
These courses are an unparalleled opportunity for the brightest and best education institutions to open their classrooms and their content to more people than ever before - democratising education for the 21st century.
Conclusion
Even as I stand here talking about MOOCs and 3D printers, somewhere outside this room - or possibly, if any of you are sneakily working on your phone or tablets, somewhere inside this room - the next unimaginable, unpredictable innovation is about to arrive and transform education all over again.
None of us can know what lies ahead - all we can do is equip ourselves, and more importantly, our children, with essential building blocks of knowledge, whether that's mathematical principles many millennia in the making or an intricate computer code younger even than our youngest school pupils.
Today's conference is a brilliant opportunity to see, try and feel - whether in this, virtual or augmented reality - the sort of technologies, services and products which are already changing classrooms, and might go on to change the world.
Thank you again to BETT, to all exhibitors, and to every innovator and inventor who has brought us here today - and I wish the conference every possible success.
Published 22 January 2014