Making Project Delivery and our System Fit for the Future
"Project prioritisation, initiation, performance and capability are the basics that we have to get right" says Matthew Vickerstaff at Government's first Project Delivery Conference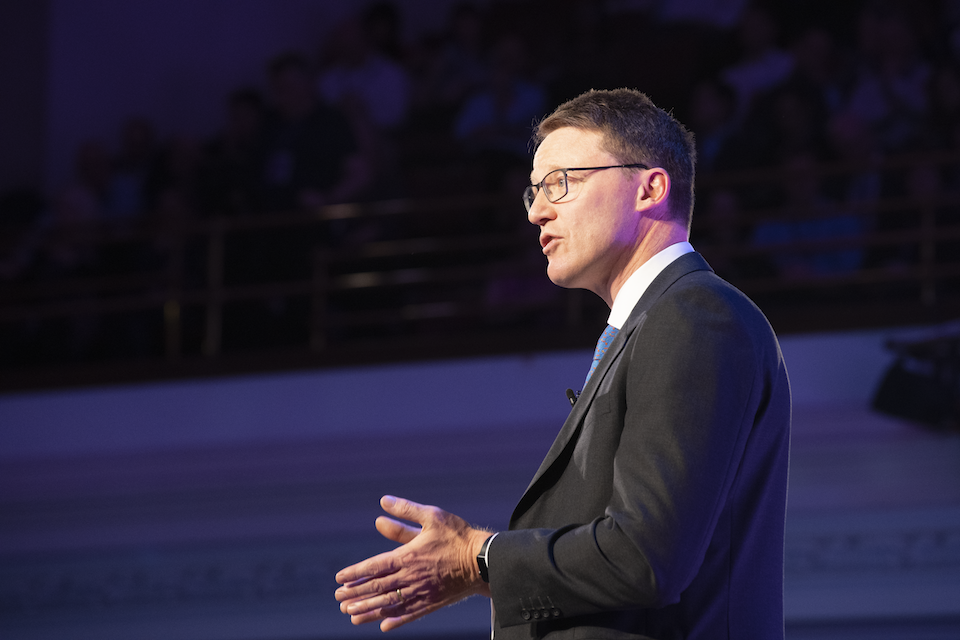 Good Morning Ladies and Gentlemen,
Let me start by saying how honoured I am to be speaking today.
Tony Meggs has gone to support Crossrail, and I am sure you will join me in wishing him every success with what is a critically important project for the country.
My goal is to bring the same passion to Tony's vision for the development of the Project Delivery Profession.
We have made excellent progress, but there is still a lot to do, to ensure that we are a world leading project delivery system, across the whole of government.
The system is not only the people and profession we have, but also the standards and charters we adhere to, and how we translate policy into project delivery; how we define ways of working, especially in an agile way; as well as the capability and resilience of the supply chains we rely upon.
Given the undoubted challenges facing the country and the delivery of projects as whole, I do think we need to focus on doing the basics well.
My background is in the design, build, finance and operation of infrastructure projects all over the world, including such projects as:
Gatwick, Sydney and Budapest airports;
Wembley Stadium;
The Piccadilly Line extension and other metro projects in Sao Paulo, Milan and Barcelona
And I was also involved in an early version of Universal Credit, which was the Post Office counters transformation project.
Across all of these projects, I learnt that doing the basics well is essential, but ultimately it is the quality of the people delivering the project which is key, and also the importance of the system in which projects are delivered.
That is the focus of today.
Today is the culmination of your own conferences, as well as an excellent opportunity to network.
I should remind you that the profession is now 11,000 strong with 20 Heads of profession, and each year a new cohort of 200 fast streamers joining.
I'm also delighted to announce that Fiona Spencer, Chief Portfolio Officer and Head of Profession at the Home Office, will be joining the IPA as your new Director of the Profession.
Fiona has been a champion of our work to build the Profession and she will no doubt have a lasting impact.
I want to offer my personal thanks to Nick Borwell who has led a remarkable team that has helped develop and grow the Profession - for example, Project Delivery is now the third most popular career choice.
So with that introduction, I would like to touch on 3 key topics:
Our vision for the future;
Suggestions for how we should prepare for what is a critical time;
And then perhaps most importantly, how we need to work at a system level rather than just a project level.
Our vision for the future
So, firstly our vision for the future:
We are currently delivering projects worth over £450 billion – the scope and scale of these projects easily rivals the private sector, and some are the biggest in the world.
Government is a delivery-orientated organisation – with Project Delivery at the heart of all government activity. Our work has a direct impact on the lives of citizens.
We need to lift our gaze up from the immediate task of delivering individual projects and improve the way projects are delivered – and as I said earlier: aspire to be the best performing project system in the world.
The IPA is government's centre of expertise and home of the Profession - created to support this ambition.
By system I mean the Project Delivery Function – a cross-cutting virtual organisation that supports government's projects, and as the Profession - you - are a fundamental part, and the most important part of this Function.
You are a growing network of experts relied upon right across government.
We have a relatively mature and highly effective set of tools in government – so for example:
An Independent Assurance regime and Standards
There is Leadership and development training via MPLA and PLP and we are working on the Federated Academy
And many more
And again, Project Delivery isn't just about Gantt charts and risk registers – it is also about leading teams, managing stakeholders, communications and supply chains.
Despite our successes – we still have a journey to go in these areas.
Critical time
We are at a critical time, which is also why we need to up our game.
It goes without saying that EU Exit also presents challenges and most of you are already affected.
Our recent assurance of programmes was critical to EU Exit and placed us at the centre of this - we saw excellent teamwork and a common sense of purpose – so thank you.
It's now time to build on this. We must focus on operational readiness.
The complexity of Brexit is making us think through delivery problems in new ways and what we are doing now will provide lessons for the future.
We are also trying to address many of the common delivery challenges in the upcoming Spending Review, which we will ensure has project delivery expertise at the core of spending decisions.
Working at the system level
I'd like to define in a bit more detail what working at the system level actually means, so we don't just keep treating individual projects in isolation.
As I have already said, we have made remarkable progress in building a world class Function.
At the IPA we are surprised by the number of countries such as India, Australia, Brazil and the US who want to come and learn from our approach, and are considering setting up their own IPA capability.
We are globally renowned for our projects – so the future is bright.
But in order to improve performance - we have identified 4 key areas:
First, we need to choose the right projects
This means a renewed effort on proper prioritisation and portfolio management.
As it enables us to better match projects with resources, and avoid over-programming.
Again, the Spending Review and EU Exit is already forcing us to prioritise – and this is a good thing.
Second, we then need to set those projects up for success
We have already paid a lot of attention to proper initiation – but we must take this to the next level.
We need to cross the 'Valley of Death' between policy creation and delivery, and this means bringing both closer together so we can set realistic objectives, costs and schedules up front.
I'm pleased to see our workshop today on this issue – and the opportunity to hear real life case studies.
Third, we must hold ourselves to account through transparent performance measurement
Understanding how projects deliver against promises is crucial; it helps us feed back into the system and improve performance over time.
IPA will continue to share lessons we are learning with departments, so there's a common and transparent view between departments and the centre.
But it also requires us to be open, collaborative and honest with each other.
Last but not least, we must have the right people working on the right projects
This is fundamentally what our Profession is about. And it's about you.
We know that great leaders deliver great projects. We must ensure we have the most experienced leaders delivering our most complex projects.
The Profession needs to be more flexible, have a broader toolkit and more diverse skillset.
For example, we are already seeing the impact of technology, so we need to adapt to keep pace.
I look forward to hearing Dr Anita Sengupta later today, who will give a flavour of what this changing world could be.
Conclusion
To conclude, these 4 areas - prioritisation, initiation, performance and capability - are not new, but they are the basics that we have to get right.
Today we get the chance to discuss this in more detail – I encourage you to join the relevant sessions.
And as I said, the IPA and Heads of Profession will be taking this agenda forward this year and beyond.
All organisations need to grow and evolve - if we stand still we will fall behind.
This is a critical time, with our short term opportunity at the Spending Review and EU Exit.
But we also need to improve the project system for the long term, and react and stay ahead of our changing environment.
IPA has unique position at centre of government to help, but this is for the whole Profession.
I hope you will join us on that journey - to make ourselves fit for the future.
Thank you.
Published 16 January 2019