Speech
Justine Greening: Frontiers in Development - targeting the needs of women and girls to end extreme poverty
Speech by the Development Secretary at USAID's Frontiers in Development, arguing that girls and women have a right to voice, choice and control over their lives.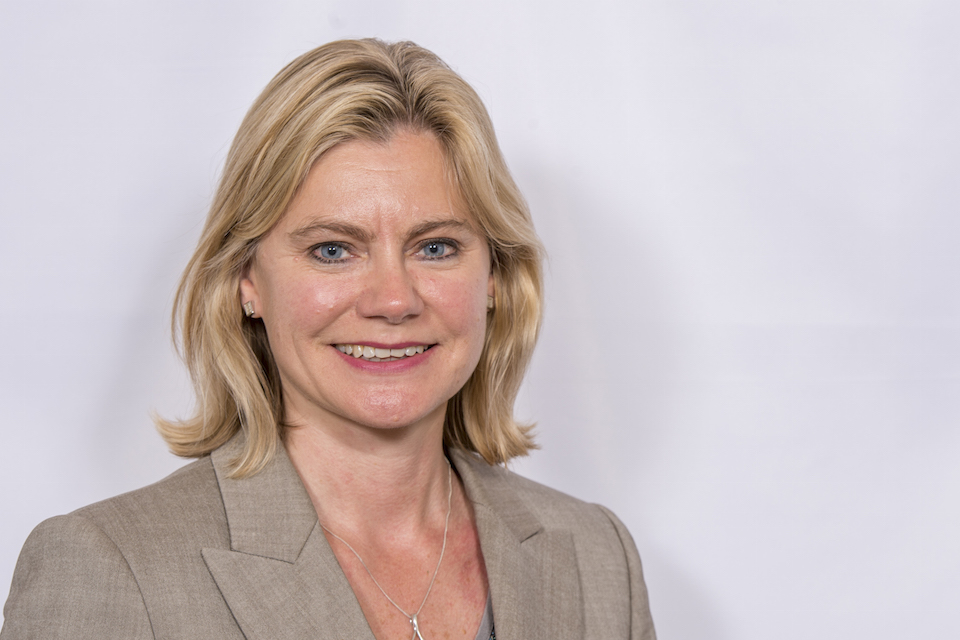 Introduction
Thank you for that introduction. I'm delighted to be opening this session.
Since becoming the UK's International Development Secretary I've set about putting girls and women at the heart of everything we do.
It's a matter of basic human rights. The right of all girls and women to have a voice, choice and control over their lives.
But I'm also clear that pushing for change is the smart thing to do. Investing in girls and women is one of the very best investments we can make.
When a girl in the developing world receives 7 or more years of education, she marries later and has fewer children and these children are more educated and healthier.
It is estimated that half the reduction in deaths of children under-5 over the last 4 decades can be attributed to improvements in, and access to, basic education for girls.
In India, the states where there are more women in work have seen faster economic growth and the largest reductions in poverty.
The bottom line is no country can truly develop if it leaves half its population behind.
A holistic approach to tackling inequality
So how can we give girls and women around the world a voice, choice and control over their lives and the opportunity to reach their full potential?
On one hand, significant progress has been made on the girls and women agenda these last few decades.
More girls are now going to school, women are living longer, having fewer children and participating in the labour market more.
But the job isn't nearly close to being finished. As long as there are millions of girls and women around the world who are barred from owning property, from setting up a business or opening a bank account.
As long as routine violence, an epidemic of violence, against girls continues to take place, as long as children are being married as children and having children themselves way before they are ready - then we know we haven't fulfilled our promise to girls and women.
Tackling all of this requires a holistic approach that works across all sectors. All the jigsaw pieces have to be there.
The UK is helping more girls go to school. We are also improving women's land rights; helping more women to vote and have access to security and justice.
I believe a critical area is giving girls and women more control over their futures through economic empowerment.
The UK has provided nearly 27 million women with access to financial services such as savings, credit and insurance. Through the Global Finance Initiative for Small and Medium-sized Enterprises, we will deliver at least $1billion dollars of commercial loans to 25,000 women headed enterprises.
Private sector involvement here is key. In India we have launched the S.H.E initiative - which stands for Safety, Health, Education and Employability. This is a call to action and later this month we expect more than 20 British and Indian companies, including leading manufacturers and financial services providers, to sign up to a compact committing themselves to improving the safety, nutrition and training of women workers and their families.
FGM and child marriage
This is important work but it's clear to me and my department that we need to go further and faster. And critically we need to look at the social norms and attitudes towards girls and women that really sit behind how they are valued in society and that determine whether they can reach their full potential.
We know that adolescence is often when girls are most vulnerable and their rights most under pressure.
Two issues that are critical symptoms of the low status of adolescent girls but which have long gone insufficiently acknowledged and tackled are Female Genital Mutilation and child marriage.
In July, the UK and UNICEF co-hosted the first Girl Summit in London to galvanise action to help end these harmful practices. We brought together a huge range of governments, including USAID, activists, NGOs, businesses, young people, researchers. And it was a really incredible, inspirational event.
The Girl Summit Charter, which outlines a powerful agenda for change, was agreed by more than 450 signatories, including nearly 40 governments. Over 160 governments, organisations and individuals made commitments to new action to tackle FGM and child marriage.
The US government made a wide range of commitments, including launching new programmes in Benin and Nepal to tackle child marriage, and a new programme with the government of Guinea on FGM.
The UK pledged to invest £31 million over 8 years to generate new evidence on what works to transform the lives of poor adolescent girls. I also announced that the UK would invest up to £25 million in a new UN programme to end child marriage in 12 countries. This follows our launch last year of a £35 million programme that will support the Africa-led movement to end FGM.
Overall the summit created a real sense of energy, a real belief that we could do this, that together we could end FGM and child marriage in a generation. The key thing now is to build on, and lock in, this momentum.
And it's great that the government of Ghana has already committed to hold a West Africa Girl Summit in 2015. The UK is also working with UNICEF and others to develop a proper monitoring structure that will ensure commitments are implemented and we all live up to our promises.
We can also send a strong message by gathering even more commitments to new action and gaining even more signatures to the Charter. If you haven't yet signed up to the Charter, it's not too late.
Gender equality and post-2015
There is no doubt that this is a hugely ambitious campaign - ending two really entrenched practices in a generation. But it's right that we're ambitious. Because ambition is key if we are going to tackle the social, cultural and legal barriers that keep too many girls and women poor and marginalised.
And as addressed yesterday by this forum, the post-2015 framework provides a huge opportunity to transform the way we tackle gender inequality.
We need to really seize this opportunity. We have 12 months to ensure that girls and women are at the heart of the next set of development goals, 12 months to ensure these goals really set us up to tackle difficult issues like FGM, child marriage and economic empowerment.
The Open Working Group report was a step forward but there is lots more work to be done.
The appalling prospects and non-existent rights of millions of girls and women around the world right now, day to day, is something that none of us should ever be prepared to accept. Not in the past and certainly not in the 21st century. We, here today, are some of the people who can change that.
So let's all of us be really ambitious, innovative and tenacious about this. And together ensure girls and women around the world have the chance to reach their full potential and build their own futures.
Thank you.
Published 22 September 2014