Speech
Joint Day of Climate Action - Human Dynamics of Climate Change Speech by HE Antony Phillipson
Welcome address delivered by High Commissioner during the 'Joint Day of Climate Action' event on 9 September 2014.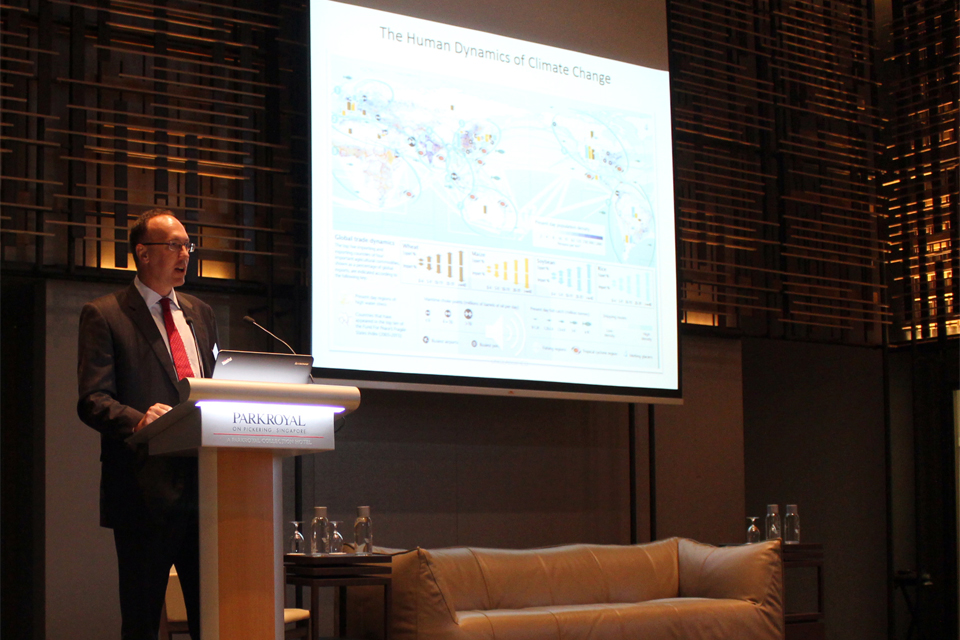 Ladies and gentlemen, welcome to this event on the Human Dynamics of Climate Change, which the British High Commission is delighted to be hosting in partnership with the German and French Embassies here in Singapore.

My thanks to my colleagues there for the excellent collaboration between our teams, including on a joint article in our name in the Business Times this morning.

As we said in that piece, today, German, French and British missions across the world are coming together for a 'Joint Day of Climate Action' to pursue a common objective.

That objective is to highlight the need for governments in all countries to take action and work together to limit the damaging effects of climate change on our environment, our economies and our people.

The recent findings of the United Nation's Intergovernmental Panel on Climate Change 5th Assessment Report clearly demonstrate that our climate is changing at an ever increasing rate and the situation is now more critical than ever.

If we ignore the voice of the global scientific community, and if we fail to act to change course, climate change will pose an increasingly serious threat to global water and food supplies.

To mark this Joint Day of Climate Action in Singapore, we are showcasing the new Human Dynamics of Climate Change map developed by the UK Meteorological Office, and launched by the Foreign & Commonwealth Office in London in July.

The map illustrates the range and complexity of the potential impacts of unmitigated climate change for a number of different temperature scenarios.

You will also see on your tables that we have provided you with the Met Office's brochure on the map. Please let my colleagues from the British High Commission know if you have not received one and we will ensure that you get a copy after the event.

I'm not going to talk in detail about the map because we are privileged to have Rob Harrison, the Met Office's Regional Head for Southeast Asia, with us today and in a while he will talk about this important analysis.

Rob is based here in Southeast Asia, part of a deliberate effort by the Met Office to step up its engagement with the countries of the region on these crucial issues

The map itself illustrates why this engagement is so important as it shows that a four degree increase in temperature will lead to a 77 percent increase in land prone to flooding, a five percent increase in drought days and an eight percent decrease in water availability for irrigation.

So, as I and my colleagues say in the article, the time for action is now.

In just two weeks time, the UN Secretary General will hold a Climate Summit in New York on the 23rd of September.

This provides a unique opportunity for the world's leaders to come together and reaffirm their commitment to reaching an historic deal to limit >national and global carbon emissions in Paris next December.
The Summit will also continue to raise awareness of climate change and its economic repercussions for the wider public.

In that context I would also highlight an upcoming report by the Global Commission on the Economy and Climate which was established last year to examine the economic benefits and costs of acting on climate change.

The New Climate Economy study is the Commission's flagship project providing independent evidence on how policies to strengthen economic performance can also reduce the risk of dangerous climate change.

This report will launch in a week's time, on 16th September, in advance of the UN Climate Summit. The NCE report aims to mainstream economic policy debate to deliver economic growth and climate action. We are planning a launch event in Singapore on this new study in the next few months and would very much like to see all of you there.

Ladies and gentlemen, climate change is one of the defining issues of our time.
To meet this crucial challenge, Governments need to act together and be ambitious in both domestic action and international engagement.

There is time to change course in order to achieve a low carbon and sustainable future for generations to come, but it is running out fast.

The time to act is now.

Thank you.
Further Information
Follow the British High Commissioner to Singapore on Twitter @HCAPhillipson
Follow the British High Commission Singapore on Twitter @ukinsingapore
Follow the British High Commission Singapore on Facebook
View the pictures of the event on Flickr
Watch climate messages from British High Commissioner HE Antony Phillipson, Acting Head of Mission, Embassy of Federal Republic of German, Dr Steffen Koch and Ambassador of France to Singapore HE Benjamin Dubertret:
Published 15 September 2014