Speech
High Commissioner's speech at the Queen's Birthday Party Brunei 2014
British High Commissioner to Brunei David Campbell's speech at the Queen's Birthday Party in Brunei 2014.
Yang Berhormat Pehin Orang Kaya Laila Setia Dato Seri Setia Haji Abdul Rahman bin Haji Ibrahim, Second Minister of Finance at the Prime Minister's Office.
Pengiran Pengiran, Pehin Pehin, Dato Dato , Datin Datin: Excellencies, Ladies and Gentlemen. It gives me great pleasure to welcome you to our 2014 celebration of Her Majesty The Queen's Birthday.
As British Foreign Secretary William Hague has just mentioned, this is a special year for Brunei Darussalam as it marks its 30th Anniversary of Independence. At our celebration this evening, we have a photographic exhibition with highlights from State Visits over these last three decades. In recent years, Brunei has also regularly sent students to London to study at the Prince of Wales's School of Traditional Arts, giving them an opportunity to work with young artists from around the world and develop new skills. You can see some wonderful examples of their work on display this evening. We also have a board on which we invite any of you to record any Brunei/UK personal memory from these last 30 years.
Of course, the United Kingdom's relationship with Brunei goes back a lot further than 1984. It is our shared history and experience across many different sectors – energy, defence, finance and education – that make our relationship so special.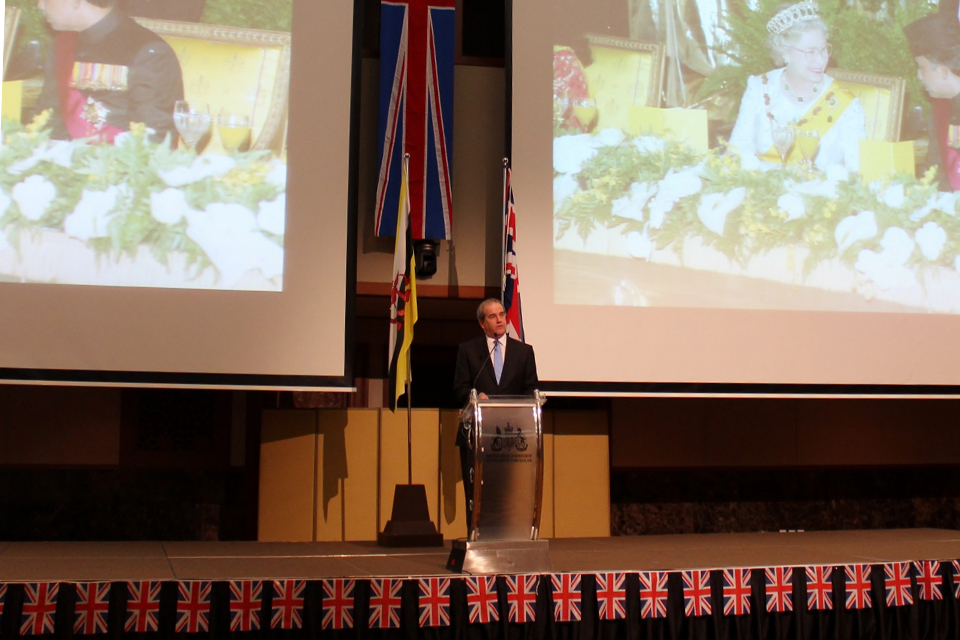 Oil and gas continue to power the Brunei economy. The recent 2014 White Paper set out Brunei's strategy and vision between now and 2035. Shell has been Brunei's long term energy partner for over 80 years and continues to deliver investment, expertise and innovation. Brunei's focus on sustainable energy and development also opens up many new opportunities that the UK is keen to explore. Our longstanding defence relationship is framed in the basing of a battalion of Gurkha Rifles in Seria, an arrangement in place for over 4 decades. The interaction between the British and the Royal Brunei Armed Forces has reached unprecedented levels over the last few years. The visit of His Majesty to the British Garrison was the highlight of the last 12 months. But this last year has also seen a procession of senior visitors to Brunei, including our Chief of the Defence Staff, our Chief of the General Staff and our Chief of the Air Force. Our Loan Service personnel, embedded within the Royal Brunei Armed Forces, continue to make a valued contribution to His Majesty's vision for Brunei's future capabilities. We congratulate Brunei on the successful humanitarian/defence exercises that it organised last year and its important contribution to the Mindanao Peace Process. In sum, Brunei continues to punch well above its weight within ASEAN. As the 'Abode of Peace', it plays an important role in regional stability.
Last year was, of course, a special year for Brunei as Chair of ASEAN. We offer our congratulations for its highly successful Chairmanship. We were particularly grateful that, despite the many other pressures on his time, His Majesty the Sultan and Yang Di-Pertuan was able to visit London last October to join Prime Minister David Cameron and other world leaders at the World Islamic Economic Forum. This was the first time the Forum had been held outside the Islamic world, underlying the importance the UK attaches to developing global interest in Islamic Finance. That was one of the important subjects raised by Baroness Warsi, Senior Minister of State in the Foreign & Commonwealth Office, when she visited Brunei in April. On that occasion, the Minister also invited the Crown Prince to visit the UK. We look forward to receiving His Royal Highness as a guest of the British government over the next year.
Sport makes a special connection between our countries. Next month, we look forward to welcoming Brunei's team to the Commonwealth Games which will be held in Glasgow. At the opening ceremony, Her Majesty The Queen will read out a special message contained in the Queen's Baton which travelled the world this last year, including Brunei last October. I recall with fond memory the schools relay event led by His Royal Highness Prince Sufri. Since then, we have been bringing together Bruneian and Scottish schools to share experiences and promote closer links. Talking about sport, many here in this room are no doubt watching - at pretty strange times and (for some of us) very mixed emotions - the World Cup in Brazil. Everywhere I go in Brunei, I am reminded of Bruneians' passion for Premier League football and English clubs. At the same time, may I wish DPMM FC continued success under its British coach appointed this year.
I want to end by mentioning the importance of education in the Brunei/UK relationship. As with any strong relationship, it's not just about looking back but forward too. Nothing illustrates this better than education – engaging with the next generation. We are proud of the contribution made by CfBT in the teaching of English in Bruneian schools. We are delighted too that the UK remains the most popular Bruneian destination for overseas study. The British Universities in Brunei Association (BUBA) has over 50 UK universities and colleges which, together with my colleagues in the High Commission and the British Council, actively promote UK study.
But an important factor too is the warmth of welcome given to new Bruneian students by Brunei Societies at many UK universities. This year, these Societies were invited to submit a collage of photos to illustrate student life. In a moment, I will be presenting cheque prizes to the three winning Societies. In doing so I want to congratulate all the Brunei Societies at British universities, together with the various alumni associations, for all they do to strengthen Brunei UK education links. Pehin, may I thank you for your kind presence this evening and to welcome you and all our guests once again.
Thank you.
Published 19 June 2014