Speech
Girl Summit anniversary: one year on
Speech by Justine Greening at Canada House, marking one year on since Girl Summit 2014 and reflecting on the progress made.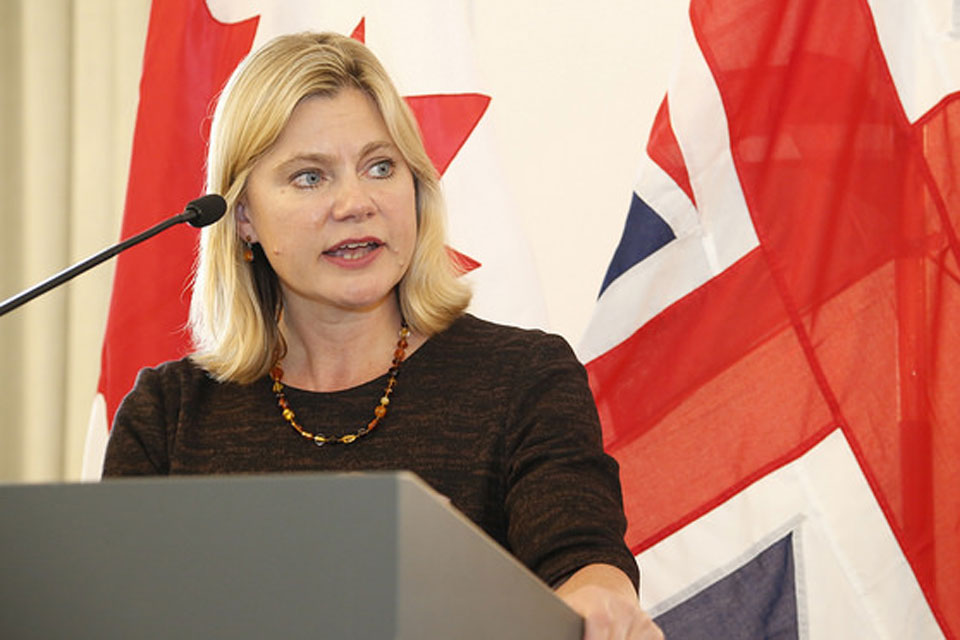 Introduction
Thank you very much, High Commissioner, for that incredibly kind introduction and also thank you for being such fantastic hosts. Canada played a key role, working alongside the UK, when we put on the Girl Summit which we co-hosted with UNICEF last year.
I don't know whether it feels like more than a year, or less than a year since the Girl Summit.
But we're quite right to be marking the first anniversary – because it was such a watershed moment in the movement and the campaign to finally start to tackle FGM and child, early and forced marriage - and end it in a generation.
There are lots of things I remember from the Girl Summit last year.
I remember Walworth Academy being transformed from a school into a global summit. And we had two students from Walworth in DFID this week doing work experience and you did a great job so thank you for that.
I also remember the hard work that was put in by our fantastic, amazing civil society partners including Girls Not Brides, the Orchid Project and Plan UK to name just a few. You are the people who day in day out make change happen on ground.
But most of all, the thing that struck me, and something I'll never forget, was the voices of young people.
When we were planning the Girl Summit we had this idea about wanting to really tap into the energy, commitment, drive and the voices of young people but in a sense we had to get on with that work not really knowing necessarily what it would finally look like.
It went beyond my wildest expectations of how effective it could be and I'm enormously proud of all of the work the Youth for Change Panel have done.
You just saw some of them give, what I thought, were inspiring presentations just now, and if we could just give them another round of applause.
Investing in girls
I think for me what was most powerful was that they are the next generation saying that just because people in the past have had to accept things like child marriage, like FGM, that doesn't mean it has to be that way in the future
I was at the Financing for Development conference last week in Ethiopia and I managed to escape at one point to get out and meet some girls in Ethiopia. This is a country that's doing a huge amount now to tackle FGM and to tackle child marriage.
I sat down to talk about what they wanted to do with their lives. They're living in a country that's really transforming; its development has probably never been faster.
They had big plans. One of them wanted to be a doctor. One of them wanted to be an engineer, she wanted to be one of those people helping and designing all of those buildings that were springing up around them in Addis Adaba. One of them wanted to set up her own business and be an entrepreneur.
They were incredible girls with big plans and they gave me the messages that they wanted to. Then I met with the Ethiopian Prime Minister later that day, and I told him that the girls I'd met were perhaps one of Ethiopia's most amazing, most powerful assets for development - and of course he said he knew that because he was a father of three daughters.
But the point is why wouldn't you invest in those girls? Not why would – but why would you not invest in those girls?
We know that the case for it is overwhelming. Girls that stay in school and get a good quality education will have fewer but much healthier children. If they stay in school for just one extra year of primary school that will boost their eventual wages by 10 to 20 per cent. We know that women get extra earnings, they'll reinvest them back in their families and back in their communities so it's a double win for development.
Going back to Ethiopia, if we were able to get every girl in Ethiopia through secondary school that would add $US 4 billion to Ethiopia's economy – that is more than Ethiopia receives in aid each year. So there is literally a bottom line that says no country can really develop if it leaves half its population behind.
So, for me the Girl Summit was about saying, what can we all do about these two things that stop girls finishing secondary school and stop them reaching their potential and fulfilling their dreams - and those two things were FGM and child marriage.
And for DFID, adolescent girls are increasingly a big focus for us as an organisation. And that's because we've understood that there are key moments in a girl's life. A moment when a girl has choice or all too often no choice at all, when girls will take one route rather than another.
And for too many girls, particularly girls who undergo FGM, or end up getting married as young as 11, 12 or 13 and then end up having children while they themselves are still children, they end up having taking the bad route.
And it's that moment, that time we really need to work hard so that we can help them take a good route.
And the girls I met in Ethiopia were actually at that stage, at that sort of age where they were coming to that fork in the road, that critical juncture where their life is really poised between these two very different futures.
And I asked them – how they felt we could work, and how they were going to make sure they could end up on the right path, how they could reach their potential?
And for them it was going to be very practical things. It was going to be conversations - sometimes really difficult conversations - with their communities, definitely with their parents, with their friends and broader family. And it would all be about challenging these attitudes, which essentially are discriminatory attitudes. But these attitudes about what 'normal' looks like and how that version of normal leads to a route that means no future, no opportunity and for their country, Ethiopia, no asset, no person who can be part of helping their country develop.
At the same as we need to work with local communities, and with girls and with boys. Governments themselves need to make sure they're creating the right opportunities for girls and women through their own investments in education, health and employment.
Of course none of this is easy. It's complex, it's complicated, it's long-term.
If it was easy, we wouldn't have needed to do the Girl Summit.
But I'm proud that even though it will be a struggle that will take a generation. Even just one year on, because of the Girl Summit, because of the work that so many people in this room are doing - things really are getting better for girls.
We are bending that arc of opportunity for girls, and its bending and getting better at a rate faster than I think we've seen before.
Girl Summit legacy
Five countries with high levels of child marriage, Bangladesh, Burkina Faso, Mali, Yemen and Zambia, have now begun the legal reforms to end child marriage once and for all.
Nigeria has taken the historic step of banning FGM. Egypt and Kenya have got laws in place on FGM and are now upping their game on making sure they're adhered to in practise so we're seeing more arrests.
As well as Ethiopia holding its Girls Summit, Bangladesh and Uganda have hosted their own Girl Summits as well. The African Union will do an Africa Girl Summit later this year.
I'm really proud of the role countries like Britain and Canada are playing to harness that momentum, to support it, and to help speed up the pace of change. Through the UN Child Marriage programme, which the UK funds with Canada and others, we are aiming to help at least half a million girls avoid child marriage. The UK is also working through the UN to end FGM in 17 countries.
We're also taken action to get our own house in order as a country right here in Britain. Strengthening the law on FGM and increasing resources for health, social care, police and teachers to help them protect girls at risk of FGM and provide care for survivors.
Just last week Bedfordshire police secured the first ever FGM protection order to prevent girls being taken abroad to undergo FGM.
And there are many more examples of actions by governments and civil society groups and countries like Canada, in the One Year on booklet which we have published today and you can see it on UNICEF's stall here tonight.
Battle for gender equality
The battle for girl's and women's rights will continue. Later on this year the world is going to agree a brand new set of global goals for tackling poverty – and we expect, and we need, to have a crucial gender equality goal as part of those global goals. With targets that specifically focus on ending FGM and ending child, early and forced marriage.
That would be another huge step forward and we must take it.
Because, in the end, that's what it's going to take to win this battle. It's a step forward like the Girl Summit, another step forward like Nigeria banning FGM, another step forward like Zambia banning child marriage, another step forward like the gender equality development goal.
And after so many of those individual steps forward – we can have a look back at where we were before and actually the great news is we have already come a really long way. At the same time, if we look forward, there is still a bewilderingly long path ahead of us that we need to keep walking along.
But we've made a start - and it's important because we should also recognise that there are those in our world right who would push us back, they think we've taken to many step forwards, they want to push us back from even from where we've got to today - but they won't succeed.
Because I believe in the end it's about numbers - and it's about what's right. There are quite simply more of us who are taking more steps forward more often now.
And we are going to keep shouting louder, we're going to keep working harder, we're going to keep demanding more and more change - and steadily, over time, we are going to win this battle.
I believe it's going to be mosaic of change makers that can achieve this. It will be the voices of national and local leaders, the voices of communities, the voices of parents, of brothers and sisters, of girls, of civil society, of women's rights organisations and, I hope, of business too.
And working together, by being willing to do what it takes to end FGM and child marriage, and to tackle those underlying inequalities facing girls and women – we will achieve an equal future of opportunity for girls, wherever they are born in the world.
Conclusion
In conclusion, I'm really proud of the role Britain has and will continue to play in all of this. It's what I think we should be doing – standing up for girls and women whose potential so often gets lost and whose voice need to be heard.
I can promise you that girls and women will stay at heart of the work that DFID does. Alongside our work on ending FGM and child marriage, we'll continue work to prevent violence against women and girls, we're going to continue all of our work on helping women entrepreneurs get finance and land rights, to get family planning in place for women, to get education for girls. These are some of the very best investments that we can make.
And we'll continue doing all of that work in partnership with everyone here.
We're going to keep fighting this battle, with a growing number of other countries, with more and more campaigners, until we win it for good, for girls.
I believe we can make the beginning of the 21st Century a time that will be remembered for when we finally delivered on that famous declaration on women's rights at the Beijing World Conference on Women 20 years ago.
We're just secured a historic deal in Addis for financing development for years to come. And now it's time to secure and deliver a historic deal for girls.
Thank you
Published 23 July 2015