Francis Maude speech to the Society of Local Authority Chief Executives (SOLACE) annual summit
Minister for the Cabinet Office Francis Maude spoke to the Society of Local Authority Chief Executives (SOLACE) annual summit.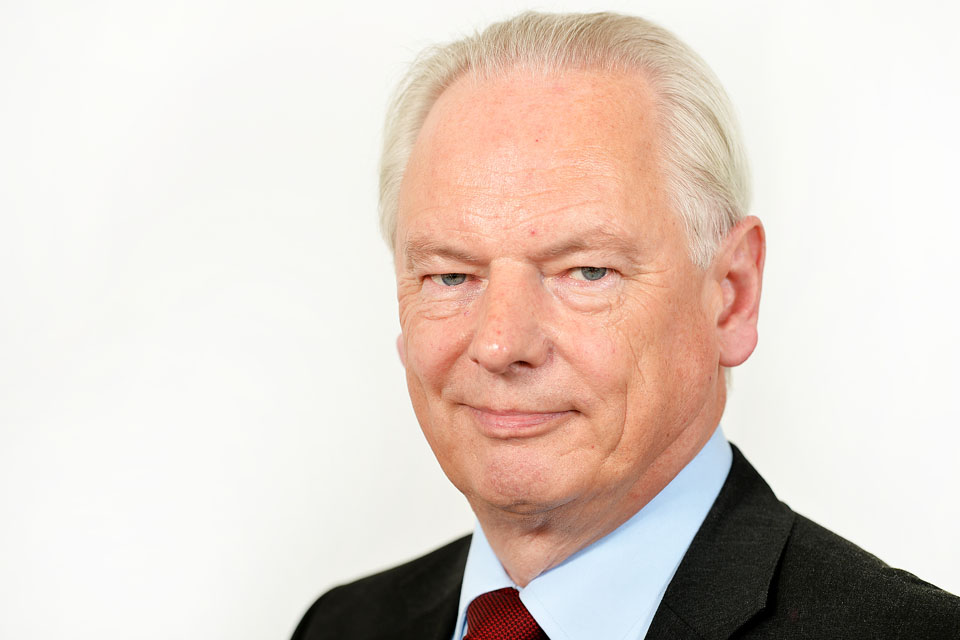 Minister for the Cabinet Office Francis Maude made a speech in Coventry to the Society of Local Authority Chief Executives (SOLACE) annual summit on 18 October 2012.
Text is below.
All of us ask the same thing over and over today: how can we spend taxpayer money better?
It's the key question for every government department, every public body, every local authority, every school, every hospital.
It should always be the responsibility of ministers and officials to ask these questions but too often in the past the question seemed to be: how can we spend more taxpayers' money.
And today when budgets are so much tighter - it's imperative we do more with public money.
There are plenty of cautious voices who say that this isn't possible - they say less money means doing less. And that we're safer in any case sticking to the same old way of doing things - not rocking the boat.
Of course they are wrong. We can hunt down waste and inefficiency across the public sector, and this is exactly what we are doing. But despite making staggering savings we are at the same time improving public services by designing them around the user not the providers. And by improving procurement and commissioning we can spur jobs and growth too.
Undoubtedly the impetus for all this must come from the ground up. In the past so-called solutions were imposed on you from on high. Local ideas, innovation and ambition were stifled by an all-controlling centre. But as you know this is all changing.
We have introduced what I call a 'tight-loose' model of government to ensure public money is spent better.
This means on one side of the coin you have tight central control over key areas of central governmental spend like procurement, IT, property and marketing - to ensure we manage our finances like the best-run businesses. 
But for other areas we are devolving power - breaking down the traditional central monopoly on providing public services and bringing in more flexibility and choice for users, and more local control over the way they are run.
And instead of the old one-size-fits-all approach local councils and communities are being empowered to come up with local solutions to local problems. There is no doubt this involves a huge culture change - one that won't happen overnight.
And the message from government is not - you get on with your work while we get on with ours. We will support you - whether that's with procurement, commissioning or the open public services agenda - all things I want to talk about today.
Today's challenges are shared challenges. There's no sense in working in isolation. And there's everything to be gained from collaborating, joining up and sharing our expertise, best practice and intelligence.
I lead the Efficiency and Reform agenda in central government and I'm hugely committed to getting this agenda moving further and faster across the country.
Because budgets are smaller today we have a clear choice. Either take a swinging axe to the services and jobs people depend on. Or start to channel resources better by relentlessly pursuing efficiency and driving out wasteful spending and protecting the frontline.
The first task I was given by the Prime Minister was to save money in central government.
It's not always the most glamorous of jobs - spending days renegotiating contracts, tackling vested interests and large suppliers and cutting back on spend on consultants and advertising.
But it delivers - real cashable efficiencies. Thanks to the hard work of hundreds of officials in my department and across Whitehall - in our first ten months in office we saved what was then an unprecedented £3.75bn from central government spend. And in August I announced that in 2011-12 we saved a further £5.5bn. 
I know that across the country many councils are doing the same thing - sharing services, buying in bulk, pursuing back-office savings in order to protect the frontline.
 
And we're also seeing great examples of the additional savings that can be achieved by central and local government teaming up to procure goods and services from third parties.
For example the Government Procurement Service, the delivery arm for government procurement, has recently formalised agreements with local government purchasing organisations YPO and ESPO to combine purchasing volumes wherever possible. And already this is already delivering savings on key purchases - for example the new deal for printers and photocopiers is delivering savings averaging 45%.
It's one of my particular concerns is to improve the way the whole public sector does procurement. The public sector spends £230bn on goods and services a year - that's roughly 15 per cent of the UK economy and £1 in every £7 spent in Britain. It's a lot of money.
And too often in the past across the public sector we simply got ripped off. You all know the statistics on the massive differences discovered between what parts of the public sector were paying for the same item. The cost of toner varying by 745 per cent between the lowest and highest prices is just one of the more extreme examples.
Another problem was that businesses found bidding for public sector work excessively bureaucratic, time-consuming and eye-wateringly expensive. Too often this meant the best, most cost-effective ideas were shut out from the start particularly those coming from small, innovative, new firms.
When we came into office SMEs - despite accounting for half the turnover in the UK economy - were winning only around 6.5% of central government's procurement spend. In fact it took some time to work this out as the last government didn't even bother collecting data on our business with SMEs.
Many of you will know we have an aspiration that by 2015 a quarter of our business in central government should go - directly or indirectly - to SMEs.
To get there we are pushing through a number of reforms to make the whole process faster, cheaper and simpler - including cutting red tape, increasing the visibility of contracts and giving firms a chance of redress through the Cabinet Office's 'Mystery Shopper' Scheme.
I know that in local government you often spend more with SMEs than we do in central government based on the very nature of what you buy.
What I would urge is that you all think about how you procure. I still get many letters from SMEs citing onerous practices in the public sector, including in local authorities. They complain of lengthy PQQs and disproportionate financial requirements like demanding three years' worth of audited accounts. These lock out new and small, innovative businesses.
We need to do away with all this bureaucracy so we get full value from the SME suppliers in your areas.
In April central government launched a Procurement Pledge. This reinforces our commitments to stimulate growth and open up public sector procurement. The LGA has also consulted on a Pledge for local government. I encourage you to continue to support and work with us on building this important agenda.
Procurement reforms are hugely important. But before procurement comes commissioning - and getting this process right in the first place is absolutely crucial if we want to not just protect but improve public services in these tight financial conditions.
To ensure that we do get the right outcomes, senior leaders, public servants and politicians alike need to engage, understand and exercise their judgement as we take decisions about major commissioning and procurement exercises.
That may sound obvious - but too often in the past commissioning activity and indeed any procurement exercise within it has been a back-office process based activity.
In fact I have even been told I am unable to exercise my judgement in a procurement process - this is simply ridiculous.
Getting the right outcomes from commissioning and procurement requires leadership - and accountability. If your top teams are not regularly reviewing progress and assessing risks on major commissioning exercises there is something wrong.
Commissioning and procurement ought to be a career that the brightest aspire to. And to that end we are currently piloting our Commissioning Academy ahead of its full launch next year. We hope the academy will ultimately become a 'must attend' programme for all commissioning leaders.
The first pilot programme is now nearly halfway through and the second starts next month. I am pleased that commissioners from all sectors of public services, including local government, have stepped forward to help us set these programmes up. 
The academy will build an alumni network of senior commissioners with the skills, know-how and confidence to tackle the many challenges facing our public services.
We're very grateful for the time given by local authority chief executives and their teams; in particular, from Lambeth, East Sussex, Wiltshire, Oldham, Kensington and Chelsea, and Solihull; as well as staff from the mutuals and VCSE providers who are an inherent part of the future landscape for public services.
This academy is launching at a key time - as we enter a new era for public services.
Today we are breaking the big state monopoly on public services and opening them up to a diversity providers - all competing to provide the best possible service.
In the past people thought there was some kind of binary choice of the government providing a service or outsourcing. It didn't get us the best services.
Now we are opening up - drawing on the strengths of charities, voluntary groups and social enterprises and conventional commercial providers.
And, importantly, we are harnessing the strength of the dedicated public servants already in our workforce. By encouraging and supporting entrepreneurial public servants to form mutual businesses and spin-out from the public sector.
The evidence is clear. Giving front line staff the power to do their jobs how they know is best - giving them the power to make decisions and be responsive to the needs of individuals - leads to better, more efficient public services.
Look at City Health Care Partnership CIC in Hull, which provides front-line health services. It has delivered 4% efficiency savings worth £600,000 a year whilst delivering a significant improvement in patient satisfaction and securing a number of new services.
While staff at Central Surrey Health have achieved an incredible 41% productivity gain on their stroke ward.
Sometimes efficiencies and service improvements come from very small things which managers can't control. For example staff at Anglian Community Enterprise, cut their bill for printing by £9000 a year when they realised the money came from their business.
When I visited SEQOL, a healthcare mutual in Swindon, I saw how staff were much more conscious about what they took from the store room after a nurse had taken it on herself to put price tags on the stores.
I know many local authorities are at an early stage in thinking about how mutuals fit into their vision for future service delivery. However there are councils pioneering the way forward:
Lambeth is promoting greater citizen involvement in the planning and delivery of public services. This has included proposals for a number of staff mutuals including the Lambeth Resource Centre which provides services for people with disabilities;
Suffolk County Council has set up an employee-owned mutual called Leading Lives which provides support for people of all ages with learning disabilities across Suffolk;
FirstPoint CIC mutual spun out of Surrey County Council to provide social work, hearing loss advice and equipment along with interpreting services to Deaf and hard of hearing residents;
In Kensington and Chelsea, around 170 Youth Support and Development staff are spinning out of the Council to operate as an employee-led mutual, providing a range of youth services to young people.;
And in my own constituency, Aspire Sussex Ltd spun out last month with 65 permanent and part time staff and 500 tutors on contracts to deliver education services.
I have visited many mutuals. And each time I've been impressed by a real sense of ownership. From the very top of the organisation to the bottom, everyone understands that their responsibility to make it work.
I urge you to join the pioneers who are building the next generation of highly productive and efficient mutualised services. It is an imperative for the people we serve that this opportunity is not missed.
Now is the time for you to grasp this agenda and become leaders in this field.
Government is providing strong support to staff and managers who want to set up fledgling mutuals.
As you're aware we have introduced Rights to Provide for public sector workers to take over the running of services for many areas including health services, adult social care and social work, youth services, Sure Start Children's Centres and probation centres.
We've also put in place a £10m Mutuals Support programme, a Mutuals Information Service website and dedicated helpline.
And I'm very pleased to announce today that we are appointing a first wave of 15 Mutuals Ambassadors who will work with fledgling and existing spin outs.
These ambassadors have wide ranging business expertise and public service delivery experience. For example there is Heather Mitchell CEO of SEQOL in Swindon and Ali Parsa CEO of Circle - the healthcare company successfully running Hinchingbrooke hospital in Cambridge with a mutual structure that is incentivising staff to make huge improvements.  
These ambassadors will spread and share their expertise, experience and commitment to help public servants to create successful, sustainable and commercially viable mutuals.
Finally we are also updating our website today following feedback from Local Authorities to include a new substantial section on guidance and support for commissioners. These resources will grow and evolve so I encourage you to contribute content and to let us know what other resources you would find helpful.
The days when the big state micromanaged everything are over - power is shifting, we are opening up and in the future ideas for public service reform will come from the ground up.
It's worth stressing that underpinning all this is transparency.
Local authorities are already doing great work on transparency. I know this can be a painful process at times.
But transparency will drive up efficiency and improvements - all of us working in government are now very aware there are no hiding places if we're not making the best use of taxpayer money.
Transparency is informing people's choices over their public services - today people can see local crime statistics, hospital infection rates, school results and more. This is personalising democracy and rebalancing power between individuals and the state.
And Open Data has the potential to drive growth - both social and economic.
In the past we tended to leave large tracts of public sector information unanalysed and under-used.
But today we are breaking down those barriers to create an information marketplace for entrepreneurs and innovative businesses to exploit.
And councils who can harness the power of open data will forge ahead creating smarter, more connected, more prosperous towns and cities.
I visited Birmingham earlier this year - and was hugely impressed by their exciting, innovative plans to become a smart, 21st Century city. Their efforts are underpinned by a commitment to open government, open data and digital technologies.
And I know exciting things are happening here in Coventry - CityCamp Coventry actively encourages and enables local government, businesses, community organisations and academia to share knowledge, web technologies and experience to help shape the future of Coventry.
Britain faces now an exciting opportunity to reshape the future of public service delivery in this country. Yes we will be spending money much more carefully than in the past. But we can end up with better, more innovative, more user-friendly services.
And I think we can all agree that no matter how we get there - that's something worth working towards.
Published 18 October 2012