Speech
Foreign Secretary: Remembering Srebrenica
Foreign Secretary William Hague gave a speech to mark the 18th anniversary of the Srebrenica genocide.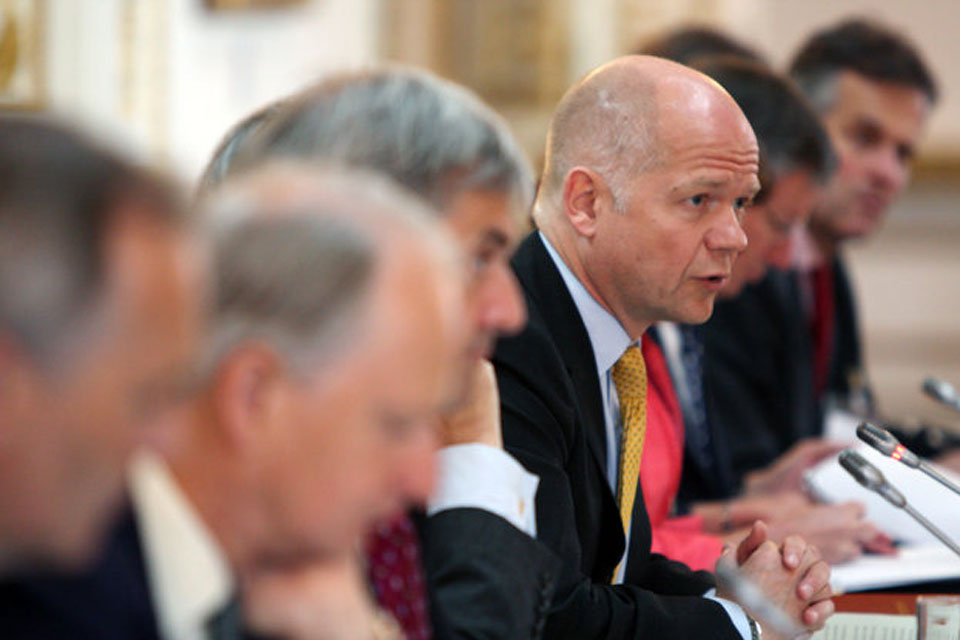 Archbishop, Ambassadors, Members of Parliament, ladies and gentlemen, thank you for being here in Lancaster House on this day of remembrance. And thank you for such moving and memorable speeches and contributions this evening; and particularly of course the heartbreaking accounts of the survivors who spoke to us earlier.
As we all here tonight well know, and as we've been reminded this evening, it's eighteen years ago this week, that more than 8,000 men and boys were murdered in Srebrenica by the Bosnian Serb forces of Ratko Mladic; an act of genocide committed on European soil only five decades after the liberation of Nazi death camps in 1945.
And this evening we remember those innocent victims; we pay tribute to the incredible strength and fortitude of the bereaved; and we renew our determination never to let the forces of prejudice, hatred, and evil to go unchecked.
It is sadly true as others have observed this evening that world can't honestly say that it will always prevent such events from happening again, everywhere in the world. But we can say we will do our utmost to learn from this and to do everything we can to prevent such events happening again.
Today more than four hundred victims, again as we heard earlier, were finally given the dignity of a proper burial. And among them, as we heard from Al Jazeera, was an unnamed baby girl, born on the evening of the 12th July 1995, who has now been laid to rest beside her father. They were both killed in the genocide and tomorrow would have been the girl's eighteenth birthday. She should be coming of age, celebrating with friends, and looking forward to a future full of possibility. Instead, we mourn a life that was never lived and a family torn apart forever.
Many of those that lost loved ones over those fateful ten days have spent the past eighteen years seeking justice. That includes the 'Mothers of Srebrenica', some of whom I met during my visit to the town in 2009, who left an indelible impression upon me. Their sons, brothers, husbands, or fathers had been brutally murdered, but seeing their unshakeable determination to rebuild their lives and to hold the perpetrators to account was a moment that touched me deeply, and one that I will never forget.
Sadly, some of those responsible are still at large and many victims' remains have not yet been identified. But because of the work of the International Criminal Tribunal for the Former Yugoslavia, and the dedication of the International Commission on Missing Persons, we have seen an end to much of the uncertainty. Mladic and Karadzic, are now in custody awaiting justice in The Hague, and advances to DNA testing mean that more and more families are able to identify their loved ones, providing the closure and comfort that is so vital if the bereaved are ever to move forwards.
Many of them were also victims themselves of wartime rape and sexual violence. Since the end of the conflict, only sixty cases have ever been prosecuted, despite the fact that between twenty and fifty thousand women are estimated to have been raped during the course of the war. This impunity must be tackled and we have to work towards removing the stigma that prevents so many of the victims seeking justice. And that's why, as part of our campaign to eradicate sexual violence in conflict, the United Kingdom is working with the Bosnian authorities to begin addressing this tragic legacy. In March our team of experts worked with the OSCE to provide training to Bosnian judges and prosecutors, and we will continue to assess how more support can be given to those struggling to deal with this burden nearly twenty years on.
If we are to prevent such crimes from ever being repeated, then it is our duty to ensure that they are never forgotten. And today's event is part of that remembrance process, and I am pleased that we've been able to support Dr Azmi's efforts, and I pay particular tribute to Sayeeda Warsi for her determination and inspiration, her insistence that this event today would happen.
Accepting the truth, dealing with its legacy, and promoting the politics of reconciliation instead of division is vital if Bosnia and Herzegovina is to realise the promise of a more secure and prosperous future.
Bosnia has enjoyed 18 years of peace, and much has been achieved. A good deal of it was achieved by Lord Ashdown, who we heard from earlier. Cities have been rebuilt, refugees have often been able to return, and new generations have grown up free of conflict.
The country has recovered in some ways, but it has still not completed its journey, and it stands a long way from its rightful place in NATO and the European Union.
There are some today that still dream of breaking up Bosnia. To those people our message is simple: only the united and sovereign state of Bosnia- Herzegovina can be an EU member state. There are no shortcuts to that or alternatives that we will support.
And we stand ready to help the people of Bosnia fulfil their EU aspirations and to push other members of the EU to do more to help, just as we have helped Croatia, and just as we have and will help Serbia, Kosovo or any other country in the region.
But I say to the Bosnian people, your destiny is in your own hands. We will never give up on you and we shall always stand by you. We will keep the door open to the EU and NATO for you. But it is your task to walk through it and you should demand nothing less from your leaders than that they work to take the necessary steps.
So today as we remember the innocent victims of Srebrenica, I urge the country's political leaders to work together and I remind them of their duty towards their citizens, who deserve all these benefits of working together with the EU in the 21st century. If you fail to work towards that goal then you fail your own children and your own future.
For ensuring that the country is tolerant, inclusive and at peace must be the lasting tribute to Srebrenica's victims. Tonight our thoughts are with them and their loved ones. Let us honour their memory and reaffirm the conviction that this, one of the darkest and most tragic chapters in human history, and most certainly, in European history must never be forgotten.
Further information
Follow the Foreign Secretary on twitter @WilliamJHague
Follow the Foreign Office on twitter @foreignoffice
Follow the Foreign Office on facebook and Google+
Subscribe to the announcements feed or email alerts to get our latest news and announcements
Published 12 July 2013