Speech
European Council March 2015: pre-council press conference
Transcript of press conference with Prime Minister, David Cameron at the close of the European Council, 20 March 2015.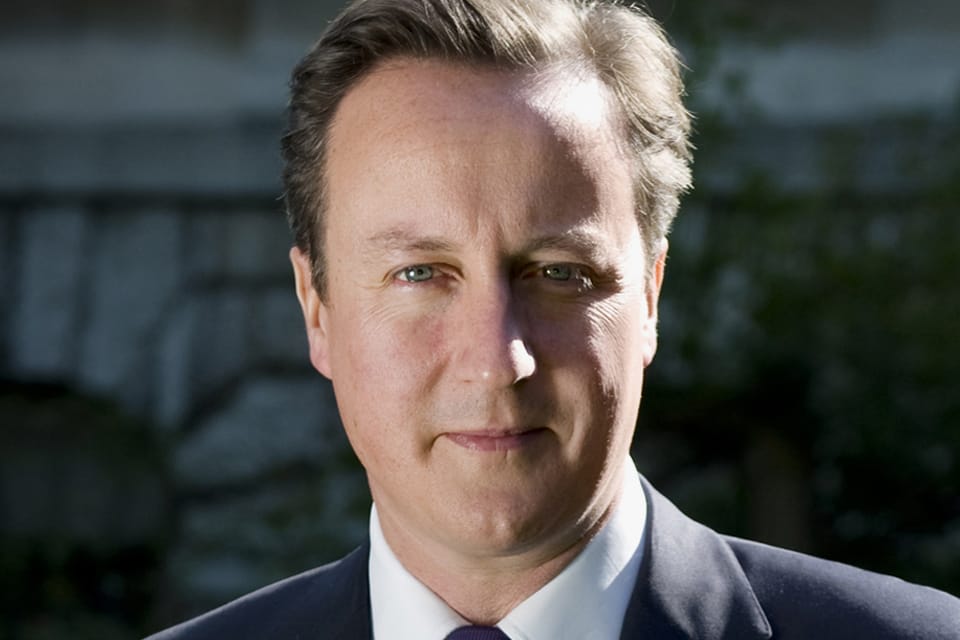 The main issue at this European Council has been the crisis in Greece. Now this matters to Britain because we are not immune to the risks from the eurozone. A disorderly Greek exit from the euro remains a major threat to Europe's economic stability and it could be very damaging to the British economy. That's why I've urged my eurozone colleagues to resolve this crisis and I insisted we had a report back about the situation in the Council this morning.
Now the uncertainty in the eurozone is in stark contrast to how we are turning the UK economy around. Five years ago, when I came to my first European Council, Britain's economy was close to the edge: a 10% budget deficit, low growth, high unemployment. Five years on I can report 1.89 million more people in work; the fastest growth of any major Western economy; the deficit cut in half; and our national debt falling as a share of our GDP. We've created more jobs in the UK than the rest of Europe put together. Indeed, Yorkshire has created more jobs than the whole of France. None of this happened by accident. It is because we've taken the tough, long term decisions that we are now starting to see the results. We need to stay on this path, not abandon it, just as it is leading our country from austerity to prosperity.
Now the other big issue for this summit was the situation in Eastern Ukraine. I was determined to secure a clear signal that the EU's full package of sanctions will not be eased until the Minsk agreement is fully implemented. And that is what we have achieved. The Council conclusions state, and I quote, "The duration of the restricted measures should be clearly linked to the complete implementation of the Minsk agreements", and it underlines our readiness to take further measures if required.
Now this shows that by working together we do get things done - sanctions on Iran to stop it acquiring a nuclear weapon; practical assistance to help countries in North Africa fight terrorism; and trade deals with Canada and South Korea together worth £1.8 billion a year to UK businesses. Our trade with Korea has gone up by a third since we signed that deal. International action to help those in desperate need around the world from Syria to West Africa, where we are helping to stop the spread of Ebola.
Throughout, the United Kingdom has been and is a strong player at the table. We've shown that when you come here ready to engage, to confront the difficult issues and to stand up firmly for our position - then we advance Britain's national interests. We've cut the EU budget for the first time in history; we've cut the red tape for businesses exempting SMEs and micro‑businesses from new EU rules; scrapped over 70 unnecessary EU proposals; and we've put power back in the hands of our fishermen so they can sell what they catch.
We've negotiated a new single European patent that will reduce the cost for entrepreneurs by up to 80%, and part of that patent court will be in London. We've ensured new safeguards in financial services to protect the City (of London), we returned over 100 powers from Brussels to Britain giving us more control over our borders, policing and security. We've clamped down on benefit tourism at home and we've kicked off a debate across Europe about what more must be done to ensure that freedom of movement is not an unqualified right, and that when new countries join the EU this does not trigger mass migration across our continent.
I vetoed a treaty that would have harmed Britain's interests, I've stopped Britain contributing to the eurozone bail outs, and we've stopped attempts to discriminate against those countries outside the eurozone, not least with our successful legal challenge last month. That is my record in Europe. It's a record of standing up for Britain's national interest, for fighting Britain's corner every step of the way in Brussels and elsewhere.
But what matters most is that we change Britain's relationship with the EU once and for all.
[POLITICAL CONTENT REMOVED].
Thank you very much; happy to take some questions.
Question
Thank you – question about the election, Prime Minister. You'll have seen that Labour are suggesting that you would cut the NHS to the bone. You could counter that if you would only offer some specifics about spending cuts, rather than airy generalisations about being able to find huge sums within the welfare budget; why don't you offer those specifics?
Prime Minister
[POLITICAL CONTENT REMOVED]. The second point is that we have, throughout this Parliament, increased spending on the NHS and we've made a very clear pledge to do exactly the same thing in the next Parliament.
One of the reasons we're able to do that is we have said there will be welfare savings, more of which we've spelt out than any other party, but above all the reason we can make that pledge is you can only have a strong NHS if you have a strong economy. We've demonstrated now Britain has a strong economy, we can keep that strong economy and so we can keep our strong NHS.
Question
One of the things you talked about this morning was Libya; you were one of the leaders of the campaign to overthrow Colonel Gaddafi; Libya's now in chaos, and there's a real prospect of Islamic State fighters establishing themselves on the shores of the Mediterranean. Do you have any regrets about what was done in Libya? And what, in security terms, should Europe do there now?
Prime Minister
Well first of all I think it was right to take action – as Britain, France and America did – to stop Colonel Gaddafi when he was on the brink of massacring his own people in Benghazi. We prevented what would have been a wide‑scale brutal and murderous assault - that was the right thing to do. Since then it's been a very difficult situation in Libya and we have offered the Libyan government and people support, aid, military training and other assistance but so far it hasn't been possible for a national unity government in Libya to emerge with enough power to deal with the problems in that country. What we need to do is go on looking for that political solution and that's what we discussed around the council table today. Britain stands ready to go on contributing in terms of training, assistance and help, and that is what we should focus on. What's required first is a coming together of the parties in Libya – a coming together of a national unity government in order to enable that, that support to make a difference.
Question
You say that only you will deliver fundamental reform in our relationship with Europe; what do you say to Donald Tusk's claim this week that your hopes of getting an EU Treaty change are close to mission impossible? Did you get any hope from other leaders at the summit that he is wrong? And did they offer you any election good wishes and tips on persuading British voters to give you the new mandate that you're seeking?
Prime Minister
Well, Donald Tusk, I know, will speak for himself at his own press conference. I'd make the point that if you watch any of these movies you find that – that Tom Cruise normally prevails in the end. He's a little bit smaller than me but I – I hope to be just as effective.
But look, the point is, if I come back here after the next election, I will have a mandate and a mandate to deliver change in Europe, and that mandate will be very powerful because that's the way this place works. If you have a mandate for change, I think that – that mandate will be taking seriously; those changes will be achievable and it's very important for the country that we – that we do that. I know that Donald will be helpful as the President of the Council in bringing forward what's necessary for the reform of the European Union; I'm confident about that.
In terms of good wishes, I had plenty of good wishes; I won't put the black mark on anyone by identifying exactly who wished me well and how vigorously but, as ever, when any of us face electoral challenges, there's always some good natured slaps on the back and, 'Good luck,' and, 'How's it going?' and all the rest of it. I think the Finnish prime minister is facing this challenge before me, so we had some interesting conversations about our respective elections.
[POLITICAL CONTENT REMOVED].
Question
Thank you. Prime Minister, for a long time you've said that you've wanted to raise the threshold for inheritance tax for £1 million; if you are returned with a majority, will you be able to do that?
Prime Minister
Well, I've made very clear my views about inheritance tax and I've nothing really to add to them today.
Question
Thank you, Prime Minister. If this is your last summit, what will you miss about Brussels and do you think EU leaders will miss you?
Prime Minister
Look, this organisation is imperfect, it needs reform, and it needs change, and that's one of the things I hope to achieve in a second term. But as I said in my statement - if you come here and engage with a clear agenda, you can get things done. I would say if you just take the foreign policy space, you know, Britain led the charge on putting those sanctions on Iran which I think are bearing real fruit in the negotiations to stop that country getting a nuclear weapon. Britain has often led the way on humanitarian campaigns, whether that is in Syria, whether it is in West Africa, with Ebola and we've come here and leveraged in huge amounts of money and support from other European countries because of our leadership. On Ukraine, my agenda this time was very simple: we must make sure these sanctions continue until Minsk is fully implemented. You just take those examples – foreign policy examples – we show that Britain can lead and get things done.
What wouldn't I miss about Brussels? Well, I'm hoping not to miss anything because I'm hoping to be back. I think the working hours could be improved - I generally think starting in the morning and ending in the evening is better than working until 4 in the morning. But if it's 4 in the morning you have to work to to get the budget cut, I'm here and I'm doing it. If it's 4 in the morning that you need to be here to veto a treaty that is not in Britain's interest I am here and I do it, that's the point. So however long it takes, whatever the working hours are, you will never find me absent from the fight.
Question
You said you would be coming with a mandate to renegotiate; how explicit will you be in your manifesto about the reforms that you will be looking for? And there was another Prime Minister around the table today with a mandate to renegotiate, Mr Tsipras, will the potential failure of him to meet the expectations of his people help or hinder your ability to get a new deal for Britain?
Prime Minister
Well, first of all, I think we have already been very explicit about the changes we need to see; we don't want Britain in ever‑closer union, we need wide‑scale change to the rules on welfare and benefits; we've got to properly safeguard the single market; there's a whole set of things that I've set out and they'll be very clearly there in the manifesto and I'm confident we can make those changes.
I think the Greek situation is entirely different; we're not members of the eurozone, we haven't made a whole set of promises about our economy and we're not trying to borrow money off anybody. Indeed, you know, when it's come to those things in the past, like with the Irish, we've lent money to neighbours and – and friends, so we're in a totally different situation. So I'm confident we can get what we need.
[POLITICAL CONTENT REMOVED].
Question
Can I just get your reaction to the story in The Sun this morning about UKIP suspending their MEP Janice Atkinson over allegations of fraudulent expenses claims? And just getting back to the Labour poster of an x-ray of a broken leg: is this shaping up to be the most negative general election campaign in history?
Prime Minister
Well, first of all, on the expenses story. This does look, from what I've seen, to be very serious. [POLITICAL CONTENT REMOVED].
In terms of the NHS poster, I think I've said what I want to say. You know, with the NHS, you can see the very clear record. A very clear commitment was made at the last election in a poster that had a mixed reception; I have to admit. But a very clear point was made that we would not cut the NHS, and we haven't. We've had to make very difficult decisions. We've had to make difficult decisions with policing budgets and local authority budgets. But when faced with those choices, we absolutely stuck to our determination to increase the budget of the NHS. and so at the end of this 5-year government, the NHS is treating millions more patients, it is employing over 7,000 more nurses, over 9,000 more doctors; tens of thousands more people are getting the scans they need, the cancer treatments they need. The NHS is stronger today than it was 5 years ago because we put that money in.
[POLITICAL CONTENT REMOVED].
Sign up for regular email updates from the Prime Minister's office
Published 21 March 2015