Speech
Enhancing Accountability for Sexual Violence in Conflict
Remarks by Foreign Secretary William Hague During UN Side Event on Enhancing Accountability for Sexual Violence in Conflict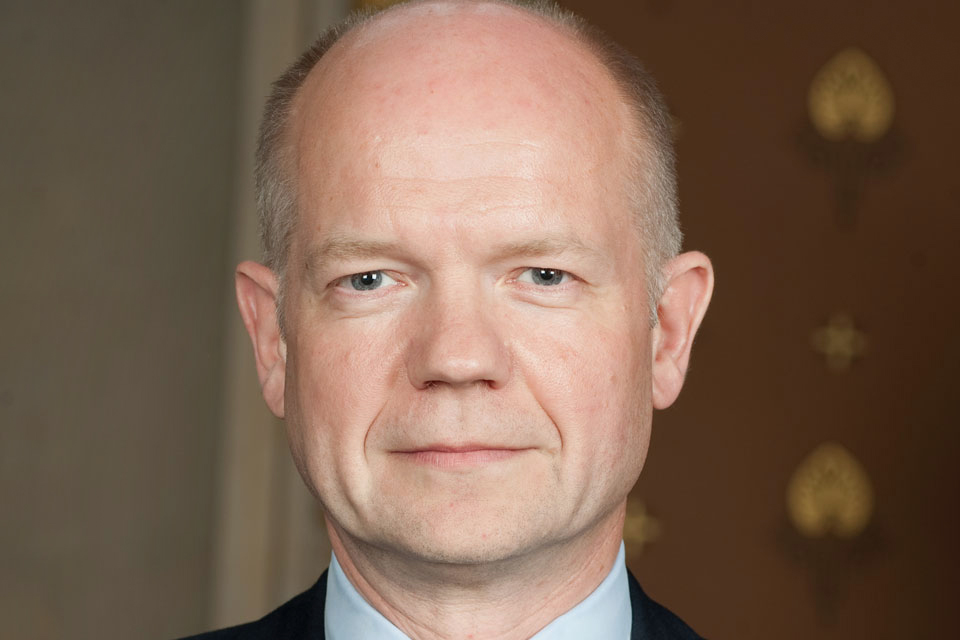 Good afternoon ladies and gentleman, and thank you to the Government of Estonia for inviting me to participate in this discussion.
Shattering the culture of impunity that surrounds sexual violence in conflict is a big priority for me as British Foreign Secretary. I am absolutely convinced that the lack of accountability is a prime reason why these crimes continue to take place. So, in May last year, I launched a campaign to tackle this issue, the Preventing Sexual Violence Initiative. And in the last year and four months we have made significant progress, particularly at the G8 in London in April and at the UN Security Council in June, where we unanimously secured Resolution 2106. And that progress continued on Tuesday, when 120 states, including Estonia, endorsed a new Declaration of Commitment to eradicate sexual violence in conflict.
The Declaration that the 120 states have signed focuses on tackling impunity; it contains practical commitments to provide better care for survivors and to improve assistance to local community and civil society groups; and it states explicitly that rape and other forms of serious sexual violence in conflict constitute grave breaches of the Geneva Conventions and their first protocol, so that there are no safe havens in the future for the perpetrators.
The UK's efforts to build political momentum behind this Declaration are now focussed on two areas.
First, we are developing a comprehensive International Protocol on the documentation and investigation of rape and sexual violence in conflict, which will help support the collection of robust evidence and information for future prosecutions. The UK is taking the lead in developing this protocol with experts from around the world, including representatives from the ICC, and we believe that it reflects a need for improved standards of documentation that will help those other than criminal investigators to best support the legal process.
And second, we have created a specialist Team of UK experts. We have now 74 British experts in our team, to help strengthen national capacity to investigate allegations of sexual violence and to support survivors. This team includes lawyers, doctors, psychologists, criminal investigators, and experts in the care and protection of victims.
Since December last year, we have deployed our experts to the Syrian border to train health professionals in how to respond; to Bosnia-Herzegovina to support the OSCE in training judges and prosecutors; to Libya to assess how the UK can provide assistance to the justice sector and support for survivors; and to Mali to help strengthen the capacity of the Malian armed forces to protect civilians from human rights abuses, including sexual violence.
I also announced this week that in the first half of next year I will convene a major global conference in London inviting all the Governments that have endorsed the new Declaration, as well as others that we hope will join our efforts, together with representatives from civil society, from judiciaries and militaries from around the world, to focus on the goal of ending impunity and translating our political commitments into lasting action.
But to ensure accountability, it is also vital that we all support the work of the International Criminal Court and the ad hoc international tribunals, which have done a great deal to advance the development of international justice by enabling the prosecution of sexual violence as a war crime, a crime against humanity, and as a tool used for genocide.
And the importance of that work was demonstrated again today by the verdict that was upheld by the Special Court for Sierra Leone against Charles Taylor, including on charges of sexual violence, which shows that that those in positions of power can and will be made to answer for their actions. Our objective should be that improvements in national capabilities, together with increased political will, means that the ICC's function as a Court of last resort with the role of prosecuting those responsible, will become increasingly limited because national capabilities are being deployed. But until that happens, the ICC remains absolutely vital, and I urge all non-ICC states to strengthen the court further by acceding to and ratifying the Rome statute.
Every government needs to take responsibility for eradicating the use of rape as a weapon of war and I challenge all of us – including ourselves in the UK – to do more. Sexual violence is not, and has never been, an inevitable evil that takes place in the fog of war; it is not a secondary issue or one that is too vast to tackle. It is a scar on our collective conscience, and one that this generation has a duty to stand up to and confront. And that means bringing more of the perpetrators to justice by empowering victims to come forward, by training first responders in the collection and documentation of information and evidence, by eradicating safe havens, and by building international political momentum behind the belief that this practice is no longer acceptable.
If we do that, then I believe that we will succeed, just as our forebears did on other subjects, and just as we already have done with the prohibitions against land mines, cluster munitions and other abhorrent weapons of war. So I hope that you will all support this effort, and that together we can really take a major step in the coming months and year towards ending the impunity that is fueling these appalling crimes.
Published 27 September 2013