Speech
Electric Vehicle Summit
Explains the history and progress made with electric cars.
Good morning everyone.
I'm delighted to join you today (16 September 2014) for this Electric Vehicle Summit.
And it's a particular pleasure to come to Surrey University, which has done so much important work to advance automotive engineering - in particular, electric and hybrid electric vehicle technology.
It's also really encouraging to see so many speakers and delegates here from very different professional backgrounds, including the motor industry, academia, local and central government, engineering, and energy.
Because it is only by working together that we will achieve our ultimate objective - a low carbon road transport system in which electric power is not only seen as a cleaner alternative to petrol and diesel, but also as a more viable, practical and affordable alternative for millions of motorists.
Some people think that objective is a pipe dream.
And that the internal combustion engine will somehow carry on powering road vehicles forever.
Granted, electric car sales got off to a slow start.
In 2010, the first year of coalition government, just 111 plug-in cars were bought in this country.
But by 2013, that figure had risen to 3,585.
And that rapid rate of growth has continued this year.
Between January and the end of August, almost 6,000 electric cars have been sold - nearly 3 times the equivalent number last year.
So there's real momentum in the electric car market today.
But impressive as the latest sales figures are, they will be dwarfed by what's to come over the next few decades.
The reality is that we are standing on the cusp of a technological revolution.
By 2050, we expect almost every car on the road to be ultra low emission.
That's going to be as significant as the move from coal to petroleum.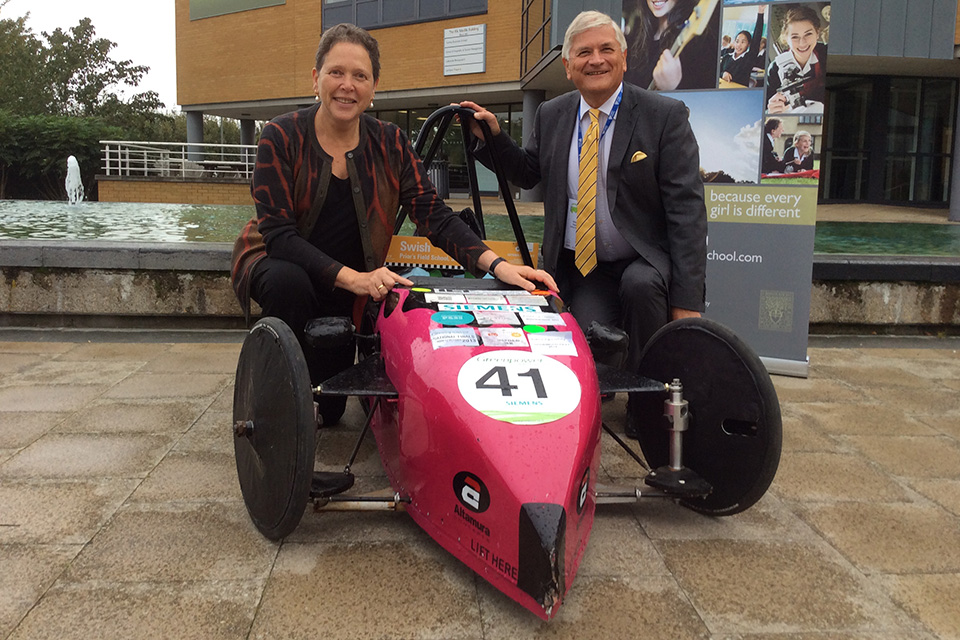 Where in the past, choosing an alternatively powered vehicle meant making a compromise, a compromise on convenience, a compromise on speed or a compromise on range, that's increasingly no longer the case.
Running costs are low.
The cars are fantastic to drive.
There's a model for every buyer.
And I think customers are increasingly reassured by the commitment of the motor industry and the government to the future of the sector.
We are clear that we want Britain to be the world's leading market for electric and low carbon vehicles.
And we also want to ensure that the high value, high technology, low emission vehicles of the future are designed and manufactured in this country.
That's why, in partnership with industry, we created the new Advanced Propulsion Centre, backed by £1 billion of investment over 10 years.
The centre has been set up to develop, manufacture and market a new generation of advanced, green automotive technologies.
The first 4 projects to benefit were announced in April, and soon we will announce a second round of investments.
The Deputy Prime Minister has also announced a £500 million programme of investment in ultra-low emission vehicles.
That will create jobs, cut emissions, make motoring more affordable, and ensure that Britain remains at the forefront of green technology.
The programme is based around 3 priorities that we have developed in partnership with the industry.
The first, is to shape the emerging market.
We will invest £200 million to extend the plug-in grant, which cut the up-front cost of an ultra-low emission vehicle by up to £5,000, making the choice to go green cheaper in the showroom as well as on the road.
The last quarter saw a doubling of people receiving the grant compared with the previous quarter, which was itself a record.
Second, we are taking action to extend the electric charging infrastructure.
The UK already has the best network of rapid chargepoints in Europe.
And London has more chargepoints than petrol stations.
But we've recently announced a £32 million funding boost for chargers, including plans to install rapid chargepoints across the 'M' and 'A' road network from 2015.
By the end of this year, there will be rapid chargepoints in every motorway service station in England, taking as little as 20 minutes to charge up a car.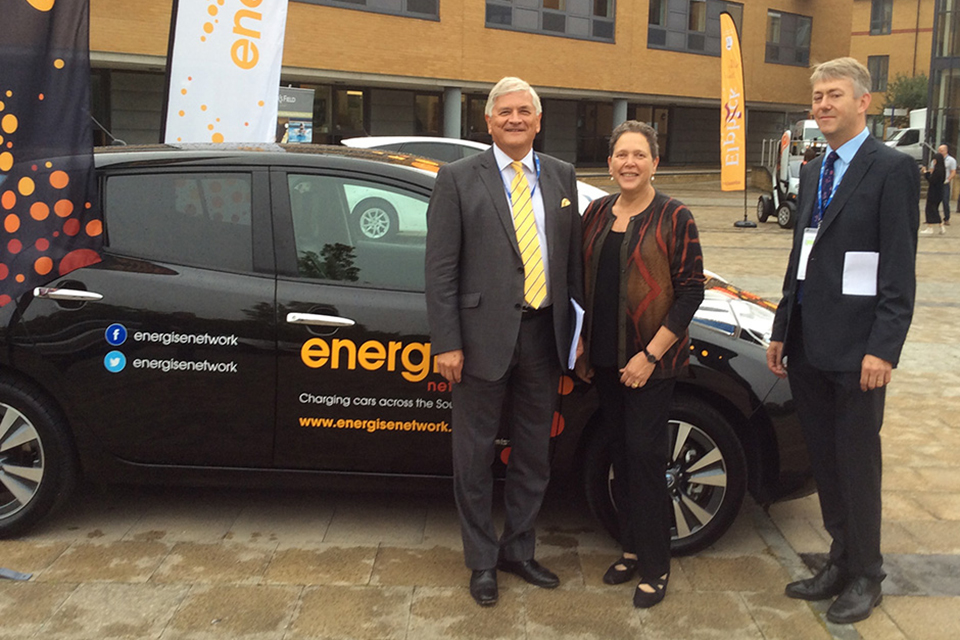 And we've also provided £37 million to make it cheaper to install charging facilities at home and on local streets.
Third, we will be backing British businesses by providing at least £100 million for research and development - money that will be more than matched by industry when bidding for projects.
Together this adds up to one of the most comprehensive support packages for green vehicle development in the world.
The Office for Low Emission Vehicles will continue to co-ordinate the investments and projects to improve value and deliver the best results.
Our goal is to align research funding with market opportunities, and support emerging technologies that the UK can lead on globally.
They include innovations in electric machines and power electronics, energy storage and management, and lightweight powertrains.
We will specifically target areas where commercial funding has not been readily available, or where the cost of getting new products to market has been too high.
The Low Carbon Vehicle Innovation Platform will continue to play a key role, bringing together vehicle manufacturers, suppliers and academic institutions.
We will also be investing to support the development of low emission trucks, and increasing the number of gas refuelling stations, to cut emissions and costs in our vital freight sector.
£30 million of funding will boost the market for low emission buses.
Local councils also have an important part to play - introducing local incentives like free parking and access to bus lanes for low emission vehicles.
So we've created a £35 million competition to help drive local innovation.
I hope today I've given you a broad idea of the government's ambitions for the future of electric vehicles.
I hope I've also shown how passionate we are about this.
The electric car market is already growing faster than anyone thought just a few years ago.
But the prospects for the future are even more exciting.
Because we're not just making the most radical change to motoring for generations.
We're transforming the landscape of our towns.
We're slashing transport emissions.
We're creating many thousands of highly skilled manufacturing jobs.
And by working hand in hand, we're securing a more sustainable future for our country - together.
Thank you.
Published 16 September 2014