Speech
Diwali 2014: David Cameron's reception speech
The Prime Minister welcomed British Hindus, Sikhs and Jains to a Downing Street reception to mark Diwali.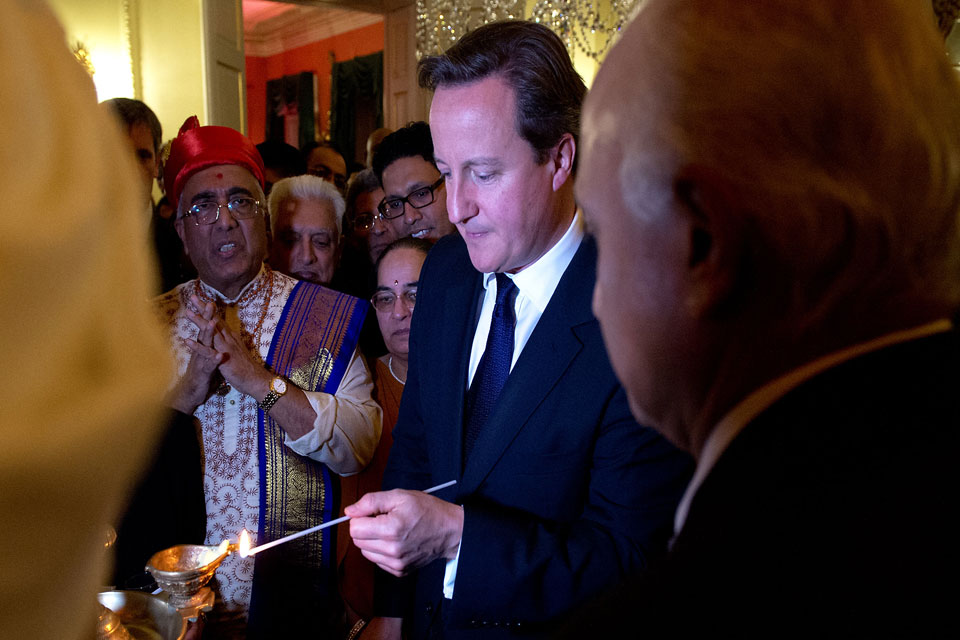 Diwali 2014: David Cameron's message
A very warm welcome to everyone and can I say a very big thank you to Neasden Temple for bringing this extraordinary and beautiful display to Number 10.
A very happy Diwali – shubh Diwali – to everybody. It is the time, the Festival of Lights, the time when we think of the triumph of good over evil, of light over dark. But also a time when British Hindus and Jains think of the importance of family and the importance of community. And those are values that you bring to Britain, values we need more of in our country, and you have made a huge contribution to our nation.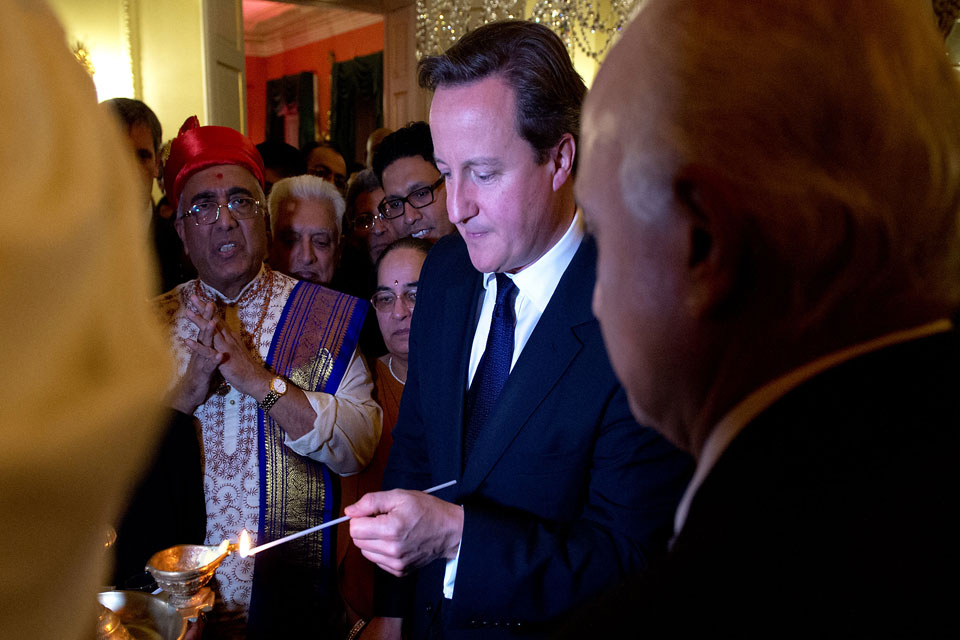 And it was 3 things I wanted to mention tonight, first of all it is the contribution that British Hindus and Jains make to our country, over 800,000 British Hindus, perhaps 20,000 Jains. And when I look around, whether it is politics, whether it's business, whether it's arts, the sports in our country, you can see the scale of the contribution.
And every year I say this, but every year I mean it: there's still more to do. It is great that when we look around politics we people like Shailesh Vara, Dolar Popat, Alok Sharma, and Keith Vaz. We see people at the top of our politics, but I want to see more in the House of Commons, in the House of Lords. I want to see more at the top of our military, more at the top of our judiciary, playing the fullest possible part in British life. But you are certainly making a huge contribution, and it's a contribution that we should celebrate tonight.
The second thing we should celebrate is our history, our shared history. Obviously we can think of the contribution that people have made coming from all over the world. Because of course it's not just coming from India, but coming from Kenya, coming from Uganda, coming from so many parts of the world.
But perhaps particularly this year we think of the 100th anniversary of the First World War, where over a million people from the subcontinent, from India, served in the armed forces and made such a contribution, winning medal after medal, VC after VC. And we celebrate that this year, and it's quite right that we do: the huge contribution that India made to that great struggle to prevent the domination of Europe and to fight for freedom.
But I think perhaps above all what we should think about during this festival of Diwali is the importance of values, because to me that is more than anything else what the British Indian community bring to our country: that belief in family, that belief in community, the belief in enterprise, the belief in serving others above yourself. I think it's very fitting that in the next few months we will be unveiling in Parliament Square a statue to a great Indian, Mahatma Gandhi. And he made that brilliant statement that so many politicians have borrowed, but I think to good use, which is when he said, "If you want to find yourself, so often the best way to do so is to lose yourself in the service of others," one of the many, many wise things that Gandhi said.
I was looking at the values that Hindus celebrate and the goals of life, and it's such a good way to bring up your children. Talking of dharma, virtue and duty, not always as present as it should be in public life, but it is present and it must be. Thinking of karma, pleasure and fulfilment; thinking of moksha, liberation and release. And thinking of artha – thinking about your career, your skills. Thinking of those things together, good, strong values that we should teach our children, and so often when we look at each other's religions we can find values and lessons and morals that are so valuable for our children, for our future.
So, a very happy Diwali to everyone here, to all of Britain's Hindus, all of Britain's Jains. To British Sikhs, who are currently celebrating Bandi Chhor. We should also say a very warm welcome.
But above all at this time of this great festival let us celebrate the commitment that British Indians make to our country. Let us celebrate the history of the relationship between our peoples and our countries, and of course let us think of the values that unite us as we strive to bring up our children, to strengthen our families, to strengthen our societies and build a better world. You're hugely welcome here tonight and thank you for all you do for our country. Thank you very much indeed.
Published 21 October 2014