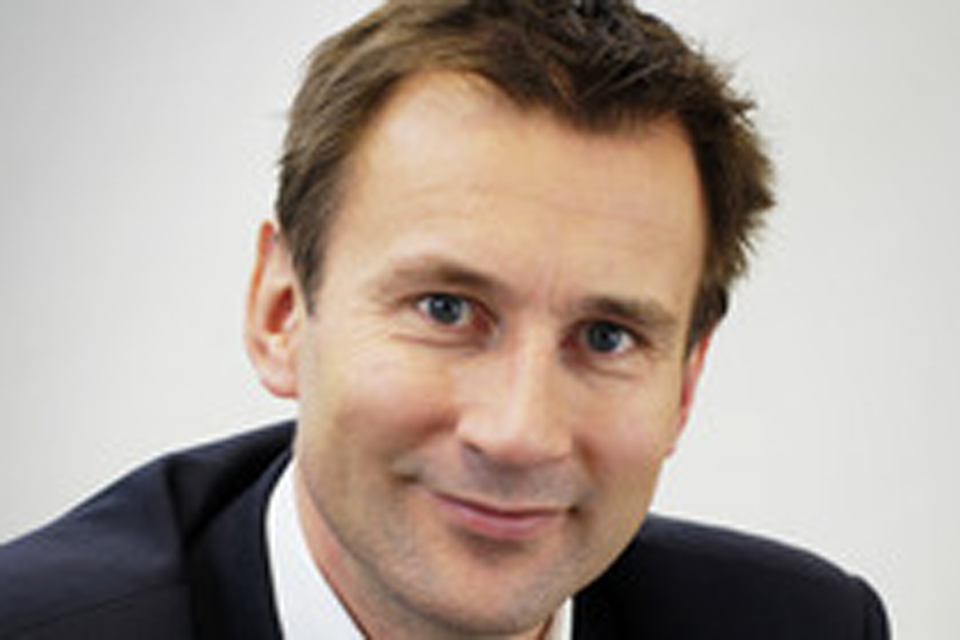 I'm delighted to welcome you to the wonderful Emirates Stadium.
Like the Olympic Park, another fantastic example of UK industry delivering a world class venue on time, on budget and with tremendous style.
I wanted to give this speech, and to host this conference, because today, just 18 Thursdays before the Paralympics begin, is a moment to set our sights higher than ever for disabled people.
Setting the ambition
Sixty four years ago, when Dr Ludwig Guttman organised that historic archery competition at Stoke Mandeville, just 16 ex-servicemen took part.
Twelve years later, in Rome 1960, Guttman himself watched as 400 disabled athletes entered the Olympic Stadium and the first parallel, or Paralympic Games began.
Yet, even with the extraordinary developments in his own lifetime, I doubt Guttman would believe how the movement he created has grown since then.
In 2012, London's Paralympics will be the biggest ever.
It will welcome more than 4,000 athletes from 150 nations competing across 471 events.
And it will be truly groundbreaking:
For the first time, under Chris's leadership, an Olympics and Paralympics planned and delivered as one.
For the first time, Paralympic sessions completely sold out months far in advance - a huge public endorsement of the Games.
And for the first time, a public service broadcaster, committed to wall-to-wall coverage of the Paralympics - and focusing not only on the sport, but on the perception and profile of disabled people more generally.
So when the likes of Dave Weir, Ellie Simmonds, Sarah Storey, Lee Pearson take centre stage this August, the whole country will discover our best kept secret: the phenomenal talent of our Paralympians, and the gripping nature of Paralympic sport.
Our opportunity - like the athletes - is to seize the moment, to set new standards and to make Britain a global beacon of quality for disability sport.
Building on firm foundations
And in doing so, we're lucky to have some exceptional people leading the way.
In the year the Paralympics comes home, it's great that our very own Sir Philip Craven is President of IPC, a position he's held with distinction for a number of years.
We've also got Tanni Grey-Thompson and Chris Holmes - who are not only highly successful athletes but inspirational leaders for the cause.
In recognising them, I also recognise and thank each and every one of you this room for the work you do. It provides the basis on which so many people's hopes and aspirations are built.  
The challenge for disability sport
The challenge, of course, is to build on this, and we have to start by accepting that for all the exceptional projects, and all the inspirational people working in the sector, rates of participation among disabled children and adults remain far too low.
And if that's a missed opportunity for sport - and for uncovering the Chris Holmes and Tanni Grey-Thompson's of the future - it's also a missed opportunity for society.
Last year's Centre for Social Justice on the Games was a little overlooked. But it told us something that Guttman instinctively grasped. Sport is a great enabler. It tackles isolation, builds confidence, motivates a person to push harder and achieve more in life.
I saw this when I watched disabled children playing boccia at a School Games event last year. How sport lit up their imaginations, helped them to aim higher and acted as a gateway to inclusion in other parts of their lives.
And yes, disability sport is full of challenges. Yes, there hasn't always get the profile and attention it deserves. But as Shakespeare says, "What's passed is prologue / what to come, in yours and my discharge."
So that's my first message. Let's live up to the spirit of Stoke Mandeville: being positive, finding answers, believing that 'it can be done', and then making it happen.
Creating coherence
My second message is about coherence. You will find three words on the Arsenal crest - "victoria concordia crescit" - victory through harmony … now we know where Arsene Wenger gets his zen-like calm - well, most of the time. 
But it's a message for us too. Because if we want to open up more opportunities, then we need a much stronger sense of common purpose among all of us involved in sport for disabled people.
The disability sport world is, by nature, fractured and diffuse. We need to find a way of bringing the system together. Not least, because cohesion is vital for opening up two key areas of potential funding and investment.
The first is the corporate investment unlocked by the Games. The Paralympics are already proving to be a game-changer for private sector interest in disability sport.
We've already got the first ever Paralympics-only sponsor, Sainsburys, and massive blue-chip organisations like Deloitte, BT and Lloyds throwing their weight behind the Games.
Another example, only this week, is Visa, which has funded the fantastic 'Doing Sport Differently' guide that was produced by Disability Rights UK.
And big brands are also supporting the Government's Change4Life programme, helping more children to play disability sport through Change4Life clubs.
But this is just the tip of the iceberg. We can unlock a great deal of interest and appetite from across the corporate world in grassroots disability sport.
But we need to create the sort of offer that these businesses can readily invest in.
We need more coherent entry points, and more clarity so that corporate partners can see exactly what they're getting for their money.
We need more stability in community projects - with programmes that are more planned, more consistent, more scalable.
Above all, we need to speak more confidently about the benefits this brings, so corporate supporters can see the results on the ground, and feel the value of investing.
I think the other big area of opportunity lies in social care. At a time when Andrew Lansley is putting more control in people's hands through personal budgets, we need to think about how we can make sport part of the future of care and support.
If a modern, 21st century care system focused on choice, how do we develop the market, and get more people with disabilities or long term conditions or mental illnesses, choosing sport and physical activity to promote good health and wellbeing?
For children, there's also the Department for Education's funding for short breaks - over £800 million to councils through the Early Intervention Grant over the spending review period.
Short breaks are already becoming more personalised with greater choice for children, young people and their families. Sport is popular with children, and popular with parents.
So how do we feed this demand? How do we create the sort of entrepreneurial partnerships between charities, community groups and sporting bodies to unlock those opportunities?
Today's the moment to make those connections and take them forward.
Mainstreaming inclusion in schools
But I also want to go even further.
I want a more systemic shift in how we approach grassroots sport. This is my third and final point.
I want to call time on piecemeal, tokenistic nods to inclusion within organisations. I'm saying today this must now be mainstream business, fully integrated into how we plan, organise and deliver our sport.
We've already started this process with the brand new School Games that's happening in more than half the schools in England this year.
I made the disability sport element a mandatory requirement, because schools are one of the few universal entry points for people with disability.
Rather like Guttman's patients in Stoke Mandeville, I'd felt for some time that many were accepting defeat and simply sidelining disabled pupils.
What the School Games is showing is that through quite simple adjustments, you can get disabled children fully involved and integrated.
And through the Project Ability programme, we've now got a national network of the 50 best mainstream and special schools for disability sport - understanding what works, building capacity, challenging other schools to raise their game.
I always think that if by the end of the decade, we can get every single school offering disabled children sport within a rounded PE curriculum, then what a fantastic legacy that would be.
Mainstreaming inclusion in community sport
But if that's stage 1, I want us to focus now on stage 2 - developing the same commitment to inclusion across all sport, at all levels. From schools, to community clubs to the elite pathways, I want us to help more disabled people pick up a sporting habit for life.
Some sports already do this extremely well. Under the FA's leadership, football is a good example - as we've seen on the pitch this morning. Sailing is another, as the Royal Yachting Association will show us later.
But across the whole sporting landscape, I know the will is there to go further. We just need to convert this enthusiasm into a more consistent and powerful offer. And there are two key things we're now going to do to unlock progress.
First, I've agreed with Sport England that for the first time sports governing bodies will sign up to targets for raising participation rates among disabled people as a condition of whole sport plan funding.
The new payment-by-results funding model will mean organisations agree challenging goals with Sport England that they will have to meet to retain the investment.
Secondly, Sport England will be investing £8 million of funding from the Places People Play programme to help overcome some of the barriers making it harder for disabled people to do sport.
I want this money to help us tackle the issues holding disabled people back - whether it's getting the right information into people's hands, or making sure the right staff and equipment are available to support them wherever they play sport.
Conclusion
Jennie Price is going to say a lot more about it in a moment. But I want to say this in rounding up.
Britain's rightly proud to be the country where disability sport began. And we've now got an opportunity, and a responsibility, to nurture and take it forward for the 21st century.
2012 will be a year of amazing athletes, unforgettable moments and incredible coverage of Paralympic sport.
But what really matters is what's left behind after the Paralympics Closing Ceremony on September 9th.
If we make good on the things I've talked about today. If we raise standards, extend opportunities, capitalise on the Paralympic moment and make Britain the global benchmark for inclusion, then we'll have as much to be proud of after 2012 as after 1948.
We will not only provide a great service to sport and all the possibilities it unlocks - we'll also show we're now a society that judges people by what they can do, and not by what they can't.
[Ends]
Published 19 April 2012