Disability Employment Conference: Prime Minister's speech
David Cameron gave a speech at the first Disability Employment Conference in London on 18 July 2013.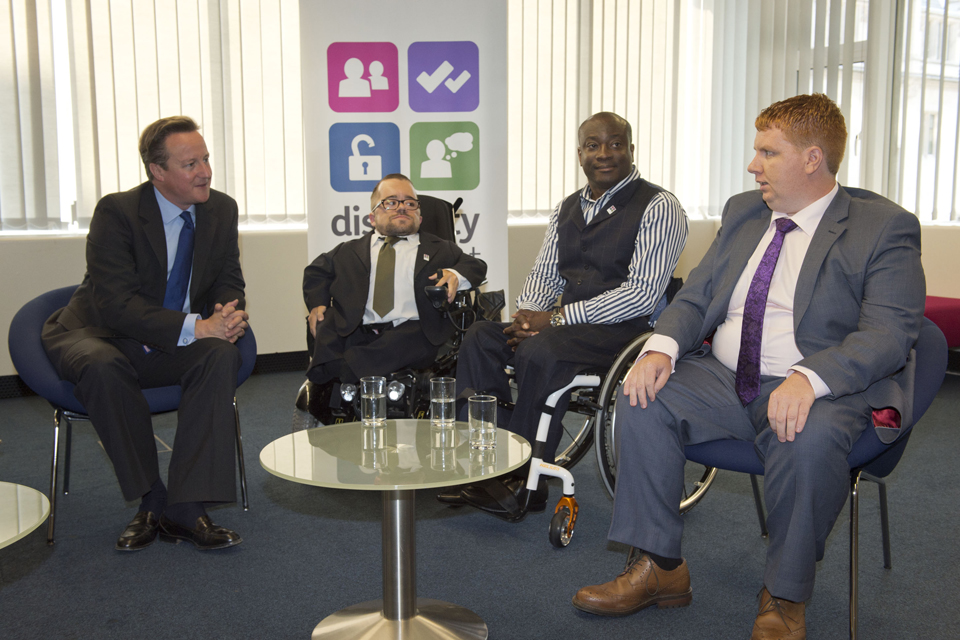 Esther, thank you for that introduction. You've proved something that I've always thought to be true, which is you can take the person out of TV presentation, but you can't take the TV presenter out of the person. You bring an enormous passion and energy to the job of being our Disability Minister, and I think you can be really proud of the work that you're doing, and you're doing a great job in government, and thank you. And I'm very passionate about this issue too. Give her a round of applause.
I have a passion for this issue too. When you've had the privilege – and it is a privilege – of bringing up a profoundly disabled child, it is a complete eye opener. You suddenly realise that there aren't just one set of places, or one set of offices, or one set of businesses, or one set of restaurants. You suddenly realise there are two different sets. There are those that are disabled-friendly, that are accessible, that are helpful; and those that aren't accessible, that aren't helpful, that aren't friendly. And what this all about really, is greater equality in our country, making sure that all places, all businesses are more friendly, accessible and open to disabled people.
I was saying to Esther, I think one of her challenges for the summer – and I used to find this bringing up a disabled child – is to make sure our beaches are more disabled-friendly. And I think that would be a very good task for the summer. But today we're talking about something different, which is about business.
Now, last summer, Britain's Paralympic Games opened the eyes of the world to see disability in a different way. As we lined our streets to cheer on those great Paralympians, the conversation was no longer about what disabled people can't do, but they were about the awe-inspiring things they can do. That should be the great legacy of our national heroes like Ellie Simmonds, Dave Weir, Sarah Storey: the chance to change perceptions of disability, and to open the door for the talents of all disabled people in our country.
So, this summer, I'm delighted we're holding this, the first Disability Employment Conference, and launching this new campaign to help employers become confident in employing disabled people. Now, the scale of this conference, I think, tells you something about the extent of our ambition. Not just the 300 employers here in this room, but the hundreds more joining us by video link, as we've just seen, from Birmingham, Aberdeen, Bournemouth, Cardiff and Liverpool, and 1,000 more following us online through the Open University.
We've got employers from every sector, from airlines to supermarkets, from banking to construction, all working together to break down the barriers for disabled people. And this conference isn't just some government initiative. This conference is being partly funded by employers too, in particularly Barclays and de Poel, showing us that this really is about doing what makes business sense.
And this goes to the heart of my argument this morning, because I passionately believe that employing disabled people is the right thing to do. It is right for disabled people. It is right for business, and it is right for our country too. And I want to speak briefly in turn about each of those.
Of course, there are some disabled people who have more complex needs and can never be expected to work, and we will never expect them to do that, and we will always support them. That is what a compassionate country should do. But many disabled people can work and in fact want to work, and with the right adjustments, work is good. And it is absolutely right that we should do everything possible to support them.
Just before Christmas last year, I met someone called Emma Freeman and her mum. They came to my constituency surgery that I hold on Fridays in Witney. Emma is 25 and she has William's Syndrome. She'd been looking for a job for 18 months. She had a good CV. She had good qualifications, but because of the nature of her condition – she has learning difficulties – she needed a job with initial supervision, in a sort of caring work environment. And she just couldn't get work. She was getting desperate. Her mum was getting desperate, and she felt her life really rather slipping away from her.
And I knew that Marks & Spencer in Witney had a proven track record as a good and inclusive employer. So I wrote them a letter and asked if they would be prepared to give Emma a chance. So, they gave her a four-week placement, and they were so impressed that they then gave her a permanent job – only eight hours a week, but a permanent job.
And Emma's mum wrote me this letter to tell me the difference it made to Emma's life. She said, 'Even though it's only eight hours, it feels more like 40 hours.' She said she'd never seen her daughter so proud and so determined, and that her daughter even visits the store when she's not on duty to see how things are getting on in her absence. It's given her pride. It's given her an immense sense of wellbeing and it shows just how important it is to get the right employment support for disabled people. And frankly, it shouldn't take a letter from me to help her.
Now, when we came into government, there was very little support for disabled people who wanted to work, and we're changing that. We're spending around £50 billion a year on disabled people and on services to support them. We're making sure that work pays, even if it's just for a few hours. So, unlike the Flexible New Deal, the work programme offers employment support to disabled people for the very first time.
We're opening up access to work so that more young disabled people can get a foothold in the jobs market. And in our disability employment strategy, later in the autumn, we'll set out new and even more personalised and tailored support, including considering how local authorities might be brought more directly into supporting long-term unemployed disabled people and moving them into work.
Because this isn't just about what is right for disabled people. Employing disabled people makes business sense too. When on average 20% of customers are disabled, why wouldn't you want your business to have the perspective and insights of disabled people? In fact, disabled people, together with their friends and family, they have a combined spending power of £80 billion a year. One insurer recently found that upgrading its website to make it fully accessible increased online sales by a staggering 90%.
And making adjustments really doesn't cost that much. If you take the story of Steve who experienced complications associated with his diabetes, including renal failure, 93% loss of his vision and a below-the-knee amputation. He got a job with E.ON because they made basic adaptations like a large computer screen and a task lamp – which emits white light – making it easier for Steve's eyesight to adjust.
So, we need to dispel the myth about the complexities of employing disabled people, or to put it more simply we need to give employers confidence. And that is why we're launching this Disability Confident campaign. As part of this, we'll be creating a new service to support employers with all aspects of employing disabled people.
This will include online and telephone advice to connect employers to the specialist services that they need. And because only 3% of disabled people were born with their impairment, we'll also include new support for employers to keep hold of employees who become disabled during their working life.
Now, just as business cannot afford to be without the talents and skills of disabled people, frankly, neither can our country. Let me put it bluntly. I'm always talking about Britain competing and succeeding in this great global race. But what hope do we have in this global race if we lose out on the talent and skills of one-fifth of our population? It would be like competing with one hand tied behind our back. What hope do we have as a country if a fifth of our people are excluded from mainstream society?
When the independent Essl Foundation rated 55 countries for their implementation of the UN Convention on the Rights of Disabled People, they found that Britain had more green indicators – green being good – more green indicators than any other country, and that Britain was the only country in the world with no red ratings.
Now, I'm proud that Britain is a world leader in the rights for disabled people, but I'm not satisfied with that; I want us to go further in changing the perceptions of disability in our society, and so does Esther McVey as well. As I said, she used to be on the TV, so she went to see all her old broadcast colleagues and she challenged them to do more. And, one by one, they've all said yes; after all, who can say no to Esther McVey when she's really having a go at you?
So I'm delighted that the BBC, ITV, Channel 4, BSkyB and the Creative Diversity Network are all making this Paralympic legacy pledge: that they will seek to increase the number of disabled people in the industry, and do more to represent disability in front of the camera too.
I think that's a fantastic commitment; not just because it's right to employ more disabled people in television, but also because it offers the chance to take a giant leap forward in making sure that disability is mainstream and not kept in some sort of box. We shouldn't underestimate the importance that role models play. It's so vital for disabled people to see people like themselves getting to the top of every profession, and it's absolutely hopeless if you can't see disabled people in front of as well as behind the camera in our media.
Anyone who's lived with disability or, like me, has had a disabled child, knows that what we really need in our society is more acceptance. Yes, an understanding that some things are a bit different, that some adjustments are needed, but, above all, a sense that we're all part of the same country; we are all in it together. And that diversity and difference: these are sources of strength, not weakness.
Now that was a message pioneered by Chickenshed, who are performing for us today, as they did on their first occasion nearly 40 years ago. They tell us that there's a saying in Africa that if you can walk, you can dance, and if you can talk, you can sing. But Chickenshed say even if you cannot walk, you can dance; and even if you cannot talk, you can sing.
That focus on what people can do is the key to how we change perceptions of disability in our country. It is how, together, we will increase the employment of disabled people in Britain and it's how, together, we will keep alive that wonderful legacy of those brilliant Paralympics for generations to come.
Thank you very much for listening. Can I wish you the best for your conference and can I hope that, out of this, we persuade many more employers to employ disabled people and we create more opportunities for disabled people in our society. That's what today is about; that's why this work is so vital, and that's why it has my 100% backing.
Thank you.
Published 18 July 2013