Speech
Deputy Prime Minister's speech at equal marriage reception
Deputy Prime Minister Nick Clegg spoke at a reception he hosted to celebrate the Marriage (Same Sex Couples) Act receiving Royal Assent.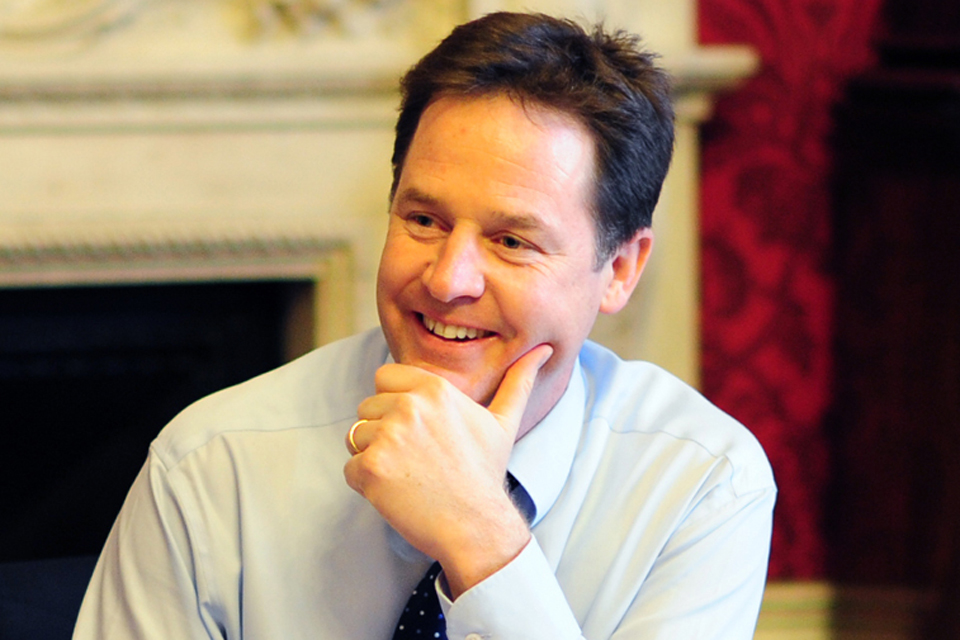 After a long and sometimes bumpy journey down the aisle, you'll soon be able set a date, invite your guests and order the cake – equal marriage is now a reality in this country.
In a lot of ways, making this happen was a case of politicians following the public's lead: with the majority of people clear in their support for equal marriage.
But for every speech given in Parliament, for and against this issue, it is the countless untold stories of gay, bi- and transgender people across Britain that show us why equal marriage is such an important milestone for our country.
These are the sons and daughters forced to leave home. The children, young people and adults hurt through homophobic bullying and the couples in love denied the same rights to express their commitment as everybody else.
Whether they choose to get married or not, the passing of this law sends a powerful message to them and others that they are equal members of our society, with the equal right to commit to whomever they choose. There is no option for a full and happy life closed to them now.
And I want to pay tribute to all of those who campaigned, so hard and for so long - from all parties and all walks of life - to make this happen.
In particular, I must again recognise the work of my fellow Liberal Democrat Lynne Featherstone, who acted as a powerful voice within government to achieve this change.
During our celebrations tonight, it's important that we continue to raise our voices in solidarity with those people around the world for whom this struggle remains an ongoing fight and who everyday feel threatened or see their rights being slowly stripped away because of their sexuality.
Let's not forget that it was just over 45 years ago that homosexuality was decriminalised in this country. And it's still only a decade since Section 28 was repealed.
During that time, our LGBT communities and all those who want to live in a free, equal and open Britain have achieved a huge amount: changing laws, changing attitudes and tackling homophobia in families, schools and workplaces across Britain.
With marriage equality we've made history again and, hopefully we will help inspire those still fighting for this right.
Human rights, including LGBT freedoms, are universal and should apply to all people. That is why our government will continue to promote these rights abroad and to confront those authorities in Russia and other countries who would seek to deny them: forcefully expressing our disagreement in both private and in public.
Of course, marriage means different things to different people. That is why the process to pass this legislation has been so important. It's enabled us, as a country, to have a frank and open debate about why the equal part of equal marriage matters.
My belief has always been that it's the love, respect and loyalty that we show each other that defines our families and our relationships. And extending the right to marry to gay couples is about recognising that loving and committed relationships and families in modern Britain come in all shapes and sizes.
I'm proud to have been the first party leader to support equal marriage and to be a member of the government that made it law and as we stand here together tonight to celebrate what you've made happen, I'm even prouder to raise a toast to every gay person in this country who, finally, has the same rights to marry as everyone else.
Because in modern Britain, it is our openness, our diversity and, above all else, our respect for each other that makes us stronger.
Published 11 September 2013