Deputy Prime Minister delivers the Scarman lecture
The Deputy Prime Minister delivered the Scarman Lecture, hosted by the People Can charity, in Brixton on 24 November 2011.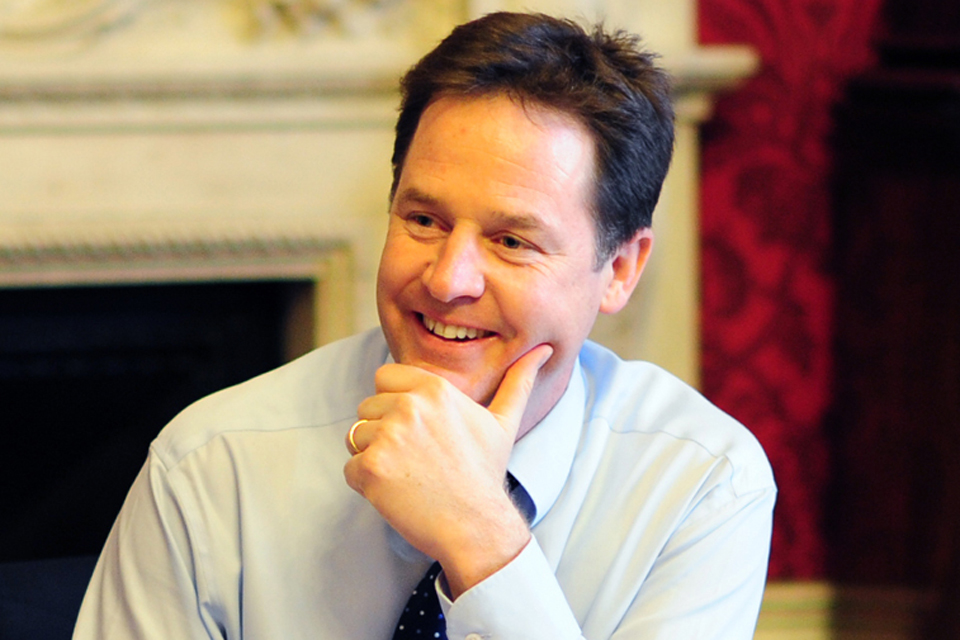 Check against delivery
This event marks the 30th Anniversary of the Scarman Report…
Three decades after the Brixton Riots.
 
Brian Paddick, a Liberal Democrat colleague of mine…
Was a young sergeant on the streets in 1981…
Before becoming the police commander in charge of the area twenty years later.
In preparation for today…
I asked him how he thought Brixton had changed.
He said that "in 1981 this was a place where poverty, crime and strained relations with the police pulled the community apart.
But in 2011 it is a vibrant, exciting place…
Where difference is not only tolerated, but celebrated…
Where, more often than not…
The community comes together, positively, to resolve its problems."
 
He's right.
Just look around this room:
People who work in their communities…
To promote dialogue, to promote understanding.;
To get the anger off the streets.
Not Ros Griffiths- who, among the millions of projects she works on…
Is currently helping local young people use art and poetry to express themselves.
And, of course, Reverend Mimi Asher…
Who has helped dozens of young people shun gang life…
And choose a brighter future instead.
 
Are there still problems in Brixton?
Yes there are.
Do local people still get frustrated with the authorities?
Yes they do.
But more often than not they take their frustrations down to the Town Hall.
They make demands on behalf of their community.
And this neighbourhood is now famous for its life, its music, its culture…
A strong community.
A proud community.
 
There has always been great talent and personality in Brixton.
I am pleased everyone can now see it.
And I consider it a huge privilege…
To mark thirty years after Scarman with you today.
Earlier this year there were fears that Brixton…
One of the sites of the Summer Riots…
Had stepped back in time.
But 2011 was not 1981.
 
As I said after the recent riots…
There must be something seriously wrong…
When so many people feel they have no stake in their society.
So much so that they trash their own neighbourhoods.
Our immediate focus has been restoring law and order…
And meting out the right punishments.
But there is also an ongoing debate about understanding and tackling the causes.
Clearly the motivations driving the rioting and looting were complex.
That is why, while it was right to have overnight courts…
Overnight policy would be a mistake.
But what no one is saying is that these events can be explained, simply, by race.
And everyone accepts they will take time to fully understand.
So this is not a speech about the riots.
If you view race in Britain through that prism…
You miss the huge progress that has been made…
And you misunderstand the nature of the inequality that remains. 
 
A great deal has been achieved in the last thirty years.
We have moved forward on a number of fronts:
Legal rights - where we have seen the most success.
Political representation is better…
Though of course there is still a very, very long way to go.
And I say that as a leader of a political party that is still too male and too pale.
A problem we are working very hard to fix.
 
But, while these battles are ongoing…
There is another front in the war on race inequality that is too often neglected:
Economic opportunity.
 
So that is what I am going to focus on today.
Not because we have eliminated discrimination in politics…
Or in the criminal justice system.
But because we urgently need to lift a lid on the injustices hardwired into our economy.
It simply cannot be right that we still live in a society where…
If you are from an ethnic minority…
You are much more likely to be poor.
It simply cannot be right that that we still live in a society where…
If you are from an ethnic minority…
You face unfair hurdles when you strive for success.
 
So we need to resurrect the spirit of Scarman…
But looking, this time, at a different part of our society.
In the 1980s Scarman shone a light where people didn't want to look.
He exposed fundamental inequalities in the heart of our society…
And his conclusions led to a transformation in policing.
Now, we need to shine that same light across our economy…
So that we can transform opportunities for ethnic communities in everyday life too.
First, let's take stock.
Thirty years after Scarman, we still witness instances of out-and-out racism.
Hate crime; violent attacks.
And I am clear: racism must be met with a steel fist. 
But our society has come a long way…
And we should be proud of that too.
We live in a very different Britain to thirty years ago.
We look different:
In our schools around a quarter of pupils are now from an ethnic minority…
With mixed race the fastest growing demographic.
We are governed by different rules:
Our equalities legislation is considered the best in Europe…
And has transformed discrimination in the workplace.
We think differently:
Last year the EHRC's Triennial Review identified a significant shift in attitudes…
Concluding that:
'Britain is a country increasingly at ease with its diversity;
Proud of its heritage of 'fair play';
And supportive of the ideals of equality and human rights'
We have also seen a generation of successful men and women from ethnic minority backgrounds emerge…
In the arts, in business, in politics, in sport.
They have broken through the barriers…
And they give hope and encouragement to those who will follow.
It is also the case that different groups face different challenges.
Take school performance tables.
Poor Black Caribbean boys come near the bottom…
Just above poor white boys, incidentally…
But Chinese girls come near the top - whether they are poor or not.
So when we talk about ethnic minorities…
It does no good to lump them together…
We need to be nuanced and precise.
The upshot of these trends is a society that is more mixed and more open…
That is a good thing.
But the paradox of progress is that it creates its own risks.
The danger is that we become lulled into complacency.
That we become victims of our own success…
Mistaking steps forward for 'job done'.
We must not confuse diversity and tolerance…
With a real level playing field…
Where opportunities are open to all.
They are not the same thing.
Think, for a moment, about football. 
When Premier League teams recruit players now…
They don't care about their race.
They care about their ability.
The sporting world has not always been so meritocratic…
A fact we were reminded of at the weekend…
Following the death of former cricketer Basil D'Oliveira…
Who was banned - because of his race - from playing for England in South Africa's 1968 tour.
An event that precipitated the sporting boycott of apartheid South Africa.
For us, that situation is unthinkable now.
And, in football, fans adore their heroes for their talent and character…
Whether they are black or white.
And when Sepp Blatter dares trivialise racism on the pitch…
His comments are rightly met with public outcry.
But how many black managers are there in the Premier League?
Zero.
And in the top four divisions?
Just 2.
Despite the fact a quarter of all players are black.
In sport, as in many worlds, we have moved forward…
But in so many professions the ceilings remain.
Why are there over 400 more young black British men in prison than at Russell Group universities?
Why are half of all Black African children…
And nearly two-thirds of Pakistani and Bangladeshi children…
Growing up in poverty?
We may have made progress, but it is passing them by.
The real lesson from the last thirty years is this:
It is not enough for a society to reject bigotry.
Because real equality is not just the absence of prejudice…
It is the existence of fairness and opportunity too.
So we have to understand what's been missing.
In government, Labour achieved a lot for race equality…
And they deserve credit for it.
But their approach, though benign, was too narrow:
They attempted to deliver equality solely through the state.
Of course, the state has been an important engine for greater race equality
Through legislation to outlaw racist practices…
And the public sector was used to improve ethnic minority access to the labour market.
But the state-led, law-led approach can only take you part of the way.
Now, at a time of fiscal tightening…
Groups that rely more heavily on the public sector for employment…
Are more exposed to the need to reduce public spending. 
And we see more clearly that grave inequalities in the private sector remain.
For example, in the public sector men from ethnic minorities working full time…
Now earn slightly more than their white male colleagues.
But in the private sector, for every pound a white man earns…
A man from an ethnic minority earns just 89 pence.
Greater fairness in the public sector is an important achievement.
But it is not enough.
Real equality means equality of opportunity across the whole of the economy…
The whole of society.
Labour tried to compensate for inequality in the section of society they could control…
Rather than trying to eliminate it across the board.
The state has been used to hide the sins of the market…
And the veil is now being lifted.
And, if you assume the state has all the answers…
You absolve other parts of our society from playing their part.
You treat black and ethnic minority communities as passive recipients of state help…
Rather than empowering them as strong individuals.
You let business off the hook.
And you discourage activity in the wider community…
To support young, enterprising men and women from ethnic minorities too.
 
So unfairness remains.
Clearly, race inequality is morally unacceptable.
We have an ethical duty to tackle it.
But there is an economic imperative that should drive us as well. 
The UK is trying to forge a better, more prosperous path…
In an unpredictable economic climate.
We are trying to address the deep-seated weaknesses in our economy…
To become more productive, more competitive.
Elsewhere I have talked about the need to rebalance our out-of-whack economy…
So that we rely less on debt…
And more on investment.
So we're less dependent on financial services…
And make more of manufacturing and other sectors.
So the UK is less lopsided…
And wealth isn't concentrated in the South.
My message today is that we need to rebalance our economy…
So it supports and serves all our diverse communities too.
If we tapped into the full potential of our black and ethnic minority communities…
Just imagine the benefits and prosperity that would bring for society as a whole
If all workplaces and professions were open to black and Asian ideas and skills.
If all black entrepreneurs and businesses could borrow, compete and grow on equal terms
Our whole economy would grow faster.
Jobs would be created in every community.
So now is the moment to unleash black talent, ethnic minority talent, for the good of us all.
How do we do that?
Clearly, tackling disadvantage is the first step.
For black and ethnic minority families…
And, of course, for poor white families too. 
The Coalition is determined that, in these difficult times…
We will not balance the books on the backs of the poorest.
That is why, for example, at the beginning of the week the PM and I announced a new strategy…
To deliver hundreds and thousands of affordable homes.
Tomorrow I'll be announcing steps to tackle youth unemployment.
And, in the Autumn Statement, we will be setting out spending plans that invest in a better future.
But I also feel strongly that lifting people to a certain level is a necessary…
But not sufficient step.
Of course we need to deal with poverty…
But nudging people over a notional line cannot, alone, improve their life chances…
In ways that are lasting and meaningful.
That approach amounts to poverty plus a pound.
And if it is all we aim for…
We limit our ambitions for the people we are trying to help.
We cap their success…
When we should be helping them become mobile, resilient and strong. 
We need to provide much better access to work…
Creating opportunities across the whole of the labour market…
Opening up the public sector.
Clearly this is where our laws come in.
According to one survey…
83% of employers say they know about equalities legislation…
But don't believe they'd ever face prosecution…
Mostly because their employees wouldn't have the confidence to take legal action.
So I want to send out a clear signal today:
The Equality Act is a cornerstone of the UK's culture of fairness.
It isn't there for employers to pick and choose from.
And it is not going away.
And, on top of having the right laws…
We need to make sure we're giving every child - irrespective of their background…
The skills and confidence to flourish.
So this Government is intervening at the critical stages in a young person's life…
To close the gaps between better off children and those who fall behind.
That is the purpose of the £7bn fairness premium we announced at the Spending Review.
We know how important the early years are for a child's development.
So we have not only maintained free early years education for all three and four year olds…
We are extending it to two year olds from the most deprived homes too.
We're giving schools extra funding to help the worst off pupils achieve better.
And, despite everything you may have seen in the press…
We're increasing the support for disadvantaged students to go to university too.
We want to step in at precisely those moments when these children might give up…
Or take the wrong path.
And we're upping the pressure on the professions to do their bit.
We see the limits of what the state can achieve…
So we need business to open its doors too.
That is not washing our hands of the problem.
On the contrary, it is a much more ambitious approach.
The Coalition has been getting different sectors round the table…
The legal profession, the media, accountants, consultants, politics and the policy-making world…
To show us the progress they are making.
We have secured agreement from dozens of businesses…
To introduce fairer internship and work placement programmes…
And we are setting up the Civil Service's first entirely meritocratic work experience programme. 
But everyone knows…
No matter how many new laws you put on the statute book…
No matter how much pressure you exert on boardrooms…
What happens at home has a huge influence on how our children do.
In any family, black, white, rich, poor…
We need parents and relatives to support their children…
Helping with homework, keeping them in school.
And where that isn't happening…
We also need other members of the community - other role models - to step in.
And just as we need to work together…
To help young people from ethnic minorities get the jobs they want…
We must help them become their own bosses too.
Among today's business leaders there are some hugely important black and ethnic minority figures…
But not enough.
Why is it that members of some of our ethnic communities want to start their own businesses…
But their success doesn't match their ambitions?
We know, for example, that 35% of individuals of Black African origin say they want to start a business…
But only 6% actually do.
 
Are they having problems accessing the loans they need?
That's a question we have to ask.
Past evidence shows that firms owned by individuals with Black African backgrounds…
Have been four times more likely than so-called "White firms" to be denied loans outright.
And that Bangladeshi, Pakistani, Black Caribbean and Black African owned businesses…
Have been subject to higher interest rates than White and Indian owned enterprises.
Last month I ran a seminar of leading business people and leading thinkers from with our ethnic communities…
And it was clear that this is a problem.
Anecdotally, we hear it time and time again.
The reasons will, of course, be complicated.
A mix of poorer education among ethnic minority groups…
Perhaps a lack of the right guidance…
A lack of their own capital to invest.
There may be an element of self-exclusion too.
But if we are serious about turning the UK into an island of entrepreneurs…
We need to get to the bottom of this.
What are the barriers to finance?
And are our banks doing enough?
Britain's banks - bailed out by the British people…
Have just as much responsibility as everyone else…
Arguably more responsibility…
To help Britain build a strong and dynamic economy.
Unleashing black and ethnic minority talent is their duty too.
Whether that means reaching out to these communities…
Through better advice and targeted events.
Whether it means ensuring that they themselves are not putting any barriers in the way.
So I have asked Andrew Stunell, the Minister for race and community cohesion…
To work with the government's own Ethnic Minority Advisory Group and the EHRC…
And to bring together some of the best experts in finance…
Along with individuals who understand the problems of building businesses…
To look at the barriers preventing black and ethnic minority groups from accessing loans.
We have to work out what's going wrong.
We need to crack this.
So, to finish…
No one part of our society can deliver race equality.
It is a mission we share.
If Scarman was with us now…
I think he would tell us to mark the 30th anniversary of his report…
By recognising all that has been achieved.
But I think he would also tell us to set our sights high.
We need to finish a journey he and others started.
We must aim for nothing less than real equality of opportunity…
Across the whole of our society.
Where race does not determine destiny…
You determine your destiny.
You have the power and freedom to forge your own path instead.
Thank you.
Published 24 November 2011