Speech
Defence Secretary's speech to RUSI on the SDSR 2015
Speech by Michael Fallon, Secretary of State for Defence.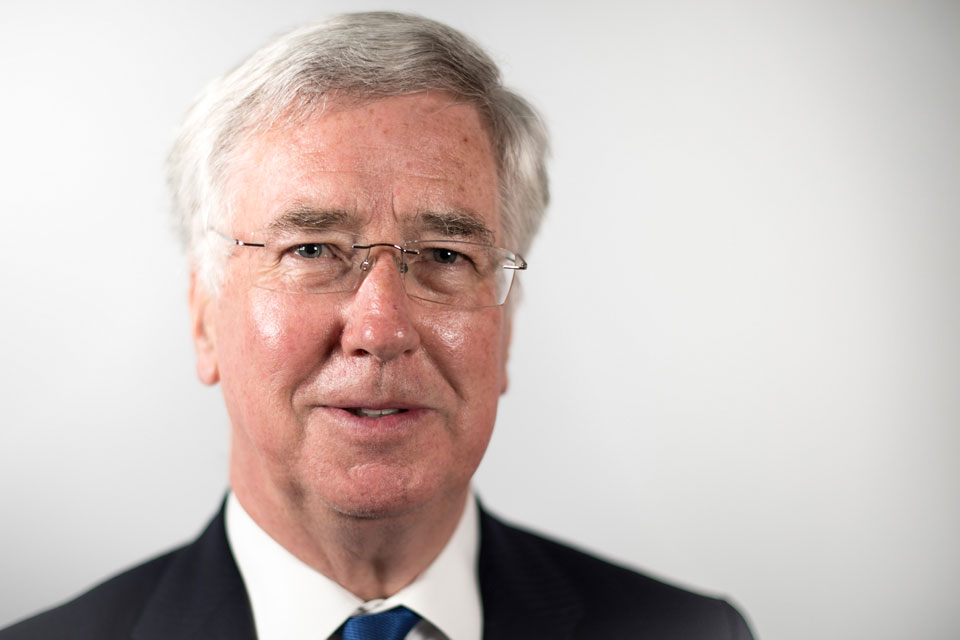 Thank you for that kind introduction, Michael.
It's a pleasure to be back here again at RUSI.
Almost 180 years ago you pioneered that "strictly scientific and professional approach" to military affairs.
And today you remain at the very heart of a strategic community that has contributed very actively both to the development of our forthcoming National Security Strategy and the Strategic Defence and Security Review.
So thank you for all you continue to do on behalf of Defence.
What I would like to do this morning is to set out how we have approached the SDSR, the progress we have made, and some of the issues that have emerged.
CHANGING CIRCUMSTANCES
Yet we can't do that without looking at the context in which this review has been conducted.
The Chief of the Defence Staff offered a very candid personal analysis last week. He observed a world which has become more dangerous since 2010.
I agree.
Indeed, with an unusual degree of consensus, all of the preparatory work done across government before the review started has reached similar conclusions.
So, it will come as no surprise when I say that our new National Security Strategy will show a deterioration in the international security environment over the last five years.
That deterioration has manifested itself through the three overlapping crises we currently face.
In the Middle East, the Arab Spring signalled the beginning of a regional upheaval characterised by popular discontent with governments, civil war in Syria, and the continued rise of violent religious extremism in the form of ISIL.
At the same time we've seen a breakdown in governance across northern Africa and the collapse of stability across that region leading to the mass migrations affecting Europe right now.
And lastly, we've seen a revanchist Russia reheating the Cold War, menacing its neighbours and increasingly using hybrid warfare to pursue its goals.
All of this is taking place against a global backdrop of increasing competition between states, exponential technological advance and weapons proliferation that is empowering emerging and aggressor states as well as non-state actors.
The rules-based international order on which our security and prosperity depend is being tested by this global upheaval.
IMPLICATIONS FOR UK NATIONAL SECURITY
So what does this mean for the UK's national security?
The first thing to say is that our number one priority will always remain the protection of our people.
Yet as the savage murders on a Tunisian beach demonstrate that task is becoming harder by the day.
With every home-grown jihadi battle-hardened in Syria returning to these shores the risks increase.
Last week the head of MI5, Andrew Parker, said Britain is facing an "unprecedented and growing terror threat" with 15 attacks foiled worldwide and six in this country this year alone with the number of terror plots the highest since 9/11.
That's why we have already ring-fenced CT spending.
Second, we have to be able to respond quickly and effectively to crises.
A feature of the security environment we now live in seems to be the number and frequency of such crises.
We have good emergency arrangements for dealing with these.
Our response to Ebola in Sierra Leone showed what we can do at our best: the MOD working closely with DFID and the Foreign Office to make a difference, and to make that difference fast.
We need to make sure that this response is the norm. So we are keeping crisis response arrangements between departments under constant review to ensure that they are as good as they can be.
Yet treating the symptoms of instability is not enough.
We have to tackle the underlying causes too.
So, the third implication for the UK is that we need to work harder to shape a stable world.
We need to reinforce the rules-based international order, and the values of freedom, tolerance and the rule of law that underpin it.
That system is not preserved in aspic.
Like the British constitution, it constantly evolves.
Our challenge is to ensure that change change that is inevitable given the changing balance of power in the world takes place gradually, safely and in line with British interests and values.
What CDS has referred to as the grand strategic challenge of our age: to accommodate change while maintaining stability.
And we need to shape a stable world more directly too.
Assisting fragile and failing states where MOD has a role alongside DFID and the Foreign Office.
Leveraging our global influence as leading members of NATO, the UN Security Council and the EU.
Working closely with Allies and partners around the world.
And ultimately by being prepared to intervene militarily where that is necessary.
Finally, we need to promote our prosperity.
For, as we have consistently said since 2010, security and prosperity are two sides of the same coin.
Security creates the conditions of confidence and stability upon which our prosperity is built.
Prosperity not only funds our Armed Forces but also bolsters our influence in the world.
WE'RE IN A STRONG POSITION
We are facing these issues – this world - from a position of strength.
Thanks to the SDSR in 2010 and the action we took in the last Parliament we are far better prepared to respond.
We are creating an agile and flexible force capable of reacting more swiftly to multiple events.
We have equipped our personnel with a raft of high-end capability from high-tech armoured vehicles like Ajax on display last week at DSEI, to our two new carriers - the most powerful ships ever built in the UK - and the F35s that will fly from them.
And we have a properly funded 10 year £163bn equipment plan ensuring we can keep that new high end capability coming through.
Above all, thanks to the Chancellor's announcement, we will continue to meet the 2 per cent NATO target, guaranteeing a real increase in the defence budget every year of this Parliament, creating an additional £1.5bn joint security fund, and giving us the certainty and confidence we need, as we work to complete the SDSR.
PROCESS AND PROGRESS
That brings me back to SDSR 2015.
Some predicted this SDSR would be a whitewash.
A quick refresh driven by cuts, lacking consultation.
The evidence to the contrary is compelling.
Led by Cabinet Office, gathering together Defence, FCO, DFID, Home Office and the intelligence and security services among many others, this is a truly cross-government effort. The only review of its type in the world.
In addition to extensive co-ordination across government departments, we have undertaken a significant external consultation exercise.
We've sought out the knowledge of over a hundred experts from dozens of institutions here in the UK, in every corner of the country.
We have conducted an online public consultation garnering several hundred detailed responses and I've spoken to all my predecessors who oversaw post-Cold War Defence reviews.
We've also engaged internationally.
Our French, US, German, NATO and other international partners have been fully involved.
And through face-to-face talks, and via our diplomatic and defence networks, we've been able to collect thinking and elicit feedback from right across the world.
Though the process has certainly been intense…it's equally certainly not been rushed.
For more than a year the Cabinet Office has been chairing monthly meetings of senior officials from across national security departments to oversee preparations.
Baseline policy papers on homeland security, foreign policy and international development have been developed.
These have been complemented by a series of JIC papers bringing together the very best strategic intelligence available on the challenges our country will face over the years ahead.
So we have assessed the risks to our nation's security.
And we are now considering how best to deal with those risks, and what capabilities we need to to protect and advance our interests in the years ahead.
And we are not looking merely at the five years of this Parliament. But out to ten years and beyond.
This Review, and the preparations which preceded it, has been conducted without much song and dance, but make no mistake they have been hugely wide ranging and robust, and the conclusions will be positive, assertive and quite properly strategic.
Based on this extensive work, we've come to some important conclusions about what this will mean for Defence.
And there are three particular areas where we will be looking for it to do more. We need to be more international, more efficient and more innovative.
1. INTERNATIONAL BY DESIGN
Firstly, Defence must become international by design: the way we make policy, plan and train must increasingly reflect the reality of how we operate.
In a world with global problems we require multi-national solutions.
The UK already has a proud history of international co-operation. Today we are involved in 21 joint operations in 19 countries, we are playing a major role in NATO defending our Baltic neighbours from Russian aggression, we have a role second only to the US in the coalition against ISIL, and we are a key player in EU operations in the Mediterranean to address the migrant crisis.
We know our involvement in multi-lateral effort - especially NATO - is a force multiplier of national influence.
And we know that maintaining high-end capabilities required for the contemporary military environment in sufficient mass is best done in co-operation with Allies and partners.
So we are going to do more to make the most of our global partnerships.
That means more training, force generating and operating in multi-national coalitions in pursuit of shared goals - especially in NATO - the cornerstone of our defence.
But it also means thinking about the way we respond collectively to new threats such as hybrid warfare - where aggressors use proxies and cyber attack to blur the lines between what is, and what is not, considered an act of war.
It means working together to improve our strategic communications getting out a "faster truth" to counter adversaries who are adept at using social media to recruit and radicalise followers while spreading misinformation.
And it means doing more to lever the totality of our global footprint to pack a greater global punch.
We are not just leading players in NATO and the EU.
We have one of the largest defence attaché networks in the world
We are the fifth biggest funders of UN peace keeping missions
And we deliver courses in 15 countries and train people from over 90 nations in our world renowned military.
And just as we now consider our defence footprint in Bahrain, Qatar, UAE, Oman and Saudi Arabia and Kuwait as a strategic whole, thinking decades not years ahead.
So we must apply that strategic thinking to our entire defence and diplomatic presence.
So in the coming months you can expect to see specific undertakings as part of the SDSR, outlining our international-by-design approach.
2. EFFICIENCY
My second point is that we need to be efficient.
The recent 2% announcement is an important and necessary commitment in light of the more dangerous international security environment.
But no-one should interpret this generous settlement and future financial certainty as permission to simply stand still.
I certainly do not.
To imagine, somehow, that 2%, alongside a balanced budget and the Levene reforms, marks the end of our journey would be neither true nor sustainable.
Indeed it would waste the golden opportunity that the Chancellor has given defence: to recycle all future savings into front line capability.
So we need to improve productivity, always looking to deliver more value – more flying hours, more sea miles, more deployable units - from the force structure we have.
And we need to reform our ways of working to bear down on inefficiency and eradicate waste.
That then will enable us to invest in the people, the equipment and the technologies that we need for the future.
And we need to be ambitious because our adversaries are catching up.
Our military strategy has long been based on technological superiority.
Proliferation and weapons development is now seeing sophisticated technologies end up in the hands of state and non-state actors…who have spent the last 15 years observing how we operate and refining their own approaches.
And that's eroding not just our technological advantage but the expeditionary value and deterrence credibility of our forces.
What the Americans call 'Anti-Access and Area Denial'.
By the time we reach our next Review in 2020 we have every reason to expect the world will have evolved even more than in the last five years.
3. INNOVATIVE
Given those challenges, my third and final point is that being efficient won't be enough. We also need to innovate.
We're determined to take the opportunity offered by the SDSR to build a culture more ready to take risks and more open to change.
We want do everything we can to augment our force structure, speed up the integration of new technologies, adopt new operating concepts and incentivise modern working practices.
Yet we should be hopeful.
After all this is where Britain is at its best.
We've a long and celebrated tradition of technical innovation from the radar to the jump jet.
And recently at DSEI, I saw the future. I saw our young engineers unveiled a design for the battleship of the future.
Dreadnought 2050 with its 3-D printed drones, holographic command table, "supercavitating" torpedoes, laser weapons and an electro-magnetic railgun … sounds like science fiction.
Like the original Dreadnought it would make all competitors obsolete. That's precisely the sort of new thinking we must encourage as the rule not the exception.
Our Centre for Defence Enterprise is already funding novel, high risk, high potential ventures.
We've also launched the joint MOD – Tech UK Innovation Challenge.
Each quarter it will set a challenge focused on a specific area of digital innovation whether cloud technology or leveraging open source data.
We are reviewing DSTL – the Defence Science and Technology Laboratory – to ensure it will meet future Defence and security requirements, and encourage innovation.
All of this, of course, has to be done with industry. And I am determined to do more to tap the innovation that comes from Small and Medium Sized Enterprises.
That is why we launched the £10M Defence Growth Partnership Challenge, the first winners of which were announced at DSEI last week.
And that is why we will be looking hard in this SDSR at what more we can do.
To make us not just international by design, but innovative by instinct.
CONCLUSION
In the months ahead there is still a great deal of work to do.
Officials and I are preparing a series of major strategic decisions which will shape the UK's approach to national security in the period ahead.
They present us with series of tremendous national security challenges. But also a huge set of opportunities.
And I believe that by putting defence at the heart of our security response, by becoming international by design, efficient by nature, and innovative by instinct SDSR 2015 will ensure Britain continues to stand tall in the world for many years to come.
Published 22 September 2015