Speech
Human Rights: Speech by British High Commissioner to Bangladesh
High Commissioner Robert Gibson's speech to the Diplomatic Correspondents Association of Bangladesh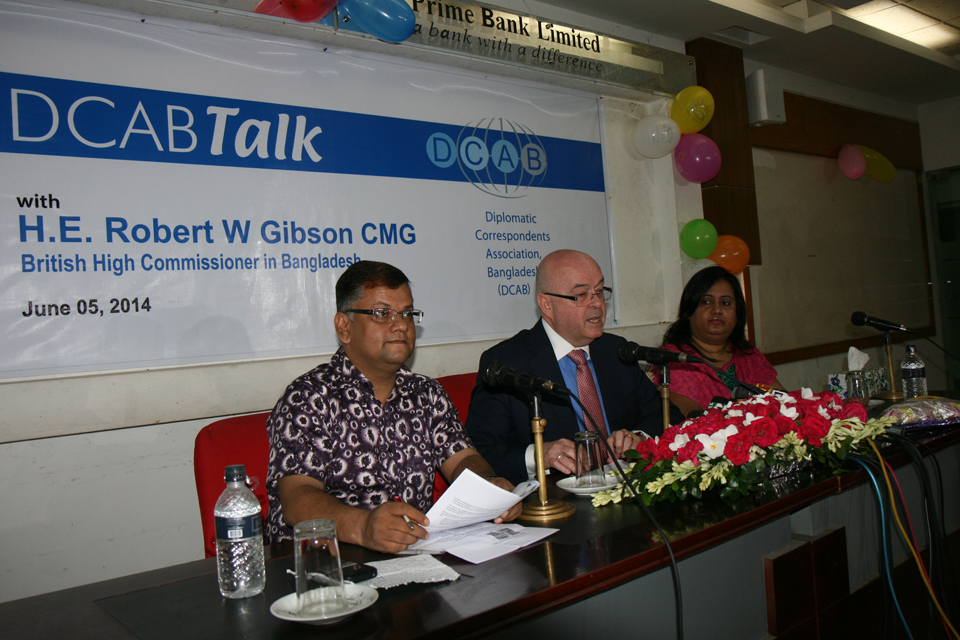 Dear diplomatic correspondents, friends, good morning. Thank you for inviting me for the second time to address the Diplomatic Correspondents Association of Bangladesh.
It is not only a great honour for me to speak to you but also a great pleasure. I have now been involved with Bangladesh for over 12 years and served altogether nearly 8 years in the country. It continues to be a wonderful and enjoyable experience.
I last spoke to you on 27 June 2012. Then we were keenly anticipating the London Olympics: now we are keenly anticipating the football World Cup. Sadly while I was pretty confident about the UK's likely success at the Olympics I fear I am less confident about England's chances in Brazil. And I see from the flags around the city that Bangladesh is almost equally divided between support for Brazil and Argentina.
A lot has happened since then. And what has been clear has been the amazing resilience of the country and the work ethic of the people. To have coped with so many disruptions last year, yet people still came to work, still the economy increased, and still the presses kept rolling, has been incredible.
We have worked together to try to ensure that the RMG sector continues to flourish, but to flourish in such a way that the two tragedies of Tazreen and Rana Plaza will never happen again. I have said it often and will say it again, the RMG sector is good for Bangladesh: we want it to be a success but not at the expense of human lives.
And we continue to value and applaud the contributions made by the brave men and women of Bangladesh who participate in UN Peacekeeping operations around the world.
And of course the election. While we acknowledge that the election was held under the terms of the Constitution, we were disappointed that so many people did not have the opportunity to participate. And disappointed at the level of violence and intimidation that accompanied them and which did so much to damage Bangladesh's reputation. The imperative now is for all parties to work together to strengthen democratic accountability and try and break the 5-year cycle of electoral violence and instability.
Today I don't want to speak about the past, or about the hard facts of the relationship between the UK and Bangladesh, ie our aid and trade programme. You all know the detail: you have heard it many times. Instead I would like to focus on what matters to the UK in today's world. I will only be able to cover a few of those topics: so I will concentrate on those issues I consider are most relevant to our policy in Bangladesh. But of course I will be happy later to hear your views and respond to questions on any topic.
When the present UK Government was elected the Foreign Secretary, William Hague made a conscious decision to expand and improve the United Kingdom's diplomatic network and overseas activity. He wanted the British Diplomatic Service to be the best in the world. He wanted diplomatic excellence to be watch-words for everything we did.
The physical result of this is that we now have over 14,000 people operating in nearly 270 diplomatic offices around the world. These missions include 10,000 of our staff who come from the 170 countries in which we operate. Many other government departments are represented at our High Commissions and Embassies. These of course include ministries such as the Department for International Development.
And I pause here to note that this year the UK has reached the UN 0.07% GDP target for overseas development assistance.
There are eight different government ministries or agencies working at my High Commission. Add in the British Council and I think it is fair to say that the UK government abroad is far more widespread and diverse than you might first think. What is amazing is that we all fit together, sharing the UK government's aims, each contributing our part and working under a one-HMG umbrella. And in case any of my staff are listening, can I use this opportunity to pay public tribute to the sterling work they undertake throughout the year to ensure Britain's impact in Bangladesh.
The UK government also set a clear direction in foreign policy. Of course this included the more traditional aspects of advancing British security and prosperity. But it wanted a foreign policy that not only ran through the veins of the entire government, but was different and distinct.
So what is that policy? I will quote from the FCO strategy: "Our purpose is to pursue an active and activist foreign policy, working with other countries, to strengthen the rules-based international system in support of our values."
For a relatively small country we continue to play an influential global role, pursuing stability and prosperity, and protecting our citizens. We have to be interested in what happens beyond our borders and we have to respond to the challenges, as governments, as companies and as individuals. The key word, the differing emphasis in our statement, is the word values. One of the UK's new main priorities is to share and encourage what we call British values.
So what are these values. What does this mean in practice?
A key value is human rights. We want to use our voice to help support countries working to improve their human rights record, and to call to account nations that commit serious and systematic violations against their citizens.
Our commitments to human rights (as well as aid and development) are part of our national DNA. They are woven deeply into the decision-making processes of our foreign policy at every stage. There are compelling reasons for this approach. It is not in our character as a nation to have a foreign policy without a conscience, and neither is it in our interests.
Where human rights abuses go unchecked everyone suffers. Our notions of fairness, of dignity, liberty and justice are part of the rich endowment of our history. Democracy is a key element of this. The right for each individual to be able freely to chose his or her government. A true democracy rests on foundations that have to be built over time.
Elections alone do not create a free and democratic society. We also need strong institutions, responsible and accountable government, a free press, the rule of law, equal rights for men and women.
And there are other, less tangible habits of mind, choice and of participation that are also essential. Of course we have to recognise that countries are likely to develop at different paces. This does not mean that we will sit on our hands or simply resign ourselves to the idea that change in certain countries will not happen for decades.
It does not mean that we don't understand that each country is different. It does not mean we will not strive to encourage progress. What is does mean is that we will not overlook human rights abuses wherever they take place. Arbitrary imprisonment, political and religious persecution or the denial of the rights of women or any individual, including those of minority views, are unacceptable to us at any time in any place. We will never turn a blind eye to countries which display the trappings of democracy while violating basic human rights.
Or turn a blind eye to countries that lay claim to the rule of law while lacking the independent courts and proper systems of accountability and transparency to prevent abuses of state power.
These values are not just British values. They also enshrined in the Universal Declaration of Human Rights. They apply equally to all people. The International Covenant on Civil and Political Rights demands that we should do so. 168 countries have agreed this, including Bangladesh and the UK, and 39 other Commonwealth members. And as I wrote recently in one of your esteemed publications, no parties to this treaty can pick and choose which of these rights apply to us. It is not a buffet of options.
Whether the rights be freedom of movement, religion, expression and assembly, or freedom from torture, slavery, arbitrary arrest and forced marriage, each is essential to the well-being and happiness of the individual and society.
Each is essential to create a modern, civilised society. The sort of civilised society we all want to live in. The sort of civilised society we all aspire to. A modern civilised society that upholds all these rights for all its citizens whether man or woman, adult or child, heterosexual or homosexual, European or Asian.
Another essential part of our values is the rule of law and freedom and what this means in our international relations. The rule of law is central to our values. The principles of due process, and of no punishment without law, are both found in the Magna Carta.
The law is the ultimate guarantor of the rights of individuals. It permits the qualities of tolerance, compassion, generosity, respect for others and the right of individuals, families and communities to choose how they live.
We are undoubtedly living through a turbulent period in international affairs. We currently face perhaps the most unpredictable and unstable global environment since the end of Cold War. There are:
Nations advancing their own national interest,
Extremist ideologies we must confront,
Wars we must prevent,
New threats we must anticipate, and
Treaties we must negotiate.
In 2012, I delivered a peace lecture in the University of Dhaka where I mentioned these urgent tasks. Today their urgency remains. Sustainable peace will not come about by ignoring what is going on.
To take two examples.
The deterioration of the democratic environment in Thailand is of considerable concern. Arbitrary detentions, restrictions on local and foreign media, and limitations on freedoms of expression and assembly, undermine trust in the intentions of the military leaders. The UK has urged the Thai military authorities to provide a clear timetable for the restoration of civilian government. Restoration by means of elections, in line with democratic values. And also to respond proportionately to peaceful protest and dissent.
And in Ukraine, like the vast majority of the international community, the UK is firmly committed to its sovereignty, independence and territorial integrity. That is why we will not recognise Russia's illegal annexation of Crimea. Self-determination is a right that can't be taken away by force. The UK has congratulated the Ukrainian people on the outcome of presidential elections. The high turn-out shows the Ukrainian people's determination to decide their own future without outside interference, and has sent a decisive signal of their support for unity, reform and a new future for their country.
I would now like to inform you of a special initiative the United Kingdom has recently made. We have a particular interest in respect for human rights and the rule of law during conflict. Rape and sexual violence has been and still is being used as a weapon of war around the world, whether historically in Bangladesh, Darfur or Srebrenica or in current conflicts.
It destroys whole communities and ruins the lives of women and men, boys and girls. Its effects last long beyond the original crimes and its use perpetuates the cycle of conflict. Over the last eighteen months the political will to tackle these terrible crimes and injustices has increased exponentially.
The Special Envoy of the UN High Commissioner for Refugees, Angelina Jolie, and the UK Foreign Secretary, William Hague, will host a global summit in London in June to bring together all those who can help turn political will into practical action. It will be the biggest meeting ever held of its kind. Governments, civil society, the media, military, judiciary and the public will attend. The government of Bangladesh along with three quarters of UN members will be there.
We want to see practical steps agreed at the summit that will drive change on the ground: shattering the culture of impunity that surrounds these crimes; providing more support to victims; shifting the stigma of shame from victims to perpetrators. Public outrage and political will resulted in cluster munitions and chemical weapons being banned.
We want the Global Summit to End Sexual Violence in Conflict to be the moment that the world wakes up and says that rape and sexual violence are not an inevitable part of war, when the world demands that sexual violence in conflict should stop. Now is the time to act.
Now is the time to bring public pressure to bear on governments and the international community to end these crimes. I hope you, as the media in Bangladesh, will be able to add your voices in support, and make sure the world hears that there is no place for sexual violence in conflict. Please join me in a photo, when we are finished, to show that Bangladesh too thinks it's time to act.
Finally I want to talk about press freedom – an issue I hope is of key concern to this audience. On World Press Freedom Day this year William Hague expressed his deep concern at the clamp down on freedom of information in Russia. And also the intimidation and detention of journalists by separatists in eastern Ukraine. Again I want to emphasise: freedom of expression and a free press are fundamental to human rights.
A free press is essential to a flourishing democracy, to innovation and creativity, and to a stable and inclusive society. Actions that undermine or restrict freedom of expression and the media threaten all of those things.
I strongly believe that people and the press must be allowed to freely discuss and debate issues. They must be allowed to challenge their governments.
It is the media that asks leaders and encourages government and politicians to break political deadlocks, answer difficult questions, and find solutions on national issues. The media is the conscience and voice of this country. It can be a critical instrument for change.
Just as in Britain, journalists in Bangladesh, as well as in Thailand, Russia and Ukraine, must be allowed to express themselves freely and safely and within international standards. Intimidating journalists does not create stability or make grievances go away.
You should not need to feel brave to do your job, just professional.
I hope in conclusion that I have outlined why we consider it is vital that we continue to look beyond our borders, to work together with our partners in the international community to strengthen human rights and the rule of law. And without being didactic, to encourage the spread of British values.
Both the UK and the people of Bangladesh, I hope, stand to benefit from this. I work hard every day towards this, with colleagues and partners in international organisations, and with friends and counterparts in Bangladesh.
I strongly hope that together we can achieve this.
Published 5 June 2014