Speech
Damian Green's speech to Police Innovation Fund bidders' event
Policing minister outlines vision of digital policing for 2016 as forces are invited to bid for £50 million of Home Office funding.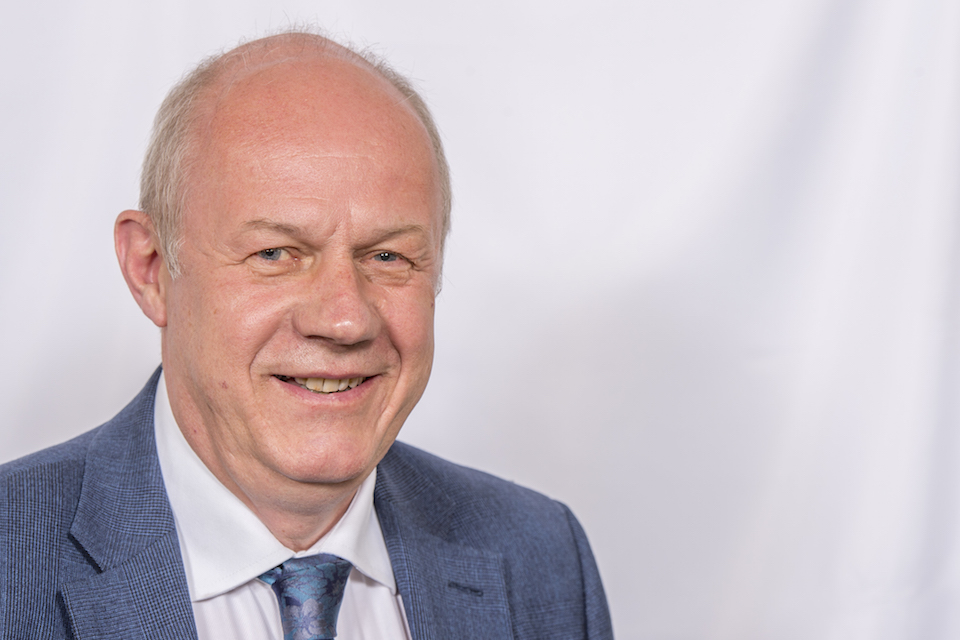 Good morning.
First of all let me say how pleasing it is to see such a healthy turn out for today's event. I hope you find today's sessions interesting and useful to you as you develop bids for the Police Innovation Fund, which is worth £50 million this financial year.
I also hope you will use this as an opportunity to share thoughts and ideas with others who may be planning similar bids, and to consider potential opportunities for collaboration.
Police innovation – the story so far
Today's event seems like an appropriate occasion to reflect on the importance of innovation as we work together to build modern, resilient and effective policing – in which the public can wholeheartedly place their trust – not just for now but for the future.
And I want to start by saying how we have made innovation a defining theme of our police reform package.
We have set officers free by abolishing central targets and giving them the single mission of cutting crime.
We have established PCCs to hold forces to account and bring new ideas into policing.
And we have created the College to establish what works in cutting crime, setting standards and driving professionalism and integrity.
The financial context
Of course, this has all gone on against the backdrop of a challenging fiscal situation.
And whilst I don't want to dwell too much this morning on that challenge, what I will say is that we all know the realities – that this government came to office inheriting the largest peacetime deficit in history and has had to take action to address that situation. As a result all public services – including the police – have had to constrain their spending.
We know that forces are doing an excellent job under these constraints. Crime continues to fall. And it is clear that financial challenges have acted as a catalyst for local innovation, as forces look seriously at what they deliver and how they deliver it.
But I believe that we must always strive to do better – to carry on that trend of cutting crime for the public; to carry on making every penny of taxpayers' money work as hard as possible; to ensure that public trust and confidence continues to underpin the British model of policing by consent; and, to carry on working together in the national interest.
We need to increasingly work across geographical and organisational boundaries to make best use of the resources available.
We need to embrace new technologies in order to keep ahead of criminals.
We need to build efficient organisations, where processes are automated and officers freed-up to focus on visible frontline policing.
And underpinning all of this, we need to future-proof policing for the challenges of tomorrow by fostering a culture of innovation that allows PCCs, chiefs and frontline officers and staff to adapt to a fast-changing landscape, and to build agility and resilience into the fabric of policing.
The Home Office role
This cannot all be done at the Home Office, but we do have a role to play.
We can change incentives, remove barriers and pass legislation to make it easier to innovate.
The Innovation Fund is a key part of this.
There was a fantastic response to last year's Precursor Innovation Fund. We received 115 bids and agreed funding for 65 of these, covering a broad spectrum of activity.
I know that a number of people in the room today have been closely involved with some of those successful bids and I hope that they will be able to share the benefit of their experience with others.
Among those who benefitted from the Precursor Fund are six forces who received funding to enhance public protection and support by investing in body worn video technology.
Funding also supported six forces to collaborate on proposals to share buildings and infrastructure with the fire and rescue service, saving millions of pounds of public money in the process.
And nine forces are using funding to roll out use of mobile data equipment so officers can access intelligence, take statements and update crime records without having to return to police stations – allowing them to spend more time on the streets and in communities rather than sat behind their desks.
Collaboration on operational and organisational support services
Almost £2 million from the Precursor Police Innovation Fund was given to Bedfordshire, Cambridgeshire and Hertfordshire Police to transform the way they serve communities.
These three forces are using the money to bring together their operational and organisational support services, which they estimate will save them up to £23 million over four years.
A common ICT system is being introduced which will allow more cross-border working between the three forces, improve communication with other parts of the criminal justice system and enable officers remote access to the data they need to do their jobs at the frontline.
Blue light collaboration
Only recently I visited Northamptonshire, where a share of the Precursor Fund money is being used to support the PCC's ambitious proposals – working collaboratively with the county council – to create the first fully integrated emergency service in the country.
This work will eventually see emergency services sharing properties, services, training and fleet maintenance.
I know the Permanent Secretary, Mark Sedwill, was also impressed on his recent visit to Hampshire where we have provided funding to support joint working between the force, County Council and fire service to combine corporate functions, including finance, HR, procurement and estates.
Innovating for the future
I think these are great examples of the ways in which PCCs and forces are bringing genuinely new approaches to bear to improve service to the public, and on how in a short space of time the Innovation Fund has supported them in making a difference.
But I want to look forward, at how we can take innovation in policing to the next level, and to maximise the opportunity that the next round of the Innovation Fund brings.
Significantly, we need to recognise that 'Innovation' is not just a buzzword for leaders. It is a culture that needs to be fostered throughout and across organisations, with a willingness to recognise good ideas from elsewhere, to work together to adopt them, and to harness the energy and entrepreneurship that exists at the front line.
After lunch you will hear from Dave Spencer.
Dave isn't an ACPO rank and he is not a PCC, but two years ago he and some fellow officers set up the Commissioner's 100 to change the Met - from the ground up.
What started as a group of officers pitching innovative ideas for change to each other has grown to a "licensed insurgency", sponsored by Bernard Hogan-Howe, where officers pitch ideas to change everyday policing directly to the Commissioner. I'd like to see more of that type of approach - local, ground up innovation.
I'd also like to see the public – as users of policing services – increasingly engaged in the design and prioritisation of local changes, for example by being able to vote or comment on prospective bids to the Innovation Fund.
Innovation through technology
I have talked already about the need to embrace new technology, and this must be a central part of the next phase of police innovation. This is not just in terms of implementing quicker and more efficient processes – although, of course, that is important – but it is about law enforcement keeping ahead of law breakers.
I have a vision of digital policing by 2016, and I know that forces share this ambition.
In less than a year all 43 forces in England and Wales plus the British Transport Police have signed up to the College of Policing's Digital Pathfinder Programme. This aims to bring forces together who are trying innovative ways of doing things digitally, promoting what they are doing and sharing best practice.
I am pleased that, through this, the College has identified a set of digital capabilities to provide a clear sense of what good policing looks like, and against which HMIC can inspect, as we work toward the vision of digital policing.
The College has been open in the way it has developed these capabilities. They have been co-designed with the people who know what they need best - the police themselves. This is a prime example of the sort of ground-up innovation we want to see across the range of policing business.
The capabilities centre around three experiences and describe how things should be different in a truly digital world for a member of the public, for the front-line officer and for linking in to the rest of the CJS. And, as we know, forces are already delivering them.
A member of the public should be able to report and track a crime online, pay licences and fines online and engage with forces in a number of ways that are convenient, giving them the opportunity to provide feedback on their experience.
For example, Avon & Somerset's Citizen Portal received £575,000 of Precursor Innovation Fund money to create an online reporting and crime tracking facility. Track My Crime allows victims of crime to access the progress of the investigation, in the same way you might expect when accessing your bank or mobile phone account online.
A 24-force collaboration led by Dorset received £205,000 of Precursor Fund money to create an E-commerce solution to allow members of the public to apply for, renew and update their firearms licenses online.
Cambridgeshire and Northamptonshire have introduced voice recognition to automate the routing of general public enquiry calls which means that the public will have their calls prioritised quickly and efficiently.
Sussex and Gwent provide live text facilities for the public, similar to those used on social media sites such as Facebook making it simple and easy to be contacted.
Of course the police do not work in isolation. They are the gateway to a far wider criminal justice system, and digitisation has to enable smooth working across the system. Cross-criminal justice working should enable officers to capture digital evidence on the street, give criminal justice partners the ability to access and manage digital evidence and work with digital case files from where ever they choose.
For example, Dyfed-Powys is delivering the capability to stream live video from the interview room to any computer in the Force which means that officers do not have to spend ages at court waiting to give evidence.
Many forces are using body worn video which officers can use to immediately collect more compelling evidence at the scene of the crime. The Met is launching a pilot of body worn video this month to evaluate its impact on increased early guilty pleas, improved stop and search practices and the reduction in complaints.
Cambridgeshire, which has implemented a solution to storing multiple types of digital evidence locally is using SharePoint so evidence can be accessed by officers when and where they need it.
The Home Office is also delivering the Collaborative Digital Information Store - a set of national services that will work alongside what storage forces offer locally, offering a way of transferring large volumes of digital evidence to the CPS and addressing the need for long term storage and the preservation of digital evidence.
The CJS business area and eight forces are collaborating to develop a streamlined digital case file application, which will allow officers to upload data from the street directly to a digital file which can be transferred electronically to the CPS. We will share results of this by 2016.
Technology also has the capacity to enhance the effectiveness of the officers on the street, giving them easy access to the information they need and freeing up their time to get back out on the beat. Officers should be able to perform all their activities away from police premises, receive tasks based on their skills and location and have access to a range of innovative apps that provide accurate data, when they need it.
Hampshire is using a variety of mobile devices to give officers the ability to do all their tasks out on the street. This has shown a 26% reduction in the time spent by officers in stations and a 20% reduction in mileage covered by patrol vehicles.
South Wales is using GPS technology to provide officers real-time, relevant information and intelligence about the area they are in or person they encounter. This means the force can work intelligently by mobile device, weighing up not just the location of a unit or officer but the relevant skills an officer has and the information they will need to tackle a particular incident.
These capabilities are not prescriptive, there might be many ways of delivering them, and it is now the role of the College to collect together evidence and best practice. But we can help them by providing forces with Innovation Funding to trial these different capabilities and come up with evidence that they can share.
There is clearly good work being carried out by forces. However, more can be done to develop the capabilities where little work is currently being carried out.
Some evidence gathering has already taken place and opportunities exist in areas such as app development to provide the public with the ability to upload evidence in the form of still pictures and video, and for the development of apps or online services that allow victims and witnesses to provide feedback immediately after interaction with a police officer.
The Home Office is setting out roles and responsibilities for the range of organisations that support forces' work nationally and make sure they play their part.
We are also consolidating some of the national police IT systems as their contracts come to an end and setting open data standards so that systems can talk to each other, which will allow streamlined and consistent sharing of information between IT systems. We are working with the Ministry of Justice and the CJS business area to co-ordinate work on this.
And PCCs are considering how they support collaboration, innovation and value for money at local, regional and national levels. After all, and as set out by Tom Winsor in HMIC's annual assessment of policing in England and Wales, forces will often have very similar technological requirements. I'm pleased that PCC work has already included a successful bid to the Innovation Fund for them to appoint a new IT Director.
I am pleased to say that the police are the first to benefit from the Government's new Policy Lab. The Lab, which follows similar examples in Denmark, Singapore and the USA, will help departments and their service providers to trail innovative ways of developing policy, for example observing how people interact with services (which may be very different from what they tell you) or using big data or social media to provide fresh insights into a problem.
Surrey and Sussex have been working with the Lab to create an improved crime reporting service and to design this around the member of public or victim of crime. This will achieve one of the public experience digital capabilities and I'm looking forward to seeing this when I visit next month.
Learning from other sectors
So far I've talked about innovation from within policing. But in fact some of the most creative ideas come from without - from outsiders bringing a fresh perspective and new ideas.
In healthcare, the government has established Academic Health Science Networks to do just that, bringing academia and industry together with NHS Trusts to foster and diffuse new ideas to improve clinical practice.
Similarly, in education, Teach First runs innovation weekends to bring its teachers together with leading thinkers and speakers.
And in central government we have set out our commitment to open policy-making, ensuring that we bring in outside ideas and consider a range of evidence and perspectives.
In policing, I think we need to do more of this and to build on the good work that the College has set in train to improve knowledge about effective crime-fighting interventions and to develop networks so forces and academics can collaborate.
Ultimately, the impetus has to come from the local level.
Many of you will be having conversations with universities about potential new approaches.
So, I encourage you to work with the College to share your learning and experience, and thereby strengthen your collective ability to drive though innovation.
A new contract that the Home Office has recently awarded for the delivery of a cross-industry and collaborative decision support capability will also help. We have decided to call this capability BlueLightWorks, and over sixty organisations are now involved, from large companies with significant domain expertise to specialist SMEs.
BlueLightWorks is available to you now. It will give you ready access to domain and technical experts who can help you resolve particular problems and reduce specific risks as you make the critical decisions on approach and investment. The concept has been proven elsewhere and I am looking forward to seeing what it can do for us.
As I said at the outset, I hope that today's event proves useful to you as you prepare your bids for the next round of the Innovation Fund, which I look forward to seeing. But I also hope that it inspires you to think differently about the transformation you can make in your forces and about what you can do, working collaboratively with others, to help foster a culture of innovation in policing.
Thank you.
Published 2 April 2014