British Hospitality and Tourism Summit 2013
Speech by Culture Secretary Maria Miller at British Hospitality Association event.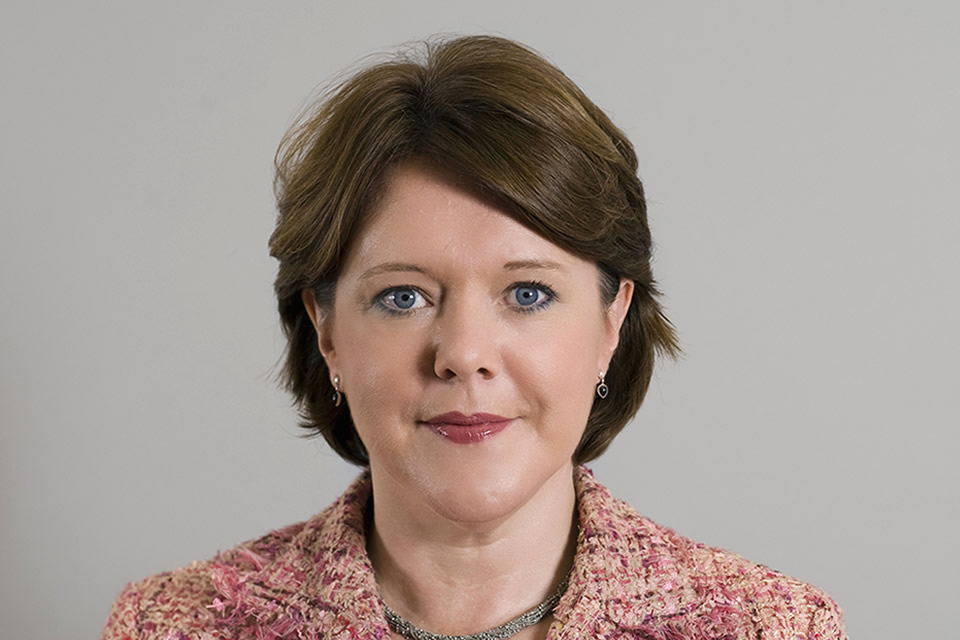 Good afternoon ladies and gentlemen
I'd like to start today by emphasising the role that tourism and hospitality plays in delivering economic growth for the UK.
It will come as no surprise to anyone here today that these are challenging times for Britain.
And in those challenging times, tourism and hospitality is continuing to deliver for UK plc.
The latest figures show that not only are more tourists visiting the UK, they're spending more whilst they're here – enjoying our world class attractions and countryside as well as the welcome and hospitality they receive in our hotels, restaurants and shops.
We need only look to last year's Olympics to see the incredible effect that tourism has. The Olympics put Britain on the centre of the world stage and allowed us to market Britain at its best– not only in terms of tourism, but also trade, creativity and investment.
As I'm sure you'll know, within Government, Ministers are currently in negotiations with the Treasury regarding the forthcoming Spending Review.
Those negotiations are ongoing – and I am afraid I am not in a position today to give you the inside track – but what I can say is that I, like all Secretaries of State, am having to make the case for every pound of public money that we propose to spend.
For me that case has to be rooted in economic value.
A return for investment on the spend we make. And making the most of the money we spend – building synergies between culture, sport and tourism – to get the biggest bang for our buck.
That is why I made a speech to our arts and culture leaders last month explaining to them the need to make the economic case for the arts.
And it is why I urged them to think laterally about the economic impact they can make.
The link for them between the arts and the creative industries is well established – people who start off as artists often move in to the theatre, film or gaming industries.
But the link between culture and tourism is perhaps less well established – at least in their minds – but not in mine and I'm sure not in yours.
40% of visitors cite culture as the most important reason to visit the UK.
8 out of the top 10 visitor attractions in the UK are museums
23% of visitors to London go to the British Museum
Across the UK visitors enjoy our cultural offering from the Tate in St Ives to the Baltic in Newcastle.
And there are lots of fascinating local examples of our culture driving tourism benefits. For instance, the Lake District sees a huge number of Japanese tourists, disproportionately more than you'd expect. Why? Because the Japanese love Beatrix Potter – they use her books to learn English as children.
People come to Britain for a wide range of reasons, but often underpinning that they come to the UK to experience British culture in its broadest sense.
Yes, of course they want to see major art exhibitions and the treasures on show at the British Museum, or Shakespeare's Romeo and Juliet in Stratford. But they also want to experience British hospitality – a pint in the pub, a trip to the seaside, or for some perhaps a visit to a top restaurant. In fact, we have two of the top ten restaurants in the world right here in the UK: The Fat Duck in Maidenhead, and The Ledbury in Notting Hill - world-famous restaurants which have become destinations in themselves.
Last year was a momentous year for the UK. But after the triumph of the Diamond Jubilee and our Olympic and Paralympic year, how do we continue to grow our tourism industry?
The Games showed a global audience what a great place this country is to live, work and visit. And it's had an impact: we reached the top of the world's 'soft power' rankings, our international ranking for "overall nation brand" improved and - what's more - Britain was also listed among the Top 10 countries for the warmth of its welcome.
It was with the unique opportunity of 2012 in mind that we launched the GREAT campaign last year.
Heritage is GREAT… Creativity is GREAT… Innovation is GREAT. All these themes are being used to market Britain to the rest of the world, precisely because we are that: a GREAT country to live, work and visit.
We all knew that was the case, now the world is catching up.
We're also seeing big shifts in where our international visitors are coming from. While our immediate European neighbours and the USA remain the source of the greatest number of visitors, it should perhaps come as no surprise that in 2011 the highest-spending tourists were from Kuwait, Saudi Arabia, Qatar, China and Russia.
Tourism delivers £115 billion per year to our economy, and employs almost three million people. So when we increase the number of visitors from both home and abroad that means economic growth, jobs and success for our country.
Just last month I was pleased to launch Visit Britain's inbound tourism strategy to 2020. And it's certainly ambitious, aiming to increase overseas visitors by a third, to forty million people a year.
That would mean an additional nine billion pounds in visitor spending, and 200,000 new jobs. I understand this afternoon you'll be hearing more about apprenticeships. And while I don't want to pre-empt that discussion I am delighted to see such a positive commitment from the industry as we grow our capacity to meet demand.
We should also not forget the vital importance of our domestic market. Our Holidays at Home campaign generated £300 million last year in extra domestic tourist spending – more than four million additional nights away. Over a three year period, Holidays at Home is expected to deliver more than 12,000 new jobs and £500 million in extra spending.
These are all delivering tangible benefits to our economy. Not so very long ago, people would visit their travel agent and almost automatically think of a holiday in Spain or Turkey, or another part of Europe. The word 'holiday' became almost synonymous with the word 'abroad'. Holidays at Home changes that.
We have so much to be proud of. The industry is achieving fantastic things and I'd like to thank all of you in this room for the work you do to keep Britain's destinations as attractive and compelling as they have ever been. We are all aware of how competitive the world has become when it comes to attracting visitors, so we know we must keep raising our game. It is only by doing that, that we can be certain of our continued success.
Thank you.
Published 11 June 2013